Here I'm going to show you how to make a dark roux - which is usually the start of something great. A thickening agent of sorts, it's the foundation of most stews, sauces and gravies.
A roux is considered one of the most important parts of most Creole cooking, it's the base to a good Cajun gumbo and can make or break a dish.
Jump to:
❤️ Why you'll love it
Once you learn how to make a dark roux, or any roux really, you can pretty much make so many dishes from that baseline.
While cooking there's a delicious nutty aroma that is very distinctive.
The thickening power of this type of roux is tremendous. Typically 1 tablespoon of roux will thicken ¾-1 Cup of hot liquid (depending how thick you want to go).
🧅 Ingredients
Oil (vegetable or canola is the most common)
All Purpose Flour
A basic roux is always equal parts fat to flour. If you are making a white roux, a blonde roux or a darker roux it's always the same ratio.
See recipe card for quantities.
🥣 Instructions
Step 1: Add the oil to a heavy bottomed pot (that you plan to cook your dish that you need the roux for). I like to use a Dutch Oven a lot as the temperature is consistent all over the pot.
Step 2: Apply the heat (low-medium). Add the flour to the oil and stir well to combine.
Step 3: This is now considered a blonde roux. It's slightly darker than the white roux it started as and could be used in some light sauces like bechamel sauce or creamy soups, like a cheese sauce. It has a color of peanut butter.
Step 4: To make a darker roux though you will need to keep going with constant stirring. Don't leave the pot, or you run the risk of burning your roux. The entire time it took me to get to the above color took about 45 minutes. It will have a color of dark chocolate.
Hint: you could turn the heat up to a medium heat instead of a medium-low heat, yes it will cook a little quicker but you would then run the risk of burning it much easier. You would have to really keep stirring and watch close then.

Again, you can't fix a burnt roux so....
🔄 Substitutions and Variations
Oil - I tend to stick to a vegetable oil but you could use a canola oil. Whatever type of oil you use you have to make sure it has a high smoke point like peanut oil.
Butter - for the fat, instead of using oil you could use butter. You would only want to do this for the white roux, or blonde roux. Butter will burn after a while and so is not suitable for a dark roux.
Bacon Grease - again, you might not want to go too dark with this as it will burn. The animal fat sure will add some good flavor though.
Gluten Free Roux - if you need to avoid the flour, you could try Cassava Flour, I've heard it's the best for making a roux - be careful though as it does tend to brown quicker than regular flour.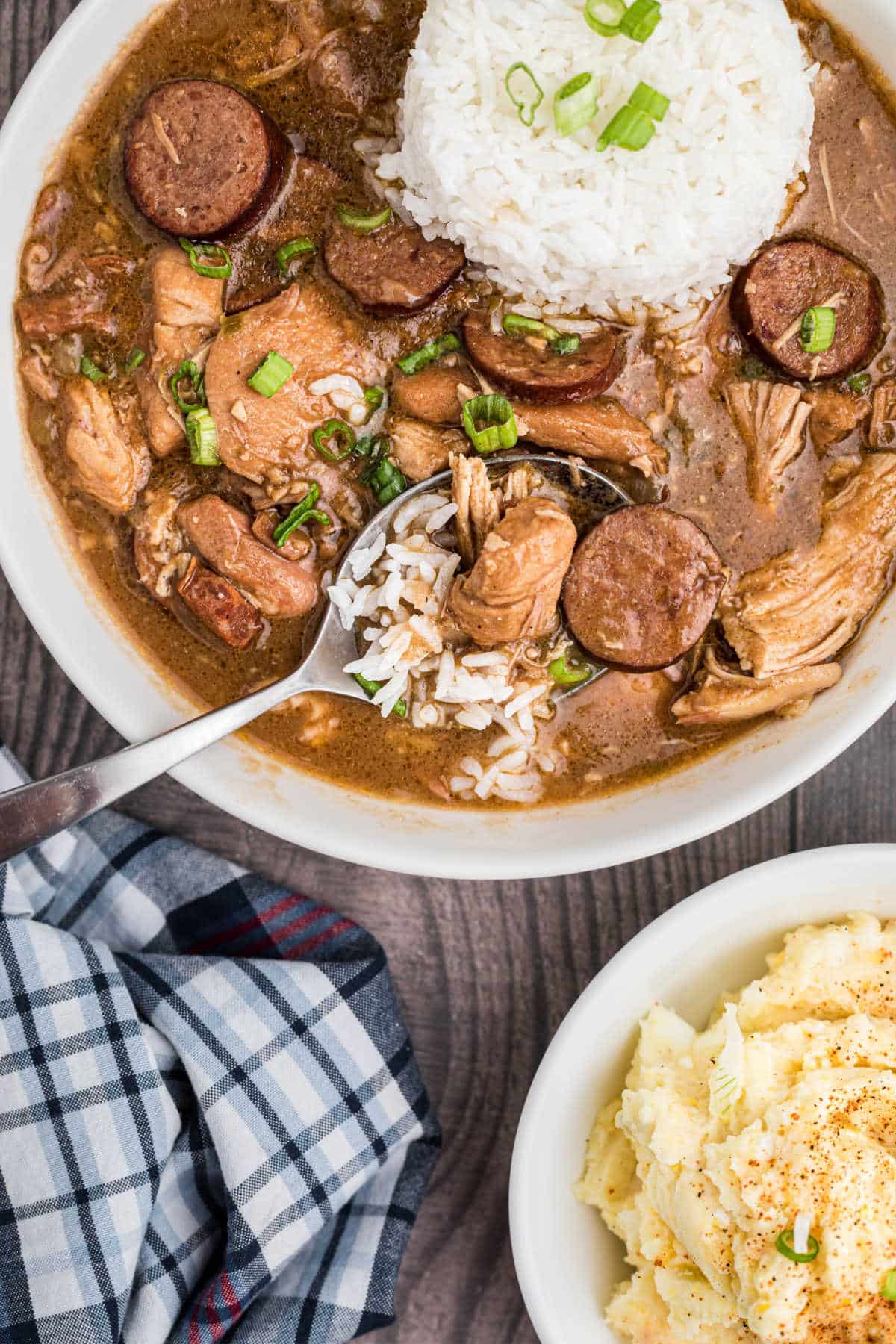 Above is my Chicken and Sausage Gumbo recipe that I use this homemade roux for.
❤ Sharing is Caring - Like Our Facebook Page ❤
🔌 Equipment
For a good roux you'll definitely want to use a pot that has a heavy bottom, like a cast iron pot, cast iron skillet or Dutch Oven (my favorite). It helps keep the heat even during the cooking process. I have an affiliate link in the recipe card below if you like the look of mine.
The spoon I like to use is actually a Pampered Chef spoon I bought at a party many years ago. It's really good and flexible and surprisingly holds up to the hot roux very well.
Due to its flexibility it's able to get into the crevices of the pot and the flat edge is good for scraping the bottom. Again, I have a link in the recipe card below.
💡 Tips
Expert Tip: Make up a large batch of roux and refrigerate in an airtight container. That way you don't have to cook a roux every time. I love this time saver! A roux will be good indefinitely in your refrigerator (the vegetable oil type).
If you used butter then that will only be good for a few weeks.

Add to ice cube trays to freeze in little cube size portions.
---
If you've tried this How To Make A Dark Roux recipe or any other great Creole dishes on my site, let me know in the comment section below, how it turned out, we love hearing from our readers! If you love this recipe please give it 5 stars! ⭐️⭐️⭐️⭐️⭐️
You can also follow me on PINTEREST, FACEBOOK and INSTAGRAM to see more amazing recipes!
How To Make A Dark Roux
The perfect dark roux that is the base for any stews, gravies or in my case, gumbo.
Ingredients
1 Cup Vegetable Oil
1 Cup All Purpose Flour
Instructions
Add the vegetable oil to the bottom of a heavy bottomed pot - like a Dutch Oven. Apply low-medium heat.
Add the flour and stir in until well combined, using a suitable spoon.
Stir, somewhat intermittently, until the roux has become a very dark brown in color, like dark Hershey Chocolate.
Continue with the steps from whatever recipe you are making.
Recommended Products
As an Amazon Associate and member of other affiliate programs, I earn from qualifying purchases.
Nutrition Information
Yield

1
Serving Size

1
Amount Per Serving
Calories

2382
Total Fat

219g
Saturated Fat

16g
Trans Fat

6g
Unsaturated Fat

192g
Cholesterol

0mg
Sodium

3mg
Carbohydrates

95g
Fiber

3g
Sugar

0g
Protein

13g
The nutrition information is for the roux in entirety. Of course, you would not consume the entire roux, this would be incorporated into a large pot of stew or something, so disregard for a single serving.