Boudin Balls are a southern thing and make a great appetizer. In fact, I had never even heard of them until just recently... but I'm told people here in Louisiana have been doing this for years!
I had to give it a try, so using our family's favorite Boudin Sausage I got to work creating a really good Boudin Balls Recipe, in time for Game Day!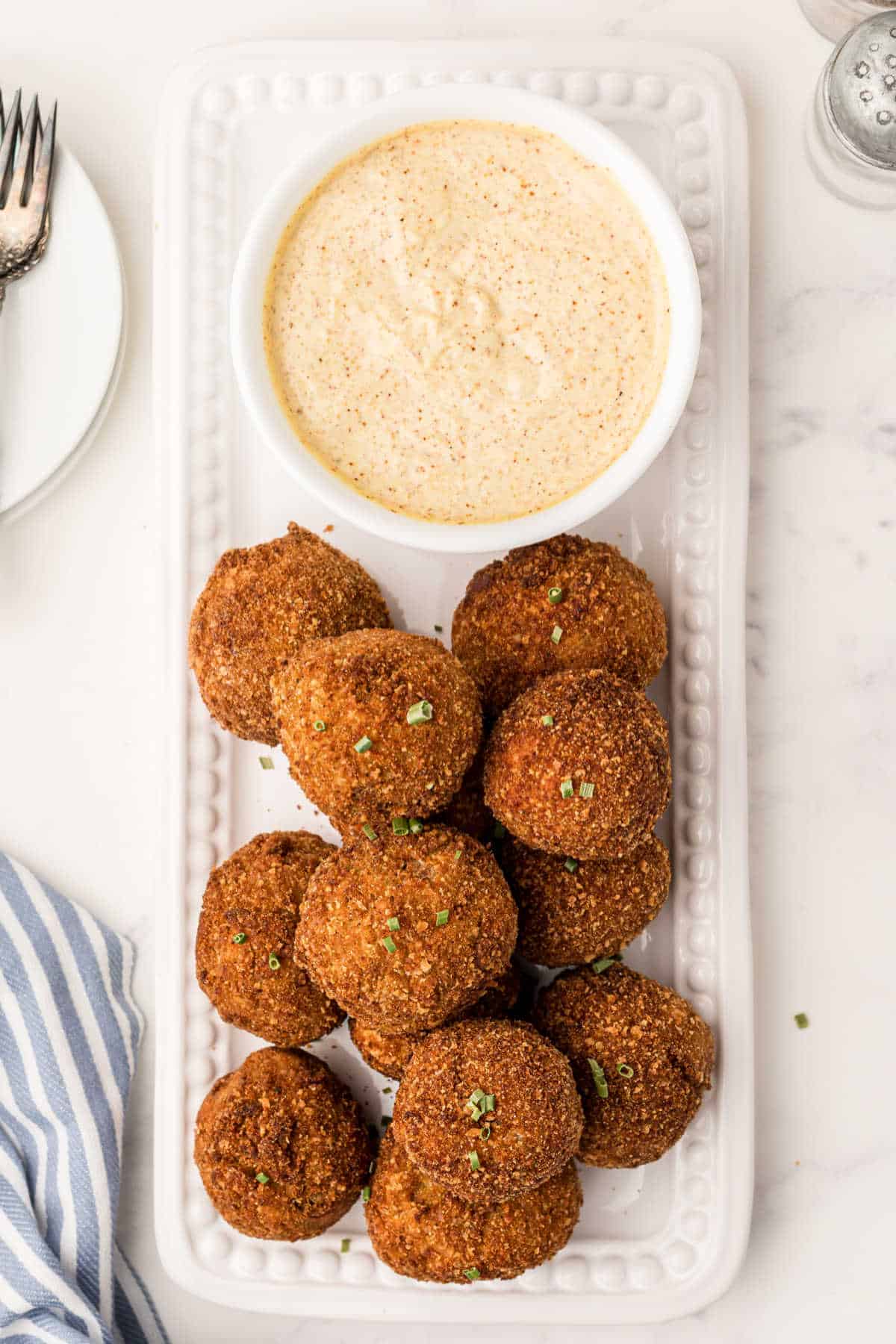 Jump to:
What Is Boudin?
The first time I tried to say Boudin Sausage I totally messed it up. It is properly pronounced "Boo-dan" and is a sausage native to Louisiana that is made up of cooked ground pork, rice and seasonings.
That is the original ingredients, but that can be mixed up too... I even saw Crawfish Boudin the other day. I believe you could probably use any type of meat or seafood for this type of sausage.
That boudin mixture of meat, rice and seasonings are then stuffed inside a sausage casing and ready to cook.
🧅 Ingredients
---
You will need:
Boudin Link Sausage (try my homemade boudin sausage here)
Large Eggs
Buttermilk
Breadcrumbs, plain
Onion Powder
Garlic Powder
All Purpose Flour
Vegetable Oil, for frying
🔄 Substitutions and Additions
The boudin sausage is a variable that can be changed up depending on your preference. There are hotter/milder versions as well as differing meats used. You could even add some chicken livers for even more depth of flavor.
Add some green onions or green peppers (bell pepper) for even more flavor.
Try a chicken boudin...
You can even make your own boudin sausage meat too (instead of store bought).
Add a little black pepper if you like.
🥣 Instructions
Step 1: Remove Boudin Sausage meat from the casing, using kitchen shears, into a large bowl.
Step 2: Roll your meat into roughly 1-½" sized balls. If you find your boudin sausage meat is a little on the dry side feel free to sprinkle a little water (enough to make the meat/rice mixture moldable) and place on a prepared baking sheet. Place the boudin balls into your refrigerator for an hour or more.
Step 3: In a medium mixing bowl beat the eggs.
Step 4: Mix the buttermilk into the eggs.
Step 5: In a medium mixing bowl mix the bread crumbs with the garlic powder, onion powder and Creole seasoning.
Step 6: Line up the dredging bowls. First goes flour, then the egg wash and finally the breadcrumb/seasoning mix.
Step 7: Pass each Boudin Ball through the dredging station, first through the flour, then the egg mixture, then the breadcrumb mix.
Step 8: Fry balls in hot oil (at least 2" Deep) at 350°F for 3-4 Minutes until golden brown and an internal temperature of 160°F has been reached, remove with a slotted spoon, catch the excess drip on paper towels and serve right away with a dipping sauce.
Next time try my Natchitoches Meat Pies, another delicious South Louisiana snack.
🍽 What To Serve With Boudin Balls
One of Louisiana's great appetizers. Boudin balls should be served hot with a Mustard Cream Sauce, or Remoulade Sauce. I prefer a small bowl of Mustard Cream Sauce, it's really easy, see below ingredients:
1 Cup Mayo
5 tablespoon Spicy Brown Mustard
½ teaspoon Garlic Powder
¼ teaspoon Cayenne (red pepper)
½ teaspoon Creole Seasoning
🧊Storage
After the Boudin Balls have been cooked and eaten... any leftovers should be stored in an airtight container (with a sheet of paper towel), in the refrigerator for up to 4 days. For best results warm up in the air fryer or oven to keep a crispy texture.
📘 More Cajun recipes:
💡 Tips and Tricks
Allow to harden in the refrigerator covered in plastic wrap for at least an hour before frying, this will help the Boudin Balls retain their shape better in the frying process.
It's important you use a good quality boudin sausage. The more you like the flavor, the better your boudin balls will taste to you.
If you are trying to eat healthier and would prefer to bake them, this is possible. I would recommend air fryer (spray them with a light coat of oil first), cook on 425°F for 8-10 minutes. Otherwise, to bake them, place on an oven sheet and bake at 425°F for 10 minutes.
You could use a deep fryer (or electric fryer) if you prefer, to hold the temperature better.
👩‍🍳 FAQ
What are boudin bites made of?
Boudin bites (or balls, they are the same) are made from boudin sausage that has been removed from it's casing and mixed together with some seasonings, dipped in bread crumbs and fried. Super simple. No fuss needed.
How is boudin different from sausage?
Boudin is actually made from cooked pork instead of raw. It's mixed with rice and seasonings and stuffed into a casing.
How to cook boudin sausage
If you are cooking a straight up boudin sausage link, for best results cook on the barbecue pit (that's my favorite way). As the rice/meat has already been cooked it doesn't take long to cook. Just until it's brown enough on the outside.
Boudin Balls take that boudin sausage meat and bread it then fry it for a few minutes.
Boudin and cracklins
If you have ever heard this, you have been to Lousiana! There are a lot of small shops that sell boudin and cracklins. Usually this is their specialty. They'll process a pig/hog and make their own boudin sausage and pig skins (cracklin).
What is Boudin Blanc?
Boudin blanc is a type of white sausage that is made out of pork and rice with added cream/milk and other herbs. It's famous in Louisiana and France.
Is there boudin sausage near me?
If you are in Louisiana then yes, I'm sure there probably is. Just type that question into your smart phone search area and it will throw out some places. If you don't live in Louisiana you may need to special order it to be shipped to you.
Can you freeze Boudin Balls?
Yes, they freeze well. Make sure they're in an airtight freezer safe container. They freeze well for 3 months. When defrosting allow to slowly defrost in the refrigerator.
What part of the pig is in boudin?
Cooked ground pork is usually used, which can be a mixture of the different meats from the pig. The small intestine is traditionally used as the casing for boudin.
How do you keep boudin balls from falling apart?
Boudin can be quite dry at times, if it is then you'll need a way to help bind it together. I've heard some people sprinkle flour in, a little at a time along with a little water to try to help bind it. I personally prefer just the water as it will bind fine with the starch of the rice.
---
If you've tried this Boudin Balls recipe or any other great recipe on my site, let me know in the comment section below, how it turned out, we love hearing from our readers!
You can also follow me on PINTEREST, FACEBOOK and INSTAGRAM to see more amazing recipes!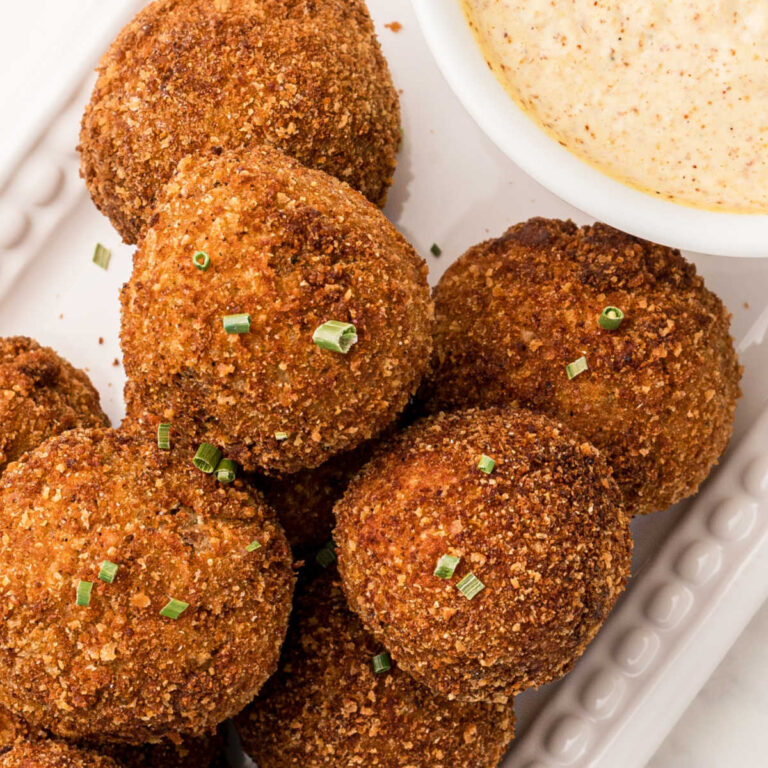 Boudin Balls
Additional Time:
1 minute
Boudin Balls are a delicious snack from South Louisiana where balls of Boudin Sausage meat are rolled up then coated in breadcrumbs and fried. A treat that tastes great dipped in a Remoulade Sauce, or a Cajun Mustard Cream Sauce.
Ingredients
2lb Boudin Sausage Links
2 Large Eggs
½ Cup Buttermilk
1 Tablespoon Creole Seasoning
2 Cups Breadcrumbs, plain
1 Teaspoon Onion Powder
1 Teaspoon Garlic Powder
1 Cup All Purpose Flour
Oil, for frying
Instructions
Remove casing from Boudin Sausage links with kitchen shears.
Roll Boudin Sausage meat into 1-½" Balls, then refrigerate for 1 hour or more.
Beat eggs in a medium sized bowl.
Add the buttermilk to the eggs and mix together.
In another medium sized bowl mix the seasonings with the breadcrumbs.
Set up your dredging stations, with the flour in a bowl first, then the egg/buttermilk mix and last the breadcrumb mix.
Remove the boudin balls from the refrigerator and coat each one in the flour first, then into the egg/buttermilk mix and last the breadcrumbs.
Heat frying oil to 350°F (at least 2" deep) and fry until golden (about 3-4 minutes). Serve right away with a dip.
Notes
Depending on the brand of Louisiana Boudin Sausage that you buy, some are more dry/wet than others. Our favorite boudin is on the dryer side so I sprinkle the sausage meat with a little water to get the mixture to stick together well. If your chosen boudin sausage is too wet try to squeeze the fluid out while rolling. Use the best boudin you can find that you enjoy for these Cajun Appetizers.
I've also heard these called Dirty Rice Balls, although I don't feel that's quite right.
For a great homemade Boudin Sausage Recipe, click here.
Putting the Boudin Balls into the refrigerator (or freezer) will ensure it doesn't fall apart before you coat and fry them.
Some people use a food processor to get the rice mixture to the texture they're looking for.
Make sure you have damp hands when pressing the boudin balls together, it'll help prevent sticking.
For another Classic Cajun recipe, try this Pastalaya dish, it's the best thing you ever tasted.
Recommended Products
As an Amazon Associate and member of other affiliate programs, I earn from qualifying purchases.
Nutrition Information
Yield

10
Serving Size

3
Amount Per Serving
Calories

309
Total Fat

9g
Saturated Fat

3g
Trans Fat

0g
Unsaturated Fat

6g
Cholesterol

100mg
Sodium

862mg
Carbohydrates

39g
Fiber

2g
Sugar

2g
Protein

16g
The recipe nutrition is based on a serving of 3 Boudin Balls per person. This nutrition information is an estimate and provided by Nutritionix.
Original Publish Date: April 24, 2021.