If you have the right equipment this homemade boudin recipe can be made so easily - mostly with some practice but as with anything like this, it makes it so much more enjoyable if you make it yourself.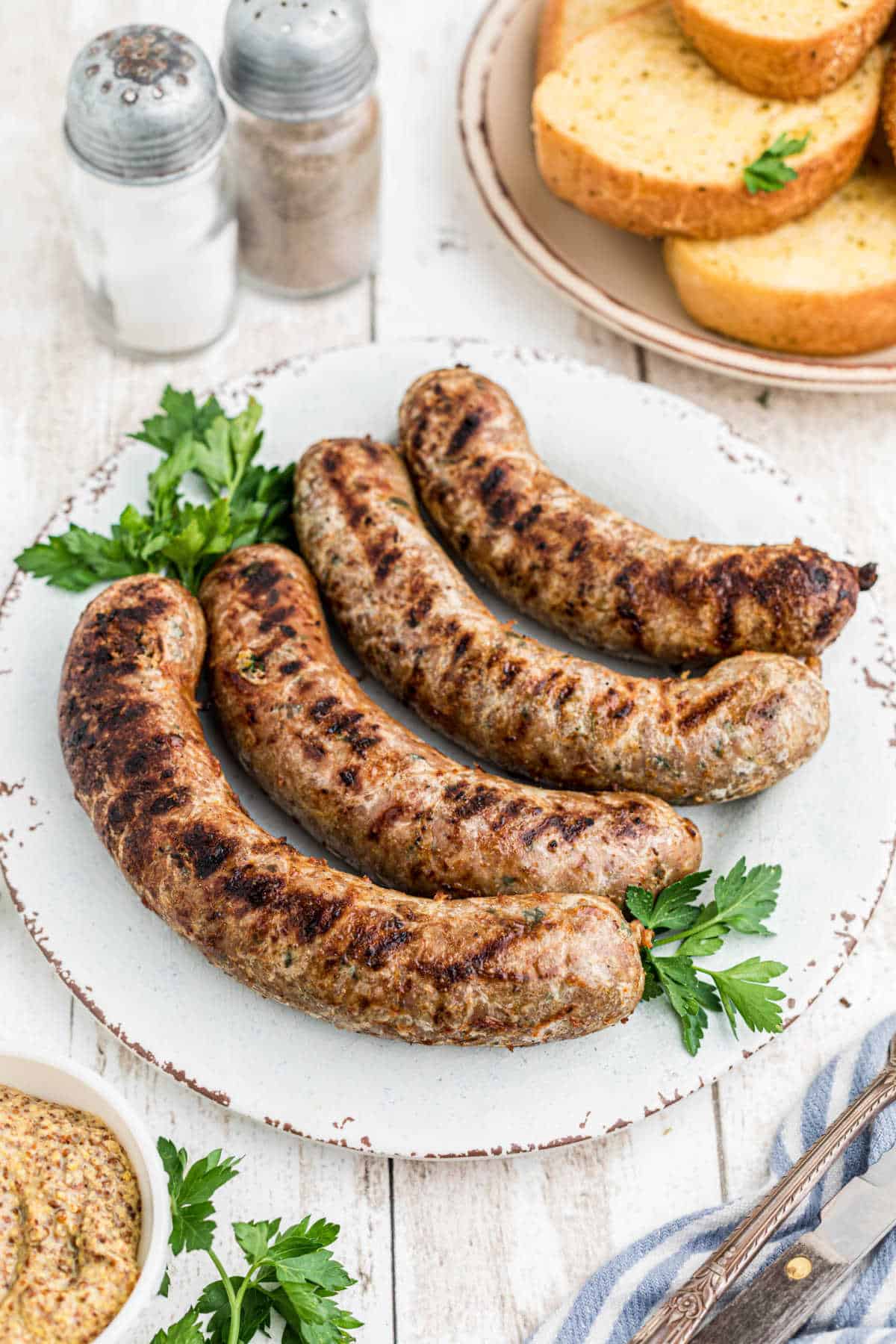 Cajun boudin sausage is made from pork meat (a roast usually) and liver, with cooked rice and seasonings and pretty much anything else you think would go well.
It's a staple in our home as one of our favorite Cajun recipes, my son absolutely loves it and has to have it at least one a week.
Jump to:
❤️ Why you'll love it
Making your own sausage means you have the flexibility to add to it just whatever you darn please. You prefer it spicier, then hey - it's your sausage! You don't like liver - that's fine - just leave it out.
There's something that is so satisfying when you make something like this yourself. It's like that achievement satisfaction - like when you finish a jigsaw puzzle, or a yard project.
🧅 Ingredients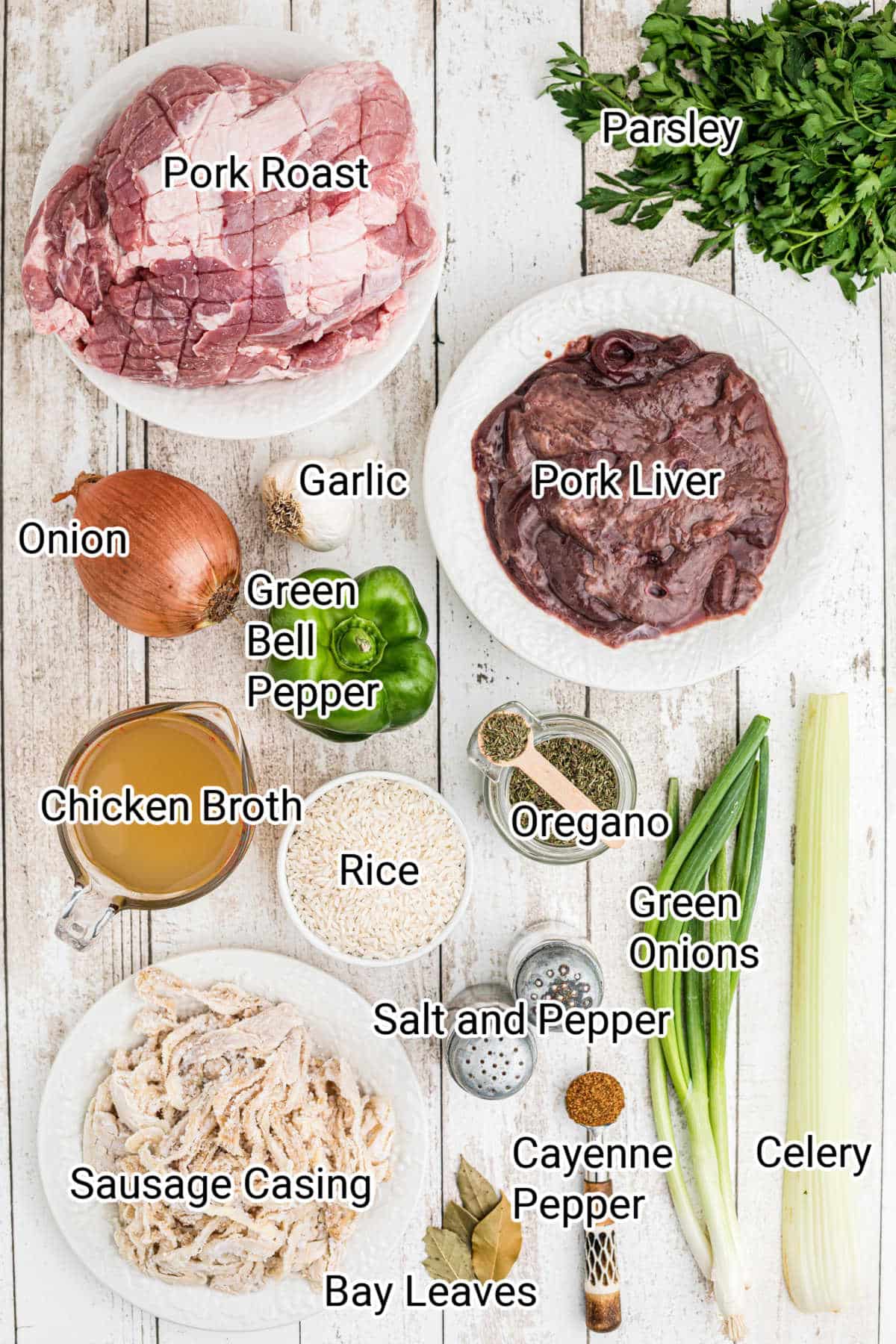 Pork Roast (I used shoulder, but you could use any cut like a pork butt or picnic roast)
Pork Liver
Chicken Broth
Onions
Garlic
Green Bell Peppers
Celery
Bay Leaves
Parsley
Green Onions
Cooked Rice
Oregano
Salt
Cayenne Pepper
Black Pepper
Sausage Casings
See recipe card at the bottom of this post for quantities.
🥣 Instructions
Step 1: Add the cubed pork roast, liver, onions, garlic cloves, green bell pepper, celery, ½ the parsley, ½ the green onions and the bay leaves to a large heavy bottomed pot.
Step 2: Add the chicken broth and bring to a boil over medium-high heat then reduce to simmer for 2 hours (min).
Step 3: Remove the bay leaves then using a slotted spoon remove the ingredients from the broth (reserve 1-½ cups of the broth and set aside). Lay out on a tray in a single layer to cool completely.
Step 4: Push the meat mixture through a meat grinder with a ¼" die into a large mixing bowl.
Step 5: Add the remaining green onions, parsley, oregano, salt, cayenne, black pepper and cooked rice. Give a good stir until completely combined then add the reserved cooking liquid and stir again.
Step 6: Push a sausage casing all the way to the end, make sure the casing is nice and wet and keep wetting your hands to help push the casing onto the pipe. It can get quite hard but it's necessary. Push the meat mixture through to form your homemade boudin.
Step 7: Cook per your preference.
Hint: Soak the sausage casing in water for an hour before using them. Pass water through the casing too to wash out the salt but also to help form the casing before stuffing it.
🔄 Substitutions and Variations
Cajun Seasoning - add some Cajun seasoning or Creole seasoning.
Chicken Livers - instead of pork liver chicken liver is also great.
Bread crumbs - Some people add bread crumbs to their boudin.
Dirty Rice - add dirty rice to sausage casing for a quick and easy boudin.
Hot Sauce - add some Tabasco hot sauce for a little extra heat and flavor.
Pork Chops - use up your leftover pork chops.
Saltine Crackers - like with the bread crumbs
❤ Sharing is Caring - Like Our Facebook Page ❤
🔌 Equipment
You will definitely need a meat grinder and sausage stuffer attachment to make this boudin recipe. There are some old fashioned ways to manage without, but I can't attest to them and to be honest, I like my gadgets.
I have some affiliate links in the recipe card at the bottom of this post for the type of equipment I use to make my boudin.
🧊 Storage
Once you have formed your boudin sausage, if you're not cooking it right away you'll need to refrigerate it in an airtight container for up to 4 days.
Once cooked it should then be stored the same way for up to 4 days.
Boudin freezes very well - store in a freezer safe container for up to 6 months.
Other Boudin Recipes
💡 Tips
Expert Tip: It's such good stuff - make extra of the boudin mixture and store for later. You could make boudin balls, stuff mushrooms with it, stuffed bell peppers (I could go on!)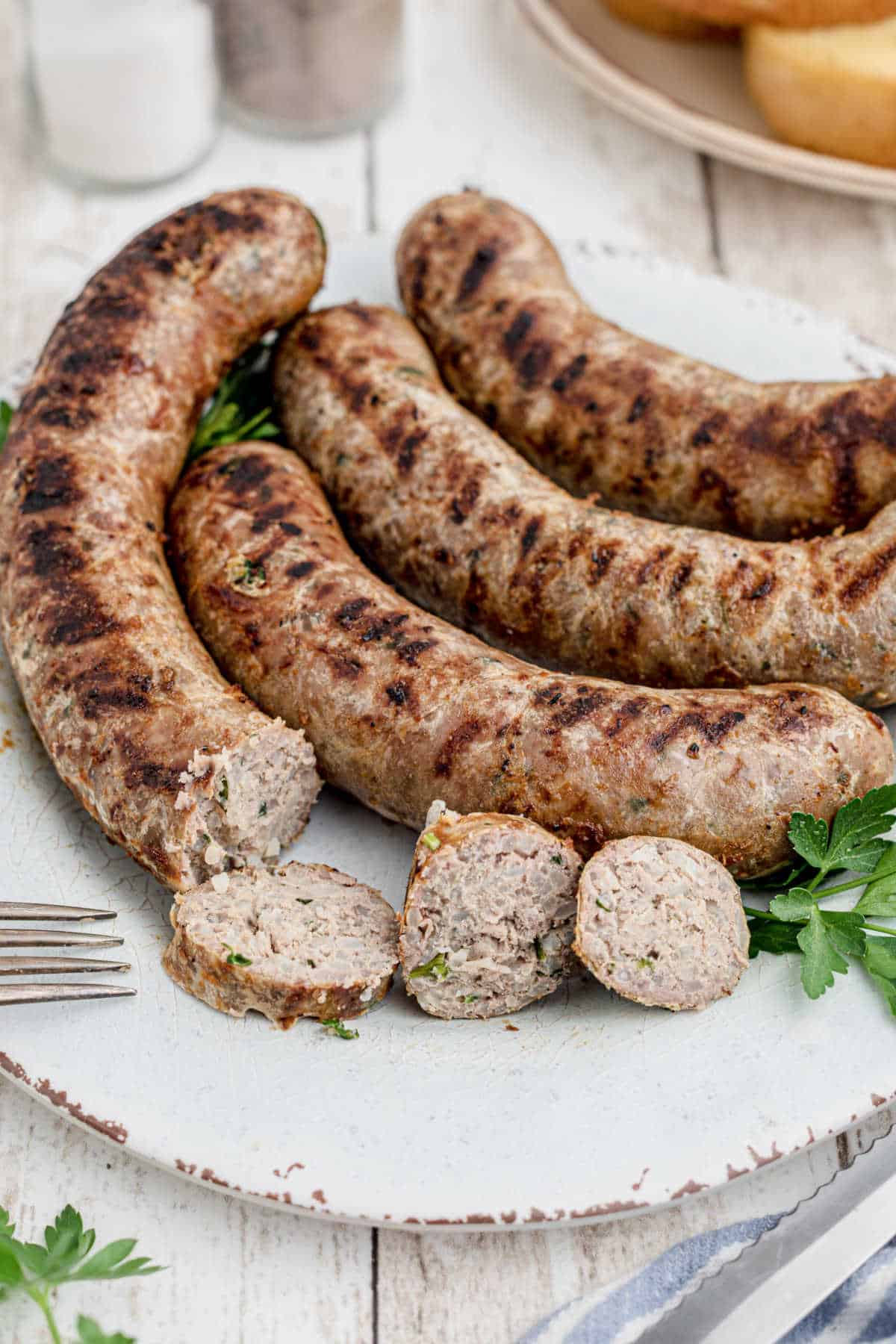 👩‍🍳 FAQs
Is boudin cooked or raw?
This boudin recipe is a cooked boudin sausage, although for best results you'll want to grill it to sear that sausage casing and make it nice and crispy. Some boudin sausage though you'll buy is raw so make sure you check.
How do you keep boudin from falling apart?
This is why we reserve some of the cooking liquid, to make sure the mixture of pork and other goodies are nice and moist before stuffing the sausage. It may seem almost too moist but trust me, this recipe gives the perfect boudin sausage!
What do you serve with boudin?
We like to serve bread, Mac and Cheese, potatoes. There is already rice in the boudin sausage so it does have a starch... it's a preference thing.
Do you eat the skin of boudin?
Boudin casing can be quite chewy if the boudin sausage is boiled, steamed or microwaved. This is why I prefer to grill my sausage, it helps make the casing nice and crispy and adds to the flavor!
---
If you've tried this Homemade Boudin Recipe or any other great recipe on my site, let me know in the comment section below, how it turned out, we love hearing from our readers! If you love this recipe please give it 5 stars! ⭐️⭐️⭐️⭐️⭐️
You can also follow me on PINTEREST, FACEBOOK and INSTAGRAM to see more amazing recipes!
Homemade Boudin Recipe
Total Time:
3 hours
15 minutes
Making homemade boudin sausage will bring your boudin knowledge up to a whole new level. The ability to tweak the seasonings etc to your own preference will make this the Perfect boudin sausage for you.
Ingredients
2-½ lb Pork Shoulder Roast, chopped into 1" cubes
1lb Pork Liver, rinsed
1 Large Yellow Onion, chopped
4 Garlic Cloves, chopped
½ Green Bell Pepper, deseeded and chopped
2 Celery Stalks, chopped
1 Cup Fresh Parsley, chopped and divided
1 Cup Green Onions, chopped and divided
4 Bay Leaves
6 Cups Long Grain Rice, cooked
1 Teaspoon Oregano
4 Teaspoons Salt
2 Teaspoons Cayenne Pepper
1-½ Teaspoons Black Pepper
Sausage Casings
Instructions
Add the chopped pork roast, the rinsed livers, onions, garlic, bay leaves, bell pepper, celery, ½ cup of the green onions and ½ cup of the parsley into a heavy bottomed pot (I like a Dutch Oven for this).
Pour in the chicken broth, cover and bring to a boil. Reduce to a simmer and cook for about 2 hours (no less).
Remove the bay leaves then using a slotted spoon remove the ingredients to a tray to allow to cool. Reserve 1-½ Cups of the broth for later.
Once cooled, push through a meat grinder using a ¼" die, into a large mixing bowl.
Add the cooked rice, oregano, salt, cayenne, pepper, remaining green onions and parsley. Mix well until combined. Stir in most (if not all) of the reserved broth. The mixture should be nice and moist.
Place a sausage casing over a pipe being used to form your sausages and push the mixture through to form your sausages. Twist and tie.
Cook the sausage per your favorite method.
Notes
I like to use the natural hog casings when making my boudin sausage. Make sure you have allowed the casings to soak for long enough and rinse all that salt off there.
Push the casing all the way back up the tube, filling the casing can be tricky if you don't do this.
Recommended Products
As an Amazon Associate and member of other affiliate programs, I earn from qualifying purchases.
Nutrition Information
Yield

12
Serving Size

1
Amount Per Serving
Calories

429
Total Fat

20g
Saturated Fat

7g
Trans Fat

0g
Unsaturated Fat

10g
Cholesterol

209mg
Sodium

1449mg
Carbohydrates

28g
Fiber

1g
Sugar

2g
Protein

32g