This Cajun Crawfish Etouffee recipe is a classic Louisiana dish and was so much easier than I thought it would be when James (my husband) told me about it. He's a born and bred, Down The Bayou, South Louisiana native and is a master at cooking Cajun food.
In the south, particularly Louisiana, crawfish is a big deal. Especially at the end of the year and into the new year. Crawfish season starts in January and ends June/July.
Jump to:
The best time to eat fresh crawfish is around April, which is great for the Lent period. Almost every backyard in Louisiana is boiling crawfish on a Friday night during Lent! See my awesome Crawfish Boil Recipe here.
Crawfish also goes hand in hand with Mardi Gras, you'll see a lot of tents along the route that are having a big ol' cook-out boiling the crawfish. Some of these tents go straight to cooking an etouffee though.
Using up those leftover crawfish tails is perfectly done in a crawfish étouffée (it's a French word). Although, you can use frozen and so it's not limited to that time of year... also, if you are like me, sometimes I just freeze those leftovers in batches. That way I can take my time on deciding what I'm going to make.
🧅 Ingredients
Cooked Crawfish Tails - for best results use your crawfish leftover from your boil - however, if you are using frozen that's fine too. You will probably need more seasoning if you're using the frozen kind.
Butter - everything tastes better with butter!
Yellow Onion - The holy trinity of Cajun cooking.
Celery - see above.
Green Bell Pepper - green pepper, see above.
Bay Leaf - Giving another dimension.
Crawfish or seafood Stock - I like to make a crawfish stock using my leftover crawfish peelings, in case you are not in a position to do this feel free to use seafood stock. At a pinch, maybe some chicken broth.
Green Onions
Fresh Parsley
All Purpose Flour - we need this to thicken up this stew.
Sea Salt - to help make them flavors pop.
Cayenne pepper - For a little heat and adds flavor. I like mine a medium heat. This can be added per personal preference.
See recipe card for quantities.
🥣 Instructions
I like to throw all my crawfish shells (or some of them anyway, enough to fit) into a large stock pot. I fill with water all the way to about 3" past the top of the shells then add some of the onions and garlic that is leftover from the boil. I cook this for a few hours then strain everything. This will give you some delicious homemade crawfish stock to cook your etouffee with.
If you are not able to do this, or are short on time feel free to use seafood stock in it's place.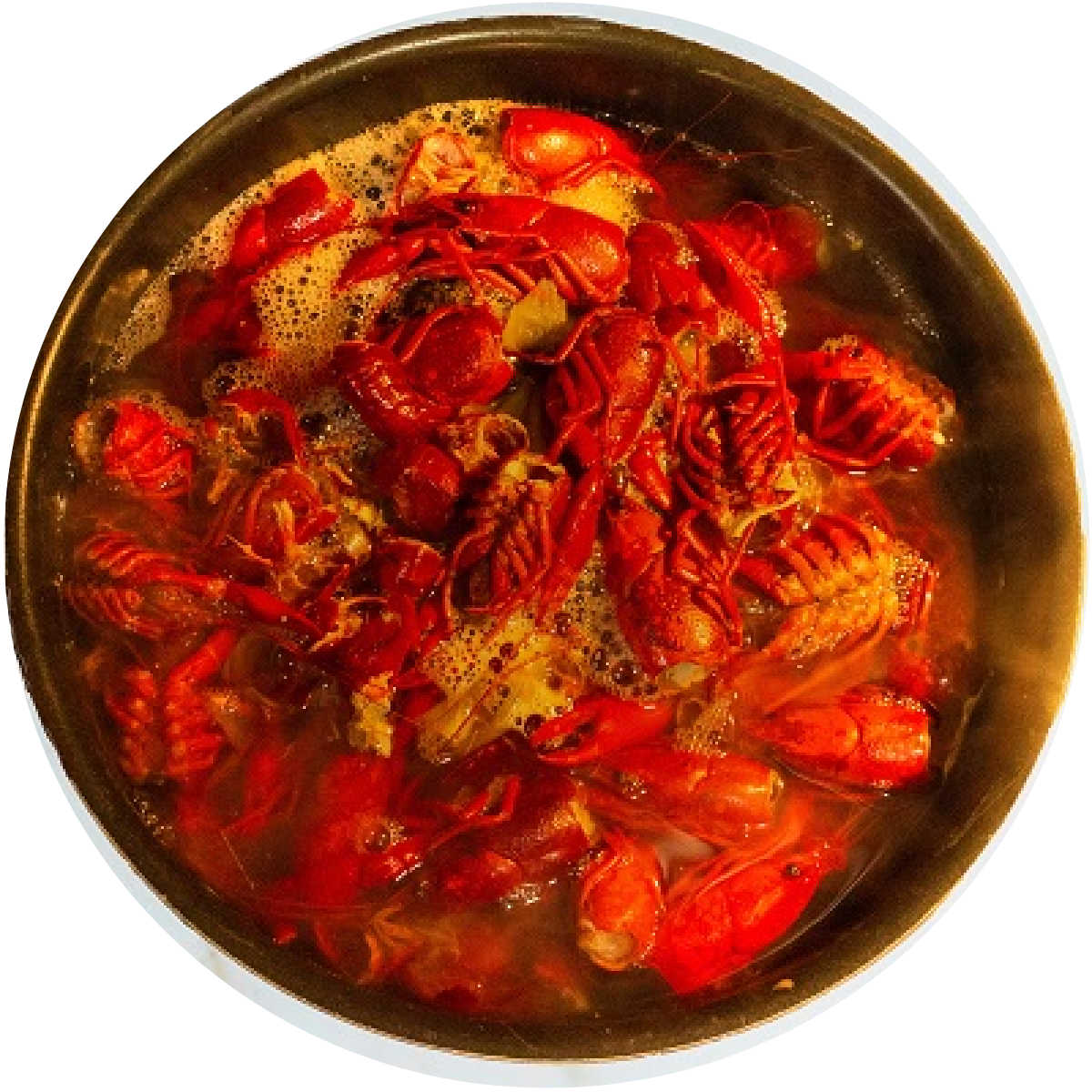 Step 1: Melt the butter over a medium-high heat, in a large cast iron pot or a Dutch Oven.
Step 2: Add the holy trinity (onions, green bell pepper, celery) and cook until soft.
Step 3: Add the flour and cook a further 3-5 minutes.
Step 4: Add the peeled crawfish.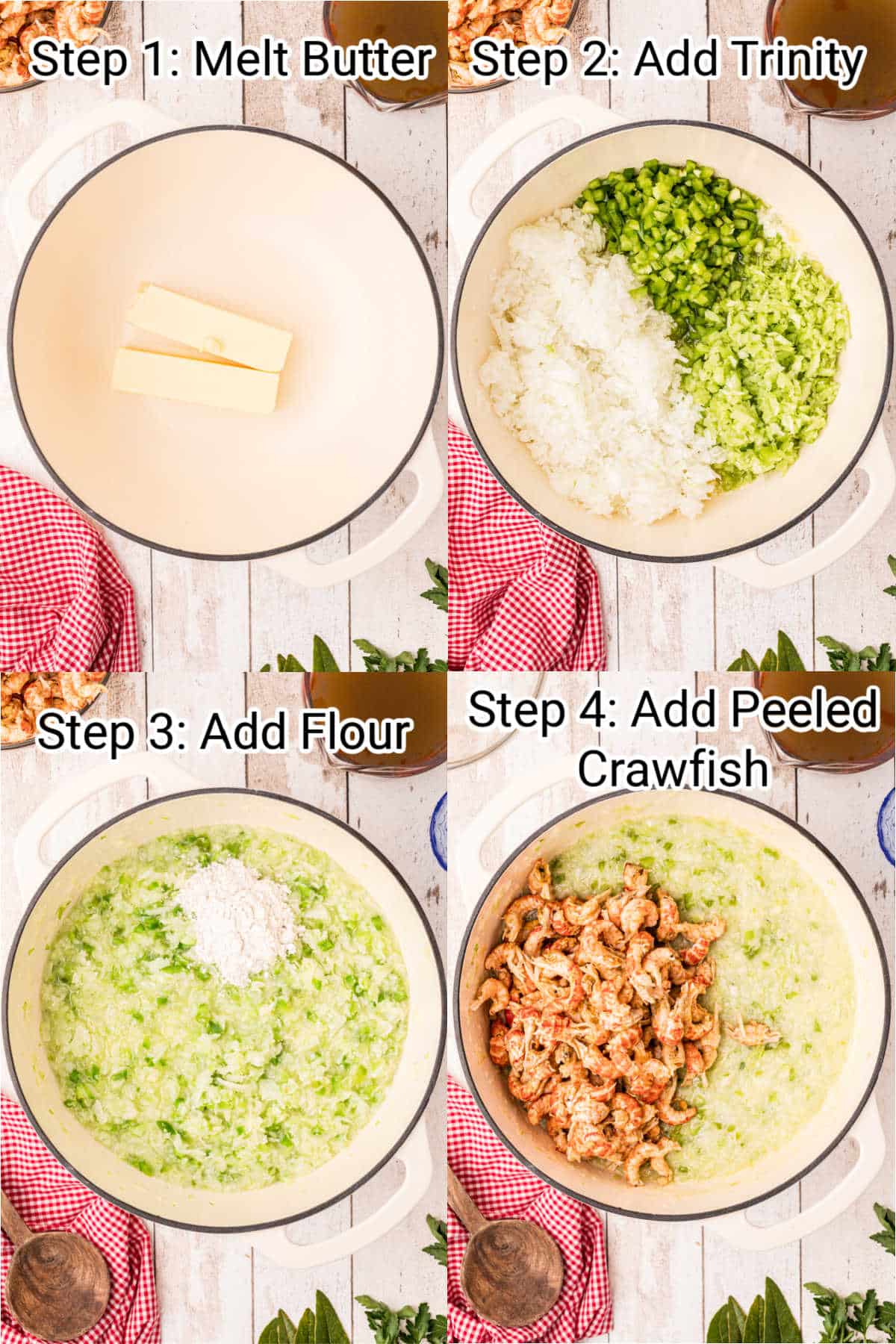 Step 5: Add the bay leaves and crawfish/seafood stock.
Step 6: Add the sea salt and cayenne pepper and cook 5 minutes.
Step 7: Add the parsley and green onions, then over a low heat cook another 5 minutes.
Step 8: Remove the bay leaves and serve with white rice.
Hint: to make a more Creole version of crawfish étouffée, you can add tomatoes or tomato sauce. It gives it some very bold flavors.
🔄 Substitutions and Variations
Shrimp - if you do not have access to crawfish you can make this same dish using fresh shrimp instead. Shrimp Etouffee is actually a thing, see my recipe here!
Salt - if you are on a salt restriction you can replace the salt with a no/low salt alternative.
Gluten Free - you could use almond flour in place of the all purpose flour and that is all that would be needed to make this a gluten free crawfish etouffee.
Olive Oil - if you prefer to cook with olive oil instead of butter, go ahead. Although, personally, I'm not a fan in this recipe.
Chicken Stock - this will work ok if you don't have seafood stock.
Spicy - add chili pepper flakes while cooking to imbue more heat into the dish, if desired (or hot sauce).
Tomato Paste - quite a few folks use tomato paste. Any Louisiana dish that has a tomato base will be more of a Creole dish.
Seasoning - in place of the salt use Cajun Seasoning (or Creole Seasoning) - it is usually quite salty so you won't need the salt too. Feel free to add black pepper to your liking too. Some people add some lemon juice from some wedges - this again is personal preference.
Kid friendly - make sure and grind up that holy trinity really fine so that it will melt into the dish. If your kids are like mine - God forbid they come across an onion!
❤ Sharing is Caring - Like Us On Facebook ❤
🦞 Other Crawfish Recipes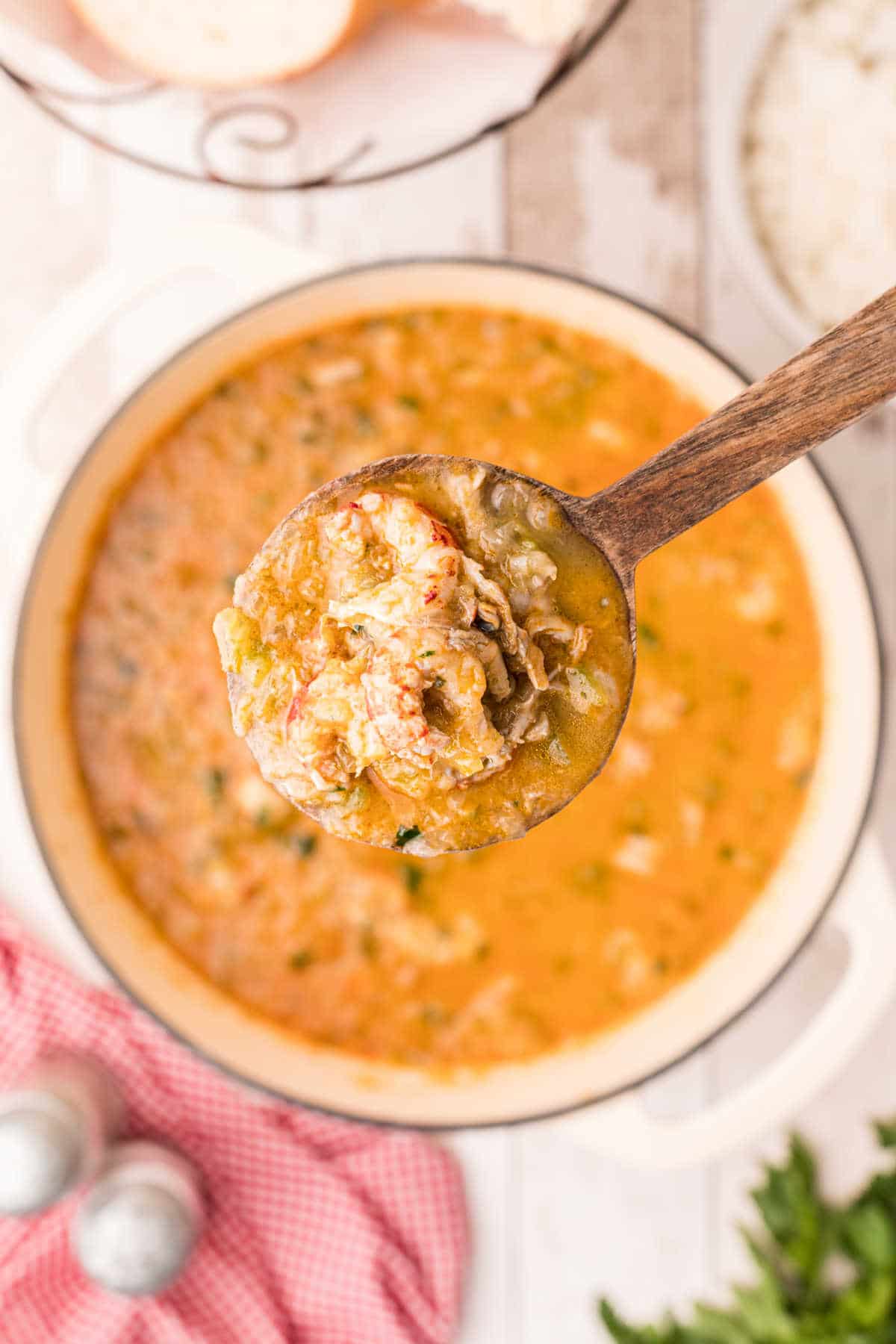 🔌 Equipment
Personally I always like to cook in a Dutch Oven or Cast Iron Pot. I just feel like the cooking experience is so much more even!
See below in the Recipe Card for a link to the exact pot I used for this recipe (and in the images).
🧊 Storage
Once your Crawfish Etouffee has cooled completely store in an airtight container in the refrigerator for up to 3 days. Reheat in the microwave and serve over rice.
This dish does freeze well, store in a freezer safe container for up to 3 months.
💡 Tips
Expert Tip: For me, a big factor that makes this Louisiana Crawfish Etouffee dish so good is the spice in the crawfish when they were cooked. Remember this will transfer over so if you had a really spicy crawfish boil, then chances are your etouffee will be too.
👩‍🍳 FAQs
What to serve this crawfish etouffee with.
White Rice is normally always served, along with a crusty bread. Sometimes you'll see people enjoying green beans and other vegetables too.
How to make Crawfish Etouffee
This is a really easy dish (Creole Cuisine), normally made using the leftovers from a crawfish boil. The peeled crawfish are cooked with a holy trinity of onion, bell peppers and celery. With flour to thicken and seasonings. Seafood stock is added and it's cooked for just a few more minutes.
What is Crawfish Etouffee?
It's a dish made using shellfish, smothered in a seasoned sauce and served over rice. It has the French Cajun influence out of New Orleans.
Wine Pairing with Crawfish Etouffee
Obviously a white is going to pair with Etouffee the best. A wine that is light and crisp, like a Chenin Blanc is perfect. A little sweetness in the wine will refresh your palate and go well with the spices.
---
If you've tried this Cajun Crawfish Etouffee Recipe recipe or any other great recipe on my site, let me know in the comment section below, how it turned out, we love hearing from our readers! If you love this recipe please give it 5 stars! ⭐️⭐️⭐️⭐️⭐️
You can also follow me on PINTEREST, FACEBOOK and INSTAGRAM to see more amazing recipes!
Crawfish Etouffee
Total Time:
1 hour
35 minutes
Crawfish Etouffee is a classic Louisiana dish full of robust flavor. This dish is famous for its Cajun influence and surprisingly easy and quick to make.
Ingredients
2lb Crawfish Tails, cooked and peeled
2 Sticks Unsalted Butter
4 Large Onions, chopped
6 Celery Stalks, chopped
2 Green Bell Peppers, Chopped
4 Bayl Leaves, Large
2 Tablespoons Flour, All Purpose
2 Teaspoons Salt
½ Teaspoon Cayenne pepper
4 Tablespoons Parsley, chopped
6 Tablespoons Green Onion, chopped
2 Cups Seafood Stock, (see below)
Seafood Stock
Crawfish peelings (pan full)
2 x Onions 2 x Garlic Bulbs from crawfish boil
Water to cover by 3 inches
Instructions
Make seafood stock - this can be done ahead of time if needed. Take a pan full of crawfish peelings and some vegetables (onions/garlic) from your crawfish boil and boil with water - covered - for an hour. If you do not have the ability to do this step you can just use store bought seafood stock.
In a pan melt all the butter.
Add the chopped onions, bell pepper and celery (the trinity)
Cook on medium heat for about 3 minutes - until the vegetables are clear and soft.
Add the flour and continue to cook a further 3 minutes.
Add crawfish tails and cook 2 more minutes.
Add all bay leaves, continuing to stir.
Slowly add the stock, stirring and you'll see it start to thicken up. Add the salt and cayenne and cook for 5 minutes.
Add the Parsley and green onions and cook for another 5 minutes.
Remove bay leaves.
Serve over rice.
Notes
How the crawfish was originally boiled (seasoning) will determine how spicy this dish is. Depending how much heat you like in your food, the Cayenne can be always increased/decreased.
For a quick boost in flavor (if needed) use Creole Seasoning.
Recommended Products
As an Amazon Associate and member of other affiliate programs, I earn from qualifying purchases.
Nutrition Information
Yield

8
Serving Size

1
Amount Per Serving
Calories

425
Total Fat

26g
Saturated Fat

15g
Trans Fat

0g
Unsaturated Fat

9g
Cholesterol

243mg
Sodium

825mg
Carbohydrates

16g
Fiber

2g
Sugar

6g
Protein

32g