This Fried Catfish Nuggets recipe is one of our family favorites. So simple to make for an easy dinner, using small nuggets of catfish fillets soaked in mustard then a flour cornmeal mix, they're perfectly crispy every time!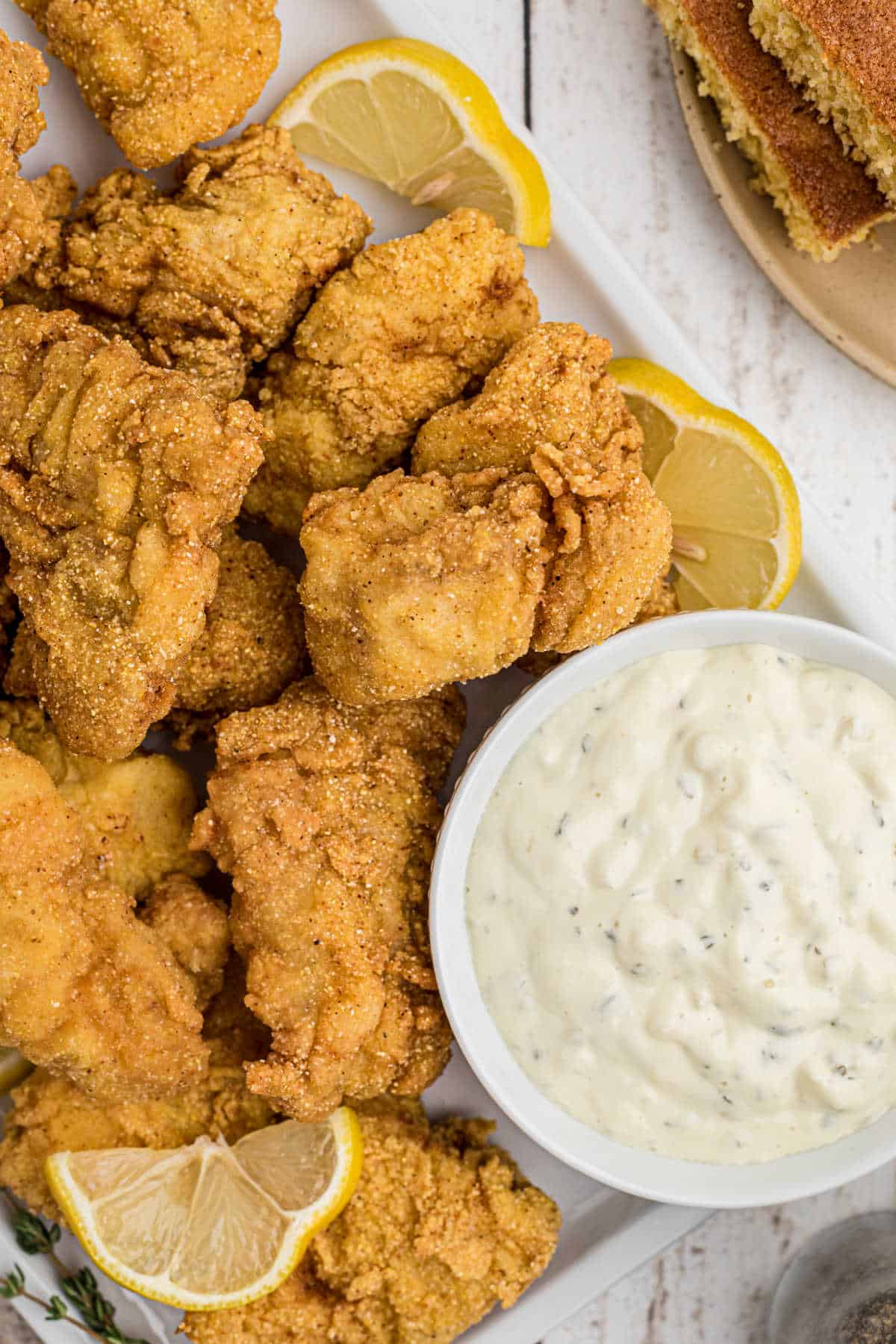 Jump to:
Catfish is so good cooked in so many different ways.
This particular recipe is our go-to when we want to fry it, but you can also bake, grill and air fry this delicious 'mud-cat'!
The cornmeal to flour ratio is always a personal preference really, it depends how crispy you like your fried fish to be.
We don't like it super crispy, kind of in between so I cook it with half cornmeal and half flour. If you like it more crispy use more cornmeal and vice versa.
The Louisiana people are so adept at making delicious meals by living off the land and this catfish recipe is by no means any different.
We go fishing often and catfish are so easy to catch, if we have no luck catching our favorite fish (Bass and Crappie) we'll switch over to catfish!
🧅 Ingredients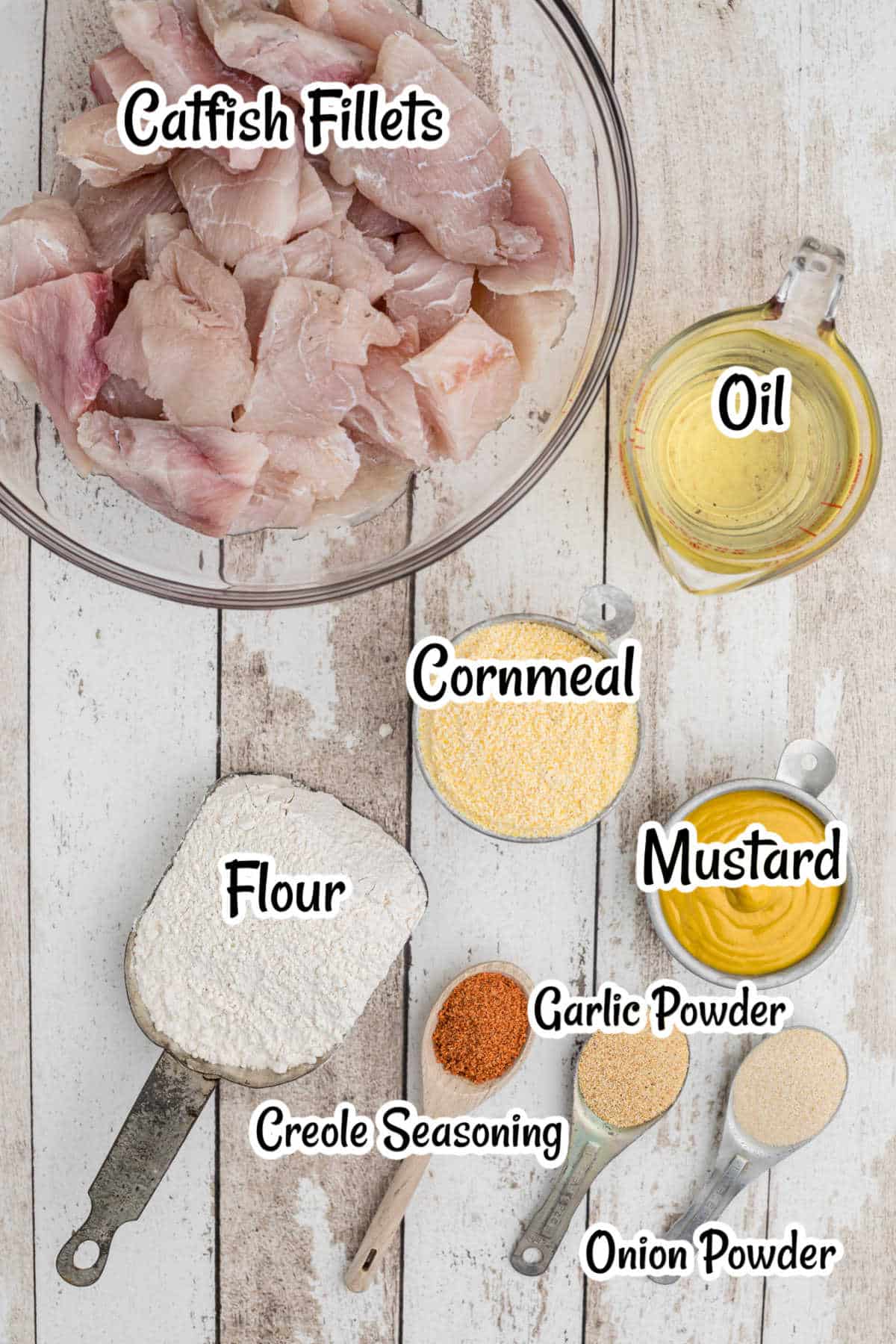 Catfish Fillets
Cornmeal
Flour
Mustard
Garlic Powder
Onion Powder
Vegetable Oil, Or Peanut Oil (for frying)
See recipe card for quantities.
🥣 Instructions
There are more detailed instructions in the recipe card at the bottom of this post.
Step 1: Once you have your catfish fillets cleaned and cut into bite size nuggets place them into a resealable bag (or a shallow dish) with the mustard - move the fillets all over in order to get evenly coated. Allow to sit for at least an hour.
Step 2: Mix the cup flour, cornmeal and seasonings in another resealable bag and mix well.
Step 3: Put some of the catfish nuggets into the cornmeal mixture bag, seal and shake well to evenly coat.
Step 4: Drop into hot oil that's been heated to 350 degrees fahrenheit and fry for about 3-4 minutes. Remove to a paper towels lined sheet pan and place into a preheated oven (low) to keep warm if needed. Serve with french fries and some lemon wedges (lemon juice), and a good side salad.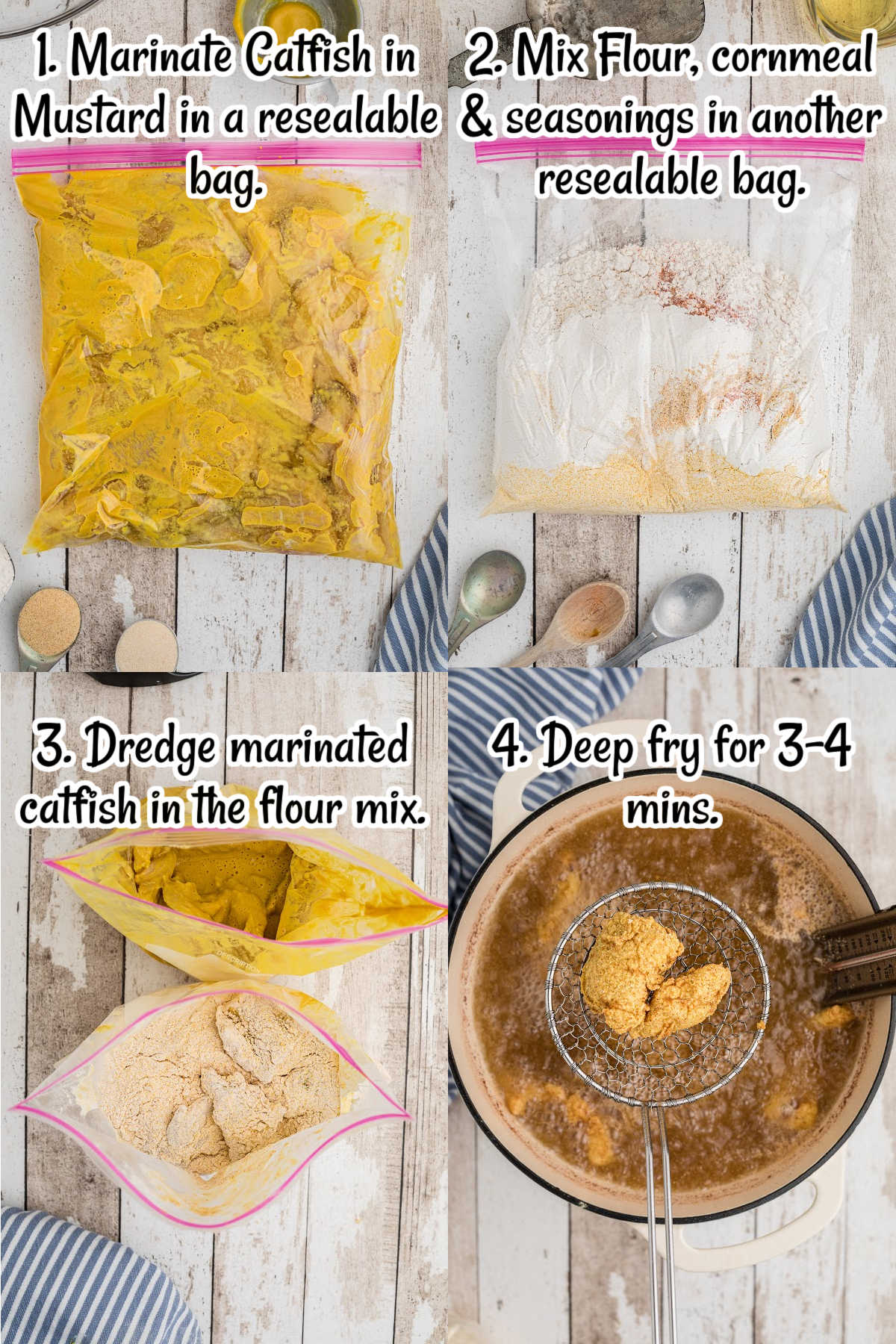 Hint: don't overcrowd the frying pot as the fish will likely stick together and not cook as evenly. Also, if you add too much fish to the flour mix at one time they won't evenly coat either. It's best to just add as much as you'll be frying at one time.
🔄 Substitutions and Variations
Creole Seasoning - instead of Creole Seasoning, if you don't have any, you could use Seasonall, Cajun Seasoning or any other seasoning blend. You could even simply use salt and black pepper.
Catfish - These fish recipes can be made the same way with any other white fish.
Fish Fry - If you are lucky enough to have some in your pantry, feel free to swap out the cornmeal and flour and just use fish fry. I've done it myself on many occasions!
If you are on a gluten free diet, you could swap out the all purpose flour for almond flour. I would make the ratio to be more cornmeal though as almond flour doesn't get as crispy.
Spicy - if you like a little heat to your food feel free to add your favorite spice! Chili powder works well, or you can add some hot sauce to your mustard! Maybe even try a spicy mustard.
Healthy - instead of deep frying these catfish nuggets you could air fry them or bake them. They taste almost as good. In the air fryer you'll need to give the nuggets a little spritz of cooking spray and set the air fryer to 375° and cook for 6 minutes. Each air fryer is different though, you may need to adjust that a little.
Catfish Po Boy - Take these fried catfish nuggets and put them on a po' boy bun with some remoulade sauce and fixin's. You'll really think you're in New Orleans then! See this Fried Oyster Po Boy recipe, for a similar experience.
🧊 Storage
Once the fried catfish nuggets have cooled completely store them in an airtight container with a little paper towel, in the refrigerator, for up to 4 days.
To reheat, I recommend reheating them in the air fryer if you have one. Set it to 400°F and heat for 3-4 minutes. If you don't, the oven is fine.
📘 What To Serve With Fried Catfish Nuggets
For more, see my post on What To Serve With Fried Catfish where I dive in depth to some awesome side dishes.
💡 Top tip
If you are like us you'll enjoy eating your fried catfish with white beans and rice and especially a slice of homemade cornbread! C'est Bon!
👩‍🍳 FAQ's
Where can I buy Catfish Nuggets?
In Louisiana we have an abundance of catfish. If we don't have any and don't have friends who have some there's usually a local fisherman or seafood store that sells it. In fact, we even have it at the grocery store here.
You might not be as lucky where you are, to get it fresh. You may find it in the frozen fish section at your local market, but if not you may have to make a special order to get it shipped to you.
Why are catfish nuggets so cheap?
Typically the nuggets are the offcuts from the fish, not the whole fillets so they will tend to be cheaper than regular catfish fillets.
If you've tried this Fried Catfish Nuggets recipe or any other recipe on my site, let me know in the comment section below, how it turned out, we love hearing from our readers!
If you love this recipe give me a 5-star rating below ⭐️⭐️⭐️⭐️⭐️.
You can also follow me on PINTEREST, FACEBOOK and INSTAGRAM to see more amazing recipes!
Fried Catfish Nuggets
Total Time:
1 hour
13 minutes
This fried Catfish recipe is simple yet delicious. Crispy on the outside and soft and moist on the inside with hints of mustard and Creole seasonings, all that's left to decide is whether to serve with beans or potatoes.
Ingredients
3lb Prepared Catfish Fillets
1 Cup American Mustard
3 Tablespoons Creole Seasoning
2 Cups All Purpose Flour
2 Cups Cornmeal
2 Tablespoons Garlic Powder
2 Tablespoons Onion Powder
Canola Oil (for frying)
Instructions
Cut your catfish fillets into 2" nuggets, if needed. Add to a resealable bag with the mustard and ensure all the catfish has been through the mustard. Allow to sit for at least an hour.
Add the flour, cornmeal, Creole seasoning, onion powder and garlic powder to another large resealable bag and mix well. Add your oil to a pot for frying and heat to 360°F.
In batches of about 10 pieces, add to the flour mix and shake to coat the catfish well.
Once the oil has come to temperature drop the fillets into the oil one by one (but quickly, this will help them not stick to each other) Fry for about 3-4 minutes, remove and drain on a paper towel lined baking sheet.
Notes
Don't add too much catfish to the flour mix at one time, or the pieces will not get coated well. Do it in stages.
You'll know when the catfish nuggets are ready because they'll start floating on the surface.
When frying I like to use a dutch oven to distribute heat evenly - but you can use an electric fryer if you prefer, or a frying pot outside is also a favorite!
Recommended Products
As an Amazon Associate and member of other affiliate programs, I earn from qualifying purchases.
Nutrition Information
Yield

12
Serving Size

1
Amount Per Serving
Calories

348
Total Fat

11g
Saturated Fat

2g
Trans Fat

0g
Unsaturated Fat

7g
Cholesterol

75mg
Sodium

1186mg
Carbohydrates

35g
Fiber

3g
Sugar

1g
Protein

26g
I brought my mom out in the boat last time she visited (from England) and she was so excited to catch such a big fish - I thought I'd share this image just so you can see how big these scale-less lunkers are (and they get so much bigger!)