Instant Pot White Beans have become one of my favorite recipes to pull out regularly. Being able to cook dry beans in 30 minutes without soaking is amazing to me and the taste is superb. This delicious dish is a southern favorite, made with cured meat to add flavor is a great side dish for any main!
There's different types of white beans that can be used for this recipe. I think the biggest battle is between navy beans and great northern white beans.
If you're like us and like small white beans then the navy beans are for you. They hold their shape well when cooked and require being smashed against the side of the pot to add creaminess.
Next time try my Crock Pot Pinto Beans, if you like beans you'll love this recipe.
Jump to:
The great northern beans don't hold their shape as much and will fall apart on their own to add the creaminess - if you prefer that. They're milder and have a slight nutty flavor.
As you know, we're in Louisiana and it's tradition to have these beans served alongside fried fish. Check out my fried catfish and cornbread recipes.
🧅 Ingredients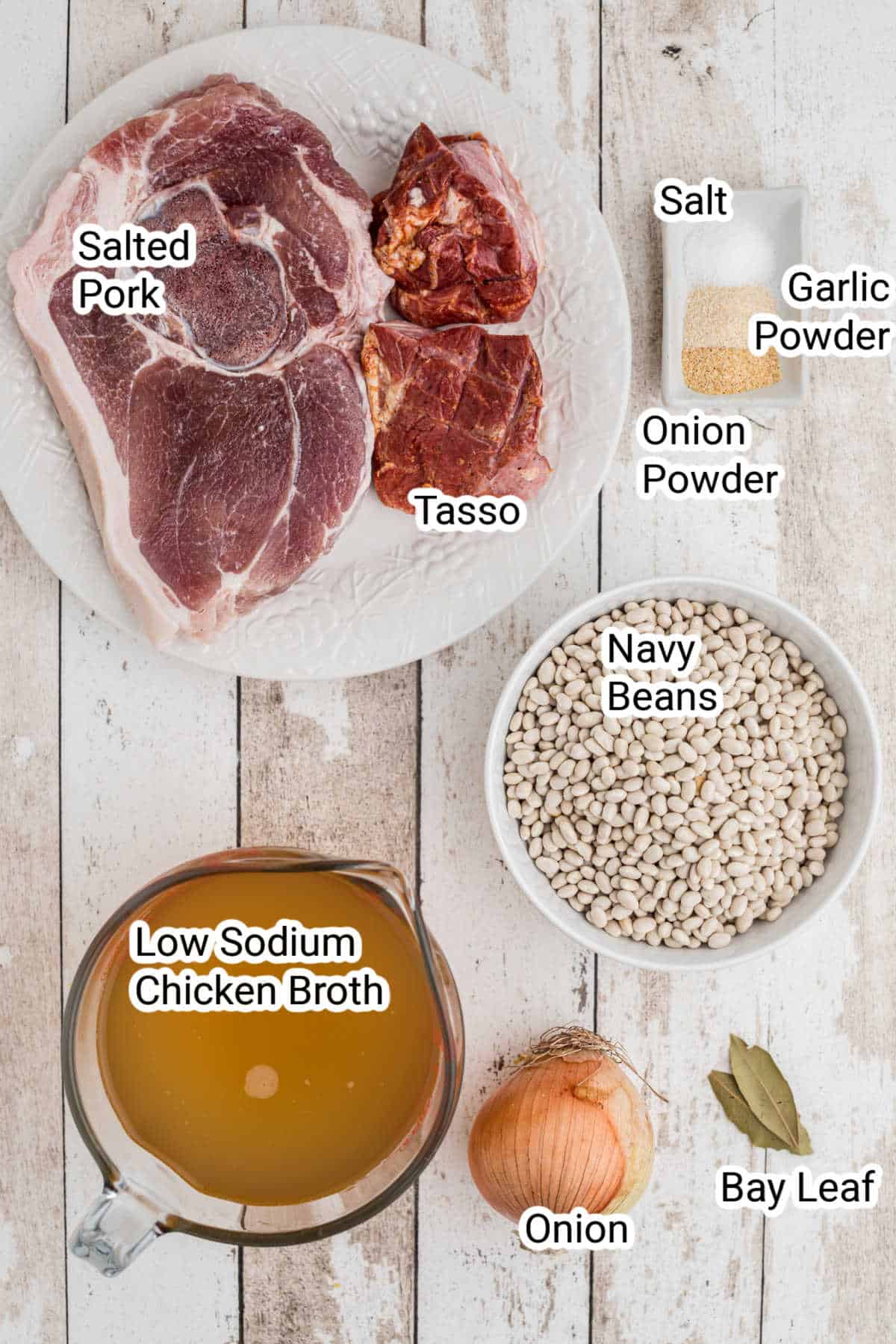 Salted Pork
Tasso
Navy Beans (or any dried beans that are white)
Onion
Bay Leaf
Garlic Powder
Onion Powder
Salt
See recipe card for quantities.
🥣 How To Cook White Beans
This pot of beans is so easy to prepare it makes supper time super easy and a dish that would normally take hours to cook is instead made in 30 minutes.
A lot of people like to saute their onions first in olive oil, before adding the rest - can enhance sweetness and make them softer. I don't do that solely to save time, I don't feel it really changes things too much.
Step 1: Place all ingredients into the instant pot.
Step 2: Add chicken stock and stir all ingredients to combine well.
Step 3: Close lid and cook on high pressure for 30 minutes. After the cooking time the Instant Pot will slow release the pressure. (If you quick release you may not have tender beans and they'll need more cooking time).
Step 4: Once all the pressure has been released serve over rice!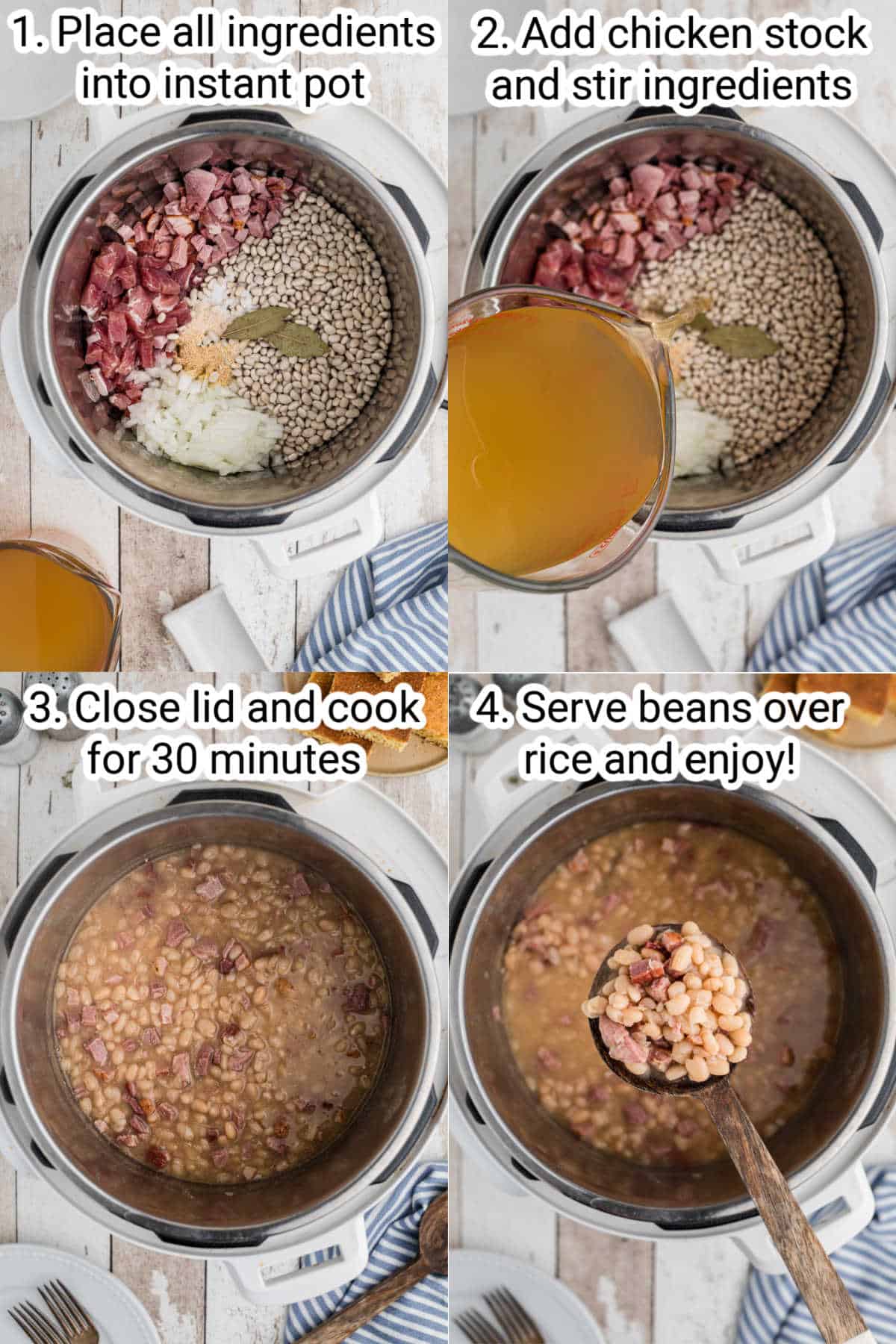 Hint: If you like some more creaminess to your white beans recipe feel free to smash the beans on the side of the pot and stir well.
🔄 Substitutions and Variations
The basic white beans and ham recipe is a one pot meal that's quite flexible and you can adjust to your own preferences. Here's the substitutions I feel are common:
Beans - the three main types of white beans are Navy Beans, Cannellini Beans and Great Northerns. To make white beans you should pick either of these two types.
Salt Meat - Our family uses the term 'salt meat' in reference of pickled pork or salted pork. There are a few variations of this, but you could substitute any seasoned ham e.g. smoked sausage instead. I like to use Tasso too, as it adds another flavor profile. This could all be based on what you have in your refrigerator!
Ham Bone - if you have a leftover ham bone.... perfect! It's a great way to use up leftovers. Or a ham shank, or ham hock.
Vegetarian - To make this dish vegetarian omit the ham altogether and season using spices only.
Spicy - add hot sauce before cooking to imbue heat into the dish.
Deluxe - add some smoked sausage coins to your ingredients.
Kid friendly - make sure the onions are chopped really fine, even in the food processor so that they melt during cooking. If your kids are like mine and find one onion.... it's over!
🔌 Equipment
Your will need an instant pot (electric pressure cookers) to make this recipe. You can find an affiliate link to the type I have here.
There's also more information in the recipe card below.
🧊 Storage
Once cooled completely this dish will need to be stored in an air tight container in the refrigerator for up to 5 days.
This recipe freezes excellently. Add to a freezer safe container and freeze for up to 3 months.
📘 Related Recipes
💡 Tips
Expert Tip: Some types of salt meats can be more salty than others. Be careful here because you could ruin your beans if you are not careful.

I used to see my mother-in-law touch the salt meat then lick her finger to check the level of saltiness. It's pickled, so it's fine.... although I don't recommend it and I could never do it. I just rinse my salt meat before cooking with it just to be on the safe side. That way I can always add salt if needed.
---
If you've tried this Instant Pot White Beans Recipe or any other great recipe on my site, let me know in the comment section below, how it turned out, we love hearing from our readers!
If you love this recipe please give it 5 stars! ⭐️⭐️⭐️⭐️⭐️
You can also follow me on PINTEREST, FACEBOOK and INSTAGRAM to see more amazing recipes!
Instant Pot White Beans
Additional Time:
15 minutes
Delicious southern style white beans cooked in the instant pot are even more delicious and creamy with all the flavors of the ham and the seasonings used.
Ingredients
1lb Navy Beans (or Great Northerns)
4oz Tasso, diced
4oz Salted Picnic Pork, rinsed and diced
1 Yellow Onion, diced
1 Teaspoon Salt
½ Tablespoon Onion Powder
½ Tablespoon Garlic Powder
1 Large Bay Leaf (or 2 small)
5 Cups Chicken Broth, low sodium
Instructions
Once all your onions and salted meats have been diced add all ingredients to the instant pot.
Pour in the chicken broth and give the ingredients a good stir.
Lock the lid into place and make sure the valve is pointed to "sealing".
Press the Beans/Chili button (if yours has one) or press Pressure Cook for 30 minutes.
After the 30 minutes is up allow the instant pot to release the pressure naturally for 15-20 minutes. After that switch the valve to "Venting".
Notes
Depending on how creamy you like your white beans you can smush some of the beans against the side of the instant pot to create a creamier texture.
Sometimes that salted pork can be more salty than usual. Wash the pork to rinse under cold water, it will help.
I am a firm believer that one bean is superior to another. I prefer the Camellia brand over any other!
We like to use Navy Beans for our white beans recipe, a lot of other folks prefer Great Northerns - they're a bigger bean and have a slightly nuttier flavor. I like them either way... but those small white beans are our favorite.
Recommended Products
As an Amazon Associate and member of other affiliate programs, I earn from qualifying purchases.
Nutrition Information
Yield

10
Serving Size

1
Amount Per Serving
Calories

128
Total Fat

3g
Saturated Fat

1g
Trans Fat

0g
Unsaturated Fat

2g
Cholesterol

13mg
Sodium

398mg
Carbohydrates

15g
Fiber

5g
Sugar

1g
Protein

11g
---