This Dutch Oven Jambalaya Recipe is one of my favorite and most solid ways to cook a Jambalaya consistently perfect every time. Soft, moist rice and full of Cajun spice - with shrimp, chicken and smoked sausage.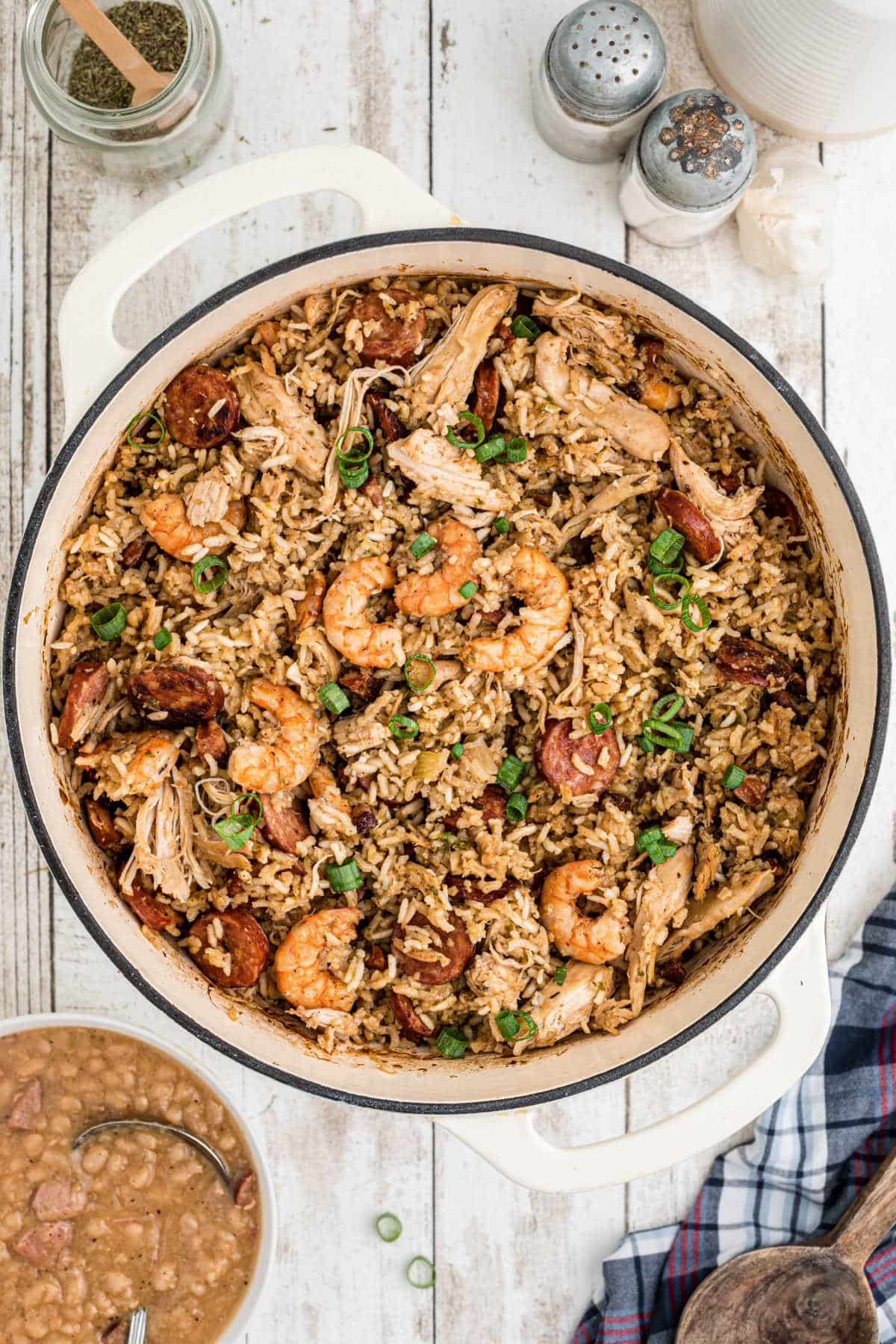 We cook Jambalaya year round, but it is a favorite during festival season. The jambalaya pot is always a favorite to be pulled out when the festivals begin.
In Louisiana, our favorite festival times are Mardi Gras (of course) and Jazz Fest. You will find Jambalaya served at all the street carts and festivals.
Jump to:
❤️ Why you'll love it
It's packed full of meat, a little of this and that. It's actually versatile in this sense. If you have some pork, that tastes great, some leftover chicken (like I did in this recipe - perfect). Any kind of meat will do.
Cooking in the Dutch Oven low and slow in the oven makes the flavors come together that much more.
It's a one pot meal. However, delicious white beans taste delicious with this recipe.
It's a big favorite New Orleans dish, and an authentic recipe.
One pot meals are always a big deal.
Although cooking time is a little lengthy, good things come to those who wait.
🧅 Ingredients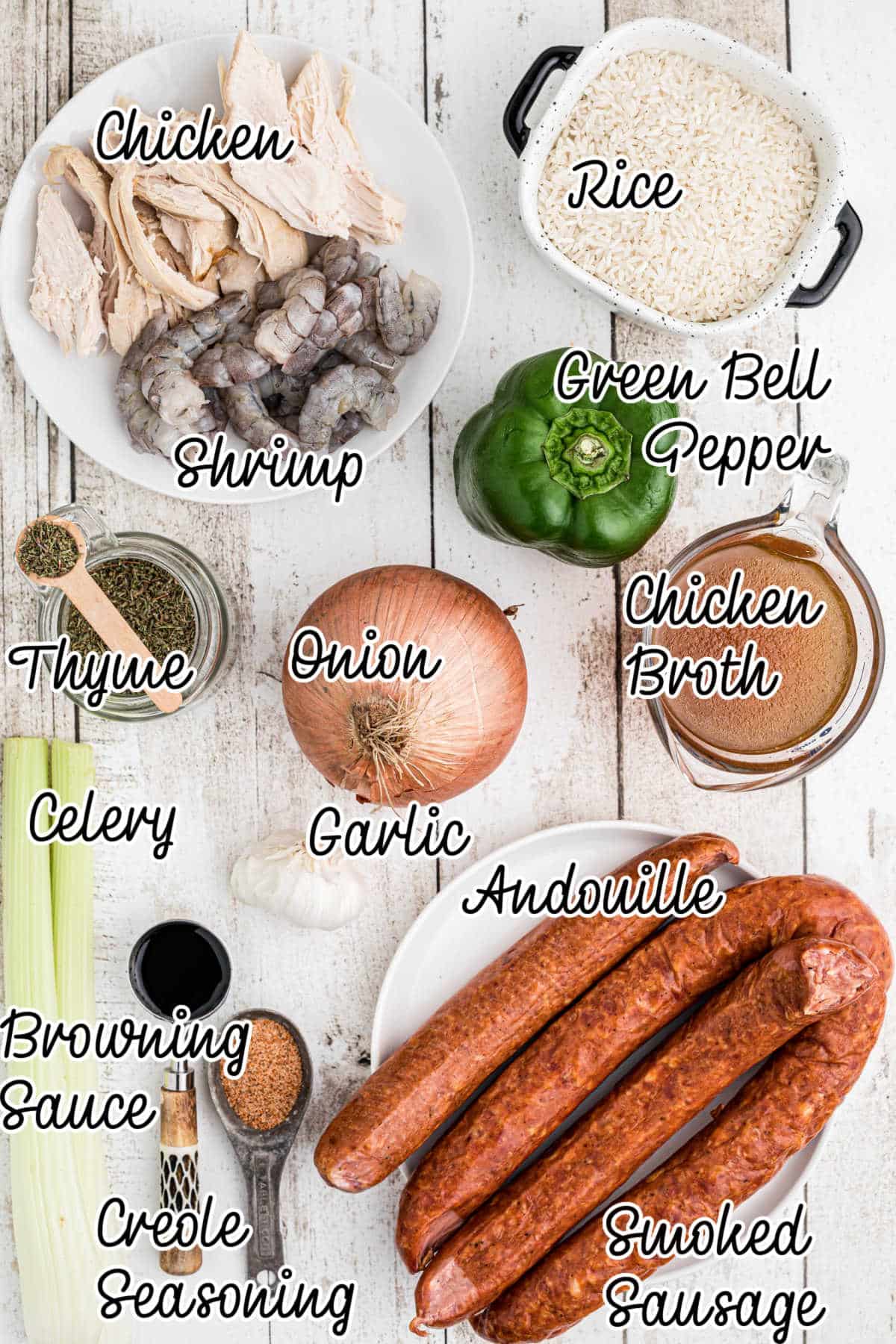 Deveined Shrimp (medium size)
Andouille Sausage
Large Onion
Stalks of Celery
Green Bell Pepper
Garlic
Long Grain Rice
Thyme Leaves
Cooked Chicken (I usually have a leftover rotisserie chicken in the refrigerator I can pick from) - I make a bone broth from it too.
Green Onions (garnish)
See recipe card at the bottom of this post for quantities.
🥣 Instructions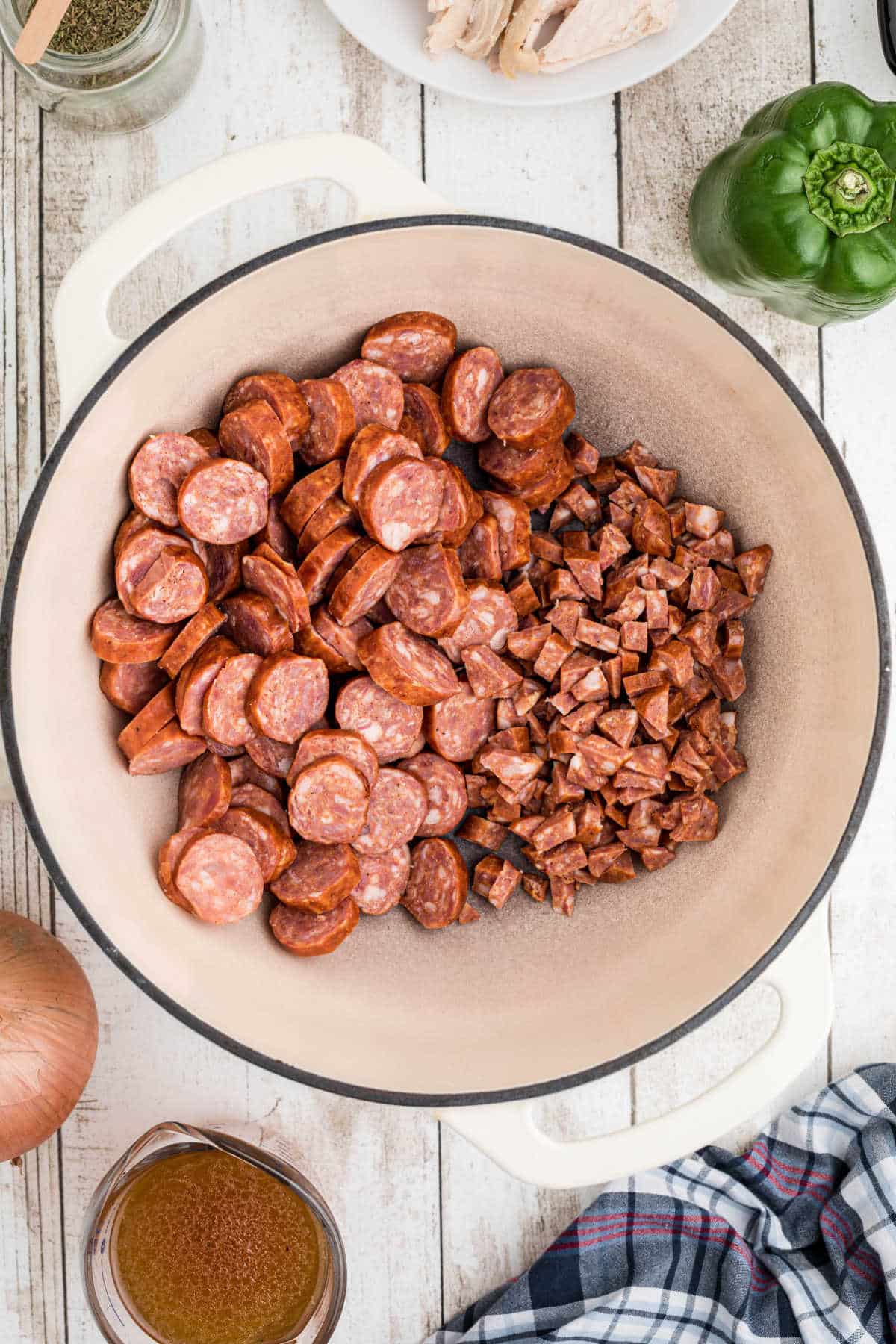 Step 1: Liberally season the shrimp with the Creole Seasoning then place in the refrigerator.
Step 2: Sear and caramelize the smoked sausage, then remove from a large Dutch Oven and set aside for later.
Step 3: Add the chopped onions, green peppers and celery (holy trinity) and cook over medium heat, scraping up the brown bits from caramelizing the sausage. Cook until browned and cooked well - about 15 minutes.
Step 4: Add the garlic and cook another 2 minutes, until fragrant.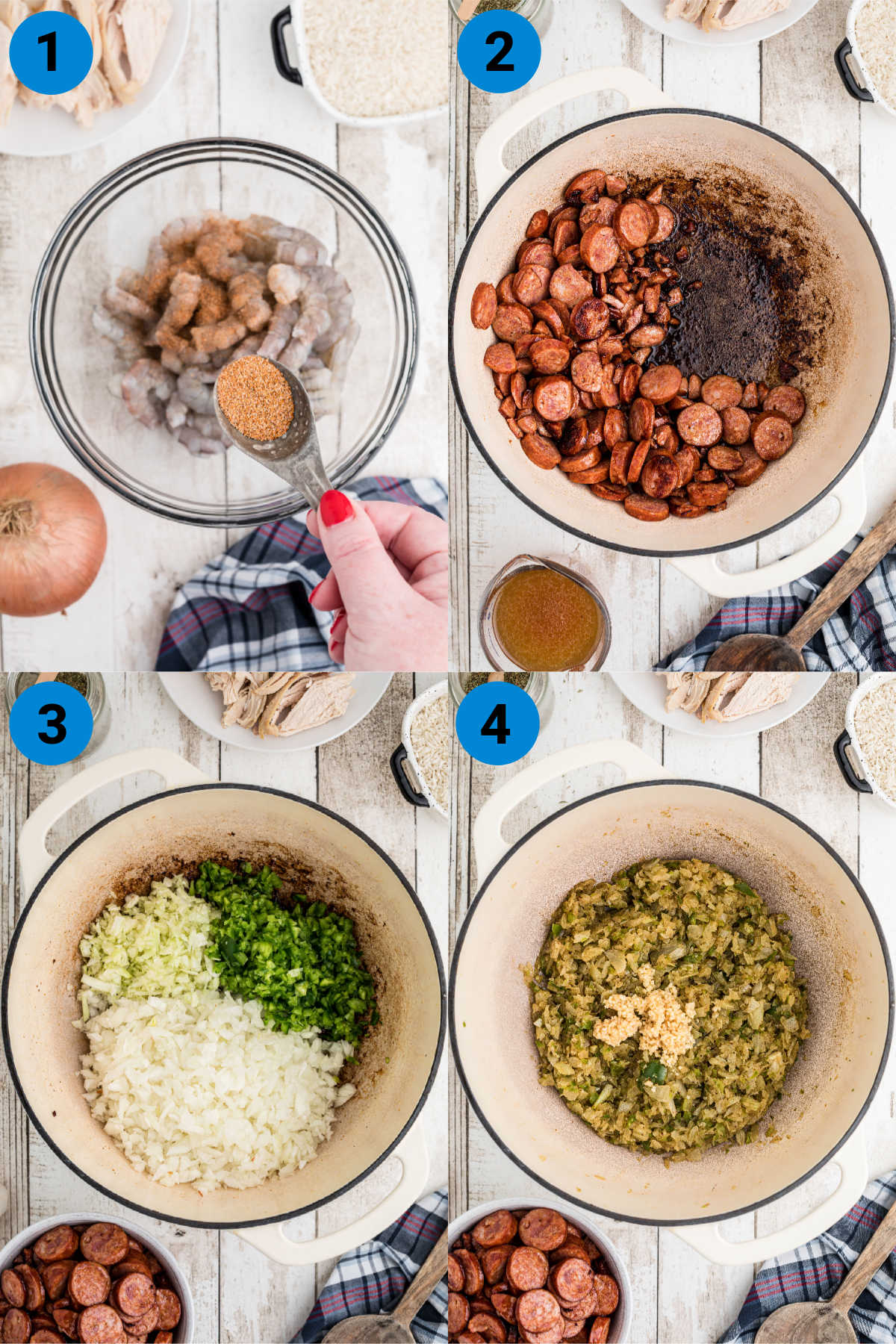 Step 5: Slowly add the chicken broth then the browning sauce.
Step 6: Add the rice and sausage and give a good stir. Bring to a boil.
Step 7: Add the shrimp and chicken, stir well and once it starts to bubble again turn off the heat. Add the lid to the Dutch oven.
Step 8: Place the Dutch Oven in a preheated oven and cook for 1 hour.
Step 9: Remove from the oven and don't remove the lid for 5 minutes.
Step 10: Remove the lid, after 5 minutes, give a good stir then stop. Sprinkle with green onions and serve.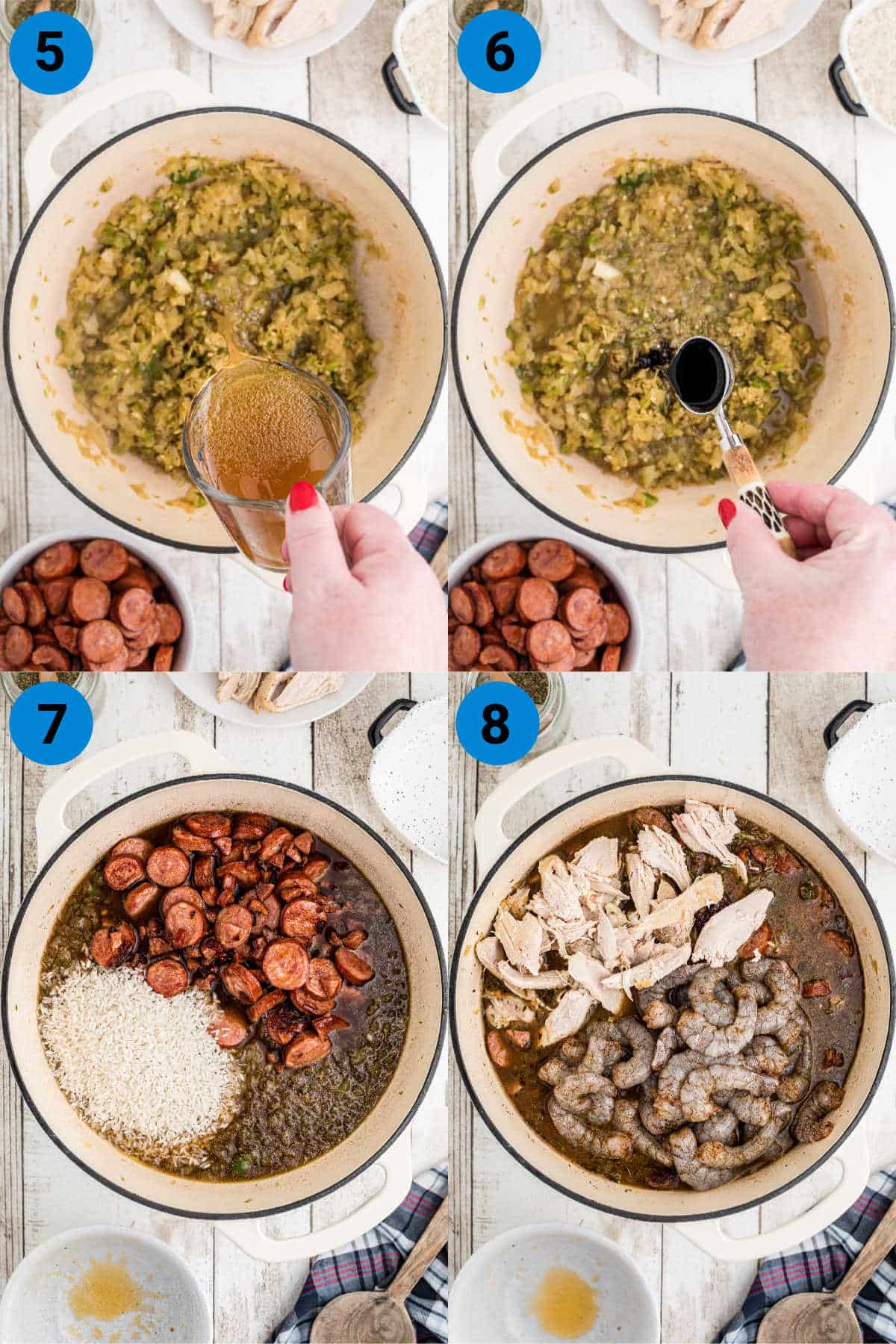 Hint: Once cooked don't stir too much, you'll make the Jambalaya mushy.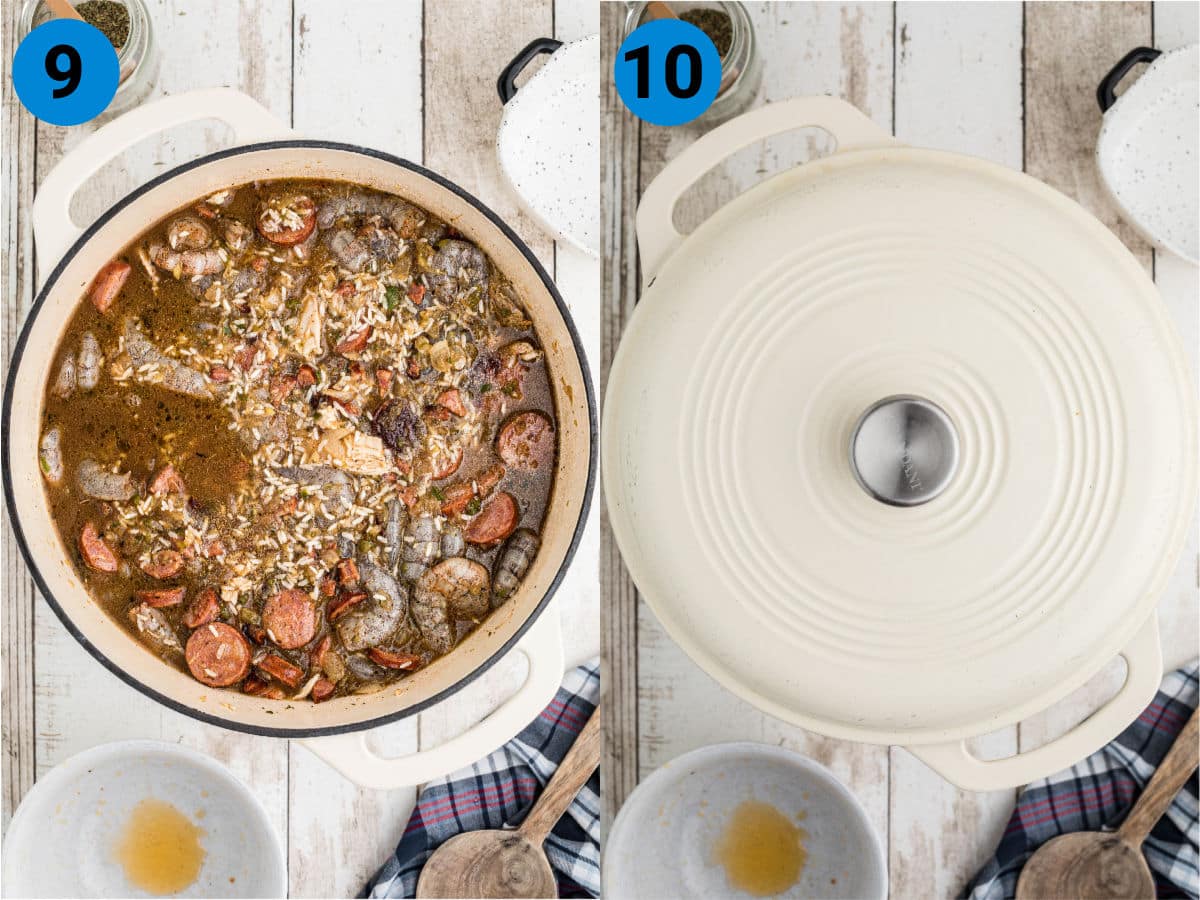 🔄 Substitutions and Variations
Cayenne Pepper - if you like a little more spice.
Olive Oil - you can start the smoked sausage in a little olive oil if you find your sausage is not too oily.
Hot Sauce - for added heat.
Bay Leaves - add a bay leaf or two.
Cajun Seasoning - instead of the Creole Seasoning - although they're practically the same.
Tomato Paste - to help thicken.
Tomato Sauce - or crushed tomatoes are sometimes added for a more Creole cooking style.
Chili Powder - for more southern heat.
Chicken Breasts - if this is what you have, chop it up and use it.
Worcestershire Sauce - for a little extra flavor.
Red Pepper Flakes - for added heat.
Chicken Stock - works just the same as the broth.
Italian Sausage - if you don't have smoked sausage, this may work ok. It won't be as good though.
Old Bay Seasoning - instead of Creole Seasoning.
Black Pepper - add a little for flavor.
Yellow Onions - instead of sweet onions.
Brown Rice - a healthier option instead of white rice, the cooking time will need to change I'm sure.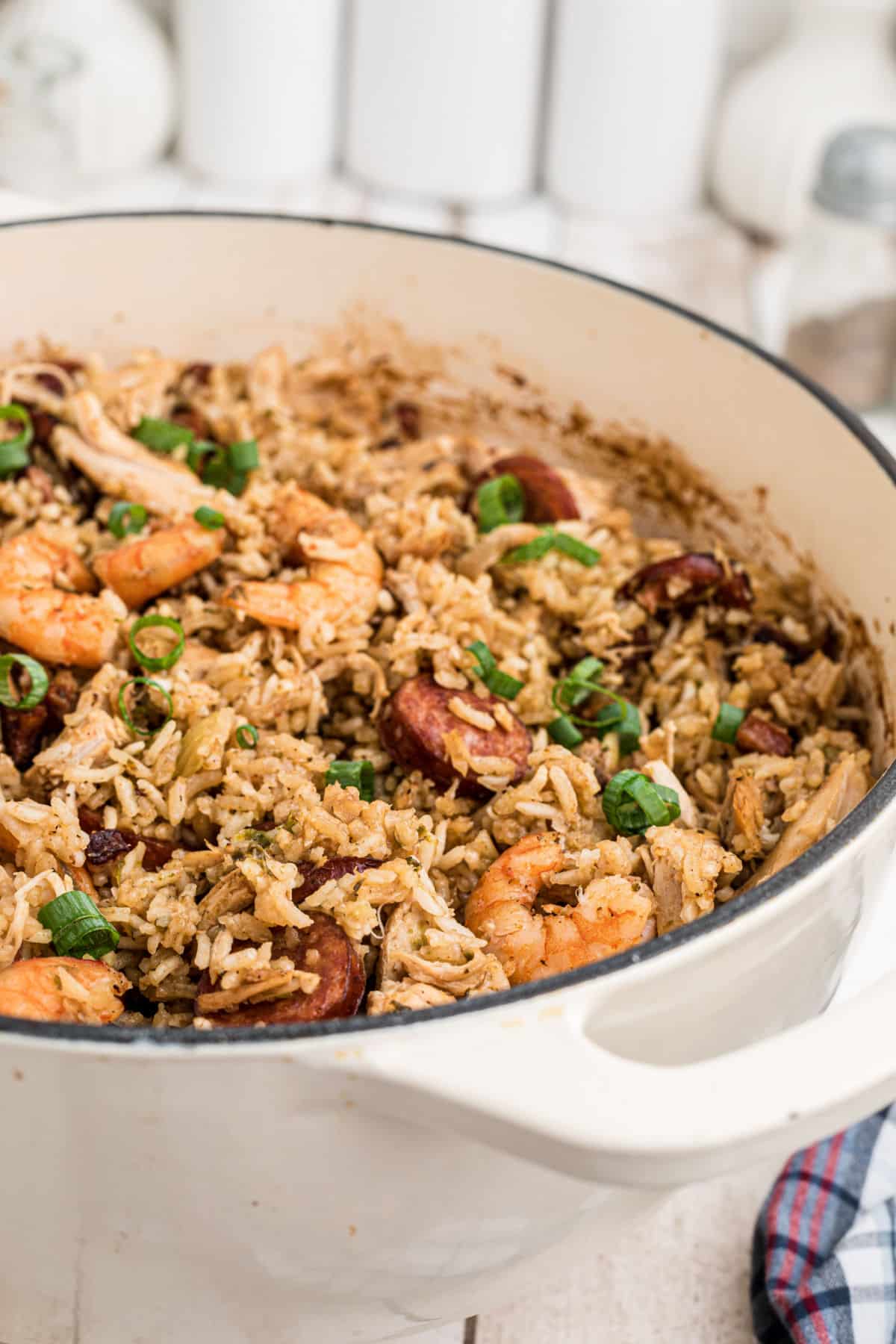 ❤ Sharing is Caring - Like Our Facebook Page ❤
🔌 Equipment
The following are affiliate links. We are a participant in the Amazon Services LLC Associates Program, an affiliate advertising program designed to provide a means for us to earn fees by linking to Amazon.com and affiliated sites.
A nice 6-Quart Dutch Oven pot (10-inch Dutch Oven) is perfect for this recipe - it's what I used in the images. I have an affiliate link to all the equipment used in the recipe card below.
If you love cooking in a Dutch Oven, you should try this Dutch Oven Ham recipe.
📘 Related Cajun Recipes
🧊 Storage
Once the Dutch Oven Jambalaya has cooled completely store in an airtight container in the refrigerator for up to 3 days.
This recipe does freeze well, so if you have some leftovers you want to save for another time place in a freezer safe container and freeze for up to 3 months.
💡 Tips
Expert Tip: Do not remove the lid at all when cooking in the oven. The fluid to rice ratio is perfect and if the steam is lost it will likely mess it up.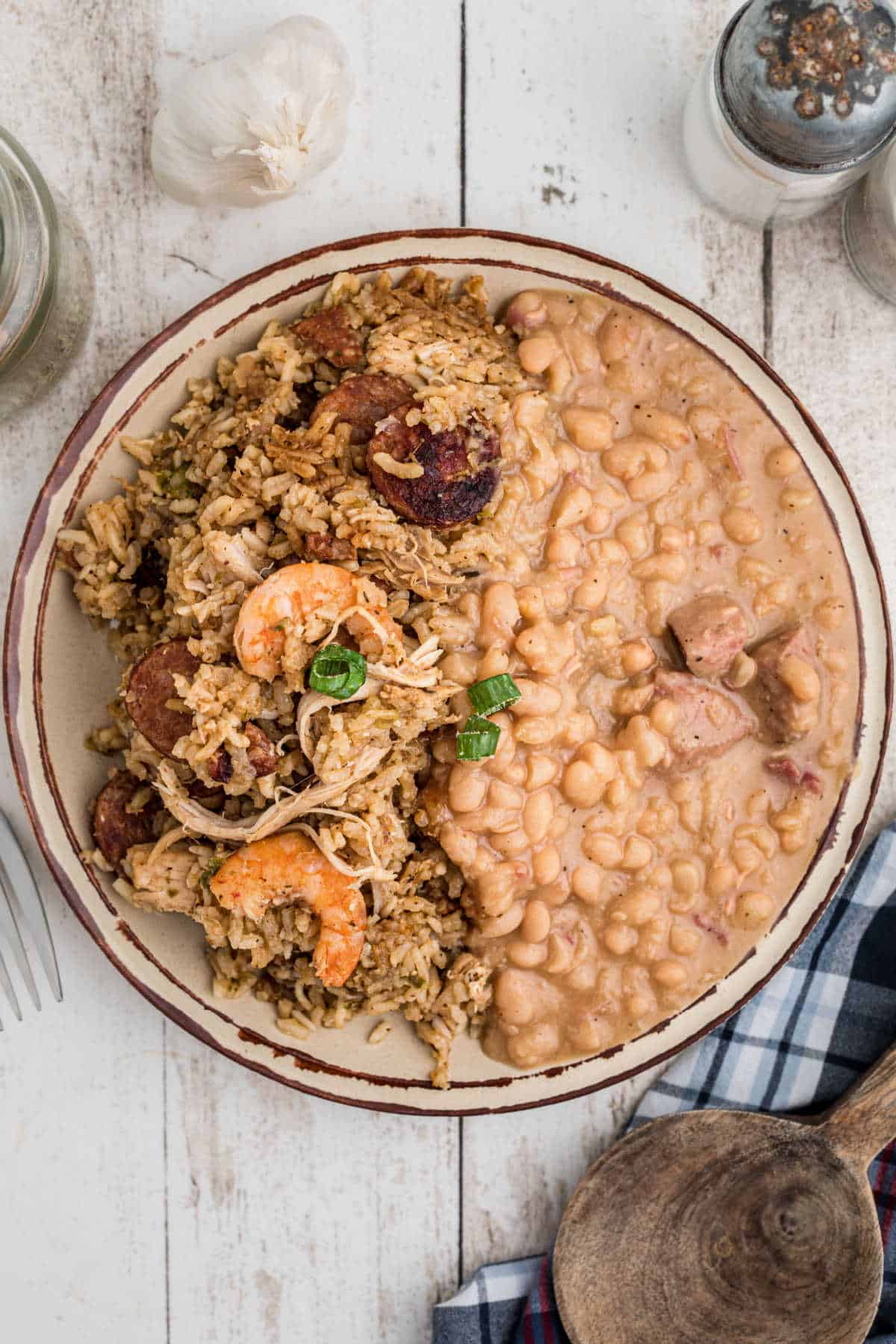 👩‍🍳 FAQs
What's the difference between a Creole Jambalaya and a Cajun Jambalaya?
As with most Louisiana dishes, if you hear the word Creole - it's going to tend to have a more redness to it - it'll have tomatoes. Cajun dishes do not. They'll be more on the brown side. So it'll be a red jambalaya.
How similar to Spanish Paella is traditional Jambalaya?
Jambalaya is said to have a very Spanish history behind it. It's said that when the Spanish came to Louisiana, the locals here learned about their paella dish and modified it for their tastes.
---
If you've tried this Dutch Oven Jambalaya Recipe or any other great recipe on my site, let me know in the comment section below, how it turned out, we love hearing from our readers!
If you love this recipe please give it 5 stars! ⭐️⭐️⭐️⭐️⭐️
You can also follow me on PINTEREST, FACEBOOK and INSTAGRAM to see more amazing recipes!
Dutch Oven Jambalaya
Additional Time:
5 minutes
Total Time:
1 hour
40 minutes
This Dutch Oven Jambalaya cooks perfectly every time. The perfect level of moistness in the rice, delicious seasoning and filling quantities of meat makes this great southern comfort food.
Ingredients
1lb Medium Shrimp, peeled, tail-off
1lb Smoked Sausage, sliced
½ lb Andouille Sausage, chopped
2 Sweet Onions, diced
2 Sticks Celery, diced
1 Green Bell Pepper, diced
4 Garlic Cloves, minced
2-½ Cups Long Grain Rice
2 teaspoons Browning Sauce
1 teaspoon dried Thyme Leaves
1lb Cooked Chicken, chopped
2 Green Onions, sliced (optional garnish)
Instructions
Preheat oven to 300°F.
Sprinkle the Creole Seasoning over the peeled shrimp, mix up then place into the refrigerator.
Add the sliced smoked sausage and the chopped andouille to the Dutch Oven and turn on medium-high heat. Sear and caramelize the sausage so it has some good color and there's a bunch of stuck bits on the bottom of the pan.
Remove the sausage and put to the side. Add the chopped onion, bell pepper and celery to the pot and while it's cooking scrape up the burned bits from the bottom - this adds great flavor to the dish.
Cook over medium to medium-high heat, until the onion mixture (holy trinity) has totally cooked down- this will take about 15 minutes.
Add the minced garlic and cook a further 2 minutes, until you can start to smell the garlic.
Add the chicken broth and browning sauce. Give a good stir.
Add the rice and sausage back.
Bring to a boil, stir well, then add the shrimp and chicken.
Once the pot has started to bubble again turn off the heat.
Place the Dutch Oven into the oven and cook (undisturbed) for 1 hour. DO NOT LIFT THE LID.
Remove from the oven after the 1 hour - still do not lift the lid. Allow to sit for 5 minutes.
THEN, lift the lid, give a good stir then don't stir again.
Sprinkle with green onions and serve.
Notes
It's important to not lift the lid during that 1 hour in the oven and the 5 minutes out of the oven. There's a science to getting the right level of moisture in the Jambalaya and if that steam is released too soon it won't be as perfect as it could be. Trust the process.
Easy Dutch Oven Recipes will become your new favorite and this oven Jambalaya recipe will be at the top. It's not often I can say this but an easy Cajun Jambalaya is best made in a Dutch oven pot.
Recommended Products
As an Amazon Associate and member of other affiliate programs, I earn from qualifying purchases.
Nutrition Information
Yield

8
Serving Size

1
Amount Per Serving
Calories

553
Total Fat

33g
Saturated Fat

10g
Trans Fat

0g
Unsaturated Fat

18g
Cholesterol

227mg
Sodium

2131mg
Carbohydrates

23g
Fiber

1g
Sugar

7g
Protein

40g