Pastalaya is a traditional Cajun recipe, thought to have been adapted by the Sicilian immigrants when they came to New Orleans (about 1900) - they adapted and intermarried with the French residents and they adapted the food too. Pastalaya, in it's most basic explanation is Jambalaya with the rice replaced by pasta and is a very filling dish.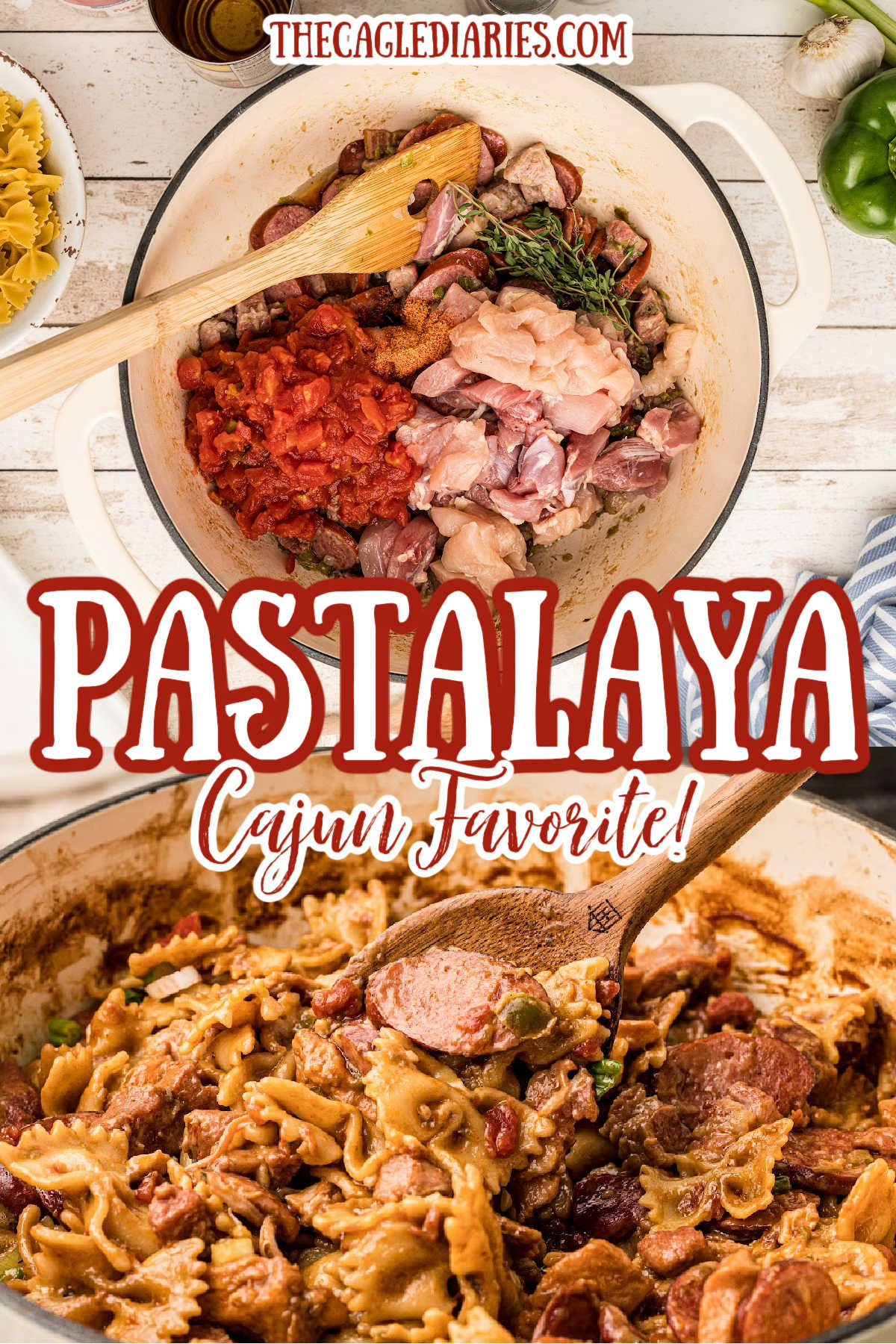 There's another name that goes around for this dish, Cajun Pasta Jambalaya. Or Jambalaya Pasta recipe. This is because of it being almost the same dish - In essence a Cajun pasta with sausage.
Next time try my Spaghetti and Meatballs recipe for a delicious southern take on the classic Italian dish.
Jump to:
❤ Sharing is Caring - Like Our Facebook Page ❤
❤️ Why You'll love this recipe
It's a one-pot dinner. No extra clean up. I love it's one of the best things about this recipe.
This creamy Jambalaya pasta is even better the next day. All those Cajun flavors have had time to melt together in the refrigerator.
🧅 Ingredients
To make a Pastalaya you will need:
Thick Cut Bacon
Yellow Onion
Green Bell Pepper
Celery Stalks
Fresh Garlic
Pork Steak
Smoked Sausage Links
Chicken Thighs
Chicken Breast
Rotel (tomatoes and chilies)
Fresh Thyme
Water
Chicken Broth (or chicken stock)
Kitchen Bouquet
Cream of Chicken Soup
Cream of Mushroom Soup
Pasta, Farfalle or Penne
Green Onions, chopped
See recipe card below for quantities.
🥣 Instructions
Step 1: Using a Dutch Oven or Cast Iron Skillet (large pot) cook the bacon and holy trinity of onion, bell peppers and celery over a medium heat until cooked through.
Step 2: Add Garlic and cook a further 3 minutes.
Step 3: Add Pork and Smoked Sausage, lower heat and cook about 20-25 minutes (until the pork is cooked through). Scrape up those browned bits that might be stuck to the bottom of the pan, this all adds flavor.
Step 4: Add Chicken, Rotel, Thyme and Creole Seasoning. Cook for another 15-20 Minutes.
Step5: Add water, chicken broth, cream of chicken soup, cream of mushroom soup and kitchen bouquet. Cook a further 20 minutes.
Step 6: Add pasta and stir well, bring the pot to a boil.
Step 7: Take off the heat and push pasta down into the liquid. Make sure all noodles are in the liquid.
Step 8: Cover and cook in the oven, at 300°F for 1 hour. Do not remove lid from pot for 10 minutes after removing from the oven.
🔄 Substitutions and Additions
Pastalaya is a very flexible recipe, it's why it's one of my favorite meals. The meats can be changed up quite easily. Other than trying to maintain the quantity - the type can be changed up - perhaps use a pork roast instead of pork steak. Use Andouille Sausage. Try not to use a seasoned meat as there is already a good amount of seasoning in this recipe.
The noodles in a pastalaya are also very flexible, where I prefer the bowtie type pasta a lot of people use Penne or spaghetti. Any pasta is fine, as long as it's 1lb used (fluid to pasta ratio).
You could try topping the pastalaya with some parmesan cheese.
For any spicy fans add some red pepper flakes to extra heat.
💡Top Tips
Expert Tip: Make sure to not remove the lid after you take out from the oven. This is still part of the cooking time and it needs a further 10 minutes.
🍽 How To Serve Pastalaya
Step 9: Stir in green onions and serve immediately with some garlic bread and salad.
🥘 More Cajun Recipes
🧊 Storage
Once cooled Pastalaya should be stored in an airtight container in the refrigerator, for up to 4 days.
Pastalaya can be put in the freezer, in a freezer safe container for up to 3 months. Allow to thaw in the refrigerator before reheating.
👩‍🍳 FAQs
What is Pastalaya made of?
It is a one pot meal, made from pasta, meat (including smoked sausage), vegetables and Cajun spice. It is a typical Cajun dish full of flavor! A creamy cajun pasta, a delicious recipe.
How do you reheat Pastalaya?
Pastalaya is fine to be reheated in the microwave. You may wish to sprinkle a little water to help with the moisture, although I have never had to.
How To Make Pastalaya
Pastalaya is not as tricky as you would think. As long as you have the right fluid to pasta ratio. Follow the recipe above and your Pastalaya will be perfect!
Does Pastalaya have to be cooked in a Dutch Oven?
A cast iron pot will also work. These types of pots are very good at maintaining even heat all over the pot. If you use a different pot you may have issues with areas cooking more than others as well as sticking to the bottom of the pot.
Is Pastalaya spicy?
This recipe is not spicy, it has a little bite but it's not so bad. My kids eat it and love it. For more heat you could perhaps try a hotter sausage or add hot sauce.
---
If you've tried this Pastalaya recipe or any other great recipe on my site, let me know in the comment section below, how it turned out, we love hearing from our readers!
If you love this recipe please give it a 5 star rating! ⭐️⭐️⭐️⭐️⭐️
You can also follow me on PINTEREST, FACEBOOK and INSTAGRAM to see more amazing recipes!
Pastalaya
Prep Time:
1 hour
20 minutes
Additional Time:
10 minutes
Total Time:
2 hours
30 minutes
Pastalaya is a Cajun recipe, originating from the traditional Jambalaya, replacing the rice with Pasta. This Pastalaya recipe is a hearty comfort food that will have you reaching for more!
Ingredients
3 Thick Cut Bacon Slices, chopped
1 Large Onion, chopped (yellow)
1 Green Bell Pepper, chopped
2 Celery Stalks, chopped
3 Garlic Cloves, chopped
1 Cup Pork (steak or roast) cut into 1" cubes
2 Skinless, boneless Chicken Thighs, cut into 1" cubes
1 Chicken Breast, cut into 1" cubes
1 (10oz) Can of Rotel
3 Sprigs Fresh Thyme
1 Teaspoon Creole Seasoning (or Cajun Seasoning)
1 Cup Water
1-½ Cups Chicken Broth
1 Tablespoon Kitchen Bouquet
1 (10oz) Can Cream of Chicken Soup
1 (10oz) Can Cream of Mushroom Soup
1lb Pasta, Farfalle or Penne
3 Green Onions, chopped
Instructions
Heat a large Dutch Oven (or cast iron pot) on medium high heat, then add the bacon and the onion, bell pepper and celery. Cook until totally soft and the bacon is cooked.
Add garlic and cook a further 3 minutes.
Brown pork and smoked sausage and cook about 20-25 minutes until the sausage begins to caramelize somewhat.
Add chicken pieces, canned Rotel, Creole Seasoning and Thyme and cook for 15-20 minutes more on medium-high heat. Preheat oven to 300°F.
To the pot add the water, chicken broth, soups and kitchen bouquet and cook for a further 20 minutes.
Add the pasta, stir well and bring to a rolling boil.
At that point turn off the heat and press the noodles down into the liquid so all noodles are mostly in the fluid. It will just about cover most.
Place lid / cover and place in the oven for 1 hour. After 1 hour remove from the oven and don't open the pot for 10 minutes.
After 10 minutes remove the lid and give a good stir from the bottom of the pot. Add the chopped green onions and serve.
Notes
Any noodle is fine for this famous Mardi Gras pasta recipe, I prefer the bow-tie type but penne is also a good noodle for this recipe. This dish is very popular in South Louisiana and I've also seen people use spaghetti. This recipe will have them cooked to just al dente.
If you prefer to leave out the bacon, you'll need to replace it with another cooking oil, like olive oil or vegetable oil.
If you like a little heat go ahead and add a little cayenne pepper (to taste).
There is enough salt in this recipe from the canned soup however, feel free to add some black pepper if you like.
If you like this Check out my Crawfish Pastalaya Recipe.
Recommended Products
As an Amazon Associate and member of other affiliate programs, I earn from qualifying purchases.
Nutrition Information
Yield

8
Serving Size

1 Cup
Amount Per Serving
Calories

452
Total Fat

24g
Saturated Fat

7g
Trans Fat

0g
Unsaturated Fat

14g
Cholesterol

88mg
Sodium

1563mg
Carbohydrates

32g
Fiber

2g
Sugar

3g
Protein

26g