Of all the spice blends my Homemade Creole Seasoning has to be my favorite. Filled with all those delicious and spicy flavors it really does enhance all dishes perfectly! You literally use it until you feel that there is enough salt and all the other spices fall into line as they should.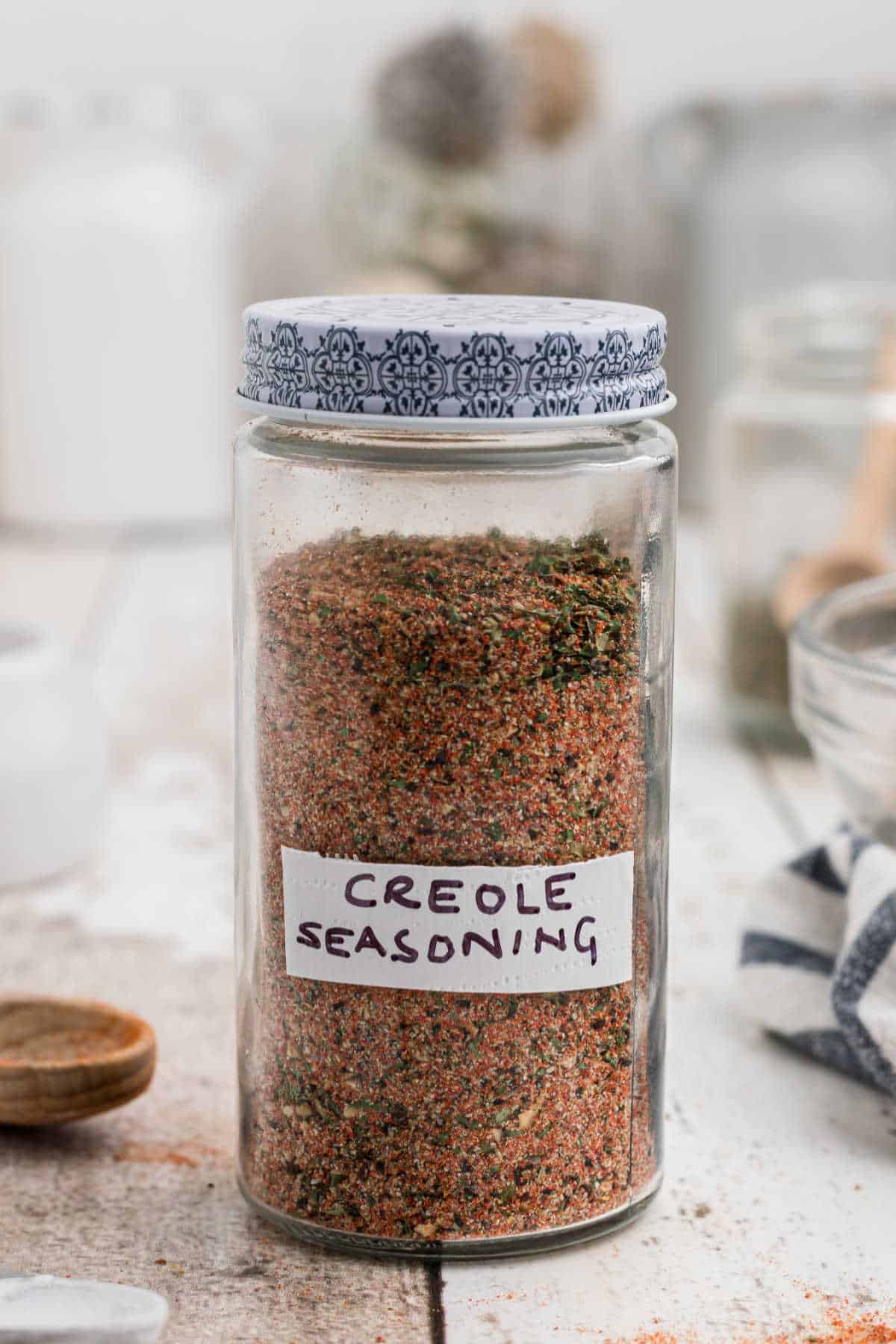 Creole seasoning (or Creole Spice Mix) is great on anything, but especially good on pork, chicken and seafood.
See my Pastalaya recipe, you can be guaranteed I have used my Creole Seasoning for this dish too! Did you know that Creole Seasoning is practically the same as a Cajun seasoning blend?
Jump to:
🧅 Ingredients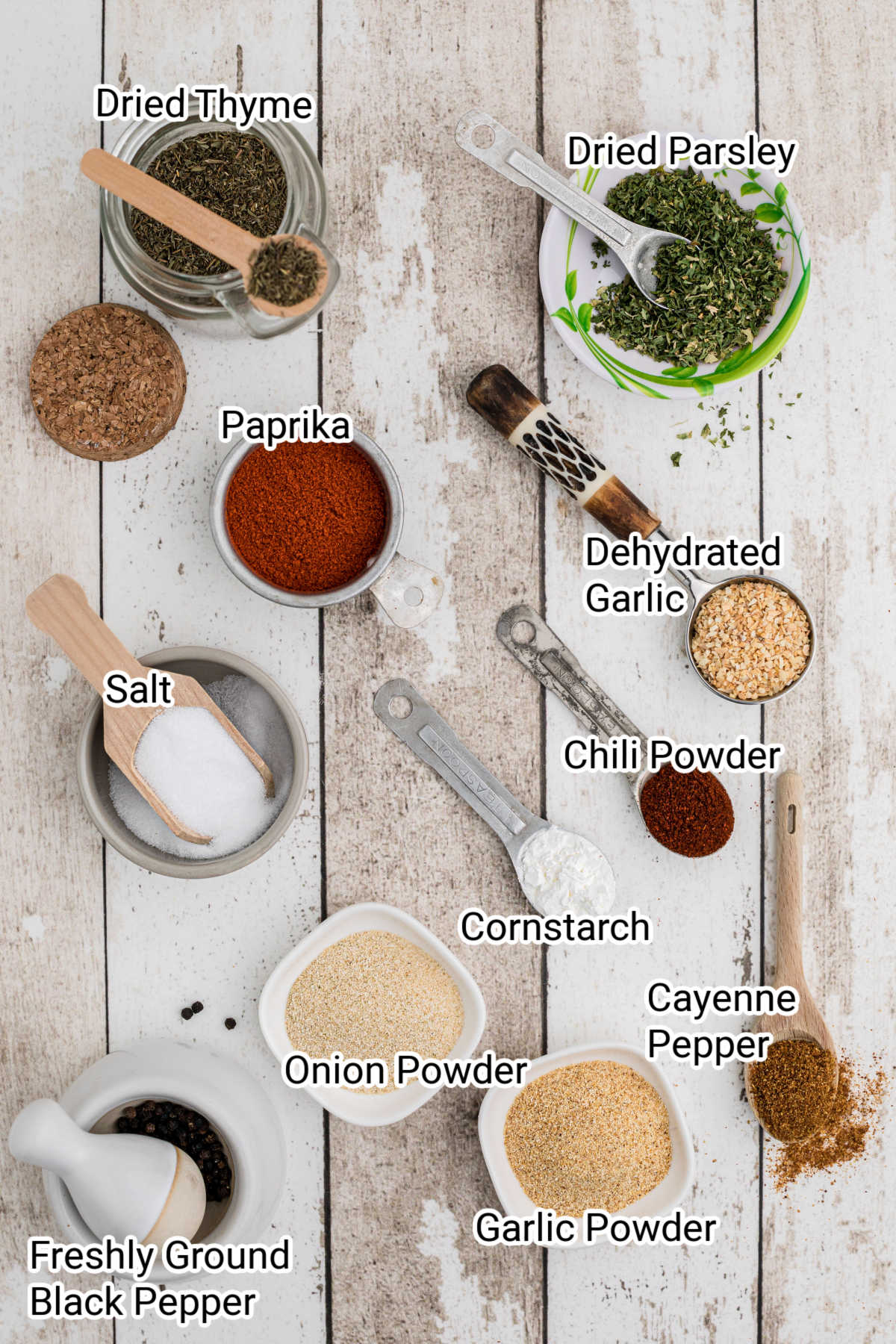 Salt - any kind really, regular table salt, kosher, sea salt.
Black Pepper - I'd recommend you grind this right as you're making this spice blend.
Chili Powder - any brand is fine, use your favorite.
Garlic Powder
Onion Powder
Dehydrated Garlic
Thyme - dried
Cayenne Pepper
Paprika
Parsley - dried
Cornstarch - this is used as an anti-caking agent so the spice blend doesn't clump together.
All these ingredients are what you will find in your local grocery store.
See recipe card below for quantities.
🥣 Instructions
If you don't have a small whisk like my cute little thing (and I have no idea where it came from, lol) then using a fork is perfectly fine, it will work just as well. You could always shake it up well in the airtight jar too.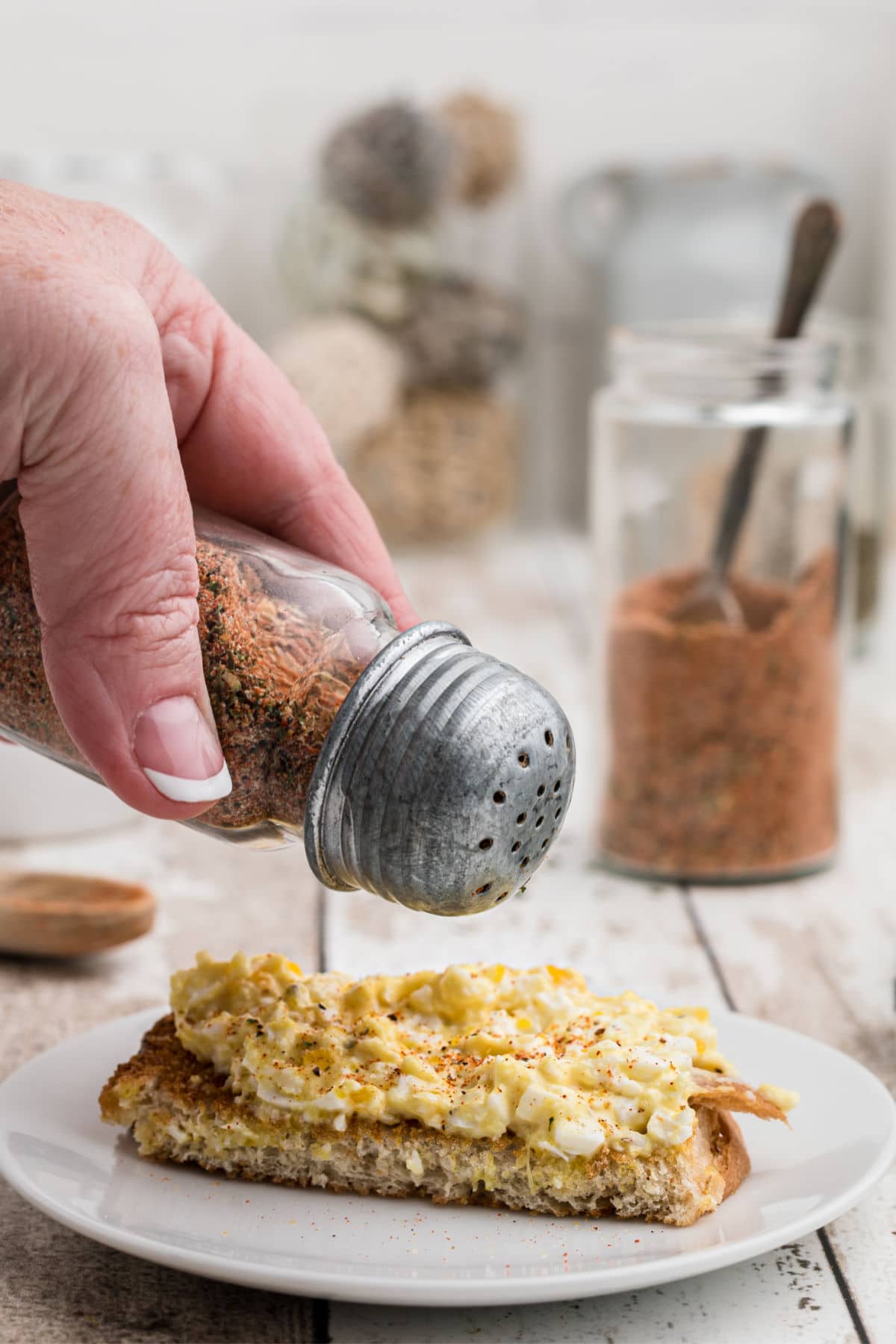 Hint: use a salt shaker and sprinkle over your food like you would salt. It's delicious.
🔄 Substitutions and Variations
Salt- I use regular table salt, but feel free to use sea salt, kosher salt or even that fancy pink salt will be fine.
Cornstarch - this is used as an anti-caking agent. It's a lot cleaner than some of the stuff they use in some of these mainstream manufacturers. You can use rice hulls instead. You could add a few grains of rice to the salt shake if you need, they're good substitutes.
Dehydrated Garlic - this adds a whole other dimension than just garlic powder. The two taste differently and it's best you use both. Dehydrated garlic just basically means dried out.
White Pepper - Some people like to add white pepper to for a different flavor.
Garlic Powder - If you can't find dehydrated garlic, feel free to use two tablespoons garlic powder.
Italian Seasoning - Instead of using thyme and parsley you could add two tablespoons of Italian seasoning.
I use my homemade creole seasoning mix in the following recipes (they're also on this site): Louisiana Seafood Gumbo - it's a delicious Cajun soup. Also in this Crawfish Etouffee - another great classic from Louisiana. These Fried Crab Claws also use a lot. I have many more Creole recipes, but I can't list them here - we'll be here all day!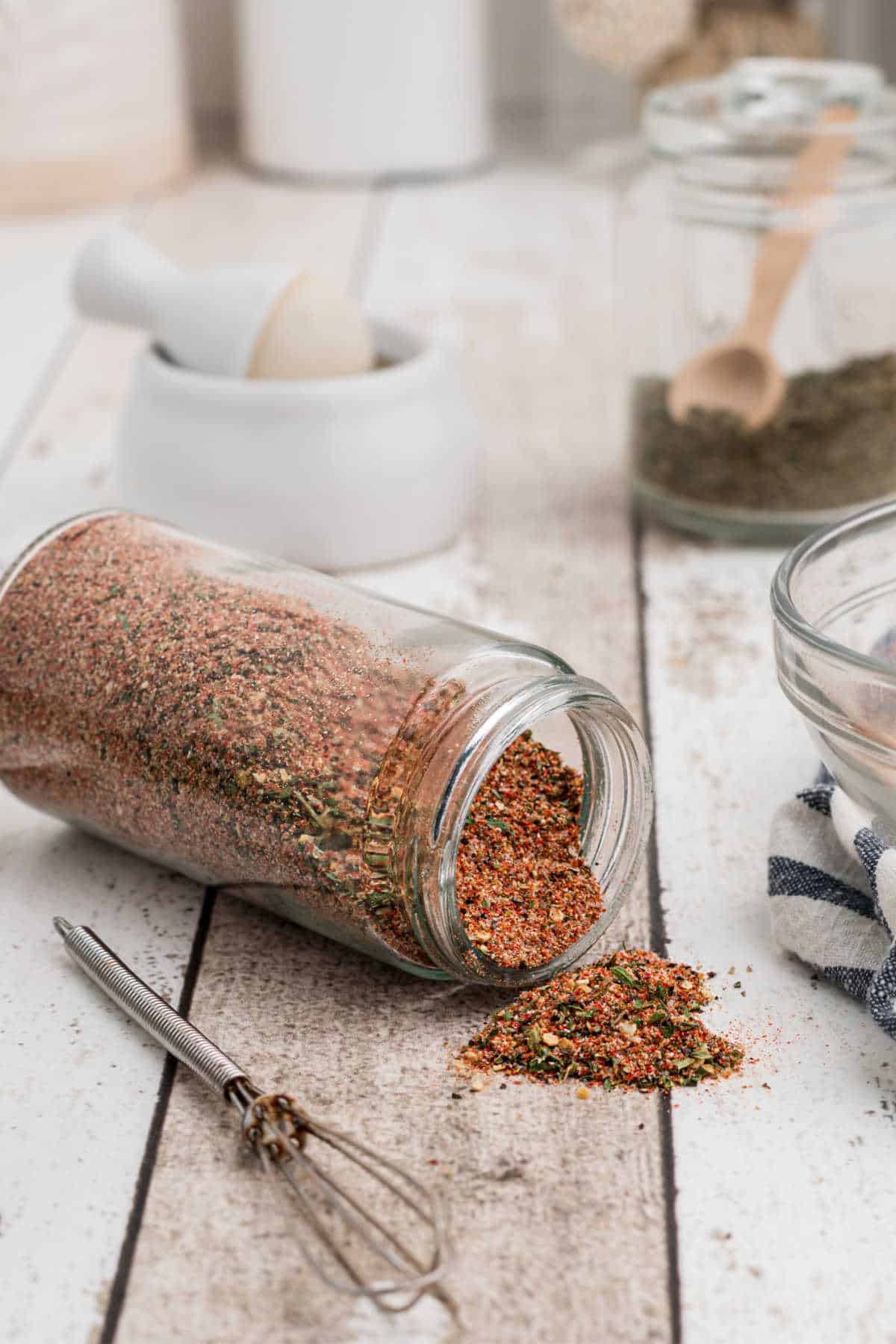 🔌 Equipment
If you need to grind any of the ingredients a mortar and pestle is best. You'll need a small mixing bowl and a small whisk - as well as some kind of airtight container. I have a couple of affiliate links in the recipe card below to help you out.
🧊 Storage
Spice blends typically have a shelf life of about 5 years, but once opened the reduces it greatly. It's best to use this creole seasoning within 3 months of putting it into the jar in a cool place like your spice cabinet.
💡 Tips
Expert Tip: For maximum flavor make sure to use the most fresh spices you can! If you're anything like me you have a bunch of bottles of seasoning in your collection that have seen better days (or years) and need to be thrown out. Only use the freshest of herbs and spices for best results.
If you liked this seasoning you should try my Cajun Two Step Seasoning and my Pot Roast Seasoning Recipe too.
---
If you've tried this Homemade Creole Seasoning Recipe or any other great Creole cooking recipe on my site, let me know in the comment section below and add it to your recipe box.
Let me know how it turned out, we love hearing from our readers! You can also follow me on PINTEREST, FACEBOOK and INSTAGRAM to see more amazing recipes!
Homemade Creole Seasoning
Of all the spice blends Creole Seasoning is my favorite. It's a Louisiana mixture of spices, including lots of paprika, cayenne, garlic and salt and is seen in a lot of Cajun and Creole cuisine.
Ingredients
2 Tablespoons Salt
1 Tablespoon Black Pepper, freshly ground
1 Teaspoon Chili Powder
1 Tablespoon Garlic Powder
1 Tablespoon Dehydrated Garlic
1 Tablespoon Onion Powder
1 Tablespoon Thyme, dried
1 Tablespoon Parsley, dried
1-½ Teaspoons Cayenne Pepper
2 Tablespoons Paprika
1 Teaspoon Cornstarch
Instructions
Any of the ingredients that need to be ground, do so first using a mortar and pestle.
Add all the ingredients to a small mixing bowl and using a small whisk or a fork go ahead and mix completely.
Transfer to an airtight container to keep it fresh. Label it so everyone knows what it is.
Decant into a salt shaker if you like to use it at the table.
Notes
The cornstarch is added as an anti-caking agent, so there doesn't need to be too much of this. Another great anti-caking agent is rice hulls.
This recipe has the heat of the seasoning more in the middle of the road. It has a little kick, just enough to not be unbearable. However, if you prefer it less spicy then reduce the amount of cayenne. The same vice versa, if you prefer it really spicy go ahead and add more.
Nutrition Information
Yield

10
Serving Size

1
Amount Per Serving
Calories

16
Total Fat

0g
Saturated Fat

0g
Trans Fat

0g
Unsaturated Fat

0g
Cholesterol

0mg
Sodium

1279mg
Carbohydrates

3g
Fiber

1g
Sugar

0g
Protein

1g