This stuffed crab recipe is definitely a favorite around here. The crab stuffing is mostly crab meat and so deliciously full of flavor. Bound together with a little egg and cracker crumbs, then in the typical southern way blessed with the perfect amount of seasoning. Stuffed crab has never tasted so good.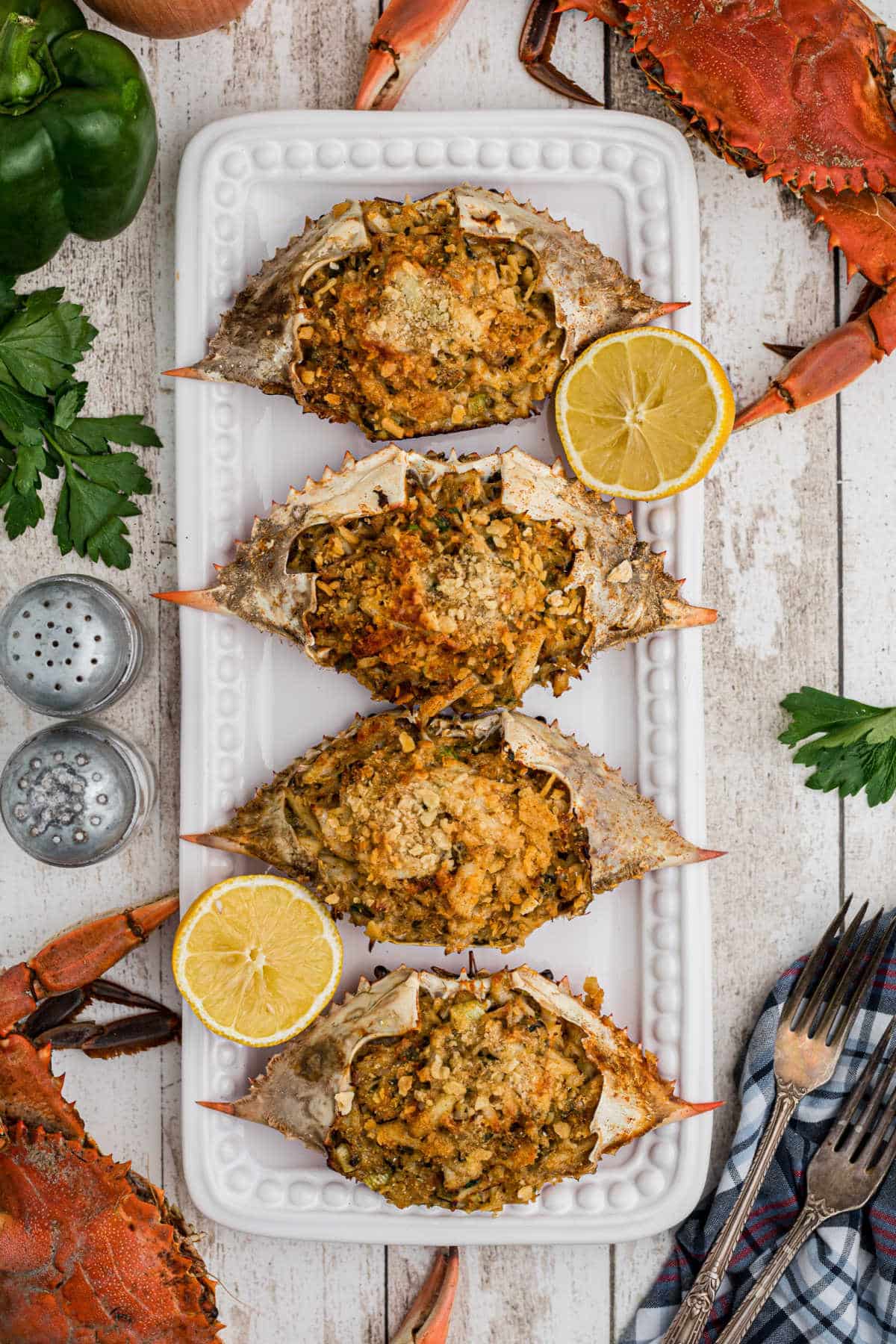 Next time try my Seafood Gumbo recipe, it too is full of crabs and is perfect year round (I think)!
Crabs are not so seasonal, so can be caught year round, pretty much. I have to say though, I have noticed it being more common to boil crabs around the beginning of the year. Around the time crawfish start to be boiled.
Jump to:
Here in South Louisiana we like to spend the day on the water with the kids and catch those big blue crab using a chicken neck on a string, lol - simple stuff but the kids love it!
🧅 Ingredients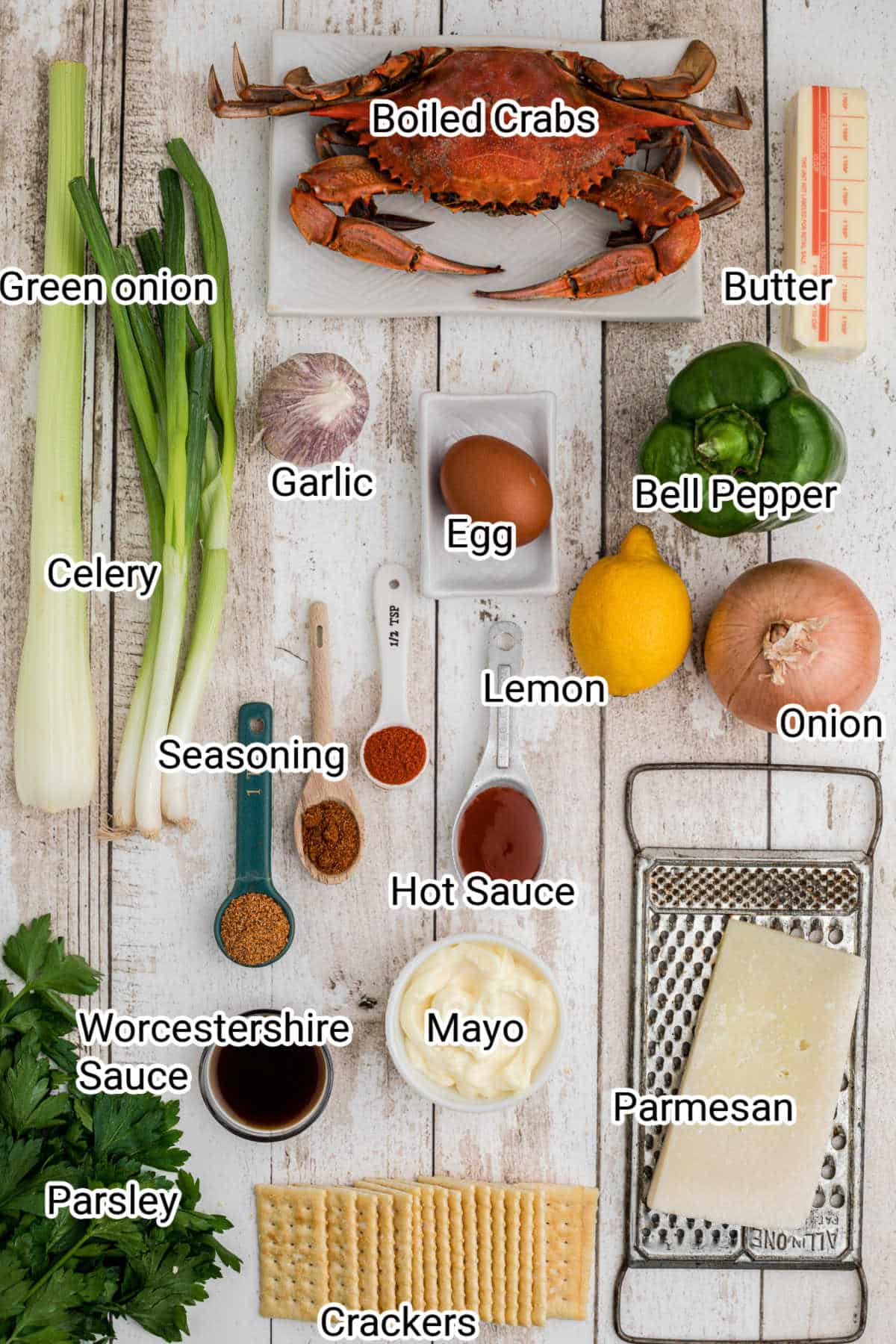 Butter, unsalted
Yellow Onion
Celery Stalk
Green Bell Pepper
Garlic
Fresh Parsley
Large Boiled Crabs (for lump crab meat and claw meat)
Old Bay Seasoning
Mayonnaise
1 Large Egg
Freshly squeezed lemon
Worcestershire Sauce
Hot Sauce
Club Crackers, crushed + some for sprinkling
Parmesan Cheese
Green Onions
Paprika
See recipe card for quantities.
🥣 Instructions
Step 1: Melt the butter in a large 12" Skillet on a medium heat then add the onion, bell pepper and celery and cook until translucent.
Step 2: Add the minced garlic and parsley to the large skillet and cook another 2 minutes, until fragrant. Set aside to cool.
Step 3: Using a large mixing bowl, or a seafood tray - peel the crabs, being sure to keep 8 of your best crab shells - you'll need to give them a good wash as these will be to hold your crab stuffing.
Step 4: Add the crab meat to the cooled skillet and gently toss to combine.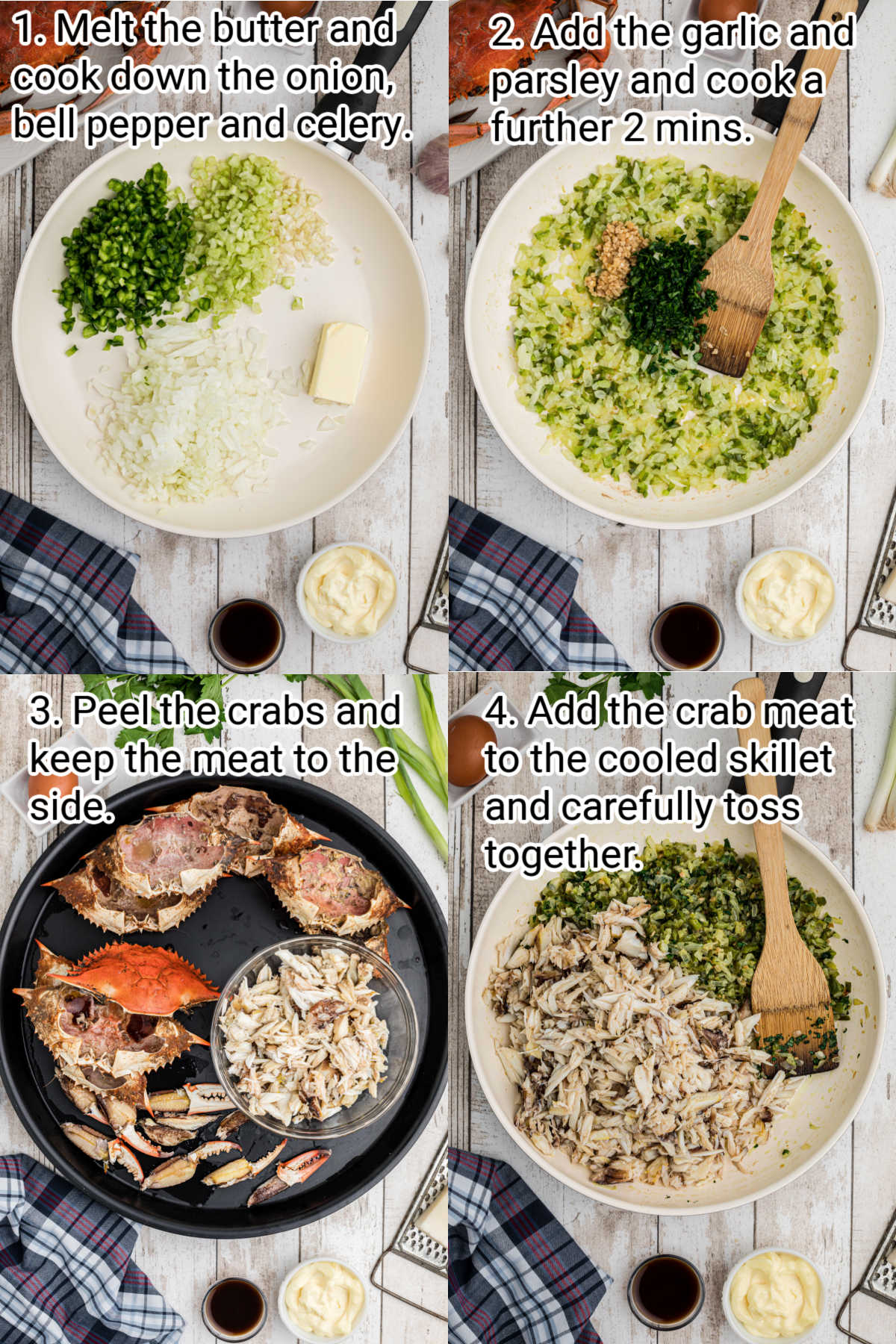 Step 5: Add the lightly beaten egg, mayonnaise, Worcestershire Sauce, Hot Sauce, lemon juice, Creole Seasoning and Old Bay Seasoning. Gently toss again, to combine.
Step 6: Add the crushed crackers, parmesan cheese and green onions. Gently stir again.
Step 7: Stuff this crab mixture into a clean crab shell, make sure to pile it up now.
Step 8: Sprinkle a little more cracker crumbs (or breadcrumbs) on the top of each and place a patty of butter on top. Sprinkle with Paprika and bake on a prepared baking sheet in the preheated oven for 30 minutes until golden brown - and reaches an internal temperature of 145°F.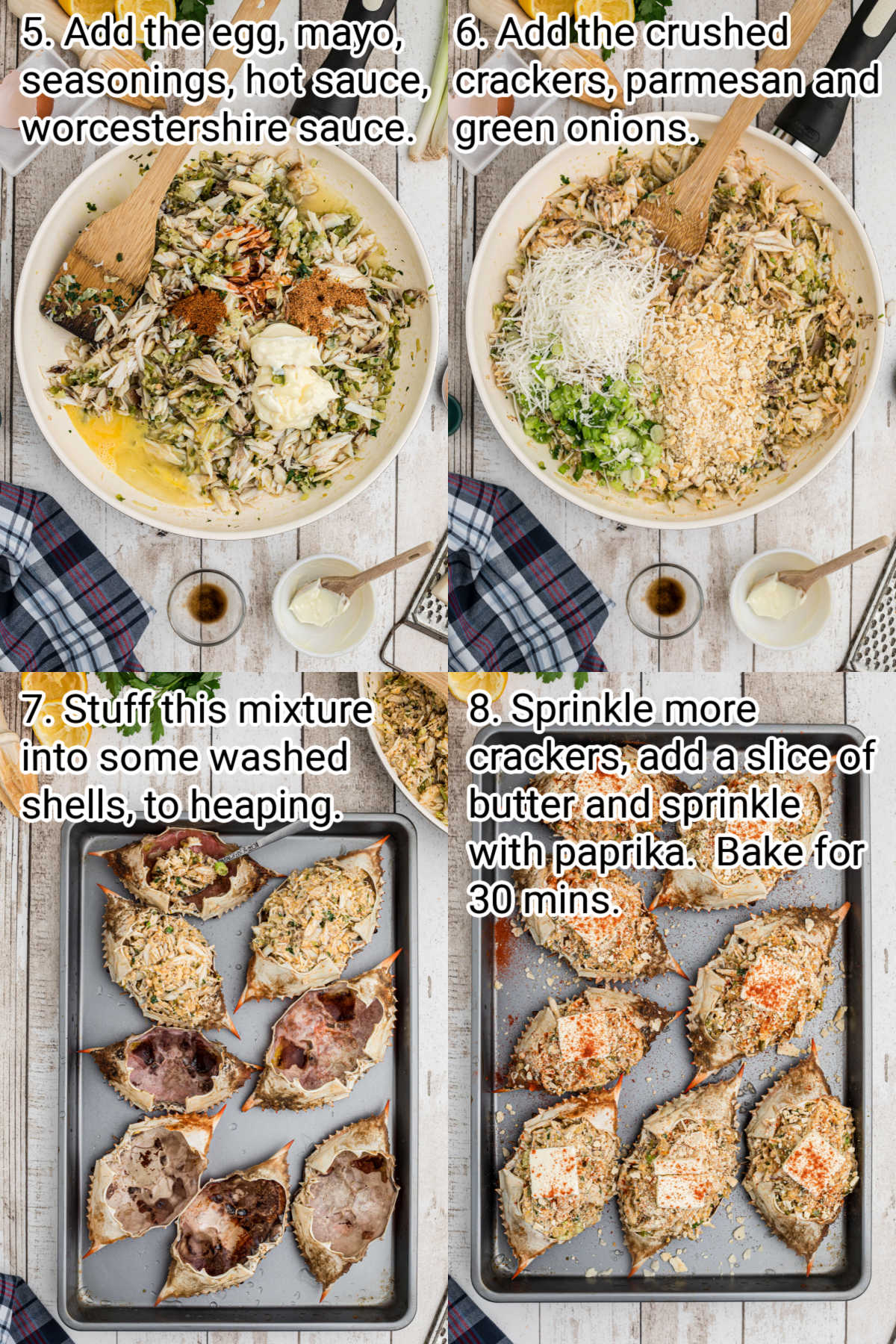 Hint: You could use a toothbrush to gently clean the inside of the crab shells, it'll help remove some of the harder to remove stuff.
🔄 Substitutions and Variations
Bread Crumbs- instead of cracker crumbs you could use bread crumbs, although it'll have a slightly different texture.
Garlic Powder - you could use garlic powder and onion powder instead of the real deal ... I personally don't think it's as good though, but perhaps you have to sneak it in because of the kiddos. I get it.
Seasoning - I like to use a bit of both Creole seasoning and Old Bay Seasoning - you could use your own favorite seasoning here though or whatever you have in your grocery store. Maybe Cajun seasoning, Seasonall or even just plain salt and black pepper if that's your preference.
Spicy - add red peppers flakes while cooking to imbue more heat into the stuffed crab.
Shrimp - add more texture and flavor by adding some chopped shrimp.
Cream Cheese - I've heard of some people adding cream cheese to their crab stuffing - instead of the parmesan cheese I guess.
Texture - some people prefer for the crab meat to fall apart more and become more 'stuffing-like' and that's totally fine. You do you. Whatever you think you'll prefer. I personally like for the crab meat to try to hold it's shape.
Celery Seed - this adds great flavor.
Mustard Seed - adds a great different flavor.
Red Pepper Flakes - for added heat.
Olive Oil - drizzle with a little olive oil before cooking - if you like.
🔌 Equipment
If you have one of those tools to crack the crab shells during peeling time, that's great. If not, don't worry. You can use a set of pliers. I fully intend on sharing a video that will show 'how to peel a crab' one day soon. I'll be adding it to this post. For now, I have to rely on folks knowing how to do this already. Or purchasing the crab meat without having to peel.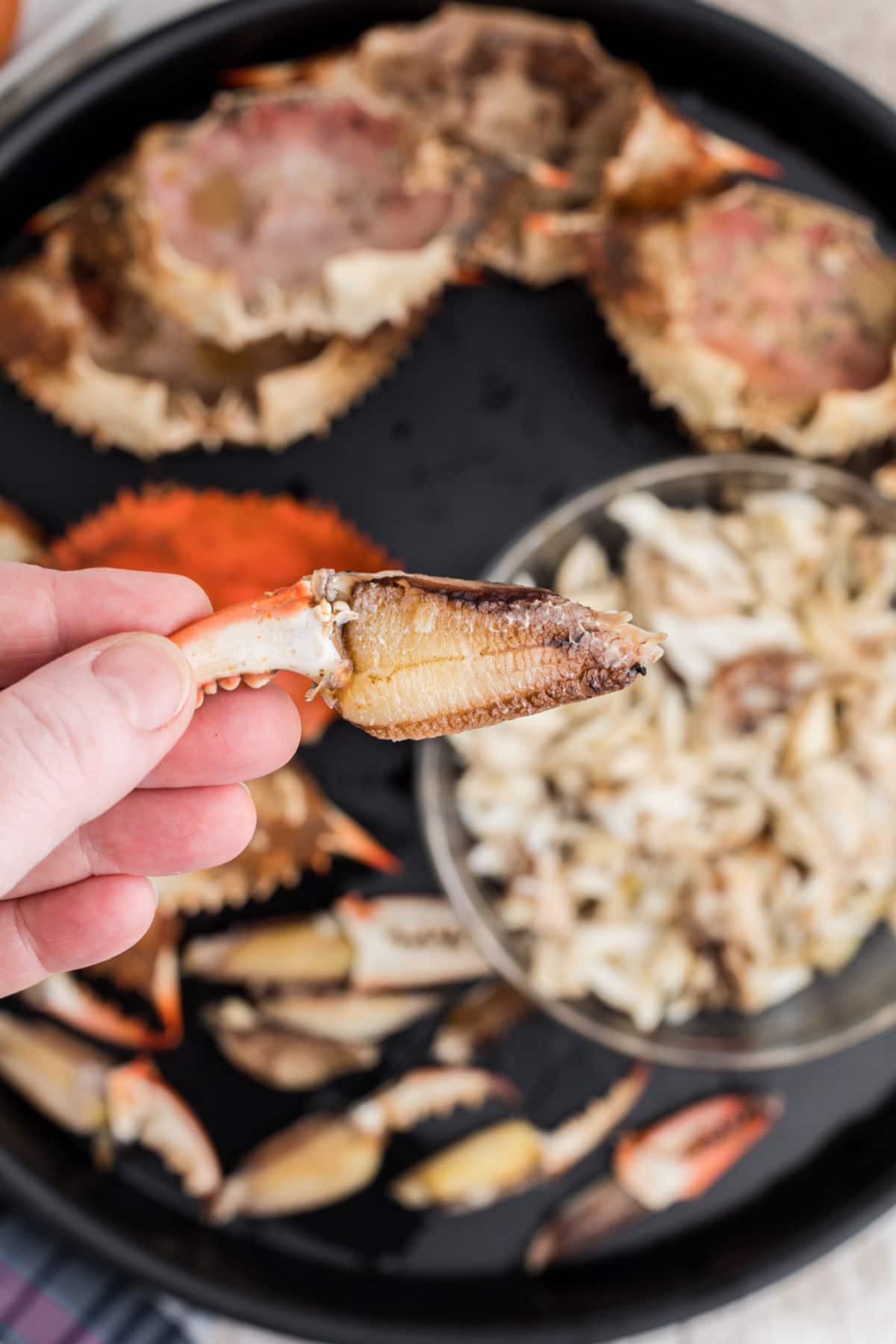 🧊 Storage
Once cooked and cooled completely wrap each crab stuffed shell in foil and store in the refrigerator for up to 3 days. To reheat put the whole thing into the oven again with another patty of butter on top (inside the foil) for about 10 minutes.
💡 Tips
Expert Tip: If you want to prepare these stuffed crab shells but freeze for a later date the best way, is once you have gotten to the part where you've added a patty of butter on top of each one, wrap them well in foil. Then in cling wrap. They will freeze well for up to 3 months.

When you remove them from the freezer allow to thaw for a few hours then remove the cling wrap and bake in the oven (convection oven if you have it) inside the foil, for 30 minutes. Then remove from the foil and put back into the oven for another 10 minutes.
👩‍🍳 FAQ's
Is this crab stuffing the same as what's used for a crab cakes?
No, this has a higher content of crab. Normally, a crab cake will use much more breadcrumbs/eggs to hold it's shape better.
What is stuffed crab made of?
A delicious combination of crab meat, the holy trinity of onions, bell peppers and celery, seasonings and cracker crumbs - a more.
Do I have to use boiled crabs?
Not at all. You can use store bought crab meat if you prefer, or like to make it easier on yourself. Those crabs I use from our crab boil sure do have a wonderful taste that gets added to the stuffing though. From the 2 dozen crabs I was able to get 1-½lb of crab meat.
Can you grill stuffed crabs?
You can, you'll definitely have to have them wrapped in foil though. Leave the top a little open for some crispiness for best results. Cook for about 20 minutes.
If you like crabs you should try my Cajun Crabs recipe - talk about the perfect crab boil! Check out the recipe here.
---
If you've tried this stuffed crab recipe recipe or any other great recipe on my site, let me know in the comment section below, how it turned out, we love hearing from our readers!
You can also follow me on PINTEREST, FACEBOOK and INSTAGRAM to see more amazing recipes!
Stuffed Crab
Additional Time:
45 minutes
Total Time:
1 hour
35 minutes
This stuffed crab recipe is a southern masterpiece! Tasty and piled high inside a real shell, stuffed crab is deliciously moreish.
Ingredients
1 Stick Butter, unsalted
1 Yellow Onion, finely diced
1 Celery Stalk, finely diced
1 Green Bell Pepper, finely diced
1 Tablespoon Garlic, minced
¼ Cup Fresh Parsley, chopped
2 Dozen Large Boiled Crabs
1 Teaspoon Creole Seasoning
1-½ Teaspoons Old Bay Seasoning
¼ Cup Mayonnaise
1 Large Egg, lightly beaten
3 Tablespoons Freshly squeezed lemon
1 Tablespoon Worcestershire Sauce
1 Tablespoon Hot Sauce
20 Club Crackers, crushed + some for sprinkling
¼ Cup Parmesan Cheese, finely grated
3 Green Onions, sliced
½ Teaspoon Paprika
Instructions
Melt the butter in a large skillet (12") and add the onion, bell pepper and celery. Cook over a medium heat until translucent.
Add the chopped parsley and garlic and cook a further 2 minutes.
Set aside to cool while you peel the crabs. You should end up with about 1-½ lb of crab meat (lump and claw). Keep 8 of the crab's body shells.
Preheat the oven to 350°F.
Add this crab meat to the cooled skillet and gently toss, so to not break up the crab too much.
Add the mayonnaise, beaten egg, fresh lemon juice, worcestershire sauce, hot sauce, Creole Seasoning and Old Bay Seasoning. Gently toss this mixture together until evenly mixed.
Add the parmesan cheese and sliced green onions, again toss gently.
Take the crab shells you kept and wash them well under warm water.
Take the crab meat mixture and press into each crab shell, pile this high.
Sprinkle a little more of the crushed crackers that are left over each stuffed shell, then place a little slice of butter on top of each filled shell.
Sprinkle with a little paprika and place on a baking sheet.
Place the stuffed crabs in the oven, uncovered, for 30 minutes.
Remove and serve immediately.
Notes
Using boiled crabs really adds some great flavor to this dish. However, if you can't get them already boiled go ahead and purchase some crab meat from the store.
Some people prefer their crab stuffing to be a little more like a dressing/stuffing texture and without the large lumps of crab meat. This is definitely personal preference. If you prefer the crab meat to break down feel free to stir the mixture vigorously - It won't take much.
Using real crab shells (the back shells) to stuff the mixture into gives it a really authentic look.
If you don't have crab tools to help break apart some of the tougher parts you could use a paring knife - be super careful though.
Use lump crabmeat, claw crabmeat, meat from the crab legs (if they're big enough).... any crabmeat is great for this recipe.
Recommended Products
As an Amazon Associate and member of other affiliate programs, I earn from qualifying purchases.
Nutrition Information
Yield

8
Serving Size

1
Amount Per Serving
Calories

379
Total Fat

21g
Saturated Fat

9g
Trans Fat

0g
Unsaturated Fat

11g
Cholesterol

231mg
Sodium

1207mg
Carbohydrates

11g
Fiber

1g
Sugar

2g
Protein

35g