My deliciously creamy and slightly spicy Corn and Crab Bisque is so good one bowl is never enough. Filled with fresh corn, lump crab meat and seasonings this has all the flavors you'd expect from a southern favorite!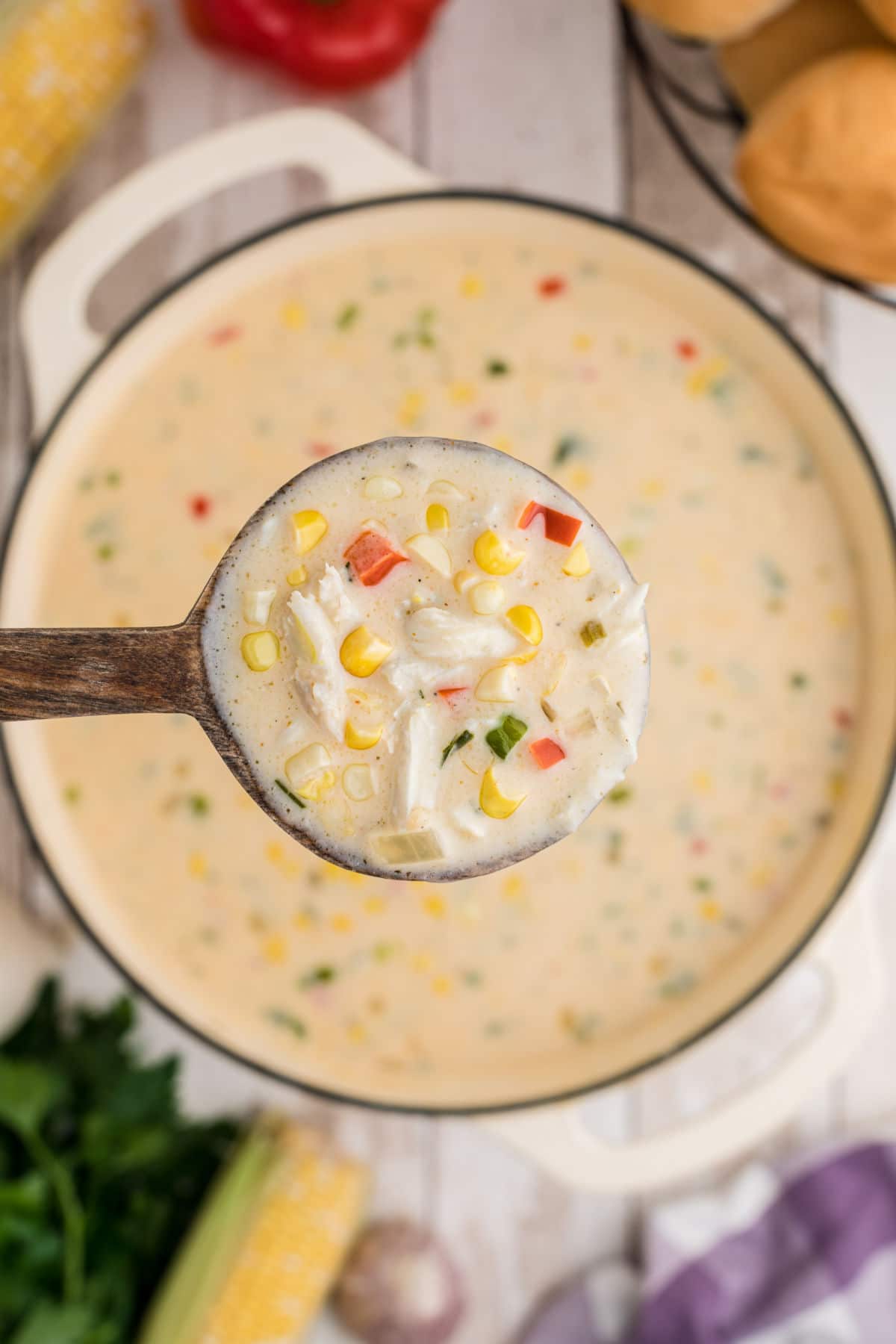 Living on the Gulf Coast, we use seafood in our recipes often. For our family, this corn and crab soup comes out more toward the colder weather. I think it's just that soup thing - they're always best in winter! The added spice will warm you up from the inside too.
Next time try my Stuffed Crab Recipe, if you're a fan of crabs. You won't be sorry.
Jump to:
🧅 Ingredients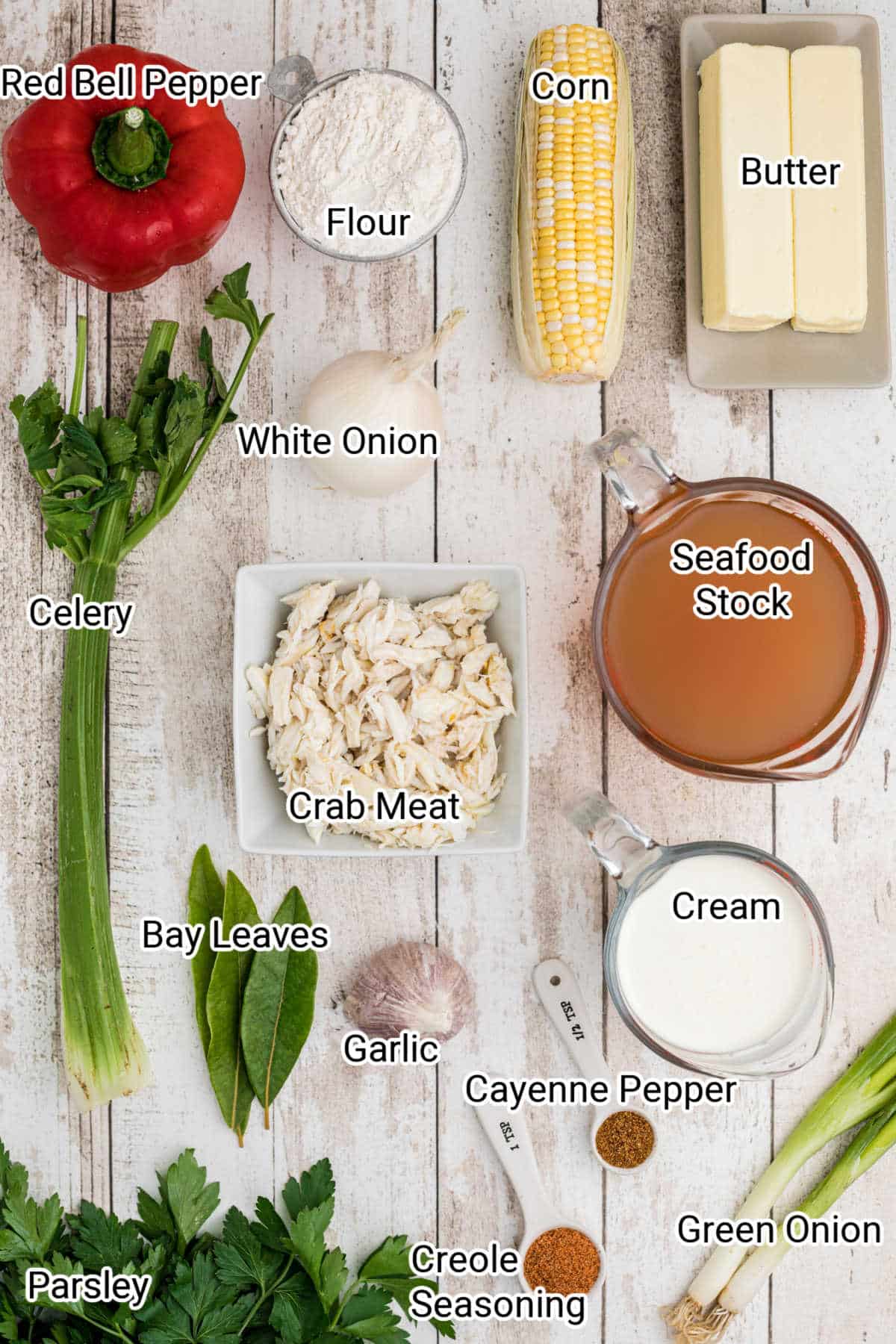 Fresh Corn
Lump Crab Meat (we use blue crabs)
Butter, unsalted
White Onion
Celery
Red Bell Pepper
Garlic
Cayenne Pepper
All Purpose Flour
Seafood Stock
Bay Leaves
Heavy Whipping Cream
Green Onions
Parsley
See recipe card for quantities.
🥣 Instructions
Step 1: Using a knife, carefully remove the corn from the cobb and set aside.
Step 2: In a large pot (large saucepan) add the seafood stock, scraps from chopping the veggies (including the whites of the green onions) and the corn cobs. Simmer for 30 minutes.
Step 3: While the stock is simmering melt butter in a large soup pot (or Dutch Oven).
Step 4: Add the sweet corn, onions, celery, bell pepper, garlic and seasonings and cook until tender (about 4 minutes).
Step 5: Add the flour to the veggies and use a whisk to combine, until you see no clumps of flour. Cook for a few minutes to make a white roux. You're cooking the flour, but don't allow it to get dark.
Step 6: Strain the seafood stock to remove the vegetables etc.
Step 7: Slowly pour the seafood stock into the flour and veggie mixture, continuously stirring with the whisk until all the stock has been added.
Step 8: Add the bay leaves, cover and simmer for 30 minutes.
Step 9: Add the green onions, parsley and heavy cream and stir to combine.
Step 10: Carefully add the crab meat to the soup and gently stir.
Step 11: Continue to cook over a medium heat for 5 minutes, then remove the bay leaves.
Step 12: Serve immediately with some crusty bread, favorite crackers and a nice glass of white wine.
Hint: Allow the crab meat to sit outside of the refrigerator for 30 minutes before you put it into the soup. This way it'll disperse into the crab and corn soup easier without you having to press on it to break it up - which you definitely don't want to do.
🔄 Substitutions and Variations
Chicken Broth - sometimes you can't find seafood stock - I know I can only get it from a certain store. If that's the case, you could use chicken broth instead. It won't be as good (in my opinion), but it will suffice.
Seasonings - This is definitely where you could make substitutions easily. I like to use Tony Chacheres Creole Seasoning, it is heavy on salt - that means I don't need to add salt. If you prefer a different seasoning blend (like Cajun seasoning, maybe) that is not as salty you'll need to add salt to the bisque. You could also add a crab boil type seasoning too - play with it. Go wild. Or if you prefer to keep it simple, just salt and black pepper (or white pepper could also be good).
Shrimp - if you can't get your hands on crab meat, you could try this same recipe and use shrimp instead.
Spicy - This recipe already has a little kick from the Cayenne Pepper. If you prefer it hotter, feel free to go a little heavier on the Cayenne. Same vice versa, if you don't like the spice, use less. Or add hot sauce in your bowl separately if you have different preferences at home.
Kid friendly - use a food processor to chop the onions, bell pepper and celery. That way you still get the flavor but it'll be finely chopped enough to just melt into the soup and the kids don't have to freak out because they found an onion.
You like seafood soups? You have to try my Seafood Gumbo, a traditional Louisiana soup (it's a Cajun thing). You won't be sorry.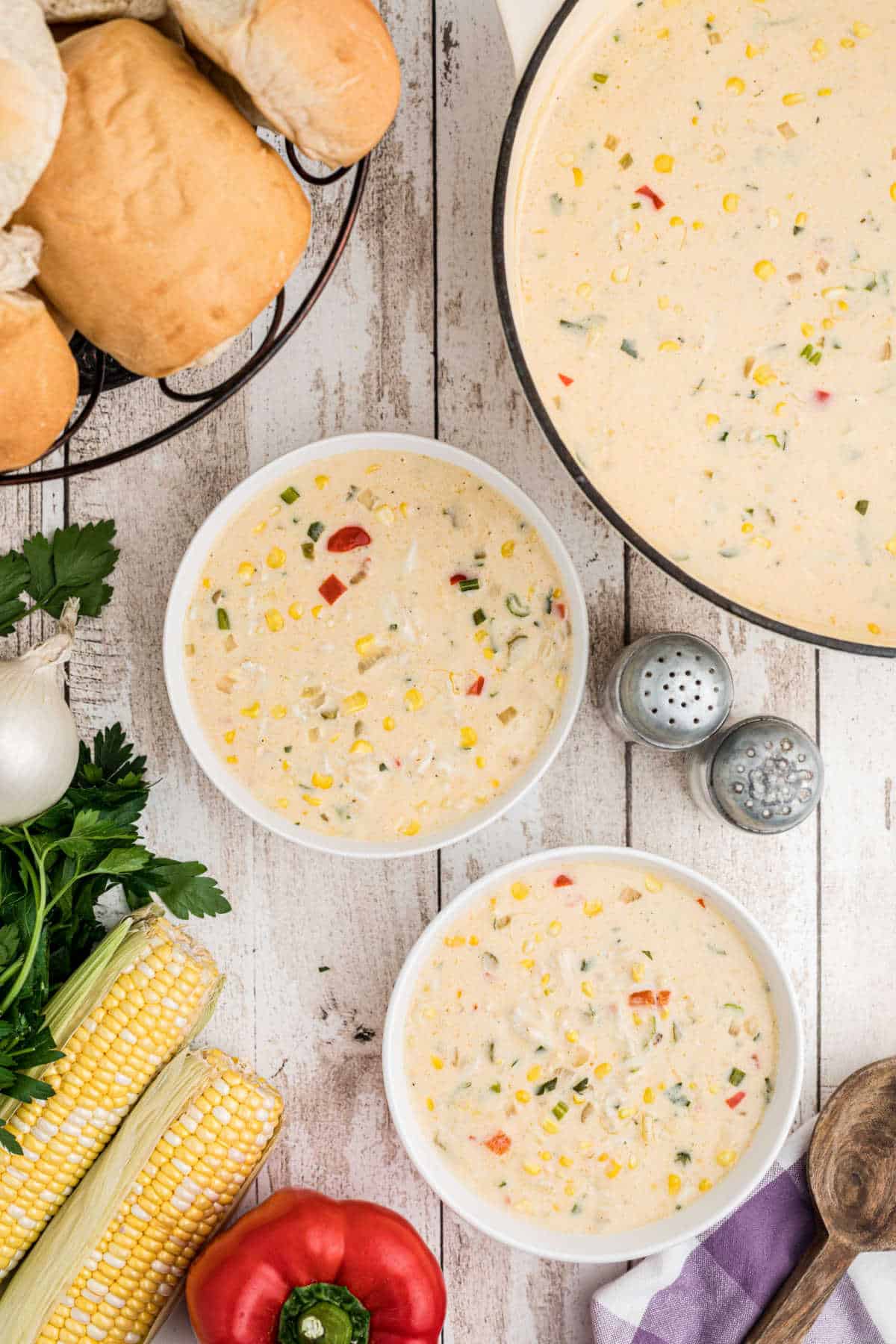 🦀 Other Crab Recipes
🔌 Equipment
If you have a soup pot that's great. Otherwise, a nice heavy bottomed pot is great. I use my Dutch Oven for making this and it's the perfect size. Plus, the bottom heats evenly so there's no burning in any particular spot. See a link in the recipe card below for the pot I use (p.s. It's an affiliate link). A cast iron pot would also be great.
🧊 Storage
Store the corn and crab bisque in an airtight container in the refrigerator, for up to 3 days.
This recipe does freeze well. Put into a freezer safe container for up to 3 months.
💡 Tips
Expert Tip: You'll want to keep the chunks of crab meat together as much as possible so don't stir to vigorously. Those nice chunks of crab meat is the best!
Is this corn and crab bisque like a corn chowder?
The difference between chowder and bisque is that a chowder tends to be chunkier and thicker. A bisque has more of a smooth texture.
What goes with crab bisque?
We always serve a good crusty bread or crackers - like oyster crackers. On the side, you could add something with eggs. Maybe a good egg salad. Eggs are great with crab.
How long is crab bisque good for?
Stored in an airtight container in the refrigerator, crab bisque is good for 3 days.
If you like crab you should try my Cajun Crabs recipe - talk about the perfect crab boil! Check out the recipe here.
---
If you've tried this Corn and Crab Bisque recipe or any other great recipe on my site, let me know in the comment section below, how it turned out, we love hearing from our readers!
You can also follow me on PINTEREST, FACEBOOK and INSTAGRAM to see more amazing recipes!
Corn and Crab Bisque
Total Time:
1 hour
15 minutes
This tasty corn and crab bisque is so creamy, with a hint of spice, it's the perfect combination of flavors.
Ingredients
6 Fresh Ears of Corn, removed from the cob
2-½ Quarts (10 Cups) Seafood Stock
1 Cup Butter, unsalted
1 Medium White Onion, diced
2 Sticks Celery, diced
1 Red Bell Pepper, diced
¼ Cup Garlic, minced
½ Teaspoon Cayenne Pepper
2 Teaspoons Creole Seasoning
1 Cup All Purpose Flour
3 Bay Leaves
1 Pint Heavy Whipping Cream
½ Cup Green Onions, sliced only the green part
¼ Cup Parsley, chopped
1lb Fresh Lump Crab Meat
Instructions
Remove the corn from the cobbs and set aside.
In a large pot add the seafood stock, scraps from chopping and preparing the veggies and the corn cobs. Bring to a simmer and simmer for 30 minutes.
While the stock is simmering melt the butter in a large soup pot (or Dutch Oven)
Add the corn, onions, celery, bell pepper, garlic and seasonings and cook until tender (about 4 minutes)
Whisk in the flour and allow to cook for a few minutes. Be careful not to brown this 'roux'.
Strain the seafood stock after 30 minutes of simmering has passed. Slowly add this to the roux, stirring continuously until all the stock has been added.
Once bubbling add the bay leaves and reduce the heat to simmer for 30 minutes.
Add the heavy cream, green onions, parsley and carefully stir in the crab meat. Cook for another 5 minutes until heated through then turn off the heat.
Remove the bay leaves and serve with some crusty bread or crackers.
Recommended Products
As an Amazon Associate and member of other affiliate programs, I earn from qualifying purchases.
Nutrition Information
Yield

12
Serving Size

1
Amount Per Serving
Calories

418
Total Fat

31g
Saturated Fat

19g
Trans Fat

1g
Unsaturated Fat

10g
Cholesterol

124mg
Sodium

408mg
Carbohydrates

24g
Fiber

2g
Sugar

5g
Protein

12g