The sweet and tender taste of crab meat is such a treat and fixing fried crab claws still offers that same great taste, if not better. The crab stays nice and soft and flaky inside the crust but outside is a yummy southern fried coating that, when dipped in your favorite sauce, gives your taste buds a flavor sensation they'll never forget.
Also known as crab fingers, these delicious little finger food treats are typically served up as the perfect appetizer in most New Orleans seafood restaurants. You'll sometimes find them on a seafood platter too.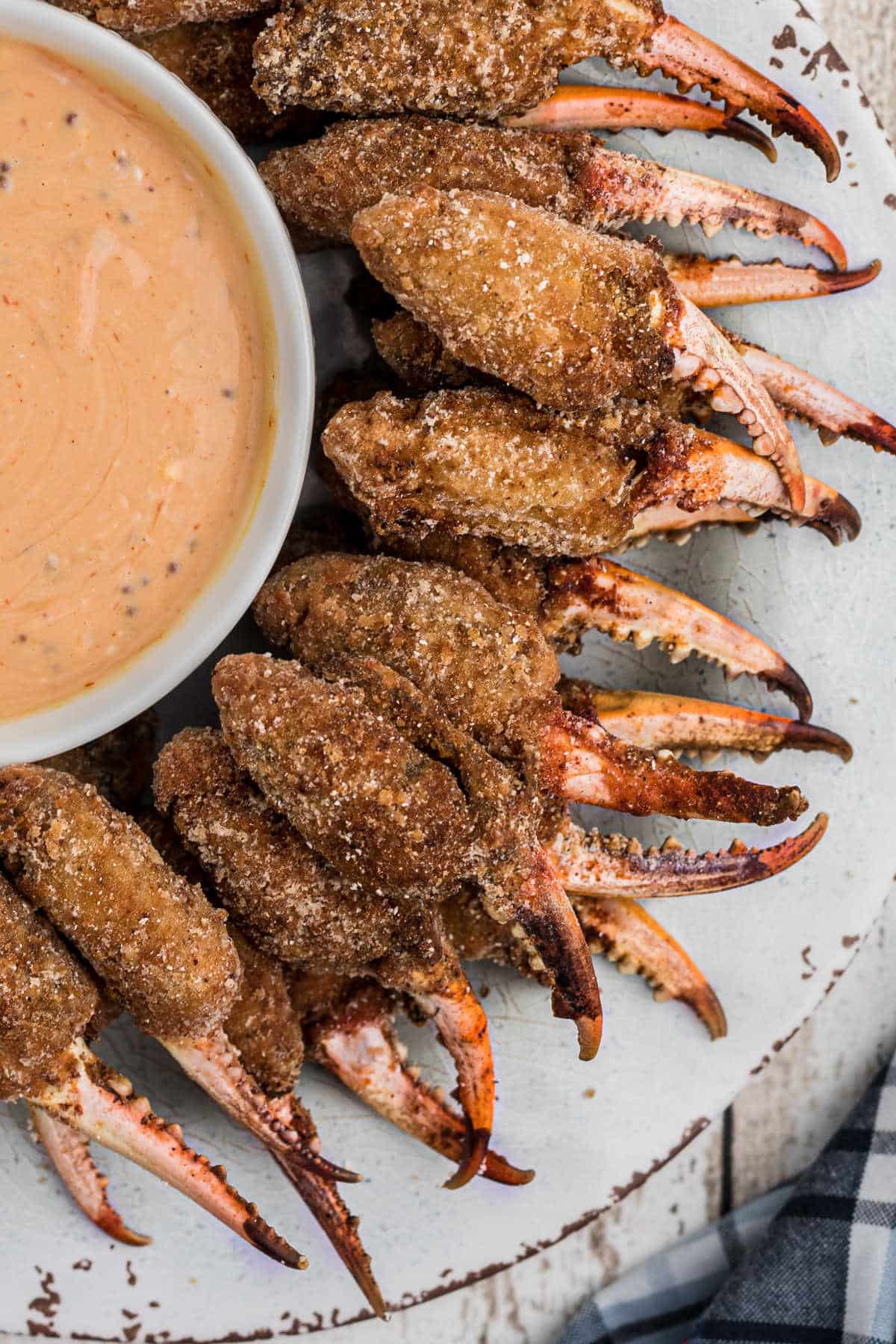 There's a busy time of year for the Blue Crabs we get around here (south Louisiana) and that is late spring through early fall. Not that you can't find crabs outside of that time, which is why crab-season is year round in Lousiana, but you will find them in more abundance in the summer.
Jump to:
I decided I was going to post this recipe when I shared my Stuffed Crab recipe earlier on this site, and if you really like crab dishes I also have the best Corn and Crab Bisque recipe you'll ever try.
🧅 Ingredients
Eggs
Milk
Garlic powder
Onion powder
Cornmeal, white stoneground
All purpose flour
Cornstarch
Hot sauce
Crab Claws / crab fingers
See recipe card for quantities.
🥣 Instructions
Step 1: Heat the oil over a medium heat. In a mixing bowl, mix the milk, eggs, onion powder, garlic powder, Creole seasoning and hot sauce and mix well with a whisk.
Step 2: In a separate mixing bowl mix the flour, cornstarch, cornmeal and Creole seasoning.
Step 3: Dip each crab claw into the egg wash mixture.
Step 4: Then drop into the flour mixture to coat well.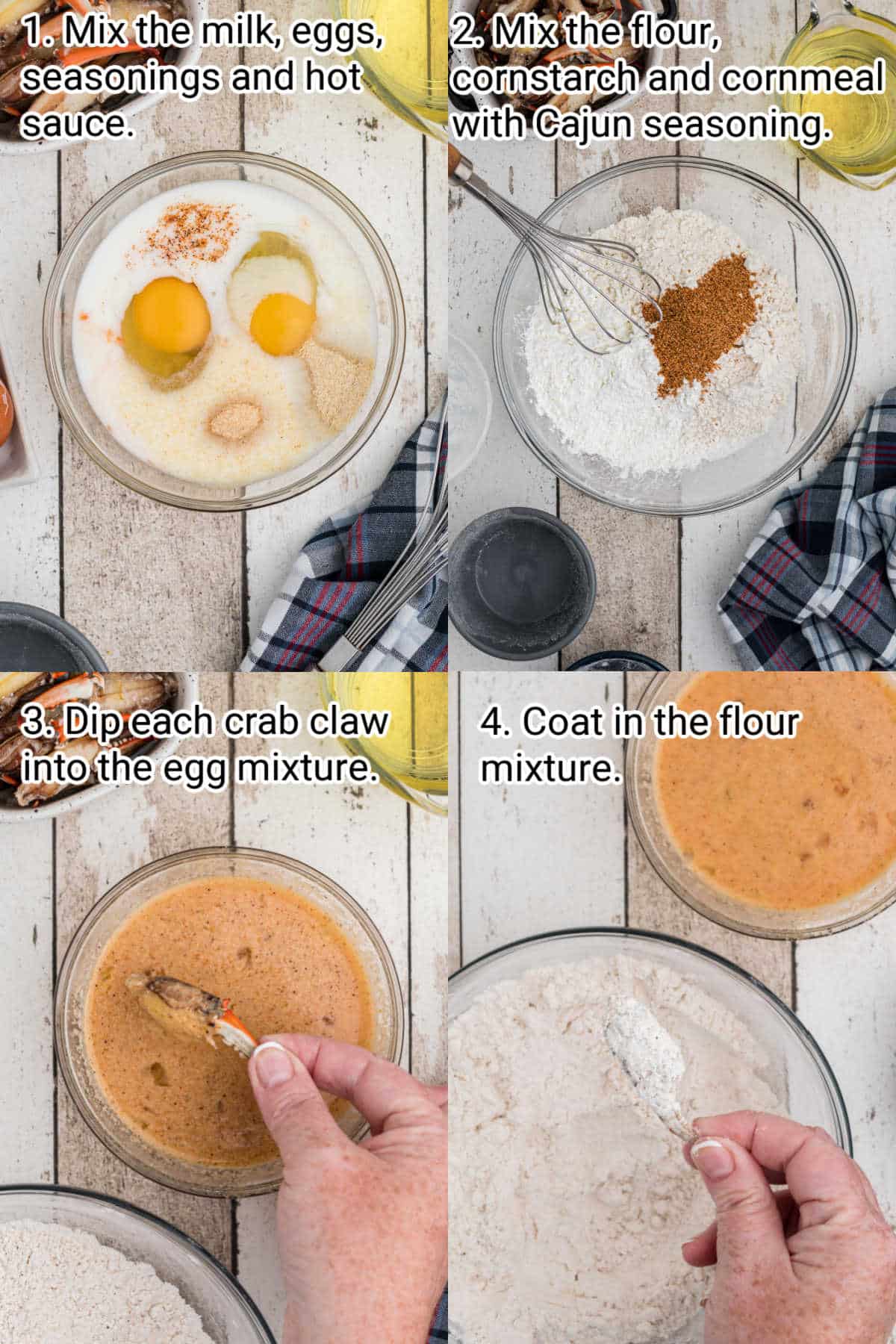 Step 5: Once the grease has reached 350°F drop the crab claws into the hot oil and move around a little. Fry until golden brown, about 2-3 minutes.
Step 6: Remove using a frying spatula and place on plate lined with paper towels. Serve with a delicious dip of your choice. I recommend a good Remoulade Sauce, or a Mustard Cream Sauce. Or even a cocktail sauce works.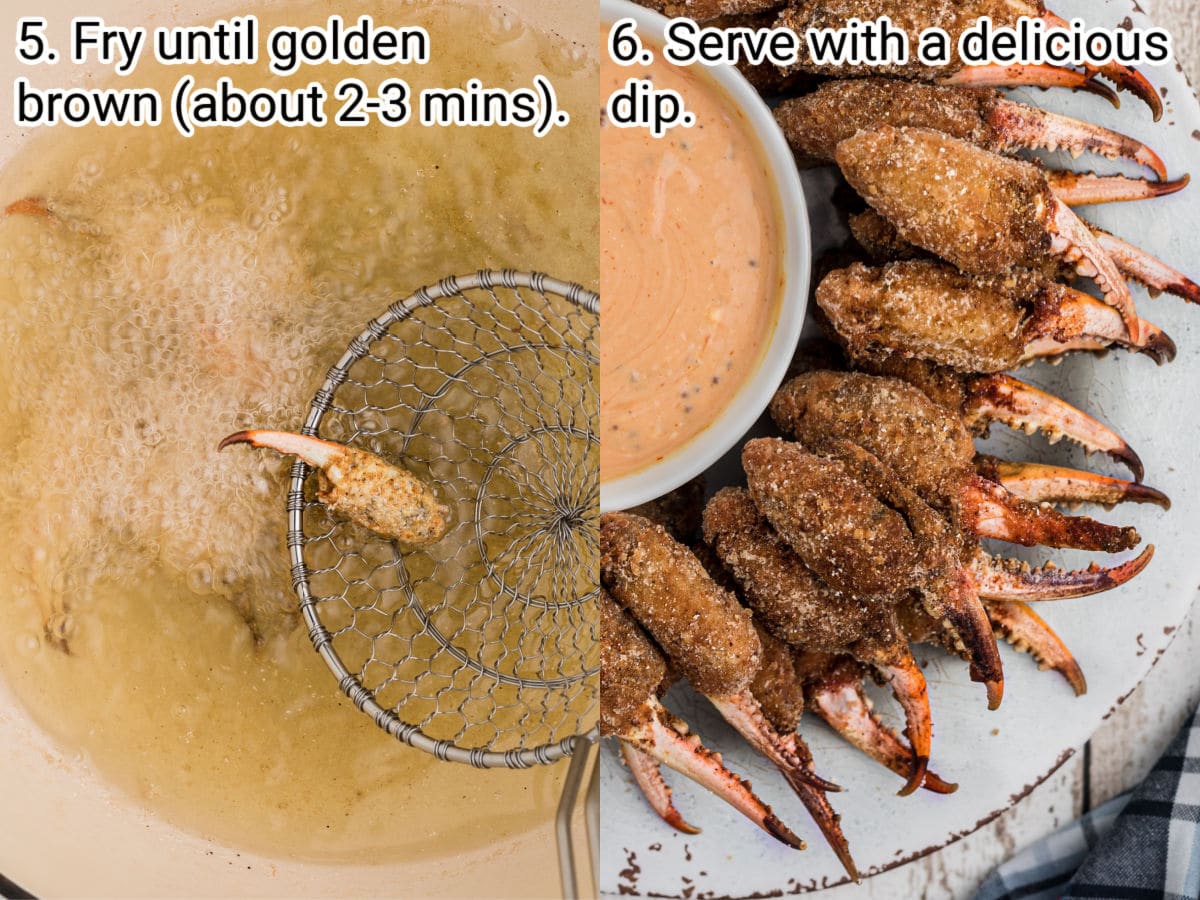 Hint: It may seem like the fried crab claws are not quite brown enough and you want them darker - but trust me, they'll get a little darker even after you take them out of the hot oil, so golden brown is the color you want to aim for.
🔄 Substitutions and Variations
Spicy - if you like your fried food a little spicier, feel free to add more hot sauce to the egg wash. You could also add some cayenne pepper to the crumbs if you choose.
Stuffed Crab Claws - you can take fresh crab claws and mix a 'stuffing' mixture to wrap around the crab meat before you bread it. You could try crab meat, shrimp, green onions, etc.
Air fried - you could use an air fryer - just be sure to spray the coated crab claws with cooking spray before hand so they can get crispy. Set your air fryer to 390°F and cook for about 12 minutes.
Oven Baked - place a cooling rack on an oven tray so that the claws are lifted off the tray. Spray with cooking spray and bake at 400° for 10 minutes.
Lemon Juice - Sprinkle with some lemon juice after, if you prefer.
Salt and Black Pepper - If you prefer this classic seasoning instead of the Creole Seasoning, go ahead.
Gluten free - Replace the plain flour mixture with fish fry. Add some almond flour to thin out the mixture.
Cajun Seasoning Blend - instead of the Creole seasoning.
See this Seafood Gumbo recipe on my website, for even more crab filled deliciousness!
🦀 Other Crab Recipes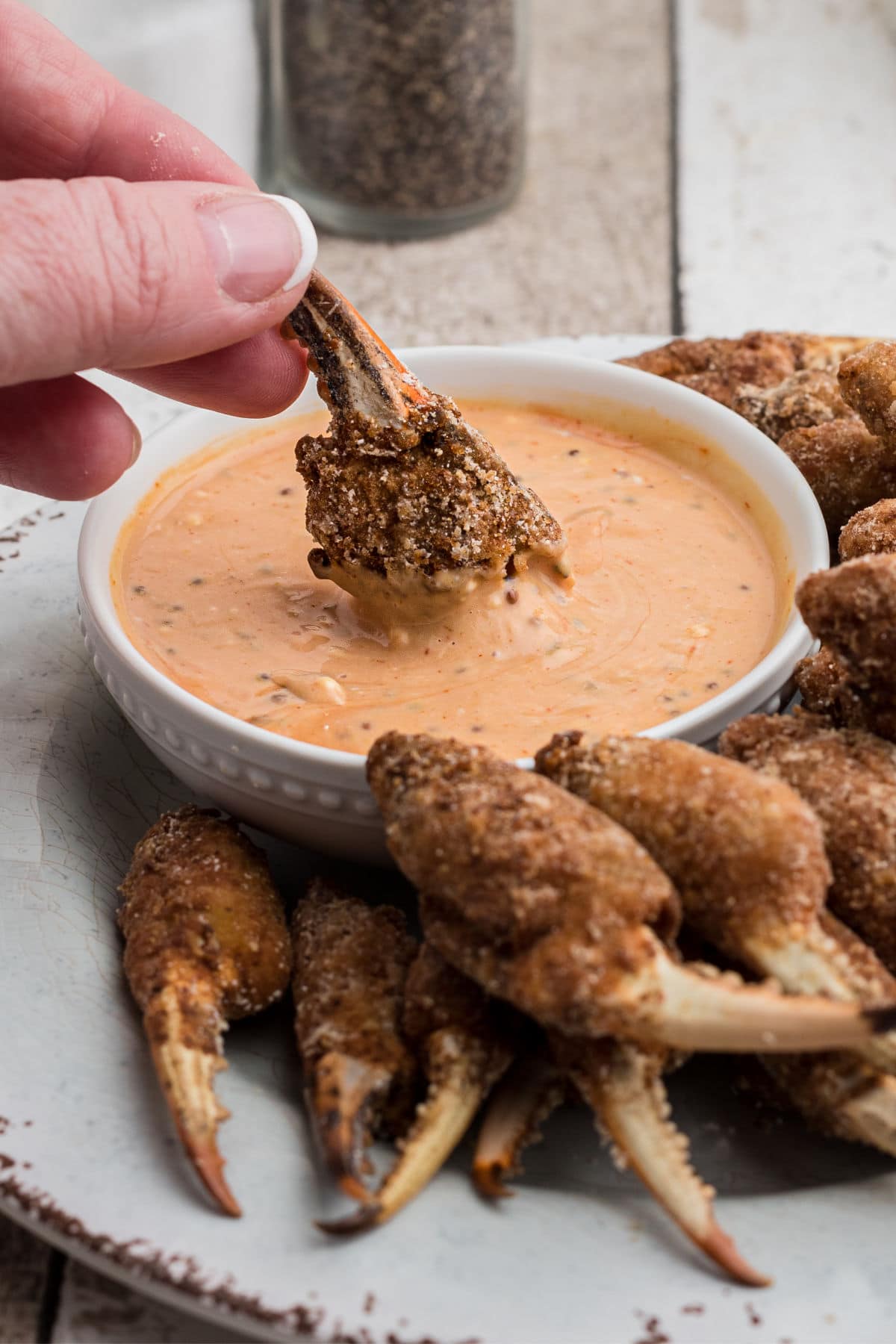 🥣 Seafood Sauce Recipe
I have a really great dipping sauce that I use for all my seafood (yes, even my boiled crawfish!)
I recommend you use this sauce alongside your fried crab claws.
🔌 Equipment
I used a Dutch Oven pot to fry these claws. It is great for holding an even temperature or any heavy bottom saucepan, but feel free to use your favorite fryer. I have some affiliate links to the equipment I used down in the recipe card below.
🧊 Storage
Once they have completely cooled, if you have some left (I'm betting you won't)... but if you do, they'll need to be stored in an airtight container in the refrigerator, for up to 3 days.
💡 Top tip
If you are lucky enough to have a crab boil (one of my kid's favorite things to do) reserve some of the claws from that. They'll be full of flavor from the spices used to boil them and will make delicious fried crab claws! You could peel them and pop them into a resealable bag, to freeze and pull out when you want to fry them.
---
👩‍🍳 FAQ's
What do fried crab claws taste like?
Crab meat has a delicious sweet flavor, like a cross between lobster and shrimp. The texture is soft and flaky - then being coated in a southern fried crust - it's a combination of flavors and textures that really compliment each other well.
How do you fry blue claw crabs?
Once peeled, they should be coated in a crumb of some sort and then dropped in hot oil (350°F) for just 3 minutes. That's it. Serve them with your favorite dip.
How long do you cook crab claws in the air fryer?
At 390° they'll need about 12 minutes. Don't forget to spray with cooking spray.
How do you eat breaded crab claws?
They're a finger food, typically served as an appetizer. You pick up the claw and dip it into your favorite dip (Remoulade is good) then take a bite. There's a fin in the middle, which you don't eat. Just use your teeth to 'scrape' the crab meat off this fin.
If you like crabs you should try my Cajun Crabs recipe - talk about the perfect Crab Boil! Check out the recipe here.
---
If you've tried this Fried Crab Claws recipe or any other great recipe on my site, let me know in the comment section below, how it turned out, we love hearing from our readers! You can also follow me on PINTEREST, FACEBOOK and INSTAGRAM to see more amazing recipes!
Fried Crab Claws
Additional Time:
10 minutes
A delicious appetizer found in a lot of restaurants in and around New Orleans. Crab claws coated in flour and fried until golden brown are so soft, delicate and sweet and perfect dipped in a favorite sauce.
Ingredients
2 Large Eggs
⅓ Cup Whole Milk
2 Teaspoons Hot Sauce
1 Teaspoon Garlic Powder
1 Teaspoon Onion Powder
2 Teaspoons Creole Seasoning, divided
½ Cup All Purpose Flour
¼ Cup Cornstarch
½ Cup Cornmeal, white stoneground
8oz Crab Claws (or cocktail crab fingers)
Vegetable Oil for frying
Instructions
Heat oil over medium-high heat in a heavy skillet or large pot and bring it to 350°F.
Add the eggs, milk, hot sauce, garlic powder, onion powder and 1 teaspoon of the Creole seasoning to a small mixing bowl, and whisk well to combine.
Add the flour, cornmeal, corn starch and other 1 teaspoon of Creole seasoning to another large mixing bowl and mix well.
Take the crab claws and dip into the egg mixture (egg wash).
Dip into the flour mixture to coat well and put onto a plate until they're all coated.
Once the vegetable oil has reached 350°F on a frying thermometer drop the crab claws in. Move them around a little with your slotted spoon so they don't stick together. Remove after about 3 minutes. They'll be a nice golden brown in color.
Allow to drain on a plate lined with paper towels then serve with your favorite dip/ cocktail sauce.
Notes
If you don't have a thermometer for your grease you can use an old trick I was taught. Dip the handle end of a wooden spoon into the hot oil, if it bubbles/fizzes around the wood then it has reached 350°F.
If you have an electric deep fryer (maybe a fry daddy or a fry baby just be sure to follow the manufacturer's directions) then this will be easier for you to maintain the right temp.
If you don't have the crabs yourself at home you can buy the cocktail crab fingers from your local deli, or seafood market already peeled for you.
If you can't get the white stoneground cornmeal you can use the yellow corn flour. I just find that the stoneground white stuff is so much better.
If you really feel like cheating you could use fish fry - it's good enough and you won't need to add anything, but maybe a little flour.
Pat the crab claws down with paper towels to get rid of any excess liquid.
You'll need approximately 2 inches of oil to fry.
Use this Seafood Sauce recipe to have alongside your crab claws!
Nutrition Information
Yield

4
Serving Size

1
Amount Per Serving
Calories

275
Total Fat

8g
Saturated Fat

2g
Trans Fat

0g
Unsaturated Fat

5g
Cholesterol

150mg
Sodium

818mg
Carbohydrates

34g
Fiber

2g
Sugar

1g
Protein

17g
These values do not include the dip or sauce.
This post was originally published on November 04, 2021.