This copycat Saltgrass Baked Potato Soup recipe takes hearty to the next level. A creamy, thick and satisfying loaded baked potato soup that is blended down to give a perfect bowl of happiness.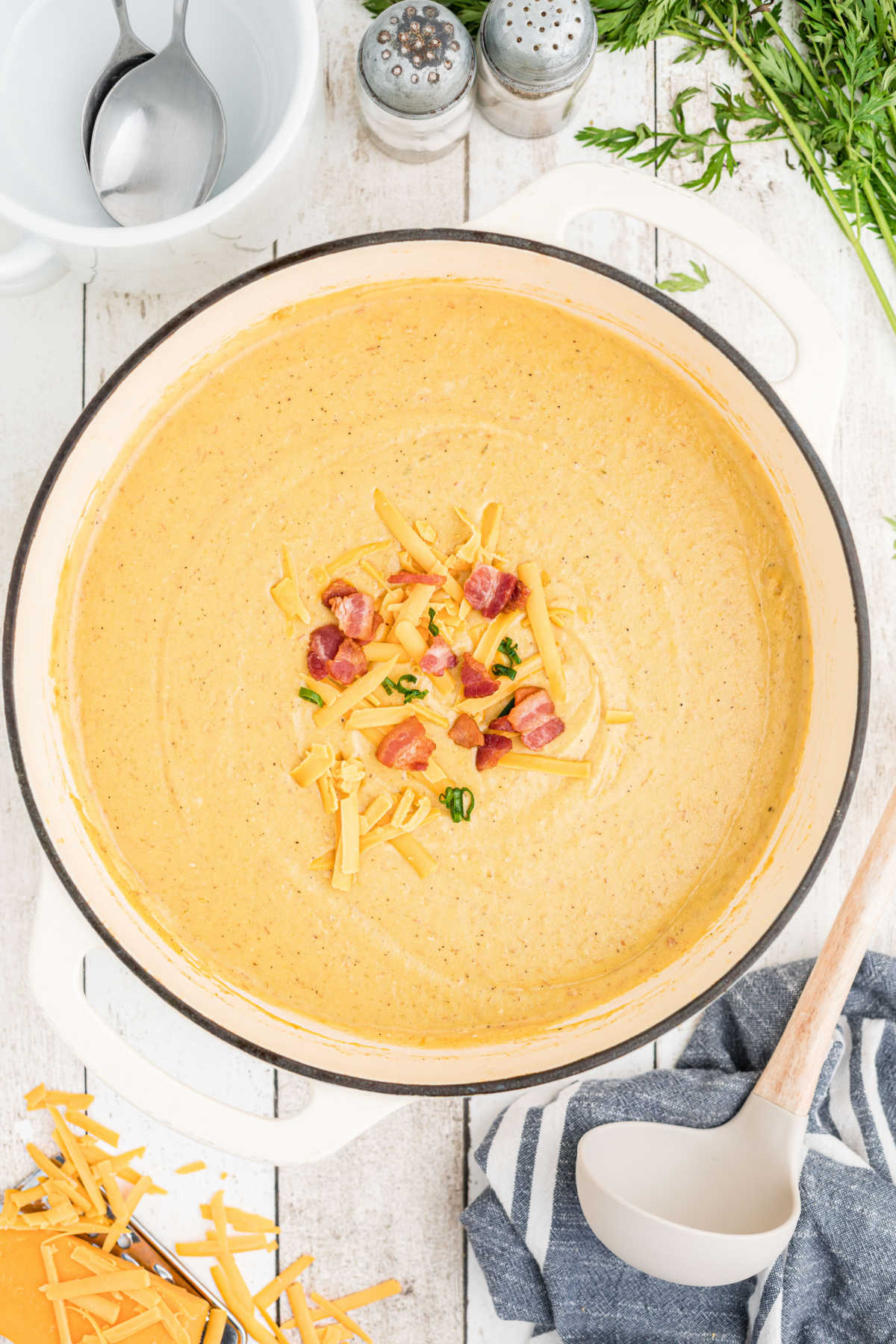 This is truly the best potato soup recipe and typically is more common in the colder months due to the heartiness of the dish. It's my favorite comfort food.
Jump to:
❤️ Why you'll love it
If you can imagine, you have all the flavors of the bacon, the green onion, the cream and the potatoes all melted into one creamy soup, it's a loaded potato soup heaven.
Due to the ease of which the soup comes together this copycat recipe could easily be cooked in either the crock pot or instant pot.
This recipe uses simple ingredients, there's no fancy shmancy things you need to try to round up. You should have most of this in your pantry.
A bowl of potato soup is the best thing on a cold day, ultimate comfort food.
This is a great recipe for using up any leftover baked potatoes.
🧅 Ingredients
Bacon
Yellow Onion
Celery
Carrot
Green Onion
Garlic
Black Pepper
White Pepper
Creole Seasoning
Russet Potatoes
Heavy Whipping Cream
Extra Sharp Cheddar Cheese
See recipe card at the bottom of this post for quantities.
🥣 Instructions
Step 1: Dice the bacon and add to a heavy bottomed pot, a large pot. Turn on the heat to medium-high and cook well.
Step 2: While the bacon is cooking prepare the carrots, onion and celery - preferably in a food processor as it will get them chopped nice and fine.
Step 3: Add to the bacon and drippings and cook until translucent (about 5 minutes).
Step 4: Add the ⅓ cup of green onion and chopped garlic and cook a further 2 minutes.
Step 5: Add the Creole Seasoning, the black Pepper and white pepper and mix well.
Step 6: Add the diced potatoes, chicken broth and heavy cream. Stir well to combine and bring to a boil over medium heat.
Step 7: Turn down the heat and cover with a lid. Simmer for 2 hours.
Step 8: Using and immersion blender (stick blender or standing blender but you'll have to let it cool down first) blend the soup until nice and creamy and smooth.
Step 9: Add the grated cheddar cheese and stir into the soup until melted.
Step 10: Serve immediately with optional garnish of crispy bacon pieces, chopped green onions and grated cheddar.
Hint: This recipe does give a nice thick and creamy soup. Feel free to add more chicken broth if you want to thin it out a bit. The same vice versa, if you like it thicker, add more cheese or even instant potatoes.
🔄 Substitutions and Variations
Sour Cream - you could add some sour cream to really add to that loaded potato taste. It could also be offered as a garnish.
Fresh Potatoes - To be honest with you, any potatoes would work in this recipe. Red potatoes, Yukon gold potatoes. I prefer the russet potatoes, I feel they're the perfect potatoes because they tend to fall apart more and I like the flavor and starchiness. It helps with the creamy texture.
Sweet Potato - I haven't tried this with sweet potato, but I would love to hear from you if you try it.
Red Onion - for more zip offer chopped red onion for garnish.
Olive Oil - if you don't like the idea of keeping the bacon grease in the dish, dump it and use olive oil.
Bouillon Cubes - use these to make your chicken broth, if needed.
Raw Bacon - you could use this instead of cooking it at the beginning. Just throw it in. I'm not a fan of doing it this way.
All Purpose Flour - to thicken if you don't want to use cream.
Chicken Stock - instead of broth.
Garlic Powder - for added flavor.
Turkey Bacon - instead of regular bacon.
Bacon bits - sprinkle some on top.
Shredded Cheddar Cheese - this is good for garnish too.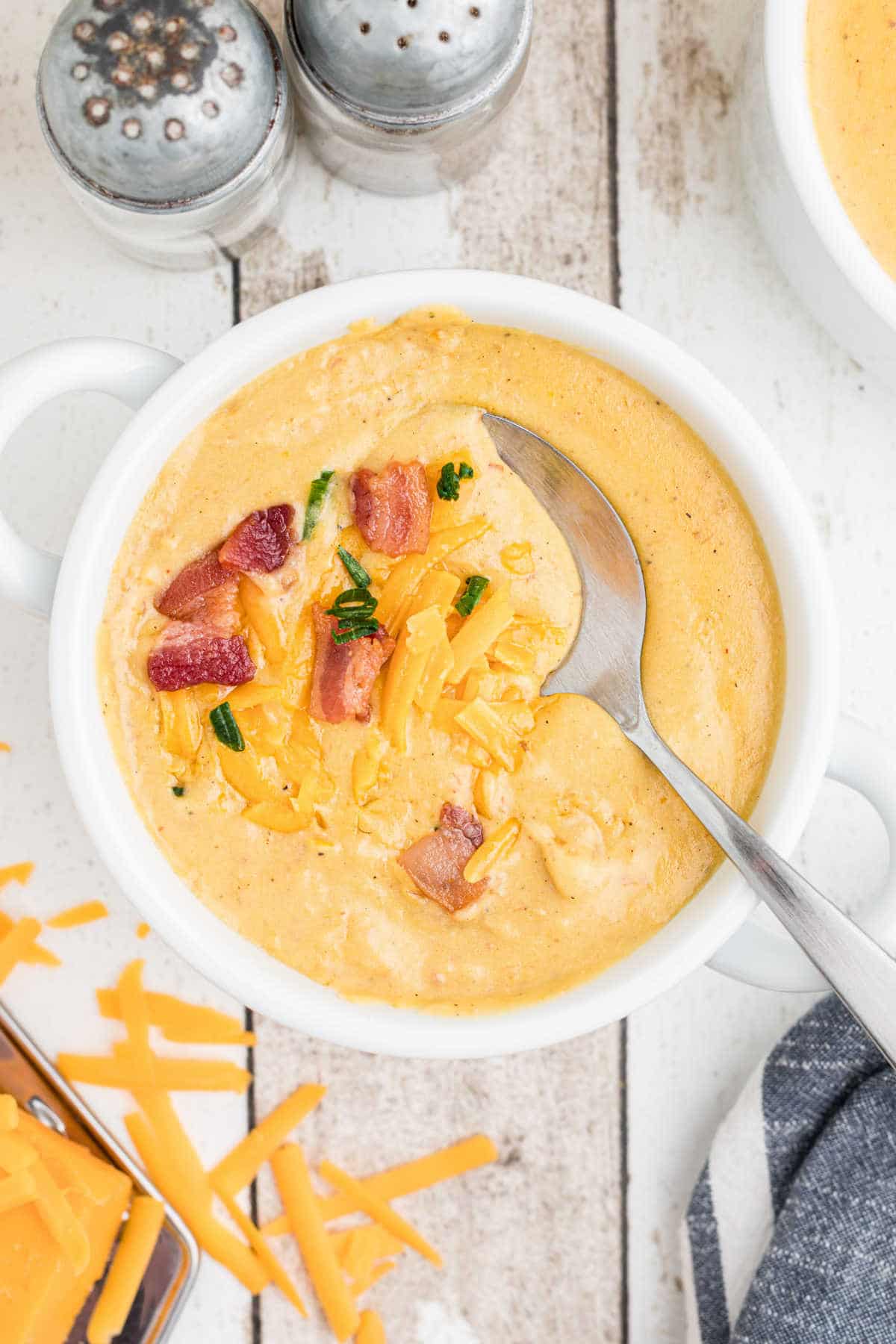 ❤ Sharing is Caring - Like Our Facebook Page ❤
🔌 Equipment
I like to use my Dutch Oven to make this potato soup. The heavy bottomed nature of it really helps lend an even cooking experience.
You could do with a food processor too to get those veggies chopped nice and fine, although it's not absolutely necessary. You could use a potato masher.
I have a few affiliate links in the recipe card at the bottom of the page.
🧊 Storage
Once the soup has cooled completely it will need to be stored in the refrigerator in an airtight container. It will be good for up to 4 days. In fact, due to the nature of this soup and the flavors this Saltgrass Baked Potato Soup recipe will actually taste better the next day!
This soup does not freeze well so be sure to eat up those leftovers and not let any go to waste.
💡 Tips
Expert Tip: If you're in a rush and you have an Instant Pot (or other pressure cooker) you could reduce the cooking time dramatically by pressure cooking the soup.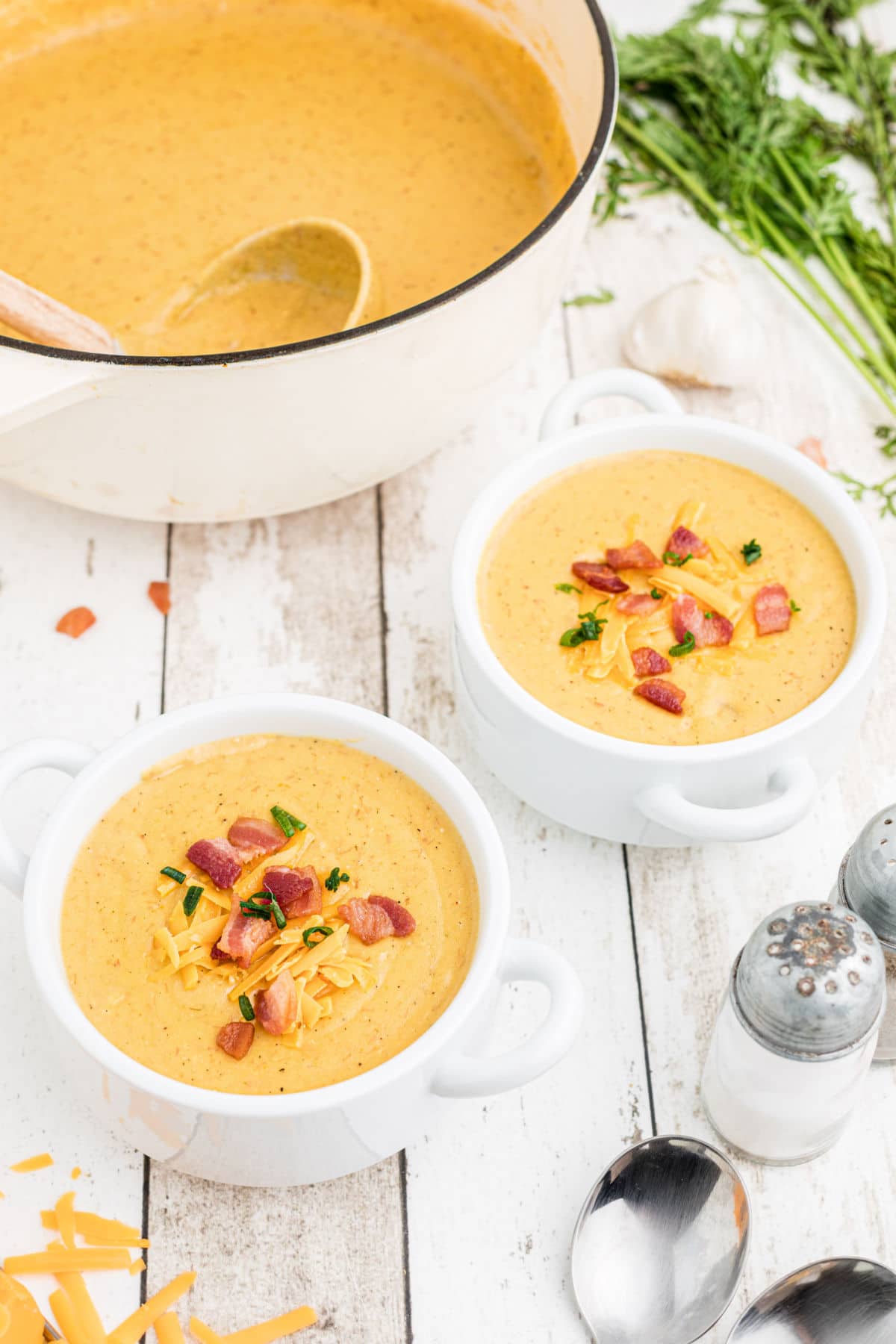 Other Soup Recipes
For another copycat potato recipe you should try these Popeyes Mashed Potatoes, or this popular Thanksgiving Cracker Barrel Sweet Potato Casserole. They're both a really great side dish that are perfect for any occasion.
👩‍🍳 FAQs
Can I cook this soup in a slow cooker?
Most definitely. It would work terrifically in a slow cooker. Just follow the directions (using a skillet) up until where you've added the garlic and green onions then transfer to a slow cooker for the rest of the recipe. Cook on low for 8 hours or high for 4-6 hours. This is another great way to cook this soup.
How do you thicken up potato soup?
You could mix a slurry with cornstarch and water, but my absolute favorite and what I consider the best thing to do is to add some instant potato flakes. That works a charm!
---
If you've tried this Saltgrass Baked Potato Soup Recipe or any other great recipe on my site, let me know in the comment section below, how it turned out, we love hearing from our readers! If you love this recipe please give it 5 stars! ⭐️⭐️⭐️⭐️⭐️
You can also follow me on PINTEREST, FACEBOOK and INSTAGRAM to see more amazing recipes!
Saltgrass Baked Potato Soup Recipe
Total Time:
2 hours
15 minutes
This deliciously creamy and soul warming soup is a must during the colder months. A copycat Saltgrass Baked Potato Soup Recipe that's easy to make and tastes just like the real deal cannot be beat.
Ingredients
½lb Bacon, diced
1 Cup Yellow Onion, finely diced
1 Cup Celery, finely diced
1 Cup Carrots, finely diced
⅓ Cup Green Onions, chopped
3 Garlic Cloves, minced
3 Teaspoons Black Pepper
2-½ Teaspoons Creole Seasoning
¼ Teaspoon White Pepper
2-½lb Russet Potatoes, cubed
2-¼ Cups Heavy Whipping Cream
1 Cup Sharp Cheddar Cheese, freshly grated
Optional Garnish
Bacon Pieces
Grated Cheddar Cheese
Chopped Green Onions
Instructions
Add the chopped bacon to a large Dutch Oven and cook over medium-high heat until cooked well.
While the bacon is cooking chop the onion, carrots and celery really fine. Using a food processor can help get it fine.
Add to the bacon and cook together until translucent.
Add the chopped green onions and garlic and cook another 2 minutes.
Add the seasonings and mix well.
Add the peeled, chopped potatoes, chicken broth and cream and stir to combine. Bring to a boil.
Reduce the heat to a simmer and cover. Cook for 2 hours like this - over a low heat.
After two hours everything should be nice and soft, check with a fork. Blend the soup mixture with a stick blender (immersion blender).
Once nice and smooth add the grated cheddar and stir into the soup until melted.
Serve with optional garnish of bacon pieces, green onions and cheddar cheese.
Notes
This recipe produces a nice thick hearty soup. If you prefer a thinner soup think about adding more chicken broth.
Recommended Products
As an Amazon Associate and member of other affiliate programs, I earn from qualifying purchases.
Nutrition Information
Yield

10
Serving Size

1
Amount Per Serving
Calories

653
Total Fat

52g
Saturated Fat

30g
Trans Fat

2g
Unsaturated Fat

18g
Cholesterol

157mg
Sodium

1025mg
Carbohydrates

28g
Fiber

3g
Sugar

6g
Protein

20g