Delicious smoky, tangy and sweet this southern baked beans recipe is perfect alongside any barbecue - or any dish to be honest. Cooked in a cast iron pot makes them taste even better, but they can be cooked in any way - even in a slow cooker.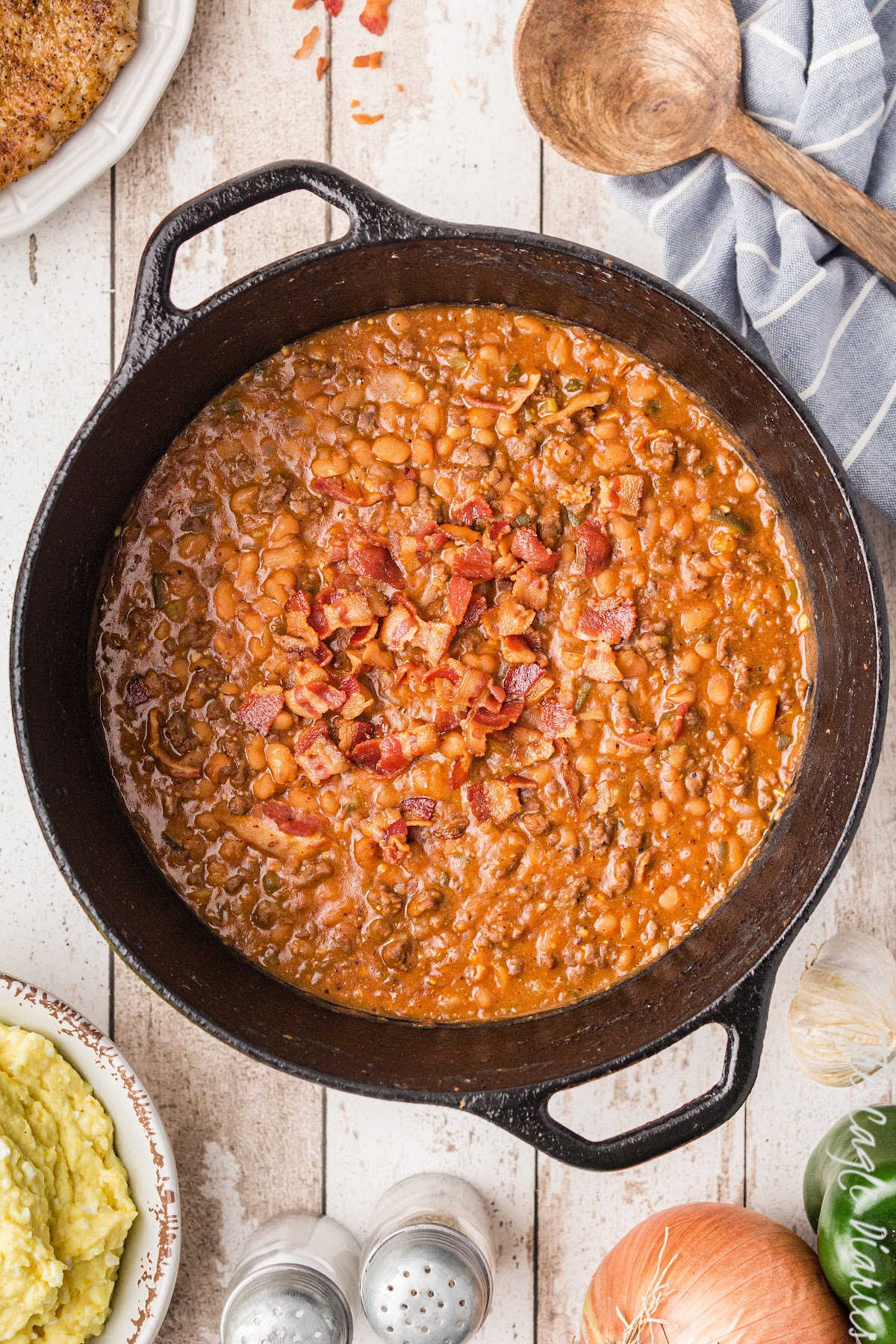 My husband James has this Southern Baked Beans Recipe that will warm anyone's soul. It makes me laugh when I think about my upbringing (in England) - eating baked beans was just straight out of the can and heat it up. When I see James going to work on his baked beans he truly puts his heart and soul into it. They are honestly the best baked beans I've ever had!
I know, he uses the canned pork and beans, which to some may be cheating... but not really. They are the base, which is then jazzed up to a beautiful tangy, sweet and meaty dish that will (in his words) "make you slap your momma"!
Jump to:
❤️ Why you'll love it
These beans are literally perfect with anything that comes off the grill. Hot dogs, hamburgers, steak, pork chops. It's all good! Make sure you make them for your next summer cookout.
🧅 Ingredients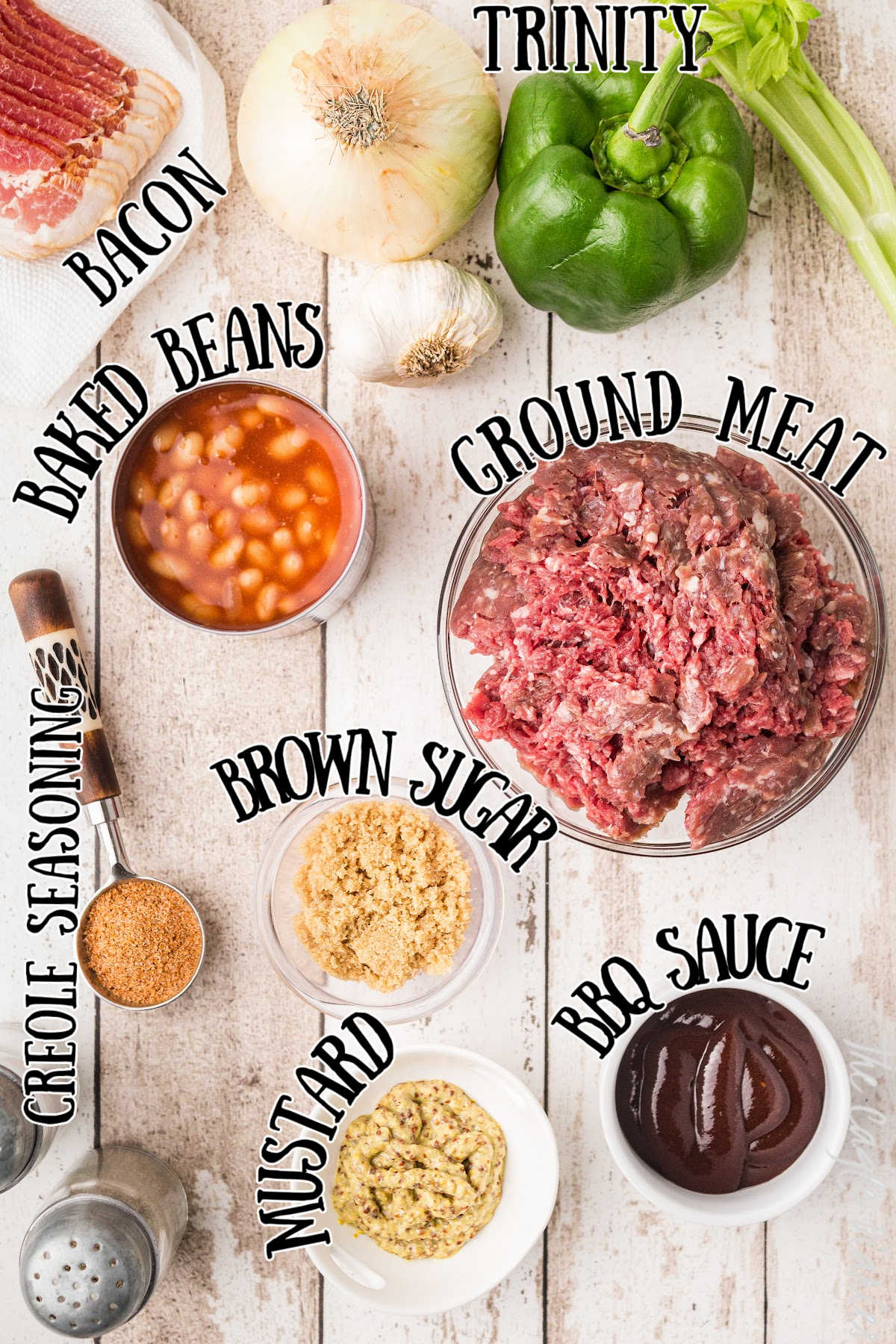 Bacon Strips (slices of bacon)
Sweet Onion
Green Bell Peppers
Celery Stalk
Garlic
Ground Meat
Pork and Beans
Brown Sugar
Wholegrain Mustard
BBQ Sauce
See recipe card in the post at the bottom for quantities.
🥣 Instructions
Step 1: We cook off the bacon first, chopped into strips. Once cooked (but not too crispy) remove the bacon and allow to drain on paper towel.
Step 2: Cook the trinity (diced onion, bell pepper, celery) and garlic in the grease left from the bacon (bacon fat).
Step 3: Cook the ground meat with the seasoning until no pink remains. Add this to the beans along with the bacon
Step 4: Allow to cook on a very low heat for 1-2 hours. Garnish the top of the beans with some bacon pieces.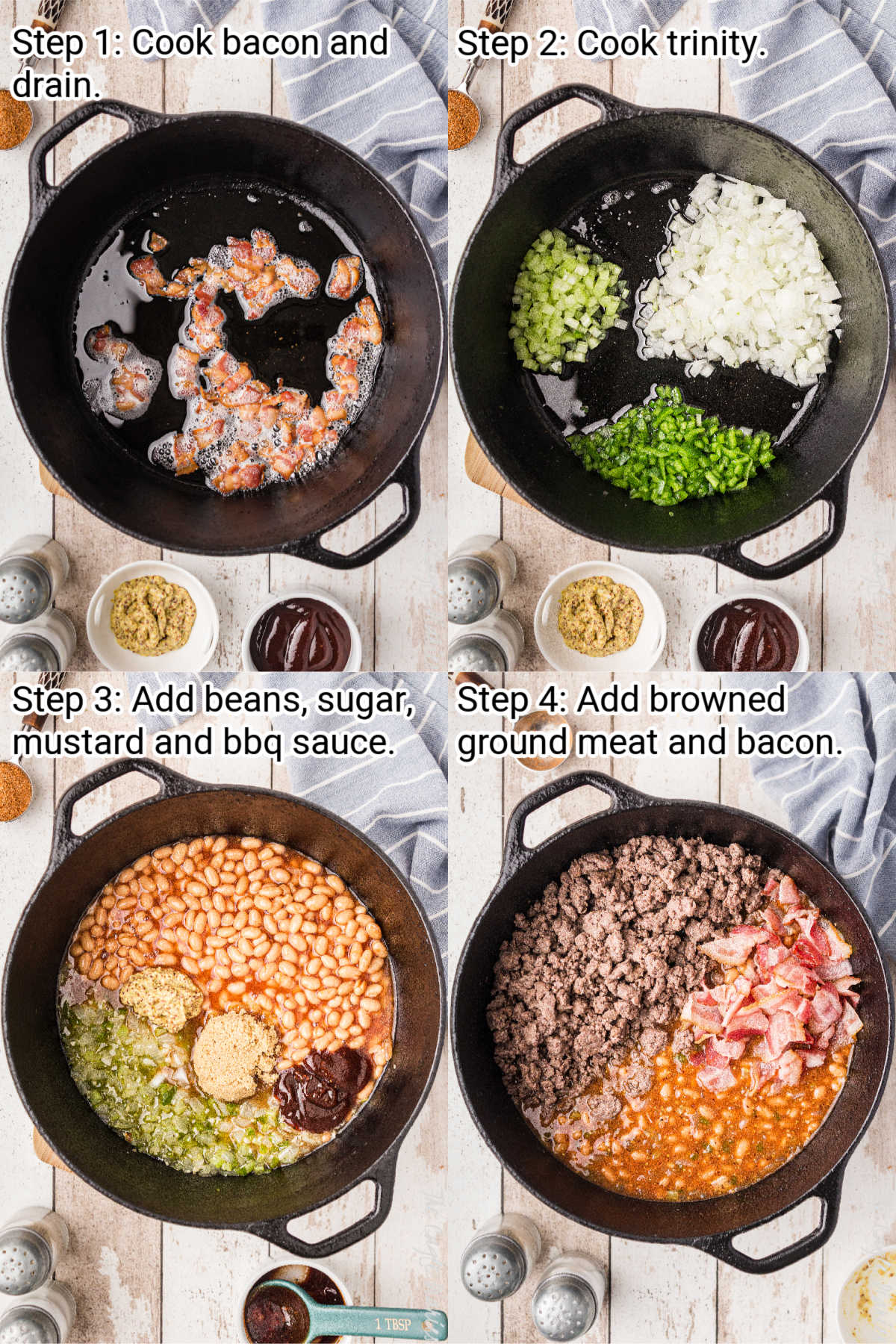 Hint: We like to cook our beans in a cast iron pot, this way they can be put into the oven and baked really low while the barbecue commences.
🔄 Substitutions and Variations
Pinto Beans - instead of using pork and beans, use canned pinto beans instead.
Dry beans - you'll need to cook them down first, but you could try making baked beans with dried pintos, or cannellini beans.
Vegetarian - omit the bacon and the ground meat (boo) and turn this dish into a vegetarian dish.
Spicy - add chili pepper flakes while cooking to imbue heat into the dish.
Worcestershire Sauce - Add a little Worcestershire Sauce for seasoning.
Yellow Mustard - use this instead of the wholegrain mustard.
Maple Syrup - This can be added to imbue some sweetness if you don't have brown sugar.
Spicy Brown Mustard - use this in place of the wholegrain mustard.
Apple Cider Vinegar - add a little of this to balance things out.
Dry Mustard - you can use this instead of adding mustard.
Yellow Onion - can be used in place of sweet onion.
Cayenne Pepper - add this if you want a little heat.
❤ Sharing is Caring - Like Our Facebook Page ❤
📘 Related Recipes
🔌 Equipment
I cook our baked beans in a cast iron pot. I have a link in the recipe card below for the size/type I use.
If you don't have a cast iron pot, use a Dutch Oven or other heavy pot.
You could even mix all the ingredients in a large bowl and then transfer to a casserole dish and bake in the oven that way instead.
🧊 Storage
Once cooled completely store in an airtight container in the refrigerator for up to 4 days.
These southern baked beans do freeze well. Store in a freezer safe container in the freezer for up to 6 months.
💡 Tips
Expert Tip: Don't allow the bottom to burn during cooking, or you could ruin your beans. Make sure to keep the heat low, the secret is low and slow!
Smoked Baked Beans Recipe
Yes, this recipe can actually be made on the smoker to make Smoked Baked Beans. It's the perfect side dish when grilling and gives a really great smoke flavor!
Prepare just like in the recipe but at the point you'd close up the pot and cook on low for 1-2 hours, instead you can add to an aluminum pan (if you prefer) otherwise, keep in the cast iron pot. Put directly on the smoker at 250°F for 2 hours. Stir occasionally.
👩‍🍳 FAQs
What type of ground meat do you use in your baked beans?
I imagine most people will use ground beef - as we have a few times... but because James is an avid hunter we usually use venison.
Can this be made in the slow cooker?
Oh yes, this recipe works well in the crock pot. Add an hour or so.
Are baked beans good for you?
Beans are very high in protein and fiber and so yes, they are good for you. Obviously, the canned version is going to have the added sugar/sodium etc and so won't be as healthy as cooking dried beans.
What kind of beans are baked beans?
They are usually made from navy beans or cannellini.
Can you freeze baked beans?
This recipe freezes well for 3 months.
Is this recipe similar to Boston baked beans?
Boston baked beans use molasses, however it is a similar recipe. Swap out the molasses for the barbecue sauce and it's almost identical! Check out this delicious recipe for Boston baked beans.
Can dogs eat baked beans?
Depends. If you made the beans from scratch with dried beans the dog could benefit from the nutrition... however, the sodium and sugar in canned baked beans would not be good for them.
---
If you've tried this SOUTHERN BAKED BEANS RECIPE or any other great recipe on my site, let me know in the comment section below, how it turned out, we love hearing from our readers!
If you love this recipe please give it 5 stars! ⭐️⭐️⭐️⭐️⭐️
You can also follow me on PINTEREST, FACEBOOK and INSTAGRAM to see more amazing recipes!
Southern Baked Beans Recipe
Total Time:
2 hours
15 minutes
These Southern Baked Beans are so tangy, sweet and meaty they are the perfect accompaniment to any barbecue!
Ingredients
8 Strips Bacon
1 Large Sweet Onion
1 Large Green Bell Pepper
1 Large Celery Stalk
3 Cloves Garlic
1lb Ground Meat
4 15oz Cans Pork and Beans
1 Tbsp. Brown Sugar
1 Tbsp. Wholegrain Mustard
⅓ Cup BBQ Sauce
1 Tbsp. Creole Seasoning
Instructions
Chop and cook bacon.
Remove bacon and put to the side, allowing to drain.
Cook the trinity (onion, bell pepper and celery) with garlic in the bacon grease.
Add the beans, sugar, mustard and barbecue sauce and stir to combine.
Brown the ground meat with the creole seasoning then add back to the beans along with the bacon.
Stir to combine, cover and cook on low for 2 hours.
Notes
In the south this dish is traditionally served with potato salad.
Recommended Products
As an Amazon Associate and member of other affiliate programs, I earn from qualifying purchases.
Nutrition Information
Yield

12
Serving Size

1
Amount Per Serving
Calories

424
Total Fat

18g
Saturated Fat

7g
Trans Fat

1g
Unsaturated Fat

9g
Cholesterol

85mg
Sodium

1158mg
Carbohydrates

36g
Fiber

8g
Sugar

5g
Protein

31g