When looking for what to serve with pinto beans there are endless options. Of course, when you eat them as often as we do, you get a good idea of what flavors will work best.
We always treat our pinto beans as a side dish, even though my recipe has so much meat in it, it is almost a main course unto itself.
We always make a big ol' pot of southern pinto beans when we barbecue.
Jump to:
❤️ Why We Love Pinto Beans
They're so filling. It's good old-fashioned stick-to-the-ribs kind of comfort food.
The flavor from Pinto Beans can't be matched. There is so much you can actually make with them, although we tend to stick to our regular routine of cooking them in the slow cooker.
A great way to fill up without a main dish, unless you count your beans as one. It's a satisfying meal.
They are a great source of protein.
They're easy recipes.
Using beans is a great way to keep cost down.
🍖 Meats
We always usually have barbecue meat of some kind, even though our beans contain a lot of meat. Here's a list of ideas of meats that work great with pinto beans;
Steak
Pork Chops
Grilled Chicken
Ham Hocks
Lamb Shanks
Roast Beef
Smoked Sausage
Barbecue Chicken
Pork Sandwiches
Pork Roast
Deer Sausage
Hot Dogs
🥔 Starches
We always serve our Crock Pot Pinto Beans with rice. Always. We find it's the perfect side dish. Here are some other starch options you might want to try;
White Rice
Fried Rice
Brown Rice
Potato Cakes
Hasselback Potatoes
Potatoes Au Gratin
Noodles
Baked Potatoes
Tater Tots
Tortilla Chips
🌽 Vegetables
Veggies are always a good option to have alongside your pinto beans. Here's some ideas for vegetable side dishes;
Buttery Corn on the Cob
Broccoli
Roasted Vegetable Mix
Roasted Zucchini
Cauliflower Au Gratin
Collard Greens
Cauliflower Rice
Honey Roasted Carrots
Butternut Squash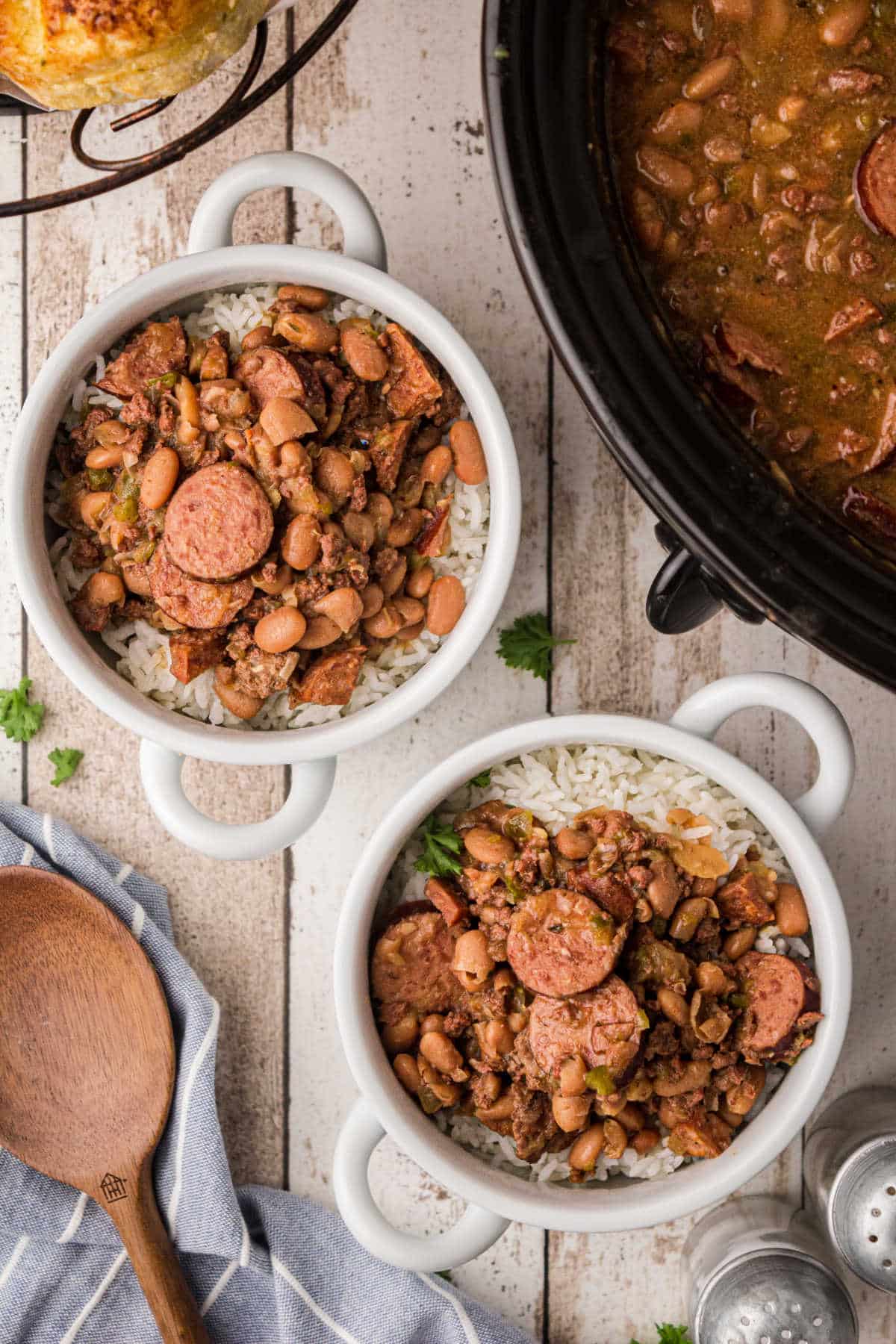 ❤ Sharing is Caring - Like Our Facebook Page ❤
🥗 Salads
A fresh salad is always great. It's nice to have this as an option, here's a few ideas;
Coleslaw
Greek Salad
Broccoli Salad
Shaved Fennel Salad
Panzanella Salad
Romaine Salad
Chickpea Salad
Garden Salad
Spinach Salad
Kale and Bacon Salad
Fresh tomatoes
🍞 Breads
What's a good meal without some kind of bread? Bread just happens to be my downfall, it's something I cannot refrain from, my favorite thing in the world. Here's some bread recipe ideas;
Texas Toast
Garlic Naan Bread
Garlic Rosemary Focaccia Bread
Cheesy Bread Puffs
Pizza Bread
Pull Apart Bread
Garlic Loaf
Knot Rolls
Ciabatta Rolls
Classic Dinner Rolls
Grilled Cheese Sandwich
🍯 Sauces
This is not typically something we do, but depending on some of your other dishes that are being served with your pinto beans, might need some sauces. Here's some ideas;
Barbecue Sauce
Hot Sauce
Creamy Cheeses
Enchilada Sauce
Roasted Red Pepper Sauce
Jalapeno Ranch
Romesco Sauce
Yum Yum Sauce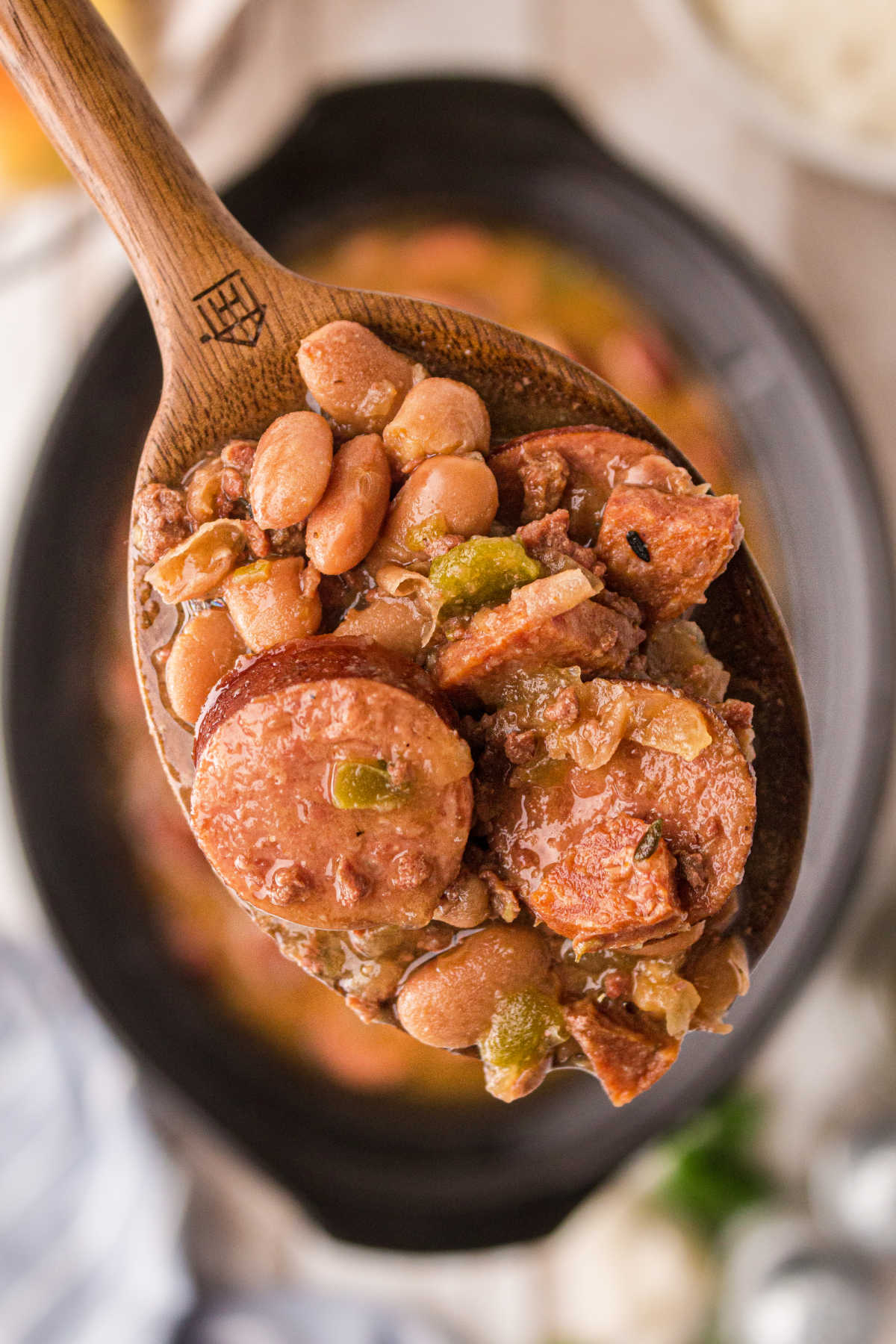 🌶 Garnish Ideas
If you're having people over and you want to pretty up the look of your beans, here's some popular toppings ideas;
Dollop of sour cream
Sliced Jalapenos
Parsley
Green Onions
Fresh Thyme
Fresh Oregano
Chives
Red Onion
Bell Peppers
Fresh Cilantro
Grated cheddar Cheese
🍸 Wines and Cocktails
Looking for some wine or cocktail ideas that will go well with pinto beans? Here's some ideas;
Merlot
Shiraz
Temperanillo
Chianti
Cabernet Sauvignon
Martini
Cosmopolitan
Whisky Sour
Try my Slow Cooker Pinto Beans Recipe Here. It's a reader favorite.
---
If you like this Post about What To Serve With Pinto Beans or any other great recipe on my site, let me know in the comment section below, how it turned out, we love hearing from our readers!
You can also follow me on PINTEREST, FACEBOOK and INSTAGRAM to see more amazing recipes!