This dish is so iconic of the south, the earthy flavorful comfort food we all love. A great southern black eyed peas and collard greens recipe that will have everyone coming to eat with you.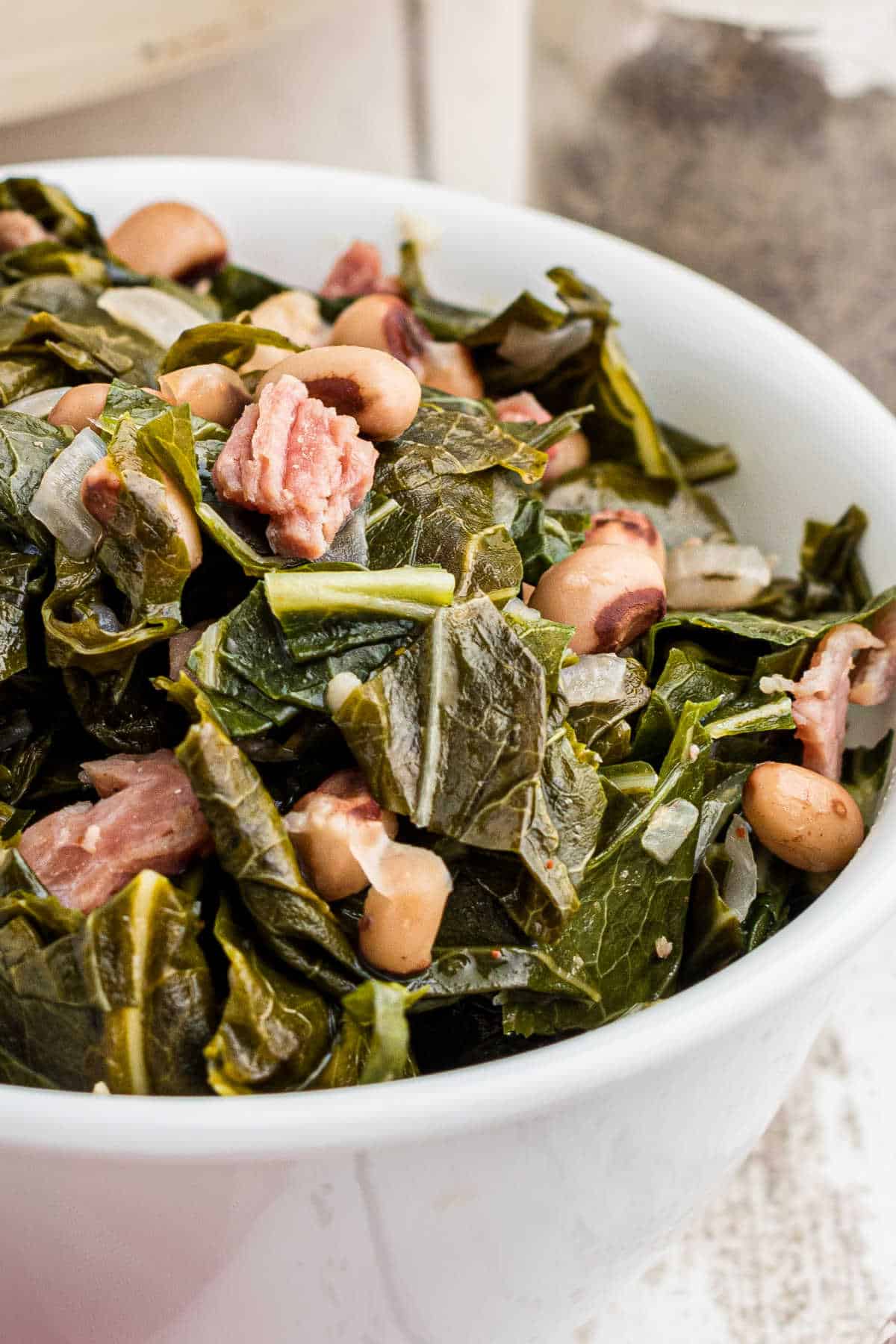 Collard greens can be found year round, in fresh form, but there are other means to be able to make them. You can find them canned and frozen - fresh produce is always best though.
In the south it's full of superstition and New Year's Day is no different. Black eyed peas are meant to bring good luck into the new year and the collard greens represent financial prosperity (the green for dollar bills).
Both sound great to me, I'm not going to risk any extra luck and wealth I can get!
Jump to:
❤️ Why you'll love it
It's a simple dish, not too many recipes and most you'll find you already have in your kitchen.
This recipe doesn't take long to make.
Collard greens are packed full of nutrition, it's a great way to get some of those minerals and vitamins into your diet.
🧅 Ingredients
Black Eyed Peas
Collard Greens
Bacon
Ham
Chicken Broth
Red Onion
Garlic
Salt
Black Pepper
See recipe card at the bottom of this post for quantities.
🥣 Instructions
Step 1: Chop the bacon into small squares and add to a heavy bottomed pot. Apply medium-high heat and cook for a few minutes until some of the fat starts to render.
Step 2: Add the chopped red onions and cook for a few minutes until softened. Then add the minced garlic and cook another 2 minutes.
Step 3: While the bacon and onions are cooking prepare the collard greens. Wash well with cold water (they can be very sandy) and cut the thick vein/stem away from the leaf. Chop into 1" squares.
Step 4: Add the chopped collard greens to the pot, give a stir and cover with a lid. Allow to cook for 5 minutes.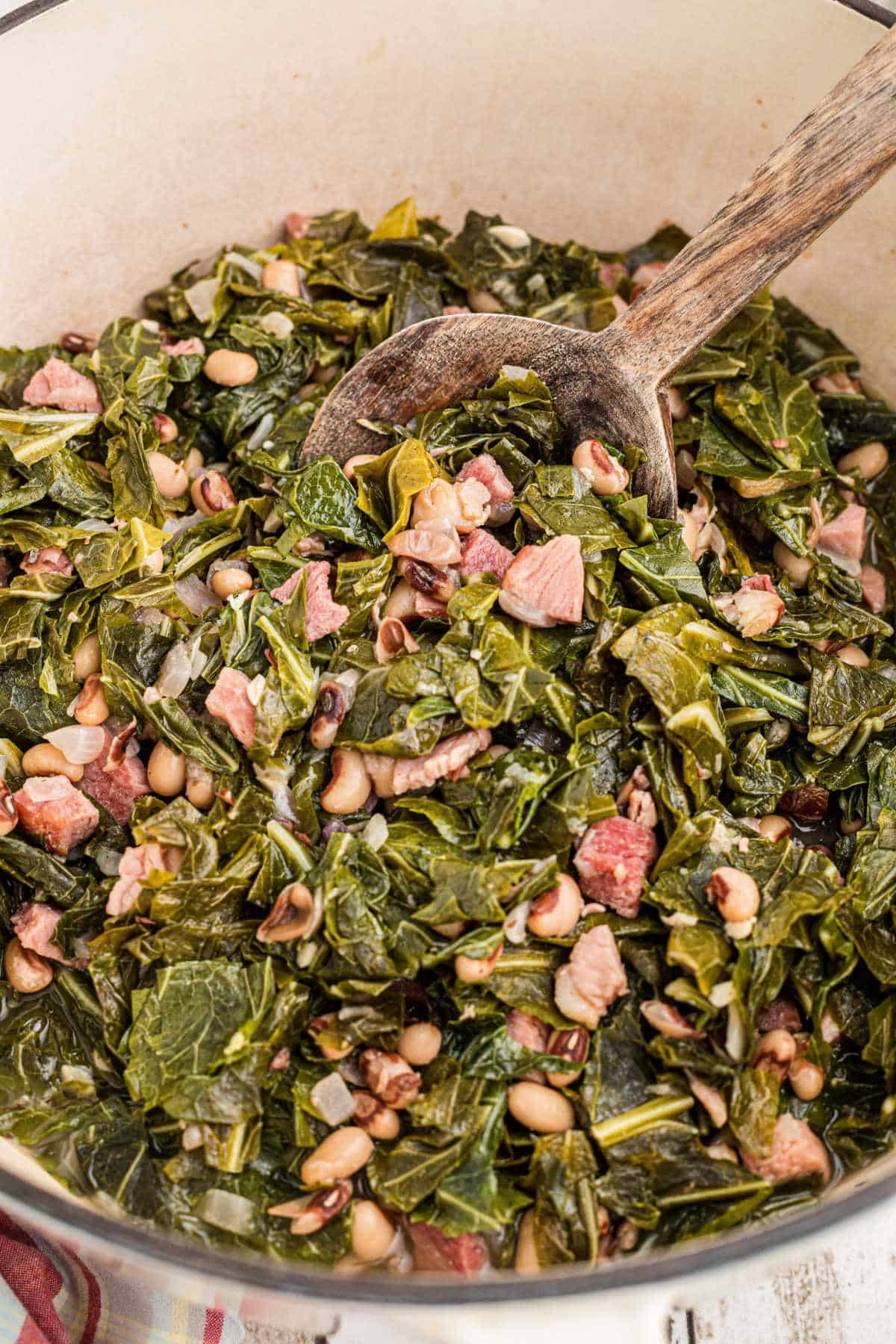 Step 5: Add the chicken broth, ham and seasonings, give a stir and cover with a lid. Turn down the heat to a medium heat and allow to cook for about 20 minutes.
Step 6: Add the black eyed peas and cook a further 10 minutes.
Step 7: Add salt and pepper to taste.
Hint: You can use all bacon if you like, in place of the ham. I like the texture of the soft ham and so like it like this. You could also use it as an opportunity to use up some leftover meats if you have any.
🔄 Substitutions and Variations
Ham Hock - instead of chopped ham.
Bean Broth - some people actually add the broth from the canned black-eyed peas instead of draining and rinsing.
Mustard Greens - if you prefer the leafy greens of mustard greens this recipe works great for that too.
Vegetable Broth - try using vegetable broth instead of chicken stock.
Olive Oil - instead of using bacon fat (bacon grease) you could opt to start the dish with olive oil.
Bay Leaves - add a couple of bay leaves if you like.
Bell Pepper - add some chopped bell pepper with the onions.
Hot Sauce - if you like spicy food add some hot sauce.
Smoked Paprika - add a touch for flavor.
Liquid Smoke - just a touch to add some smoky flavor.
Lemon Juice - some people like to sprinkle a little lemon juice for serving.
Smoked Turkey - if you're wondering what to do with your leftover turkey from Thanksgiving (if you froze some) it would be great here.
Dry Beans - instead of canned beans, you'll need to cook them down though.
Fresh Thyme - fresh thyme works beautifully with this recipe.
❤ Sharing is Caring - Like Our Facebook Page ❤
🔌 Equipment
The following are affiliate links. We are a participant in the Amazon Services LLC Associates Program, an affiliate advertising program designed to provide a means for us to earn fees by linking to Amazon.com and affiliated sites.
I like to use my Dutch Oven for this recipe. It has a good weight, just like a cast iron pot but the enamel helps stop sticking. I love it.
📘 Related Recipes
Also, check out this list of great sides that I recommend to eat with these collard greens and pinto beans.
🧊 Storage
Once cooled completely the black eyed peas and collard greens should be stored in an airtight container in the refrigerator for up to 4 days.
💡 Tips
Expert Tip: This dish is actually great when cooked in either a slow cooker or a pressure cooker.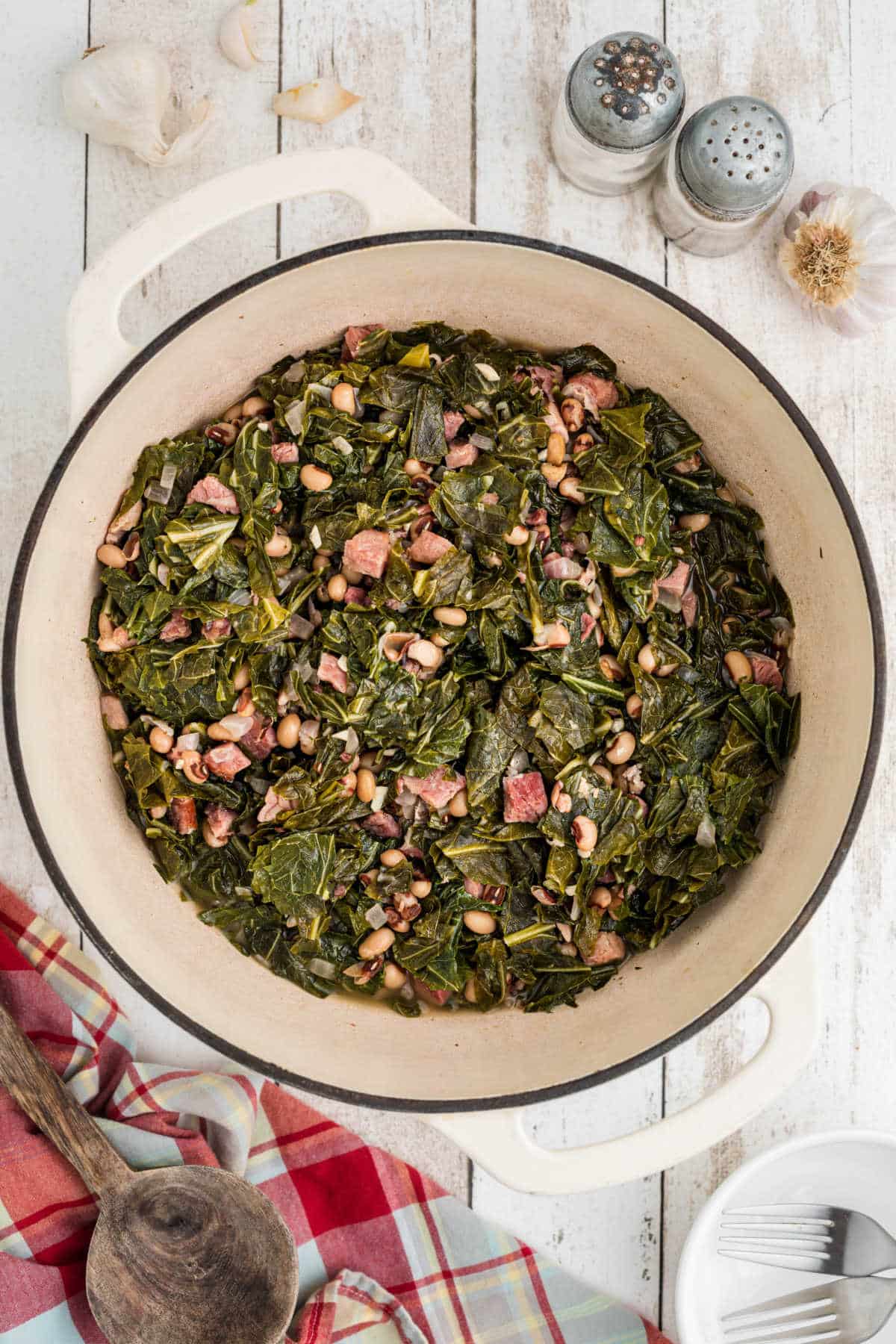 ---
If you've tried this Southern Black Eyed Peas and Collard Greens Recipe or any other great recipe on my site, let me know in the comment section below, how it turned out, we love hearing from our readers!
If you love this recipe please give it 5 stars! ⭐️⭐️⭐️⭐️⭐️
You can also follow me on PINTEREST, FACEBOOK and INSTAGRAM to see more amazing recipes!
Southern Black Eyed Peas and Collard Greens
Earthy, smoky and delicious this southern black eyed peas and collard greens recipe is a new year's day tradition.
Ingredients
2 Pieces Bacon, cut into squares
1 Red Onion, chopped
4 Cloves Garlic, minced
1 Bunch Collard Greens
1 Cup Diced Ham
2 (15oz) Cans Black Eyed Peas, drained and rinsed
Salt and Pepper to taste
Instructions
Add the bacon to a heavy bottomed pot and turn on the heat to medium high.
Once some bacon grease has started to render add the red onion and cook for a few minutes until soft.
Add minced garlic and cook another couple minutes until fragrant.
While this is all happening thoroughly wash the collard greens under cold water (it can be very sandy). Cut out the stem and thick vein. Chop into 1" squares.
Add to the pot, give a good stir then cover with a lid. Cook over medium heat for 5 minutes.
Add the chicken broth, chopped ham and seasoning, give a good stir then cover and cook another 20 minutes.
Add the black eyed peas, stir to combine again, cover and cook another 10 minutes.
Season with salt and pepper to taste.
Recommended Products
As an Amazon Associate and member of other affiliate programs, I earn from qualifying purchases.
Nutrition Information
Yield

8
Serving Size

1
Amount Per Serving
Calories

99
Total Fat

2g
Saturated Fat

1g
Trans Fat

0g
Unsaturated Fat

1g
Cholesterol

15mg
Sodium

850mg
Carbohydrates

11g
Fiber

4g
Sugar

2g
Protein

9g