Our favorite sweet and savory dish is this Southern Chicken and Waffles Recipe. The delicious savory and crispy fried chicken pairs perfectly with the sweet and fluffy Belgian waffles. It's soul food... and it's sooo good!
Jump to:
❤️ Why you'll love it
It's the sweet and savory thing. Same as sweet and salty. For some reason those opposites really taste good together.
Fried chicken is a global favorite. Southern fried Chicken and waffles has become bigger in recent years and you can now find it in Ihop and Waffle House, even Snoop Dogg has a fried chicken recipe he pairs with waffles (or so I heard).
Because of the fact that we eat waffles for breakfast, it's not too far fetched to eat southern fried chicken and waffles for breakfast. Just like we can eat it for brunch, dinner, supper or any time of the day!
🧅 Ingredients
Fried Chicken
Chicken Pieces (chicken breasts, chicken thighs, or drumsticks)
Onion Powder
Garlic Powder
Buttermilk
Hot Sauce
All Purpose Flour
Cornstarch
Salt
Pepper
Cayenne
Garlic Powder
Peanut Oil, for frying
Belgian Waffles
All Purpose Flour
Granulated Sugar
Baking Powder
Baking Soda
Sour Cream
Whole Milk
Salted Butter, melted
Large Eggs, separated
Vanilla
See recipe card below for quantities.
🥣 Instructions
This is an overview of the recipe steps. For more detailed instructions visit the recipe card at the bottom of this post.
Step One: Add onion powder, garlic powder and Creole seasoning in a small bowl and mix well.
Step Two: Evenly coat the chicken pieces in this mixture in a resealable bag.
Step Three: Add buttermilk and hot sauce and shake to coat well. Marinate for at least 2 hours.
Step Four: Mix flour, sugar, baking powder and baking soda in a medium sized bowl (waffle recipe ingredients)
Step Five: Mix sour cream, milk, melted butter, vanilla and egg yolks in another medium sized mixing bowl.
Step Six: Mix Wet ingredients with the dry ingredients ever so slightly, don't overmix.
Step Seven: In another medium bowl beat the egg whites until stiff peaks form.
Step Eight: Gently fold the egg whites into the batter. Again, don't overmix.
Step Nine: Add a cup of the batter to a hot waffle iron, coated with oil spray
Step Ten: Cook for about 3 minutes until toasted brown. Remove and cook the rest.
Step Eleven: (Back to the Chicken) To a medium mixing bowl add the flour, cornstarch, salt and pepper, cayenne and garlic powder and mix well.
Step Twelve: Coat each piece of chicken in this flour mixture before dropping into hot oil (350 degrees f) held over medium-high heat.
Step 13: Fry the chicken for about 8 minutes (350°F) and drain on a wire rack.
Step 14: Serve on a platter (a baking sheet will be fine) next to waffles for guests to fix their plates. Serve with syrup or honey.
Hint: I like to serve this Southern Chicken and Waffles Recipe with our store bought syrup that the whole family likes. No need to go all out I don't think. Unless you want to. Use honey, sweet maple syrup or jelly too!

Wondering what to serve with your chicken and waffles? Check out this list of amazing side dishes - What to Serve With Chicken and Waffles.
Serve on a platter where your guests can help themselves to a plate. Some people have bigger appetites etc.
🔄 Substitutions and Variations
What chicken parts are best to use for this Southern Fried Chicken and Waffles recipe? I believe the dark meat chicken to be the best, in our home we love the drumsticks for fried chicken, so that's what we go with, but I believe a lot of people like the thighs.

A lot of the fast food places like Ihop's chicken and waffles are actually chicken tenders. Each their own. I like to try to keep my chicken nice and juicy during the frying process.
For the flour coating I like to add some cayenne (and there is hot sauce in the brine). This makes this fried chicken recipe have a slight kick.

Not too hot, my kids don't like it too spicy and this recipe works for them. BUT if you prefer it hotter feel free to let loose on the cayenne. The same goes vice versa. If you don't want any heat, take it away.
If you don't have buttermilk, a great way to make it yourself at home is to just add lemon juice to your milk, it helps sour it.

I prefer the buttermilk brine for chicken before frying - I also prefer to soak it overnight as it helps tenderize the meat and keep it juicy during the frying process.
Let's talk syrup. Some people like to use a store bought syrup or even not do syrup at all and favor honey.

Whatever you have in your kitchen that is your family's favorite is the way to go here. No need to get too fancy.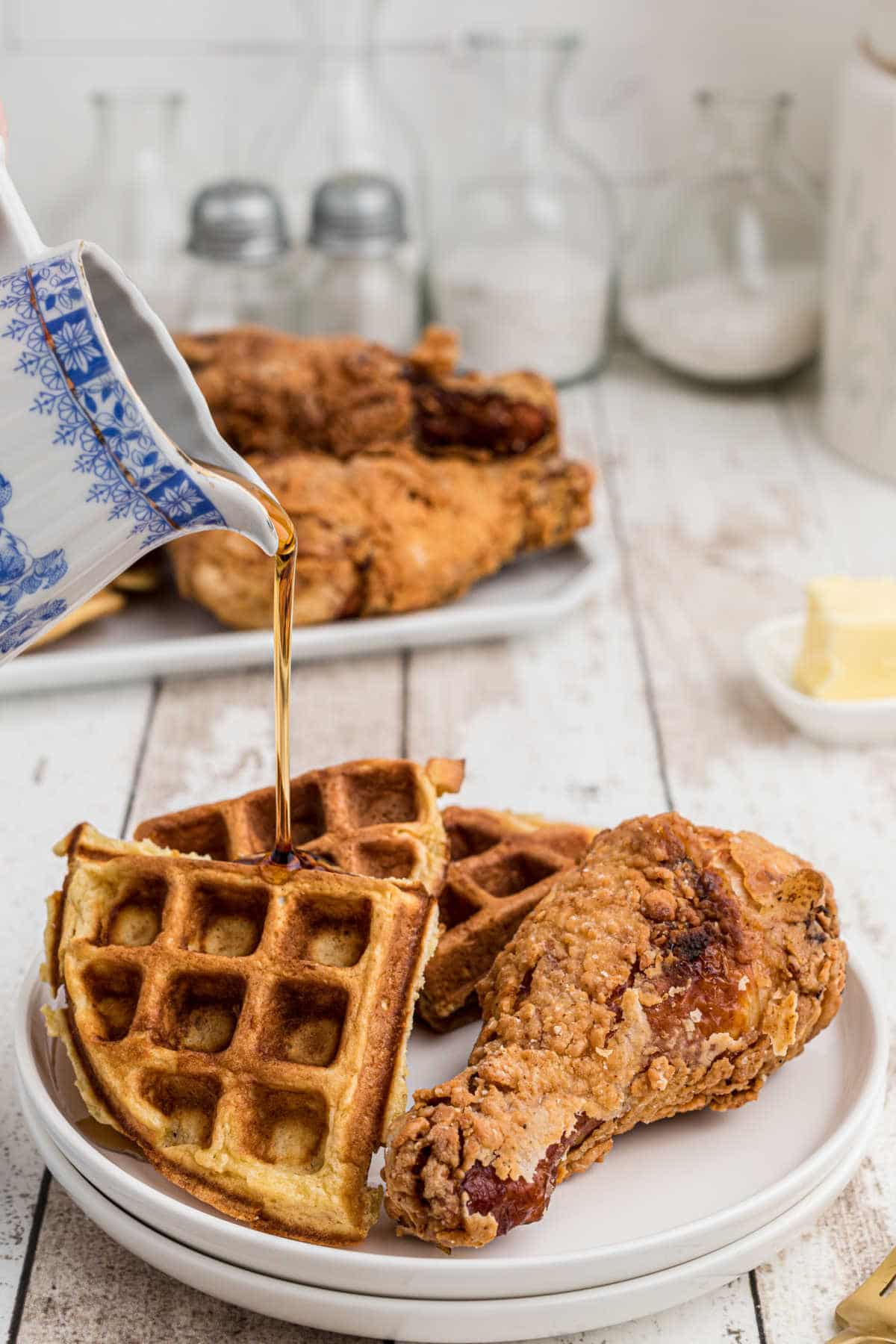 ❤ Sharing is Caring - Like Our Facebook Page ❤
🔌 Equipment
I like to use a Dutch Oven to fry, if I am not using my electric fryer. The heavy bottom helps hold the heat and keep it even. I have an affiliate link in the recipe card below if you want more information about this.
You could also use a cast iron skillet, I have been known to use this too.
🧇 How To Make Waffles Without A Waffle Iron
You can use a waffle pan - the type you put in the oven.
Same cooking method using a silicone mold too (they have those - for waffles)
You can also use a grill pan to make waffles. It cooks just like you would a pancake, but the grill pan leaves perfect ridges for holding the syrup!
🧊 Storage
After it has completely cooled store in an airtight container in the refrigerator for up to 4 days. To reheat I recommend using an air fryer (if you have one). The oven also works well.
Rather those options before using the microwave as it can make things more on the soft side.
💡 Tips
This fried chicken is made perfectly by adding cornstarch and baking soda to the flour mix - with them being more of a leavener, as soon as the chicken hits the grease tiny bubbles form and expand creating a light and crispy crust.
When making my homemade Belgian Waffles, I separate the egg whites and whip them up so that there is a lot of air incorporated into the waffle batter. So long as the batter is not mixed too much after that air helps keep the waffles nice and fluffy. I like big and fluffy waffles with a slight crispiness to them so that they hold up to the syrup.
👩‍🍳 FAQs
Can you fry frozen chicken?
You can, but it's not recommended. First of all, we need to talk about the danger of it. That fluid (ice) that is coating the outside of the chicken will cause the cooking oil to rise more than normal. It can also spit and cause burns etc. If you do attempt to fry it from frozen, make sure you add about another 40-50% to the cooking time.
How long does fried chicken last in the fridge?
I wouldn't go past four days. According to the USDA anything after four days could lead to food borne illnesses.
Can dogs eat fried chicken?
Yes, but don't give them the bones. Chicken bones are dangerous and can cause injuries internally to your dog. The grease is not the best, neither would the seasonings... poor pup could have a blow out. But if you are ok with that, I'm sure he/she will be very happy to oblige.
Can dogs eat waffles?
Yes, it's not great for them, but it won't harm them.
Can you fry chicken in olive oil?
Yes, you can. Frying chicken in olive oil is good for like the tenderloins or the smaller cuts of meat that cook quickly. Breaded chicken (like parmesan chicken) is normally fried in olive oil.
Can I please get a waffle?
Most definitely. Let me know when you'll be here!
How much is 4 oz of chicken?
4 oz of chicken will fit in the palm of your hand. I'd say one of these drumsticks, deboned, will be about 4oz.
Chicken Leg Calories?
Depending on the size, and cooking method. You're looking at anywhere between 120 and 200 calories.
What does 'Never Eat Soggy Waffles' mean?
I kept coming across this phrase while I was researching for this post. Come to find out Never Eat Soggy Waffles actually is a method of learning the cycle of a compass. North East South West. NESW. I learned a little differently in the UK, it was Never Eat Shredded Wheat.... but I'm going to leave this subject alone now. It's not important to Chicken and Waffles!
What is Louisiana Chicken Fry?
Louisiana Chicken Fry is a pre-packaged store bought breading that you can use to coat your chicken (if you're in a rush... or just feeling lazy). It's not too bad. Not as good as the real deal though. As with anything homemade.
📘 Related Recipes
---
If you've tried this SOUTHERN CHICKEN AND WAFFLES RECIPE or any other great recipe on my site, let me know in the comment section below, how it turned out, we love hearing from our readers! If you love this recipe please give it 5 stars! ⭐️⭐️⭐️⭐️⭐️
You can also follow me on PINTEREST, FACEBOOK and INSTAGRAM to see more amazing recipes!
Southern Chicken and Waffles
Total Time:
2 hours
34 minutes
This sweet and savory southern chicken and waffles recipe is the stuff of dreams. Crispy fried chicken with homemade Belgian waffles drenched in a sweet syrup.
Ingredients
1 Tablespoon Onion Powder
1 Tablespoon Garlic Powder
1 Tablespoon Creole Seasoning
2lb Chicken Pieces
2 Cups Buttermilk
1 Tablespoon Hot Sauce
1 Cup All Purpose Flour
1 Cup Cornstarch
½ Tablespoon Salt
1 Teaspoon Black Pepper
¼ Teaspoon Cayenne
1 Teaspoon Garlic Powder
Peanut Oil, for frying
Waffles
2 Cups All Purpose Flour
2 Tablespoons Granulated Sugar
1 Teaspoon Baking Powder
½ Teaspoon Baking Soda
1 Cup Sour Cream
1 Cup Whole Milk
6 Tablespoons Salted Butter, melted
3 Large Eggs, separated
1 Teaspoon Vanilla
Instructions
Place the Onion Powder, Garlic Powder and Creole Seasoning into a dish and mix well.
Evenly coat the chicken pieces in this seasoning. Place into a resealable bag.
Add the butter milk and the hot sauce and shake well to ensure all chicken is coated and everything is mixed well.
Add the butter milk and the hot sauce and shake well to ensure all chicken is coated and everything is mixed well.
Allow the chicken to sit in this marinade for no less than 2 hours but the longer the better.
Mix the flour, sugar, baking powder and baking soda in a medium mixing bowl with a whisk, then set aside.
Mix the Sour Cream, Milk, melted butter, egg yolks and vanilla.
Add the dry mixture to the wet mixture and stir just to combine.
In another medium mixing bowl add the remaining egg whites and beat until stiff peaks are formed. Fold into the batter carefully, it's ok if you see streaks of white. You don't want
to over mix here.
Add one cup at a time to a greased, hot waffle iron. Cook for 3-4 minutes, or as needed
on the waffle iron.
To a medium bowl add the flour, cornstarch, salt and pepper, cayenne and garlic powder, mix well.
Add peanut oil (about 3" deep) into a cast iron pot or an electric fryer and heat to 350°F.
Coat each piece of chicken in this flour mixture before dropping into the oil.
Fry for approximately 8 minutes, remove and allow to drain on paper towels
Serve chicken next to waffles on a serving platter, for people to make their own plates.
Serve with butter and favorite syrup.
Notes
The hot sauce and the cayenne pepper give this fried chicken a little kick. If you prefer it slightly milder use less, or none. It is only a mild kick though, my kids can eat this.
Recommended Products
As an Amazon Associate and member of other affiliate programs, I earn from qualifying purchases.
Nutrition Information
Yield

5
Serving Size

1
Amount Per Serving
Calories

1112
Total Fat

48g
Saturated Fat

21g
Trans Fat

1g
Unsaturated Fat

22g
Cholesterol

396mg
Sodium

2052mg
Carbohydrates

99g
Fiber

3g
Sugar

14g
Protein

66g
Reader Favorites