Ever wondered what to serve with chicken and waffles? If you're like me, then you love this sweet and savory dish and although it could be eaten just like that, there are many little things that can be added to make it a wonderful and complete meal.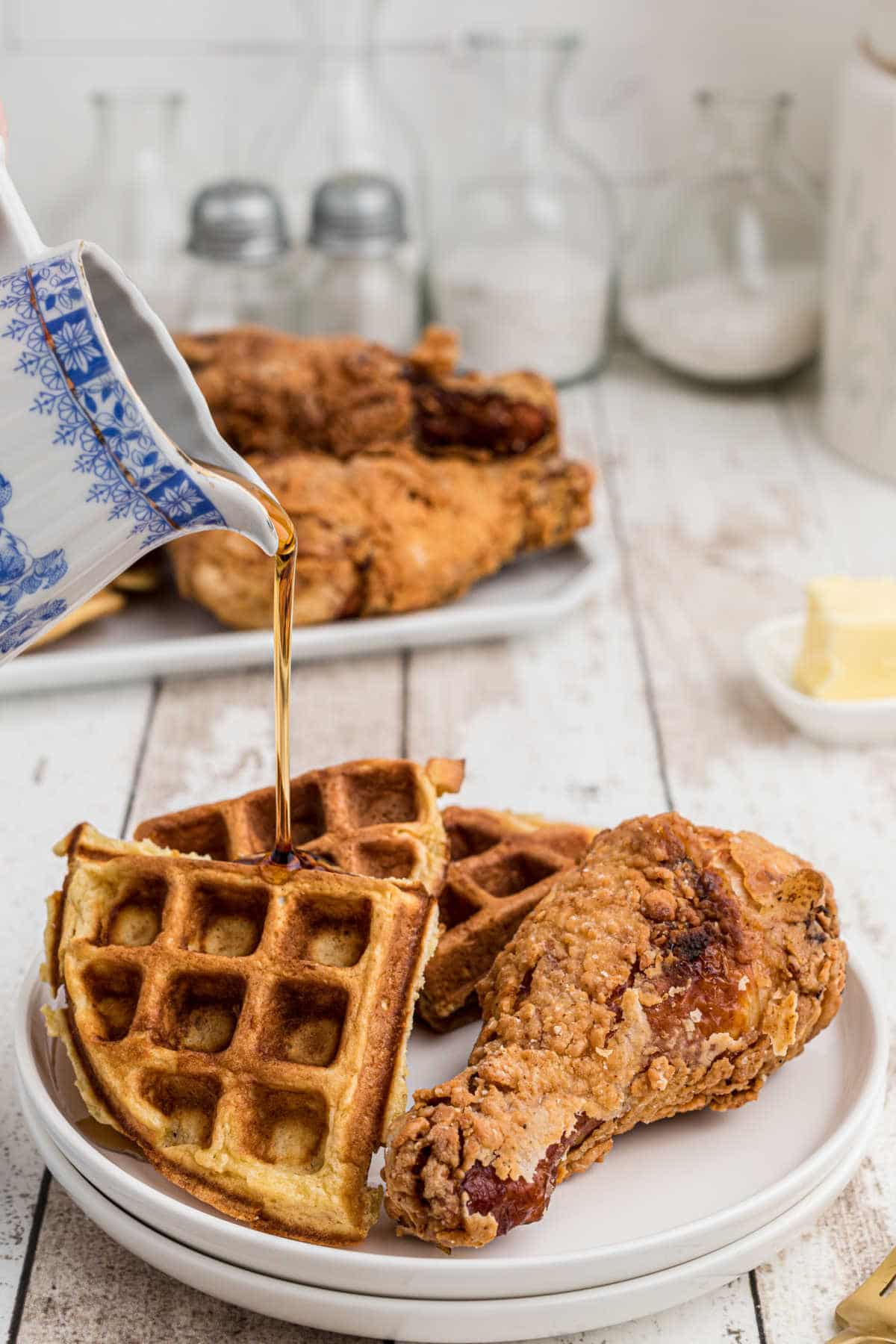 My kids love when I make this crispy chicken with fluffy waffles. Naturally, anything loaded with sugar and their sweet tooth selves are in heaven.
I am a huge fan of the sweet and savory thing. If you want to see how I cook my chicken and waffles, then click here.
Jump to:
❤️ Why You'll Love It
This is the meaning of soul food.
It's the most delicious comfort food you can get.
It's a great way to get the sweet and salty combo. It's an odd combination, but delicious every time.
You can use any type of chicken pieces you prefer. Chicken Breasts, chicken tenders, chicken wings, drumsticks, chicken strips, chicken thighs. They all fry well.
Homemade chicken, homemade waffles - when you make these things at home at least you know what you're getting.
🥦 Vegetables
There's so many vegetable dishes that would work great with chicken and waffles;
Corn on the Cob
Fried Eggplant
Pan Fried Zucchini
Steamed Butternut Squash
Pan Fried Broccoli
Roasted Cauliflower
Sauteed Spinach
Mustard Greens
Sweet Peas
Steamed Carrots
Sauteed Mixed Vegetables
🥔 Potato Sides
I know. Starch on starch. I'm afraid I'm a sucker for any carbohydrates, so bring on the starches;
Sweet Potato Fries
Potato Wedges
Smashed Potatoes
Tater Tots
Scalloped Potatoes
Twice Baked Potatoes
Roasted Red Potatoes
Hasselback Potatoes
Baked Potato Skins
Hint: Making Belgian Waffles is the best way to go for Chicken and waffles. They're made by separating the egg yolks from the whites, whipping up the egg whites until you have stiff peaks, then folding them back into the waffle ingredients. The best part - fluffy waffles every time. See my waffle recipe here.
🥗 Salads
There is always room for salads with any meal. Following are some perfect salads to serve with crispy fried chicken and waffles;
Broccoli Salad
Panzanella Salad
Cashew Pear Tossed Salad
Berry Tossed Salad
Greek Salad
House Salad
Romaine Salad
Apple Feta Tossed Salad
BLT Chicken Salad
Avocado Tossed Salad
Garden Salad
Chickpea Salad
Kale Salad
Spinach Salad
Waldorf Salad
❤ Sharing is Caring - Like Our Facebook Page ❤
🍓 Fruits
This happens to be my favorite option, I think fruits are the best side dishes for this recipe. Here's some fruit side dishes for you to try;
Grilled Pineapple Skewers
Fresh Fruit Salad
Mixed Fruit Kabobs
Grilled Peaches
Beet and Blueberry Fruit Salad
Melon and Blackberry Salad
Cherry Chiffon Salad
Apple Cinnamon Curly Fries
Cranberry Relish
Strawberries and blueberries
🍯 Syrups and Sauces
Your traditional butter syrup is always going to be good, but have you tried a different type to mix things up a little.
Following is a list of great syrups and sauces that are wonderful served with chicken and waffles;
Maple Syrup
Strawberry Syrup
Blueberry Syrup
Buttermilk Syrup
Dutch Honey Syrup
Vanilla Butter Syrup
Brown Sugar Butter Syrup
Rose Syrup
Blood Orange Syrup
Spicy Maple Syrup
Sour Cream
Peanut Butter
Ice Cream
Honey Butter
Hot Sauce
Oh, and let's not forget the bread recipes please! You could make homemade biscuits, this always goes well with a plate of chicken.
📘 Related Recipes
---
If you like this What To Serve With Chicken and Waffles Post or any other great recipe on my site, let me know in the comment section below, how it turned out, we love hearing from our readers!
You can also follow me on PINTEREST, FACEBOOK and INSTAGRAM to see more amazing recipes!
What To Serve With Chicken and Waffles
Deciding what to serve with Chicken and Waffles can be a trick, there is so many ideas to choose from. Follow the ideas in the post above for the perfect combos with this dinner.
Ingredients
Green Beans
Corn on the Cob
Smoked Mushrooms
Black Eyed Peas and Collard Greens
Mustard Greens
Cajun Fries
Mashed Potatoes
Twice Baked Potatoes
Instructions
Check the Post above this recipe card.
Pick your favorite side dishes that can be served with fried chicken and waffles.
Prepare per the recipe instructions.