This copycat recipe for Popeyes Cajun Fries is so good and super easy you'll be glad you tried it at home. Fluffy on the inside and crispy and full of delicious flavor outside, you won't be able to stop reaching for them.
Yes, they are that much better than regular fries.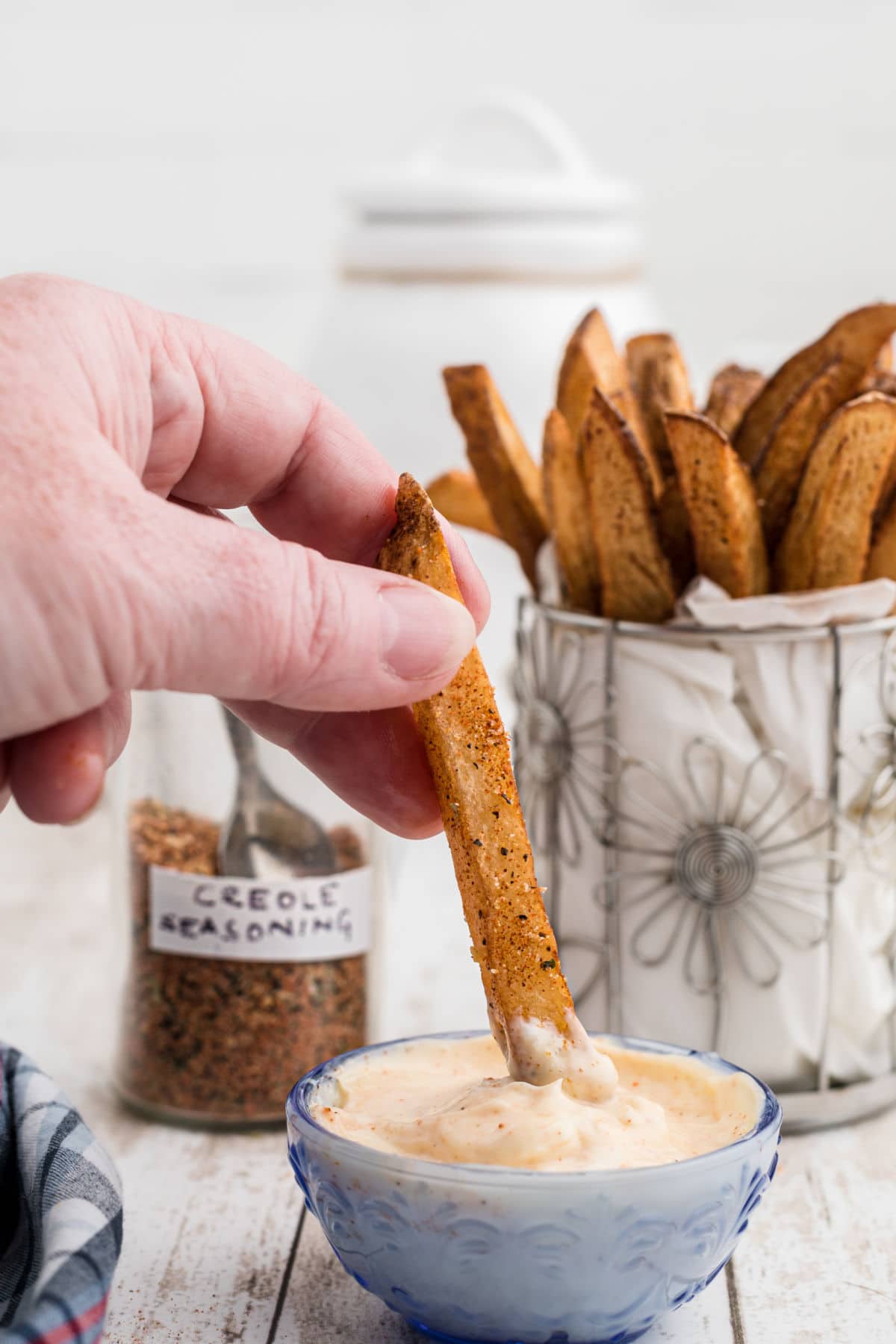 If y'all are here, it's because you're a fan of popeyes fries as much as me - I also love their mashed potatoes with Cajun gravy, red beans and rice and their green beans, but the fries are the best.
I think they're awesome and as soon as I had eaten them a few times I was determined to try to recreate them at home.
This is a regular side for us, especially if we're making barbecue, we make Cajun Rice too quite often. Or we also make Crispy Potatoes in the Instant Pot too.
Jump to:
🧅 Ingredients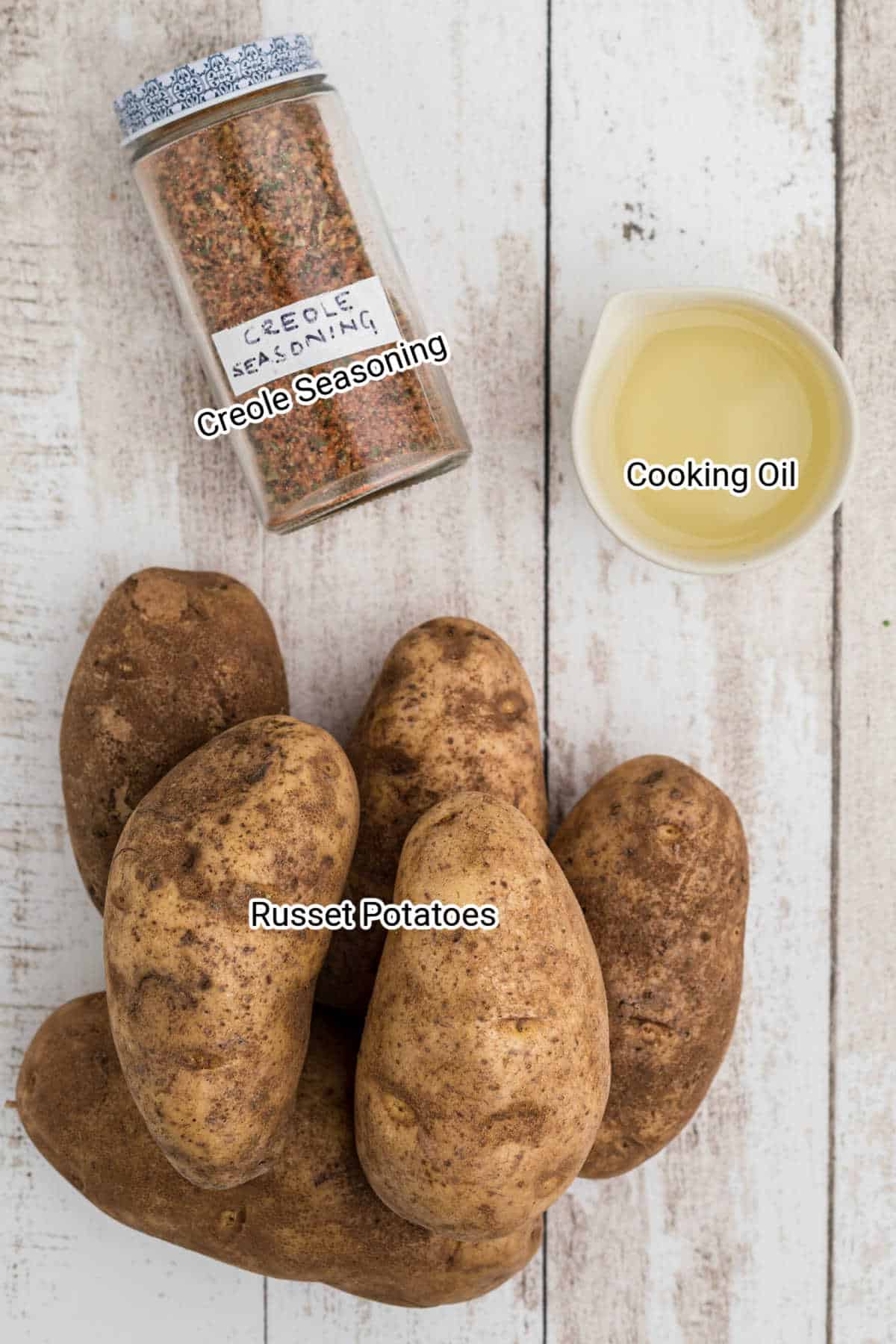 Large Russet Potatoes
Vegetable Oil (for frying)
See recipe card for quantities.
🥣 Instructions
Step 1: Wash the Russet Potatoes well, rubbing under the water. With a sharp knife carefully cut into even ¼" fries (of similar size).
Step 2: Soak these fries in ice water for 30 minutes before cooking. Drain and rinse them again. Pat dry with paper towels so that they are totally dry and free from excess moisture.
Step 3: Deep fry in vegetable oil (or canola oil) for about 5 minutes - or until golden brown in color.
Step 4: Remove from the oil and drain on kitchen towel. Sprinkle with the Creole Seasoning while still hot. Serve with a dipping sauce of your choice. I like a seasoned mayonnaise.
The typical contents of my Creole Seasoning are:
Freshly ground black pepper
Dried Thyme
Dried Parsley
Garlic Powder
Onion Powder
Cayenne Pepper
Cornstarch
Chili powder
Salt
Paprika
Dehydrated Garlic
For a full rundown on how to make this homemade seasoning see my recipe here.
Hint: Adding the cornstarch to the seasoning is a good idea to help stop the seasoning from clumping up.
Substitutions and Variations
Fries - frozen French Fries will not be as good, but it can make do if you have no potatoes at all. The special seasoning will make them taste somewhat like Popeyes fries. If you use Waxy potatoes those will also not be as good as you won't quite get that good crisp to them - use non-starchy potatoes.
Seasoning - you could use your own Cajun Seasoning instead (it's practically the same) or a Season All type seasoning (just add cayenne)
Cooking Oil - I used Vegetable Oil, but Canola Oil will work just as well or any oil that has a high smoking point.
Cayenne - add a pinch of Cayenne powder for heat.
❤ Sharing is Caring - Like Our Facebook Page ❤
🔌 Equipment
For deep frying homemade fries I like to use an electric deep fryer because it holds the temperature to exactly what I want it to. If you don't have one though feel free to free in a pot on the stove.
Watch that temperature though. If you don't have a thermometer use a wooden spoon. If bubbles form around the wood then the grease is hot enough.
Next time you could try this Boudin Balls recipe, talk about a classic Cajun treat!! Try making your own Boudin Sausage at home.
Or my Fried Chicken and Waffles. These Fried Bowtie Pasta chips are awesome too.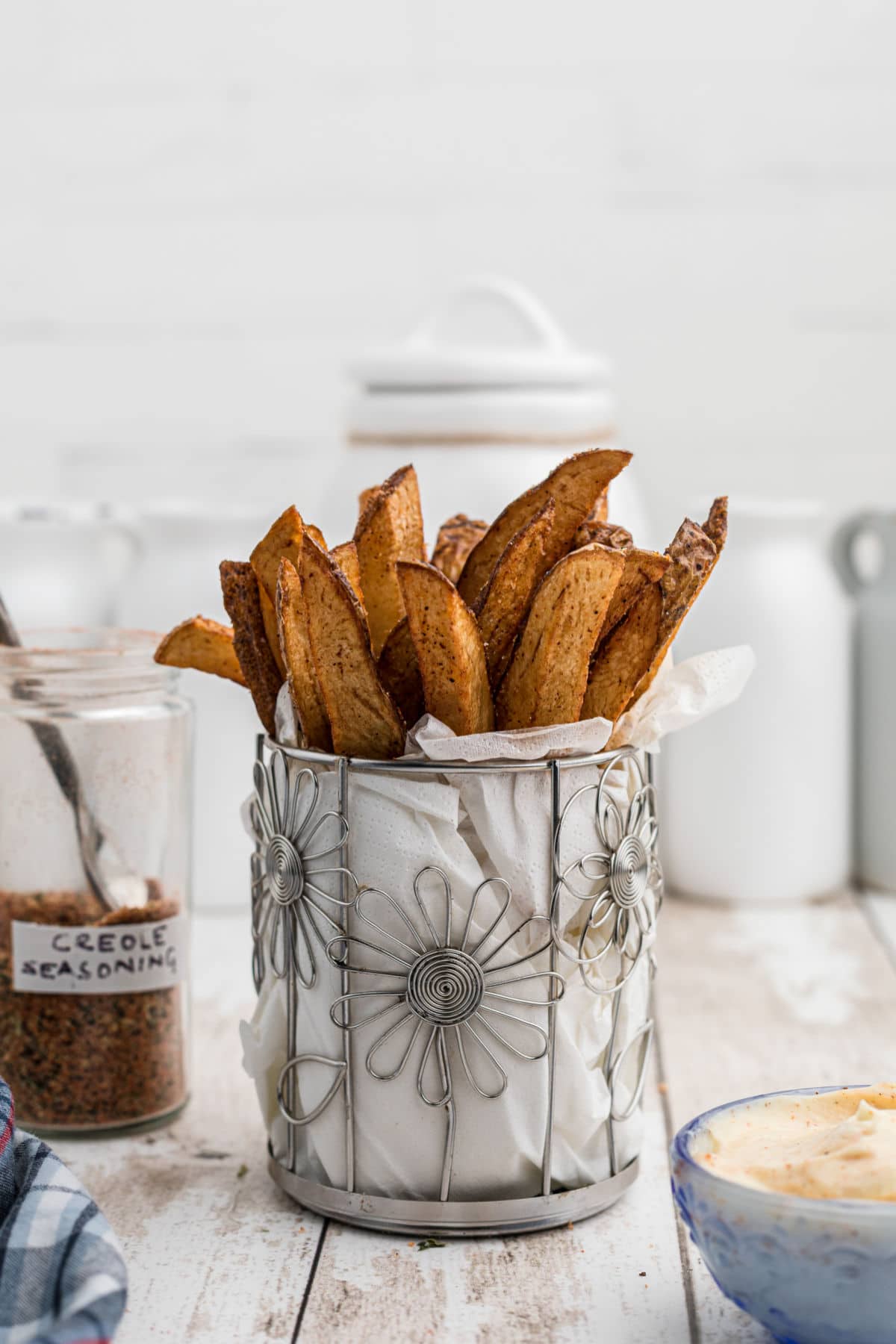 📘 Related Recipes
🧊 Storage
For future use, once they have cooled then you could store the remaining fries in an airtight container (sealed container or zip lock bag), along with a little paper towel, in the refrigerator for up to 4 days.
To reheat them I would definitely use the air fryer, or if you don't have one use the oven at a high heat (about 475°F).
💡 Top tip
Try cooking these copycat Popeyes fries in the oven instead. Coat the fries in oil first with your hands making sure they're all coated, then line a baking sheet in a single layer. Bake for 10-15 minutes at 475°F for the best fries.
---
If you've tried these Popeyes Cajun Fries or any other great recipe on my site, let me know in the comment section below, how it turned out, we love hearing from our readers!
You can also follow me on PINTEREST, FACEBOOK and INSTAGRAM to see more amazing recipes!
Popeyes Cajun Fries
Delicious homemade Popeyes Cajun Fries are fluffy and soft inside and crispy and tasty outside, with a slight heat from the spice.
Ingredients
3lb Russet Potatoes
2 Teaspoons Creole Seasoning
Vegetable Oil (for cooking)
Instructions
Wash the potatoes well.
Slice into ¼" thick fries but cutting the potatoes lengthways first then slicing into fries.
Put the fries into a bowl of ice water and allow to sit for 30 minutes. Drain and rinse again.
Pat dry with paper towels.
Heat the cooking oil to 375°F and drop the fries into a basket. Cook in batches to not overcrowd, if necessary.
Fry for about 5 minutes, until the fries are golden brown. Remove from the oil and allow to drain on paper towels.
Sprinkle with the Creole Seasoning while the fries are still hot.
Notes
You can change the Creole seasoning for Cajun Seasoning.
Feel free to peel the potatoes if you prefer. Popeyes Cajun Fries are not peeled though.
SEE BOUDIN BALLS RECIPE BELOW - Click Here for Boudin Balls Recipe!
Recommended Products
As an Amazon Associate and member of other affiliate programs, I earn from qualifying purchases.
Nutrition Information
Yield

6
Serving Size

1
Amount Per Serving
Calories

241
Total Fat

3g
Saturated Fat

0g
Trans Fat

0g
Unsaturated Fat

2g
Cholesterol

0mg
Sodium

393mg
Carbohydrates

49g
Fiber

5g
Sugar

2g
Protein

6g