A delicious stuffed Traditional Cabbage Rolls recipe with a tasty sweet tomato sauce. I learned that it is customary to make a dish using cabbage (or collard greens) as it represents prosperity.
As well as black-eyed peas representing luck. I figure even though I didn't grow up with these traditions it can't hurt to muster a little more luck and prosperity!
Plus, it tastes so good!!!
In this recipe I like to use tomato soup instead of tomato sauce as it gives a lot milder flavor and the tastes of the stuffed cabbage rolls actually comes through (it's also easier on the tummy).
Next time try my Skillet Cornbread Recipe to go with these Cabbage Rolls!
Jump to:
There is a lot of history behind these superstitions, in fact it's quite interesting. Mostly dating back to civil war days when there was not a lot of food.
Today we are very lucky to be able to have an abundance of food and special ingredients and even though that is true in the South these dishes are still cooked in the same manner as they were back then.
🧅 Ingredients
Whole Head of Cabbage
Ground Meat (usually lean ground beef, turkey, chicken, ground pork even venison works well)
Rice
Egg
Trinity (onion, bell pepper, celery)
Garlic
Seasoning
See the recipe card below for quantities.
Because in the Cagle household we are avid outdoors-men, we always have an abundance of wildlife in our freezer. In place of ground beef we always use venison instead. These stuffed cabbage rolls are delicious using venison (our family tradition)!
Hint: Prepare this recipe up until you have the cabbage rolls rolled up, then put them into freezer bags, either refrigerate for a later time, or freeze in batches.
🥣 Instructions
Step 1: These cabbage rolls are actually really easy, to make. Mix all ingredients in a large bowl (except the cabbage and the tomato soup).
Step 2: Submerge the cabbage into a boiling large pot of water for 3-5 minutes to soften it for the most tender cabbage leaves. This will make it much easier to make the rolls.
Step 3: Cut a V out of the thick vein at the top of the leaf, with a paring knife, will give you more play with the cabbage leaf. On a flat surface take a handful of the mix and roll the cabbage around it.
Step 4: Add a spoon or two of the soup to the bottom of the baking dish then line each roll in the dish - seam down - and cover with the tomato soup.
Cover your casserole dish with foil and bake in the oven for 90 minutes.
💡 Top Tips
Expert Tip: Using tomato soup in this recipe gives the tomato sauce a nice sweet flavor, this way you don't need to add brown sugar to the sauce like you normally would.
📘 Related Recipes
I also have this great list of What To Serve With Cabbage Rolls, that deserves a look see.
👩‍🍳 FAQ's
Is this a Low Carb Cabbage Rolls recipe?
If you omit the rice it would be low carb. You could replace the rice with cauliflower rice.
Are these Keto Cabbage Rolls?
Change out the rice for cauliflower rice and it would be keto!
Is this recipe the same as Polish Cabbage Rolls?
Yes, a traditional polish cabbage roll is cooked the same way.
Can these cabbage rolls be cooked in the crockpot?
Yes, these would be delicious in the crockpot. Cook on low for 4-6 hours.
Can you freeze cabbage rolls?
Yes, these freeze well for 3 months. Freeze in a single layer.
What to serve with cabbage rolls?
Traditionally black-eyed peas are served with potatoes for New Year. (Polish cabbage rolls are actually traditionally served with mashed potatoes). Cornbread on the side would also be delicious - check out our recipe for delicious Southern Cornbread here.
Can you cook these cabbage rolls in the slow cooker?
Yes, follow all instructions all until you put them into the baking dish, put them into the slow cooker instead.
---
If you've tried this Stuffed Cabbage Rolls recipe or any other great recipe on my site, let me know in the comment section below, how it turned out, we love hearing from our readers!
You can also follow me on PINTEREST, FACEBOOK and INSTAGRAM to see more amazing recipes!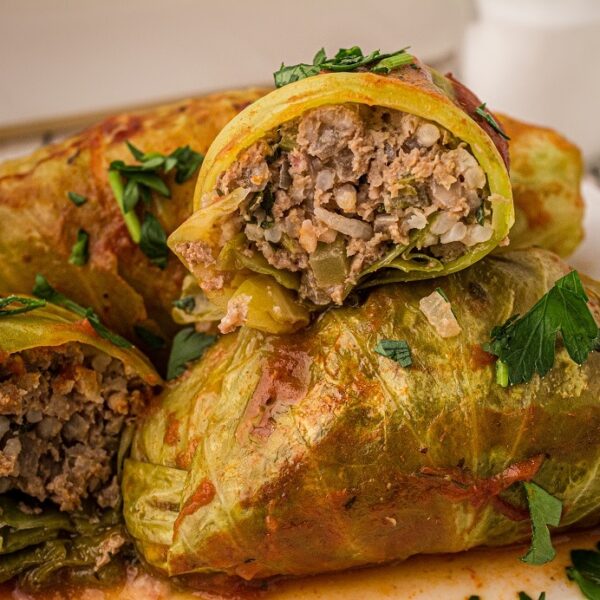 Cabbage Rolls
Cook Time:
1 hour
30 minutes
Total Time:
1 hour
50 minutes
These old fashioned stuffed Cabbage Rolls are delicious any time of the year, but they're a tradition for New Years in the South! Delicious ground meat and rice filling seasoned to perfection and baked in a cabbage leaf in tomato sauce.
Ingredients
1 cabbage
1lb Ground Beef (or venison)
1 Cup cooked rice
1 Medium Onion
1 Rib Celery
1 Green Bell Pepper
3 Cloves Garlic
¼ Cup Chopped Parsley
1 tablespoon Onion Powder
1 tablespoon Garlic Powder
1 tablespoon Creole Seasoning
1 Large Egg
1 Can Tomato Soup (seasoned)
Instructions
Heat oven to 350°F.
Place a large pot (big enough to take the whole cabbage) and fill with water. Turn on to get it to boiling point.
Chop onions, bell pepper, garlic and celery. Put into a large mixing bowl.
Add ground meat, cooked rice, seasoning and egg. Mix together using your hands (wear gloves or make sure to wash hands thoroughly afterward).
Once the water is boiling, carefully lower the cabbage - stem down - into the water and boil for approximately 3-5 minutes then remove.
Cut off the stem of the cabbage - enough to remove a lot of the bigger leaves.
Cut a V out of the stem of the leaf to make it more flexible.
Take a handful of the meat mixture and form a log.
Wrap the cabbage leaf around it.
Take a 9x13 dish and spoon a few spoonfuls of tomato soup into the bottom of the dish.
Place each cabbage roll seam down into the baking dish.
Pour the remaining tomato soup over the top of the cabbage rolls.
Cover the baking dish with foil and bake in the oven for 90-120 mins.
Nutrition Information
Yield

12
Serving Size

1
Amount Per Serving
Calories

156
Total Fat

7g
Saturated Fat

3g
Trans Fat

0g
Unsaturated Fat

3g
Cholesterol

49mg
Sodium

394mg
Carbohydrates

11g
Fiber

1g
Sugar

3g
Protein

12g