This Cajun Turkey Breast is so moist and perfectly seasoned with Cajun spices, it's a delicious choice for those smaller families - or if you prefer just cooking a breast anyway you could always make a few for a larger family.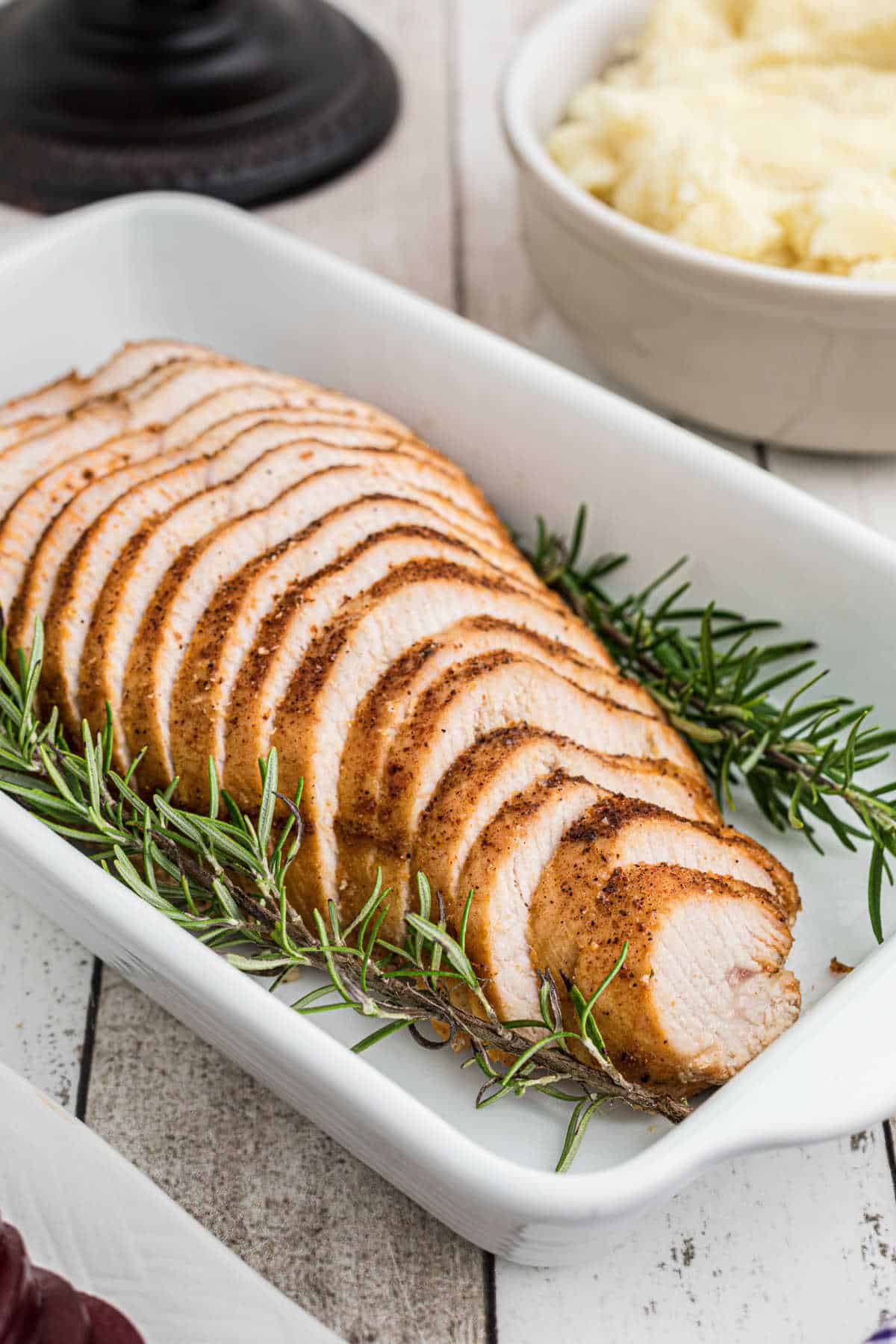 People start wondering how they're going to prepare their Thanksgiving turkey recipe well in advance. For us, sometimes we fry a whole turkey. Sometimes we stuff and bake it and sometimes we just make the breast.
Jump to:
❤️ Why you'll love it
Cooking a juicy turkey breast makes things so much cleaner and easier. You don't have to worry about who's going to 'carve the turkey' and hack it to death.
If your family is anything like mine, most prefer the breast meat. That's not to say they don't like the dark meat, but it's just easier to eat. I love keeping the leftover turkey dark meat to make other dishes after though, so it's win-win.
Injecting your 3 lb turkey breast is a great way to ensure juicy perfection.
🧅 Ingredients
See recipe card at the bottom of this post for quantities.
🥣 Instructions
Step 1: Prepare your injection marinade in a small bowl and fill a meat injection syringe.
Step 2: Inject the turkey breast from all kinds of different angles.
Step 3: Allow to sit at room temperature in a roasting pan for an hour. Reinject as the marinade seeps out.
Step 4: Preheat the oven and sprinkle the turkey breast with Cajun seasoning.
Step 5: Bake in the oven for 90 minutes, until an instant read thermometer inserted into the thickest part of the breast reads 160°F.
Step 6: Remove and cover with foil. Allow to sit for 1 hour covered before slicing.
Hint: If you are able to, the longer you marinate the turkey, the better. You could even inject overnight and keep in the refrigerator. Just remember to pull it out 1 hour before you want to start cooking so that it's not cold going into the oven.
🔄 Substitutions and Variations
Black Pepper - add a little more of this when adding your Cajun seasoning mix.
Brown Sugar - sprinkle some brown sugar to add a touch of sweetness.
Cayenne Pepper - If you like more heat, add a pinch of cayenne pepper.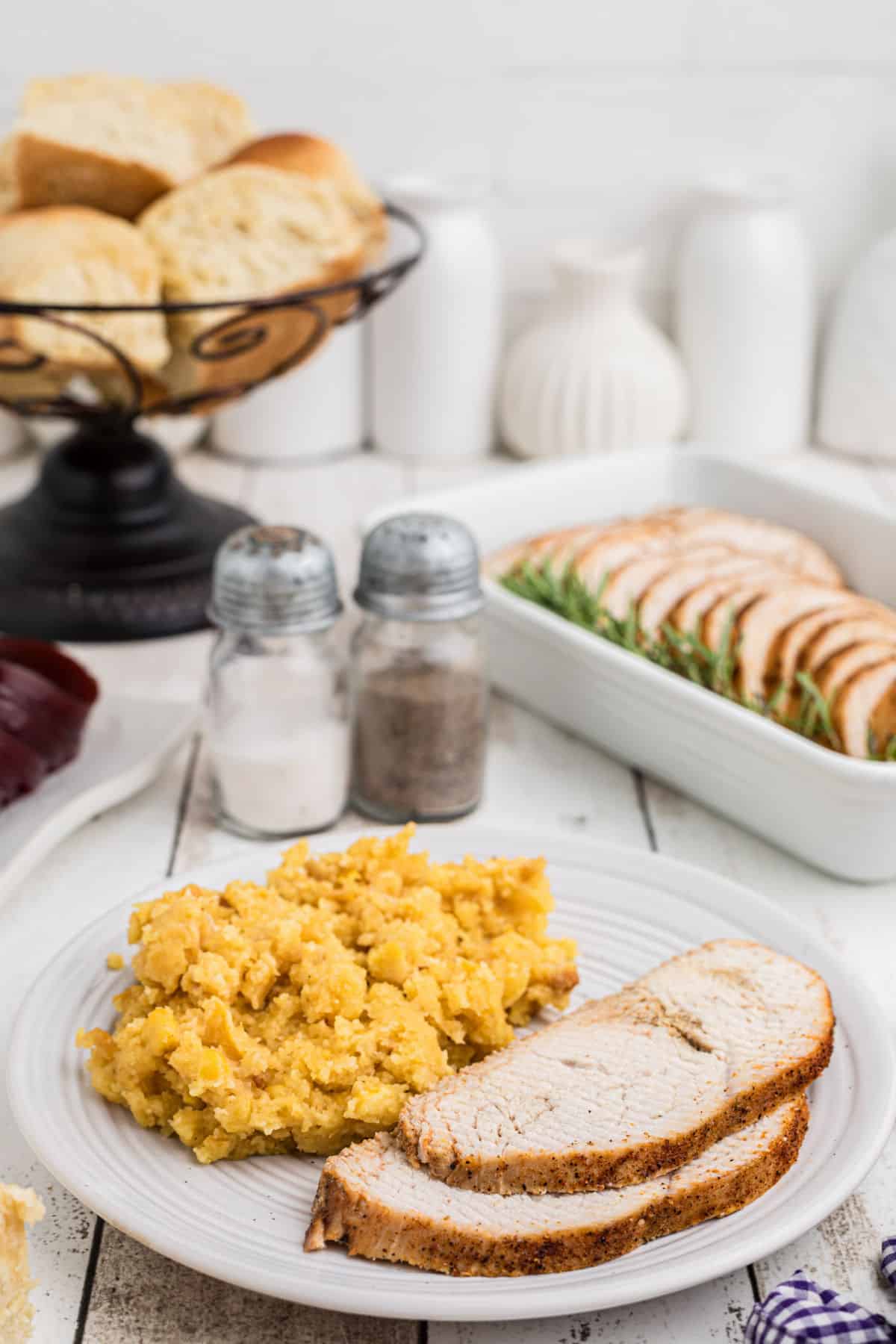 The Corn Casserole shown above is my Slow Cooker Jiffy Corn Casserole.
❤ Sharing is Caring - Like Our Facebook Page ❤
🔌 Equipment
The following are affiliate links. We are a participant in the Amazon Services LLC Associates Program, an affiliate advertising program designed to provide a means for us to earn fees by linking to Amazon.com and affiliated sites.
I feel using a meat thermometer is a very important tool when cooking turkey. Whether it's a whole bird or just the breast like in this recipe. I love the kind that you can insert into the meat and leave it in there while it cooks, so you can watch the temperature. Like this one.
Although not absolutely necessary - I find injecting my turkey helps add moisture and flavor throughout the entire bird. You'll need a tool like this one for an easy way to inject the marinade.
I also have images/information about these tools in the recipe card below.
📘 More Thanksgiving Recipes
If you're looking for a dessert for after your Thanksgiving dinner, you should check out this list of Best Old Fashioned Thanksgiving Desserts.
🧊 Storage
Once cooled completely store in an airtight container in the refrigerator for up to 3 days.
You can freeze turkey breast after you cook it, just wrap tightly in cling wrap and then foil. Freeze for up to 3 months.
💡 Tips
Expert Tip: The most important part about cooking a turkey is allowing to rest after cooking (for about as long as your cooking time was). This will allow all the juices inside to redistribute. Don't worry about your turkey not being hot, most of the time we cover with our homemade gravy anyway, right?
👩‍🍳 FAQs
What is the secret to a moist turkey?
I feel the most important thing (other than not cooking too high temperature of course) - is letting it rest, covered, for the same amount of time it took to cook it. If it take 2 hours, let rest for 2 hours. The redistribution of all the moisture inside definitely is a game changer.
Is it better to cook a turkey at 325 or 350?
Neither is better than the other. Of course, it will affect the time needed to cook it, but as long as you reach 160° and don't cook any further you should end up with a moist and flavorful turkey breast.
Is it best to serve turkey gravy or brown gravy with this turkey breast?
I can't really say which is best. Obviously, a turkey gravy will match the meat, but in our family we prefer a brown gravy on our mashed potatoes...so I guess it goes down to preference. I use this pot roast seasoning to make my brown gravy.
Looking how to use up any leftover turkey? You should try this One Pot Turkey Pasta. It's great.
---
If you've tried this Cajun Turkey Breast Recipe or any other great recipe on my site, let me know in the comment section below, how it turned out, we love hearing from our readers!
If you love this recipe please give it 5 stars! ⭐️⭐️⭐️⭐️⭐️
You can also follow me on PINTEREST, FACEBOOK and INSTAGRAM to see more amazing recipes!
Cajun Turkey Breast
Cook Time:
1 hour
30 minutes
Total Time:
3 hours
30 minutes
This perfectly seasoned and moist Cajun turkey breast is the perfect choice for a small family meal at Thanksgiving.
Ingredients
3lb Turkey Breast, thawed
Instructions
Place thawed turkey breast into a baking dish.
Using an injector syringe, inject Cajun Injection Marinade into the turkey breast on different angles. If you have any left you can pour it over the top.
Allow to sit at room temperature for an hour, marinating. Reinject as it seeps out over the course of the hour.
Preheat the oven to 350°F.
Sprinkle the Cajun Seasoning all over the outside of the turkey breast and bake in the oven, uncovered, for about 1-½ hours. Until a meat thermometer reads 160°F. (it will reach the required 165° after you take it out of the oven)
Place a foil tent over the top of the turkey breast and allow to sit for 1 hour before slicing.
Notes
You can use Creole Seasoning instead of Cajun Seasoning - it's almost the same thing.
If you have skin on your turkey breast, that's great. When you first put it in the oven, have the temperature set at 450° and cook for 15 minutes skin side up. Then after 15 minutes turn the oven down to 350°. Reduce the cooking time to about 1hr 15. This will keep your crisp skin.
A meat thermometer will be important, I like the kind that you can leave in the meat while it's in the oven. Like this one. Set it to 160°F - you'll see it go up to 165 after you remove from the oven.
Recommended Products
As an Amazon Associate and member of other affiliate programs, I earn from qualifying purchases.
Nutrition Information
Yield

6
Serving Size

1
Amount Per Serving
Calories

407
Total Fat

11g
Saturated Fat

2g
Trans Fat

0g
Unsaturated Fat

8g
Cholesterol

181mg
Sodium

1208mg
Carbohydrates

4g
Fiber

0g
Sugar

2g
Protein

69g