If you have been lucky enough to make it to the New Orleans Jazz and Heritage Festival (Jazz Fest) then you will likely have eaten Crawfish Monica. This delicious, yet simple dish appears at almost every food stand - and there's a lot. This rich creamy sauce is infused with seasoned crawfish tails and stirred into rotini pasta (sometimes other pasta is found).
This easy crawfish pasta recipe is similar to what is commonly called crawfish fettucine in south Louisiana.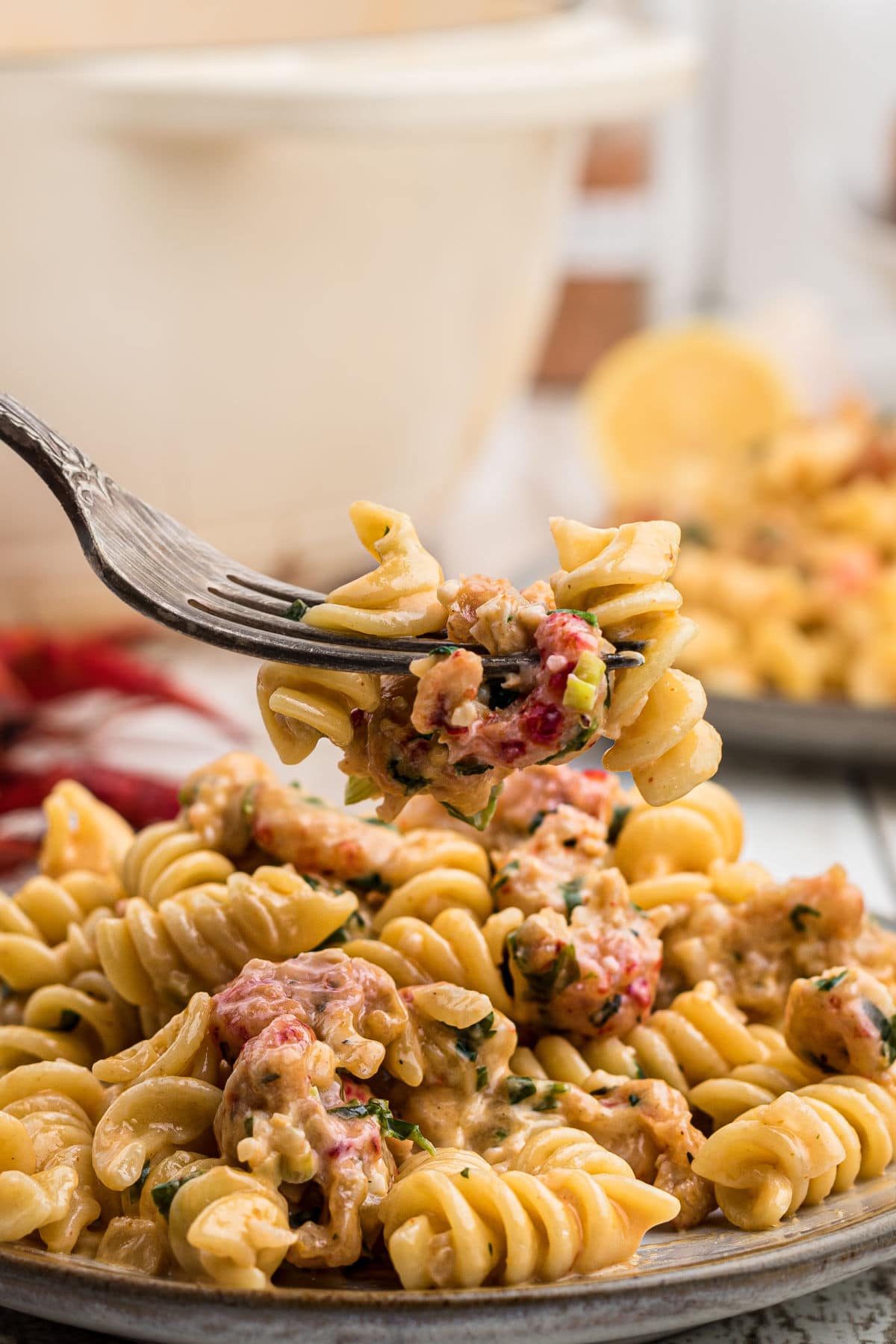 New Orleans Chef Pierre Hilzim is the creator of this original recipe, he named it after his wife - Monica Davidson.
Jump to:
🧅 Ingredients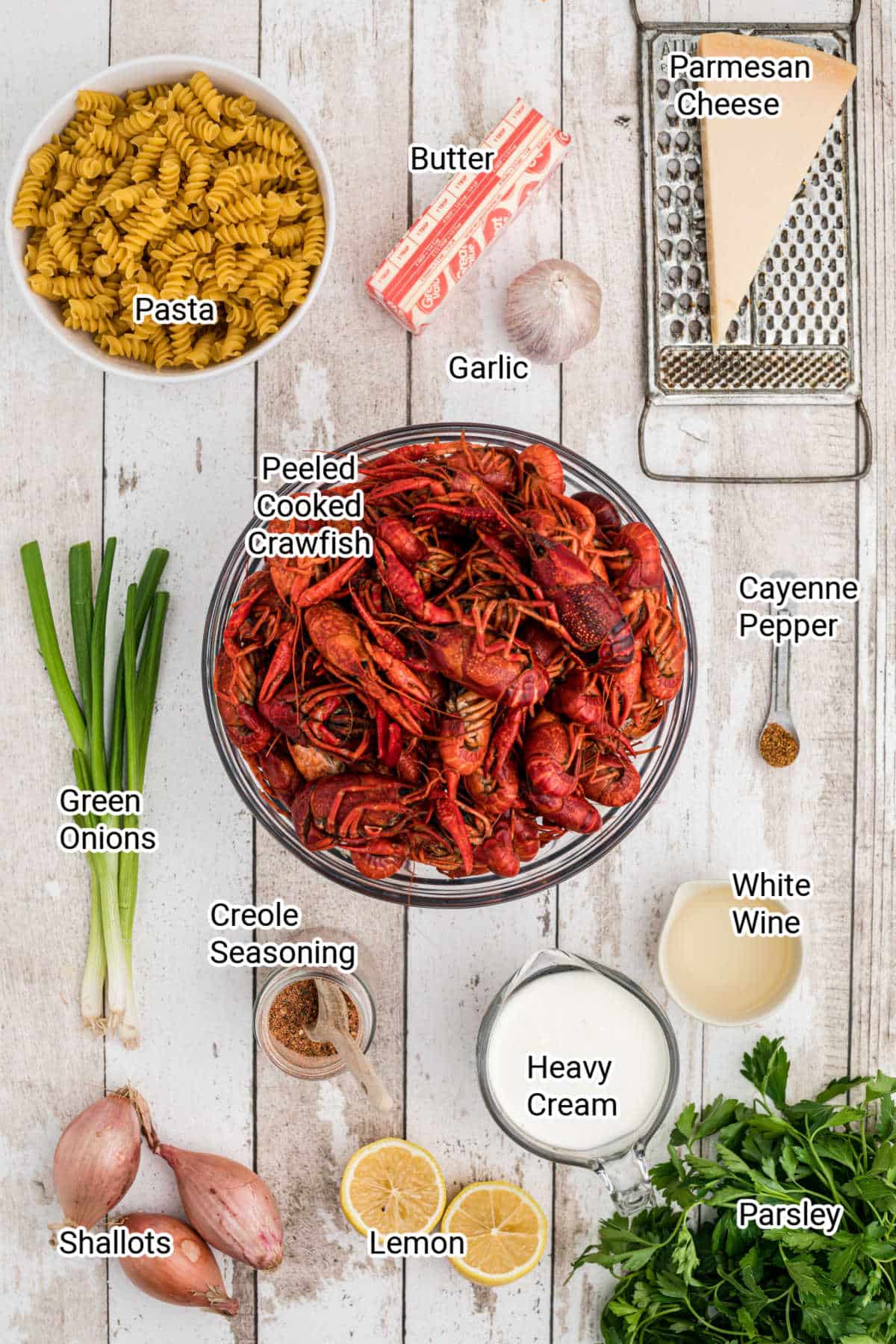 Peeled cooked crawfish tails
Rotini pasta
Butter
Garlic
Parmesan cheese
Cayenne pepper
Creole seasoning or Cajun seasoning
White wine
Heavy cream
Shallots
Lemon juice
Green onions
Parsley
See Crawfish Monica recipe card below for quantities.
🥣 Instructions
Step 1: Peel the crawfish leaving just the tails and discard the shells. Set aside.
Step 2: Cook pasta per package instructions, the cooking time to Al dente, then set aside.
Step 3: In a large pot, a large saute pan, or Dutch Oven, melt butter over medium-high heat.
Step 4: Add the chopped shallots and cook a few minutes until translucent.
Step 5: Add the minced garlic and cook a further 2 minutes until fragrant.
Step 6: Add the seasonings and stir well to combine, turning to a medium heat.
Step 7: Stir in the white wine.
Step 8: Slowly stir in the heavy cream.
Step 9: Cream lemon juice into the sauce.
Step 10: Stir in the peeled crawfish tails and cook 3-5 minutes until heated through.
Step 11: Stir in the chopped parsley and green onions.
Step 12: Mix in the freshly grated parmesan cheese and cook through until melted.
Step 13: Stir in the cooked pasta and mix well on a low heat until totally combined. Serve immediately with your favorite salad and lots of French bread. Place a cup of the cheese for people to sprinkle before eating.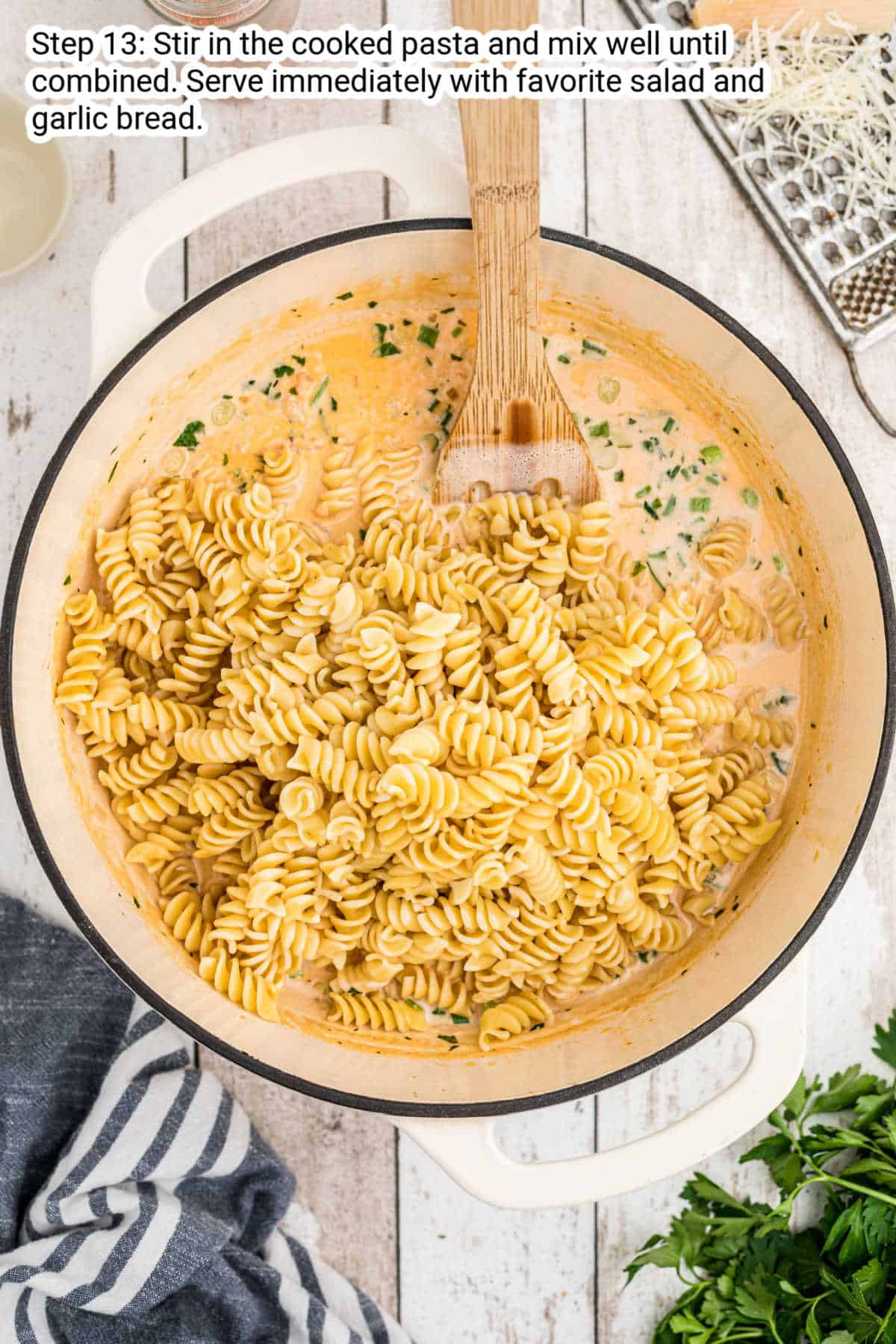 Hint: Save a cup of the pasta water from early in the cooking process. If you feel the pasta gets too dry or gummy - especially if it sits around a while, stir in this reserved pasta water to help freshen up that rich cream sauce.
🔄 Substitutions and Variations
Shrimp - instead of crawfish you could use some medium shrimp.
Sweet Onions - if you can't get shallots you could try using a sweet onion. They are not as strong and give a delicious sweetness just like shallots.
Asiago- this cheese melts just like parmesan and gives a wonderful flavor. Makes a great substitute for parmesan cheese.
Olive Oil - try using olive oil instead of the butter.
Spicy - add chili pepper flakes while cooking to imbue heat into the dish, or more cayenne pepper.
Deluxe - add shrimp and lump crabmeat to really make this a seafood delight.
Kid friendly - grind up the shallots so they are teeny tiny - if your kids are like mine the sight of one piece of onion really freaks them out. Reserve the green onions and parsley to add after you've dished theirs up.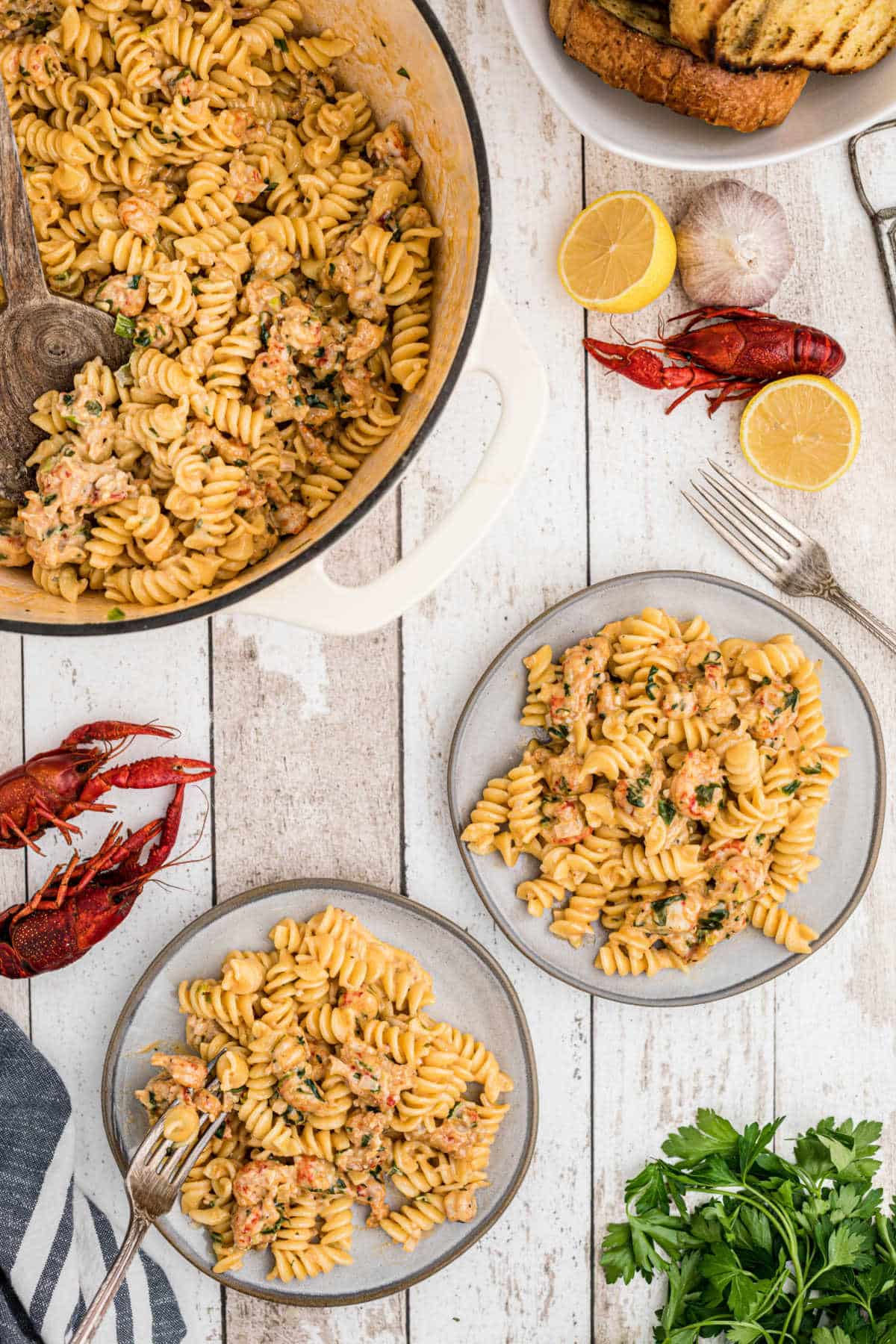 🔌 Equipment
I like to use my Dutch Oven for cooking this Crawfish Monica recipe, the even heat it distributes works great to avoid overcooking in one area.
You'll also need a colander to strain the pasta and a pot for boiling the pasta.
🧊 Storage
This Crawfish Monica should be stored in an airtight container in the refrigerator for 3 days. To reheat use the microwave and add a splash of milk if needed to moisten it up.
🦞 Other Crawfish Dishes
💡 Top tip
Expert Tip: Using leftover crawfish tails from a traditional crawfish boil is the tastiest way to prepare this recipe. The tails are then seasoned to your preference and add a little something extra.

You could also reserve a few crawfish shells and cook the pasta with those shells for added flavor.
---
If you've tried this Crawfish Monica Recipe or any other great recipe on my site, let me know in the comment section below, how it turned out, we love hearing from our readers!
If you love this recipe please give it 5 stars! ⭐️⭐️⭐️⭐️⭐️
You can also follow me on PINTEREST, FACEBOOK and INSTAGRAM to see more amazing recipes!
Crawfish Monica
A favorite during New Orleans' Jazz Fest, Crawfish Monica is a delicious simple creamy pasta dish infused with crawfish tails and parmesan cheese. Tasty and so easy to make!
Ingredients
1lb Crawfish Tails
1lb Rotini Pasta
6 Tablespoons Butter, unsalted
3 Large Shallots, chopped
6 Garlic Cloves, minced
1 Tablespoon Creole Seasoning
¼ Teaspoon Cayenne Pepper
¼ Cup Dry White Wine
2 Cups Heavy Cream
1 Tablespoon Lemon Juice
4 Green Onions, chopped
¼ Cup Parsley, chopped
1 Cup Parmesan Cheese, freshly grated
Instructions
Peel the crawfish to get 1lb of tails. Set aside. (If you're using frozen crawfish tails, make sure they're thawed)
Cook the pasta per the package instructions until Al Dente. Drain and set aside reserving a cup of the pasta water.
In a large heavy bottomed pan melt the butter over a medium-high heat.
Add the chopped shallots and cook for a few minutes until translucent.
Add the minced garlic and cook another 2 minutes.
Stir in the Creole Seasoning and Cayenne Pepper.
Add the white wine and stir.
Slowly mix in the heavy cream. Stirring.
Add the lemon juice and stir.
Add the crawfish tails and stir into the sauce. Cook for about 2-3 minutes until bubbling.
Stir in the chopped parsley and green onions.
Add the grated parmesan cheese and stir until melted.
Add the cooked pasta to the sauce and stir to combine. If you feel the sauce is to thick go ahead and add a little pasta water back to the mixture.
Notes
Using leftover crawfish from a crawfish boil is the tastiest way to make this dish. Plus, it's seasoned to your own preference.
A great way to infuse more flavor would be to add a few crawfish shells (after peeling) to the water of the boiling pasta. It will become almost like a stock and infuse the flavors from your crawfish boil into the noodles.
Add Crab and Crawfish Boil seasoning when cooking your pasta.
Reserve a cup of the cooking liquid from cooking your pasta to add later if needed.
If you're using frozen store bought crawfish tails from your Cajun grocer, make sure they're Louisiana crawfish. The imported from China type are bland and tasteless.
Save a cup of cheese to sprinkle on the Crawfish Monica as you add to a serving bowl.
Nutrition Information
Yield

10
Serving Size

1
Amount Per Serving
Calories

392
Total Fat

28g
Saturated Fat

17g
Trans Fat

1g
Unsaturated Fat

9g
Cholesterol

132mg
Sodium

550mg
Carbohydrates

20g
Fiber

2g
Sugar

3g
Protein

15g