Crawfish Bread is the perfect dish to make with that leftover crawfish. The creamy crawfish sauce layered on French bread and topped with delicious melted cheese is perfect for those quick and easy meals with those Cajun crawfish!
The crawfish mixture used in this recipe can be adjusted very easily to accommodate many extra ingredients!
Crawfish season for us here in Louisiana is at the beginning of the year, when we start heading into Mardi Gras, Easter and Jazz Fest.
There's always a 'boil' to go to somewhere, recipes for leftover crawfish start to get very creative!
Jump to:
🧅 Ingredients
Crawfish Tails, cooked
Loaf of French Bread
Mayonnaise
Butter, unsalted
Red Bell Pepper
Yellow Bell Pepper
Celery Stalk
Sweet Onion
Garlic
Dried Thyme
Ground Mustard
Cream Cheese
Green Onions
Sharp Cheddar Cheese
Mozzarella
Parmesan Cheese
Parsley (optional garnish)
See recipe card below for quantities.
🥣 Instructions
Crawfish Bread tastes better from a leftover 'boil'. Here's a quick sneak-peak on how to peel crawfish:
Step 1: If you have leftover crawfish, you'll need to peel them all first. You'll need 2 cups of peeled tails.
Step 2: Cut the French Bread in half lengthways.
Step 3: Spread Mayonnaise evenly all over the French Bread halves. Set Aside.
Step 4: Melt butter in a large skillet /pot over a medium heat.
Step 5: Add vegetables and seasoning and cook until translucent.
Step 6: Add crawfish tails and cook for 3 minutes over medium-high heat.
Step 7: Add cream cheese, mustard and green onions.
Step 8: Spread this crawfish mixture all over the French Bread halves evenly.
Step 9: Sprinkle the grated Mozzarella first, evenly over the French Bread Halves.
Step 10: Next add the grated cheddar and top with the grated parmesan.
Step 11: Bake in Oven and when removed garnish with parsley.
Step 12: Cut bread into individual slices and serve while hot.
Hint: Allow the bread to cool just a little before trying to slice. Like Pizza it can also be extremely hot and you can burn your fingers.
🔄 Substitutions and Variations
Crawfish - This can be substituted with Shrimp, if you prefer. Of course, then it's not crawfish bread, more like shrimp bread, lol.
Sweet Onion - If you prefer a softer taste you could swap this out for shallots.
Creole Seasoning - I like Tony Chacheres - If you don't have access to this another type of seasoning blend (like Seasonall) will work. Or a Cajun seasoning.
Creole Mustard - add this for another flavor profile.
Red Bell Peppers - for some added sweetness.
Monterey Jack Cheese - for more heat to the cheesy goodness.
Dry Mustard - try sprinkling a little with the seasoning.
🦞 More Crawfish recipes:
🍽 How to Serve
This crawfish bread recipe is so simple it can be made as a simple snack, or a meal all unto itself. It's best served hot out of the oven in little finger slices (like my images)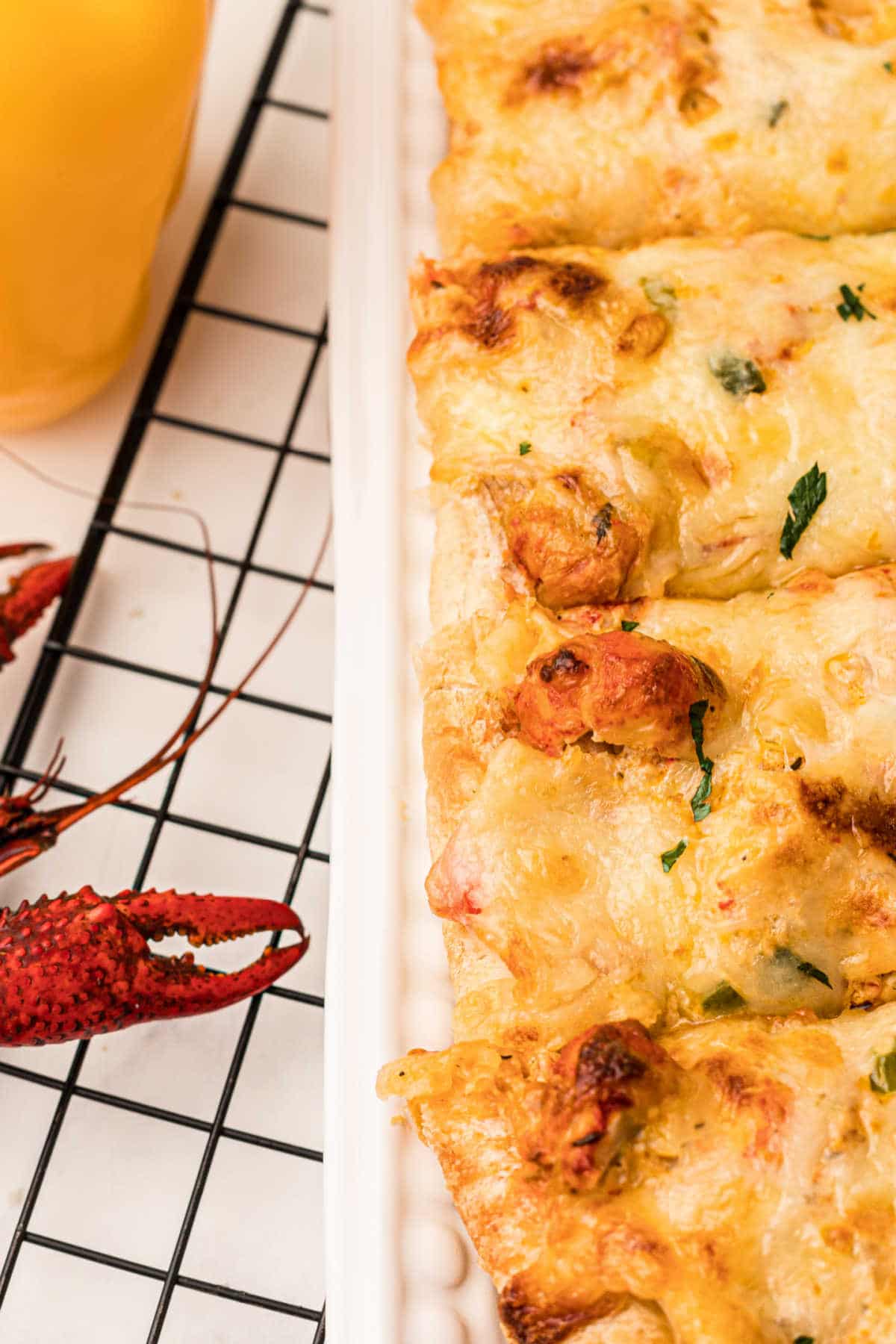 🔌 Equipment
This recipe uses a large heavy pot (a Dutch Oven) to cook the crawfish bread filling. Mixing bowls and a baking sheet are also used.
🧊 Storage
This recipe, once cooled, will need to be stored in an airtight container in the refrigerator, for up to 3 days. Or cover the dish served on with aluminum foil.
This crawfish bread can be frozen and defrosted within 3 months.
💡 Tips
Expert Tip: If you want to spice it up, add some freshly chopped Jalapenos, it adds some great heat to an already tasty dish. Or you could use hot sauce.
👩‍🍳 FAQs
Where To Buy Crawfish
In the Gulf here we have an abundance of crawfish and so a lot of crawfish sellers. If you don't have access like we do... you can buy the frozen type from Walmart. You may need to adjust your seasoning when using this frozen crawfish as it is usually not seasoned like we normally like here in the South. Taste your crawfish sauce before putting onto the French bread.
When is Louisiana Crawfish Season?
For the most part crawfish season starts in January and ends in July. The peak months during this time is March - May. See my 'What is Crawfish' guide here.
Is this Crawfish Bread a Cajun Crawfish recipe?
Yes, definitely inspired by those genius Cajuns!
---
If you've tried this Crawfish Bread Recipe or any other great recipe on my site, let me know in the comment section below, how it turned out, we love hearing from our readers!
If you love this recipe please give it 5 stars! ⭐️⭐️⭐️⭐️⭐️
You can also follow me on PINTEREST, FACEBOOK and INSTAGRAM to see more amazing recipes!
Crawfish Bread
Crawfish Bread is a great way to use up the yummy leftover crawfish tails from your crawfish boil. The crawfish is already seasoned how you like them which adds great flavor to this bread. A delicious creamy crawfish sauce topped with cheese. Pure comfort food.
Ingredients
2 Cups Cooked Crawfish Tails
French Bread (1-2 Loaves)
1 Cup Mayonnaise
3 Tablespoons Butter, unsalted
½ Yellow Bell Pepper, diced
½ Red Bell Pepper, diced
1 Stalk Celery, diced
1 Small Sweet Onion, diced
½ Teaspoon Thyme, dried
2 Teaspoons Creole Seasoning
3 Cloves Garlic, Minced
8oz Cream Cheese
1 Teaspoon Ground Mustard
3 Green Onions, chopped
12 oz Mozzarella Cheese, grated
12 oz Cheddar Cheese, grated
¾ Cup Parmesan Cheese, grated
Parsley (optional garnish)
Instructions
Preheat oven to 375°F.
If you are using Crawfish Boil leftovers, go ahead and peel all those crawfish (keep the tails) - and set aside.
Slice French Bread in half, lengthways.
Spread Mayonnaise over each half, evenly. Set to the side.
Add butter to a large (12") skillet (or pot like I did) and turn heat to medium.
Once the butter has melted add the chopped onions, bell peppers, celery, Thyme and Creole Seasoning. Cook until translucent (about 5 minutes) then add the garlic. Cook a further 2 minutes.
Add crawfish tails and continue to cook, until the juices from the crawfish evaporates (about 3 minutes).
Stir in the cream cheese, mustard and green onions.
Once everything has melted/combined turn off the heat.
Spread this crawfish mixture evenly over the French Bread halves.
Sprinkle evenly the Mozzarella cheese and Cheddar cheese.
Finish with the Parmesan cheese.
Bake in the oven for 15 minutes.
Finish under the broiler for about 2 minutes to get the color to the cheese.
Remove from the oven and sprinkle with parsley, to garnish.
Notes
For best results I like to use the leftover crawfish from a crawfish boil. They are deliciously seasoned and add great flavor to the crawfish bread. (You can buy frozen crawfish tails from Walmart though)
Nutrition Information
Yield

8
Serving Size

1
Amount Per Serving
Calories

754
Total Fat

62g
Saturated Fat

27g
Trans Fat

1g
Unsaturated Fat

30g
Cholesterol

200mg
Sodium

1339mg
Carbohydrates

15g
Fiber

1g
Sugar

5g
Protein

35g
Nutrition information may not be accurate - as a custom tool has been used in acquiring the information.