I had no idea that cooking biscuits in air fryer would be so delicious! The best thing about cooking them this way, is the texture is perfect! Crispy on the outside, fluffy and soft on the inside. Added bonus - you don't have to heat up the house with your oven! Air fryer biscuits will be your new favorite breakfast item.
Sure, making these biscuits in the oven is good, who doesn't love a fresh buttered biscuit - but there's a certain extra something that the air fryer gives them, that slight crisp on the outside of the biscuits yet still fluffy inside - you can't beat it.
Jump to:
🧅 Ingredients
This is an easy way to make delicious and easy air fryer biscuits! Grab a few frozen biscuits out of your freezer and you are good to go!
You will need:
Frozen Buttermilk Biscuits
Cooking Spray
🔄 Substitutions and Additions
You can use any brand of frozen biscuits - I like the buttermilk type, but if you prefer the layers or so on go ahead and use those. I've found the Pillsbury Grands to be the best (and I've tried many different brands).
If you want to make refrigerated canned biscuits that works too! You may not need as much time to cook, just keep an eye on them. The temperature can stay the same though.
Homemade biscuits can be done too. Although I haven't made them personally so I can't attest to a recipe - maybe soon.
🥣 How To Make Biscuits in Air Fryer
Step One: Preheat air fryer to 320°F. Take out frozen biscuits.
Step Two: Arrange biscuit dough in the basket (lightly sprayed with oil)
Step Three: After about 7-8 minutes check the biscuits and flip them over.
Step Four: Remove from the air fryer and enjoy while still warm, brushed with melted butter.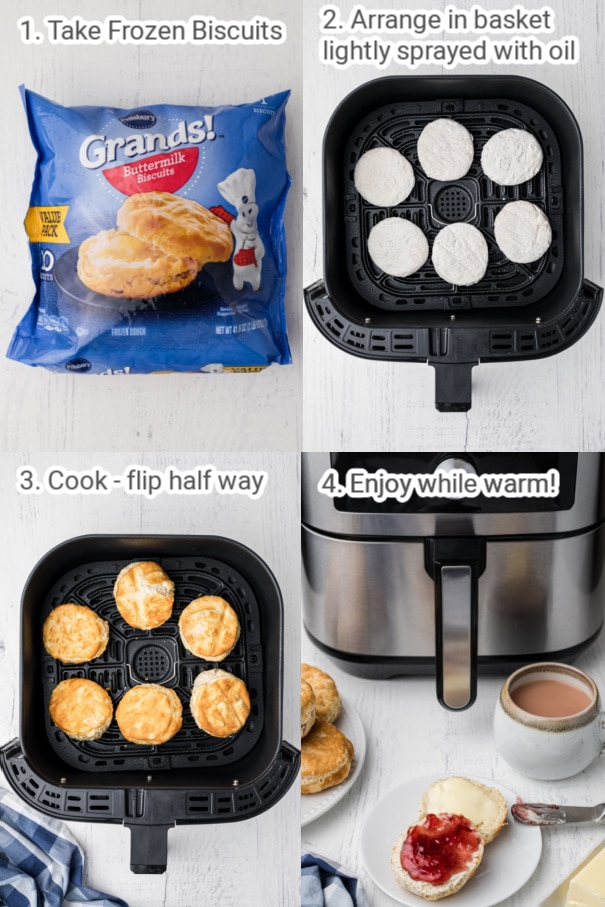 Quick Tip: Depending on your air fryer the cooking time might vary by a minute or so. Just remove when golden brown for perfect biscuits.
🍽 How To Serve
Those of you who know me, know I'm not from the United States originally. I'm a British girl, and to me a biscuit is something completely different.
However, I've been here long enough to know that these biscuits are to die for. How you serve them is a personal preference. I like mine plain, dripping with butter. My kids though like to add jellies and preserves. You can even make them savory - a little bit of perfection comes when you add a little fried chicken. Chicken biscuits are so delicious!
Biscuits make a great side dish. That's why they're always offered as a side at these fried chicken places.
You can throw some sausage gravy over there too, make a mean breakfast!
🔌 Equipment
I have two different air fryers. One rack style which is kind of like a mini oven. Then I have a basket type too. I find the basket type works best for this (don't ask why, it just does, lol).
I've seen some people use a parchment paper of sorts that is special made for the air fryer. I've yet to come across any and to be honest my basket cleans really easily so I don't see the need.
🧊 Storage
Once the biscuits have cooled, if you have some left (which we never do) you can store them in an airtight container with a little paper towel to help with moisture. They can be stored at room temperature and will be good for about 3 days.
❤ Sharing is Caring - Like Our Facebook Page ❤
When reheating these biscuits pop them back in the air fryer again at 350°F for just a few minutes, they will be hot and fresh just like they were originally! This is my favorite function of the air fryer - it's perfect for reheating food.
More Air Fryer Recipes:
You should try these biscuits with my Southern White Gravy - they're so good!
💡 Top Tips
Expert Tip: Use any leftover biscuits and make a biscuit bread pudding! The crispness of them makes for really good texture bread pudding (here's a delicious simple recipe for Biscuit Pudding from Lana over at Lana's Cooking).
👩‍🍳 FAQ's
Why do I turn the biscuits half way?
This is so that the biscuits cook evenly through.
Can I cook two racks at once?
If you have a rack type air fryer they will not cook the same. In order to adjust, at the point in time when you'll flip the biscuits also rotate the racks in the air fryer. This should even it out. You may also need more time based on your type of air fryer.
How long do you put biscuits in the air fryer?
15 minutes at 320°F, flipped about half way. This works well for my air fryer. Of course all air fryers are different so yours may need more or less time, just keep an eye the first time and make a note.
Can you air fry frozen biscuits?
Most definitely, yes! Air fryer biscuits are the only way I cook them now. Check my instructions above.
---
If you've tried this Air Fryer Biscuits Recipe or any other great recipe on my site, let me know in the comment section below, how it turned out, we love hearing from our readers!
If you love this recipe please give it 5 stars! ⭐️⭐️⭐️⭐️⭐️
You can also follow me on PINTEREST, FACEBOOK and INSTAGRAM to see more amazing recipes!
Air Fryer Biscuits
Delicious every time - frozen biscuits in the air fryer are easy and quick. Nice and crispy/toasty on the outside, soft and fluffy on the inside. Air fryer biscuits are the best.
Ingredients
Frozen Buttermilk Biscuits
Cooking oil spray
Instructions
Preheat air fryer to 320°F and lightly spray the basket with oil.
Arrange the frozen biscuits, to allow air to circulate all around the biscuits.
Cook for 7-8 minutes then flip the biscuits.
Cook the remaining 7 minutes.
Remove and eat while still warm with butter, jelly or your favorite spread.
Notes
Single layer air fryers work best for cooking biscuits.
If you are using a double layer air fryer oven you will need to flip the biscuits AND rotate the shelves for even cooking.
Recommended Products
As an Amazon Associate and member of other affiliate programs, I earn from qualifying purchases.
Nutrition Information
Yield

6
Serving Size

1
Amount Per Serving
Calories

180
Total Fat

8g
Saturated Fat

3.5g
Trans Fat

0g
Cholesterol

0mg
Sodium

550mg
Carbohydrates

24g
Fiber

1g
Sugar

2g
Protein

3g
Reader Favorites