Homemade Air Fryer Pizza Rolls are delicious rolls of pizza made using different toppings/ingredients but with the basics of: Pizza Dough, sauce and cheese. The rest is your own preference!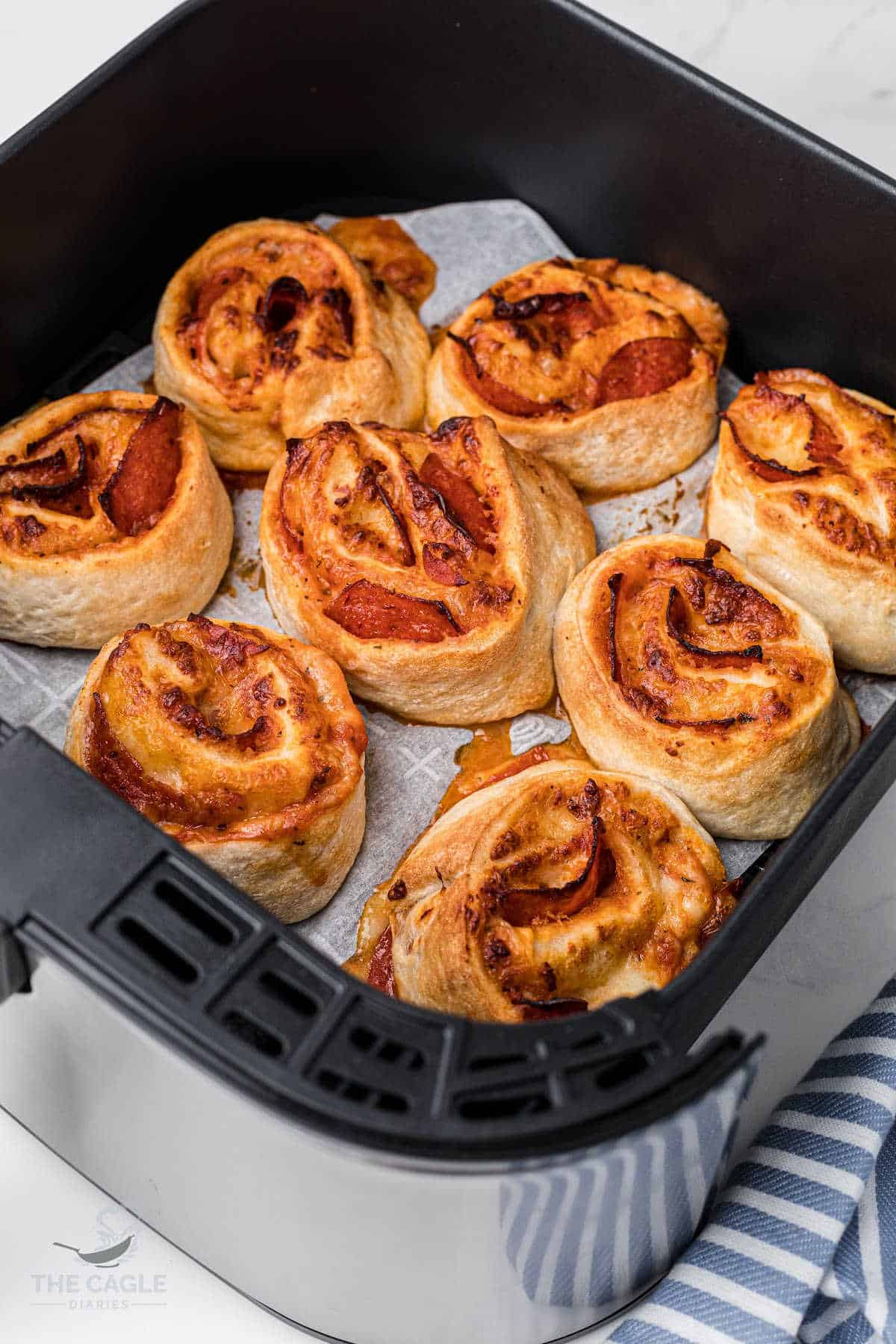 Jump to:
❤️ Why you'll love it
These air fryer pizza rolls make a great after school snack!
You can add your favorite dipping sauce to change it up.
The cooking time is hardly anything. You can have this together in less than 15 minutes.
🧅 Ingredients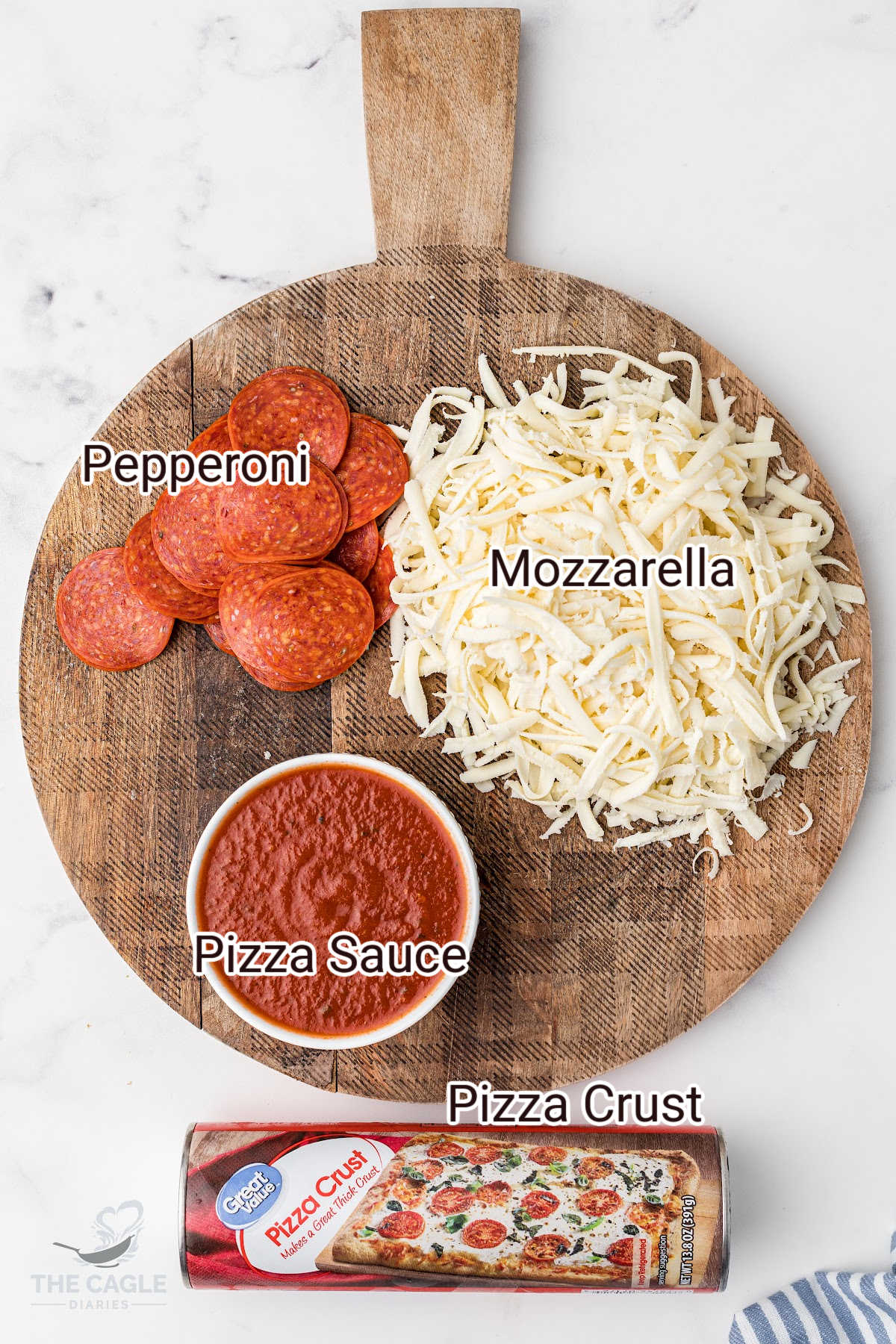 You will need:
Refrigerated Classic Pizza Crust
Your favorite pizza sauce
Pepperoni (and/or your favorite toppings)
Freshly grated mozzarella cheese
See recipe card at the bottom of this post for quantities.
🥣 Instructions
Step One: Lay out your pizza dough/crust carefully on parchment paper.
Step Two: Spread your preferred pizza sauce all over the dough, evenly.
Step Three: Add your fillings followed by mozzarella.
Step Four: Roll the pizza dough on the long edge, for this you can use the parchment paper to help if necessary.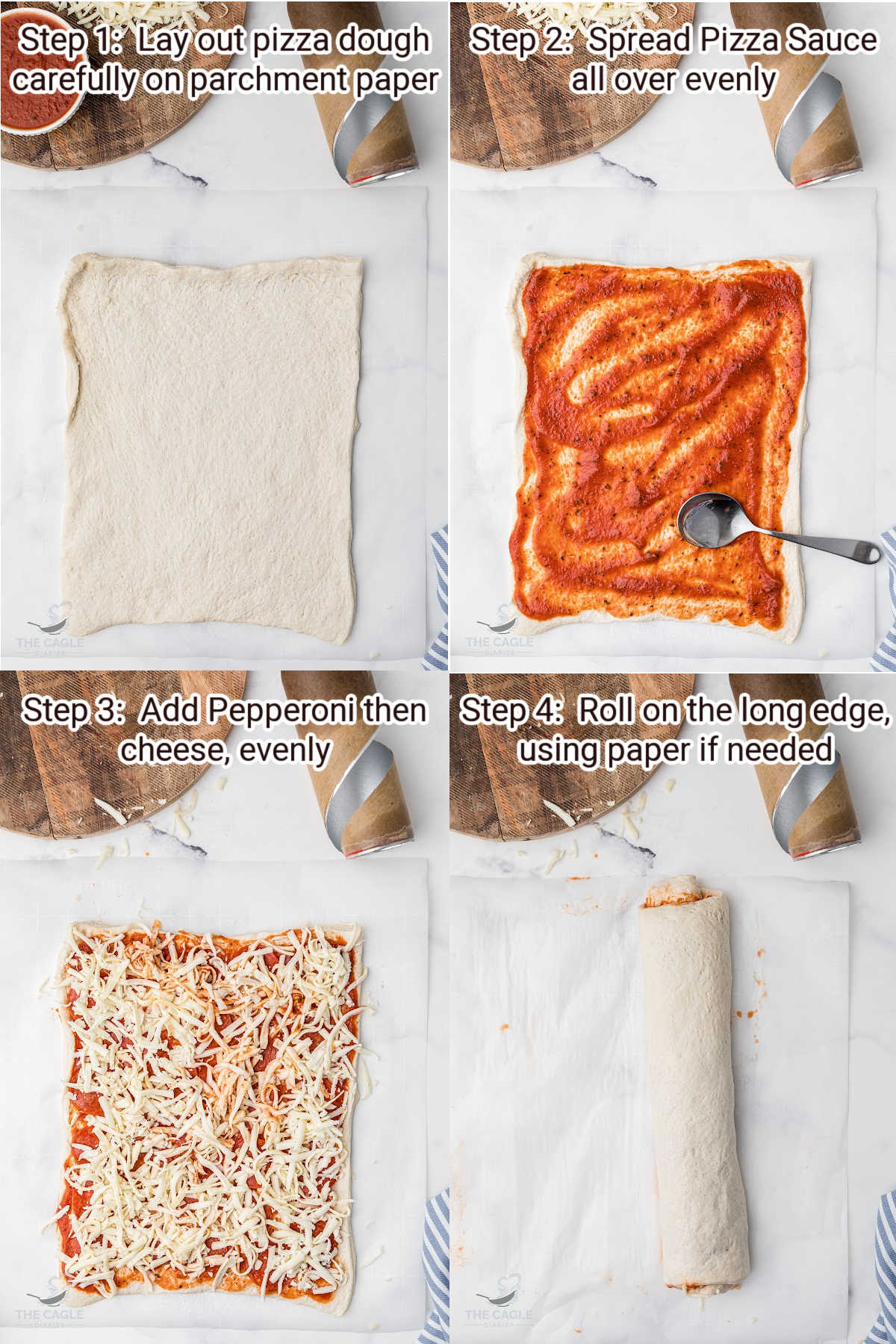 Step Five: Once you have your pizza roll made (with the seam at the bottom) cut the roll in half. Then each half in half again... until you have 8 even slices.
Step Six: Line your air fryer basket with parchment paper and arrange the pizza rolls evenly spaced in a single layer.
Cook at 320°F for 11 minutes.
Hint: Use the air fryer again when you have leftover pizza rolls. It makes them nice and crisp again, you wouldn't even know they're leftovers!
🔄 Substitutions and Variations
When you're thinking about what toppings to use for your air fryer pizza rolls (the homemade type) - Whatever your favorite pizza topping is you can use. Just bear in mind the size of the roll when applying the ingredients.
Pepperoni
Banana Pepper
Bell Peppers
Onions
Sausage
Ground Meat
Taco meat
Pineapple
Ham
Olives
Parmesan
Chicken
Spinach
Beef
❤ Sharing is Caring - Like Our Facebook Page ❤
🍽 How To Serve
What would you serve with pizza? The same goes for these Pizza Rolls. Sprinkle some parmesan cheese on top. You could add a pizza sauce on the side for dipping. Maybe a garlic butter or marinara sauce.
I've even seen people dip their pizza in ranch dressing.
These are a finger food and can just be eaten straight off the platter, so they are actually great for Game Day food and parties too!
🔌 Equipment
There are many varieties of air fryer out there, the one I use in my post here is listed in the recipe card below. I have added affiliate links so you can check it out. I do love it.
🧊 Storage
Due to the fact that there is meat and cheese you will need to store these in an airtight container in the refrigerator (once cooled completely). They will be fresh for 4-5 days and the best way to reheat them is actually back into the air fryer.
Did you know that reheating pizza in the air fryer is actually the best way to reheat pizza?
For best results try it. That pizza tastes just like it did when it was fresh! Just pop into the air fryer at 350°F for 5 minutes.
💡 Tips
Expert Tip: When you think about what you would like to add to your air fryer pizza rolls just think about what you normally like on your regular pizza. You can do the same.
Made famous by a brand of frozen pizza rolls (Totino's Pizza Rolls) that also cook best in the air fryer, but they're not as good as the homemade version.
I cooked both versions to show you in this post. Here's how the Totino's pizza rolls air fryer version looks:
Cooking these pizza rolls in the air fryer though is the perfect way to cook them. In the microwave they are soft and soggy.
In the oven it takes a little longer than I'd like. The air fryer version give you deliciously crispy pizza rolls and will have you converted.
Totino's Pizza Rolls are ok, one thing I've learned about those though is you can't eat them right after they're cooked - unless you want a scorched palate! Trust me. Pop one of those in your mouth and you'll never do it again, lol.
👩‍🍳 FAQs
How long do I cook Pizza Rolls in the air fryer?
Cooked at 320°F for 11 minutes works great using my air fryer (Instant) though these times might vary somewhat depending on your brand. But it should be close.
How long do I cook Totino's Pizza Rolls in the air fryer?
These should be cooked in a preheated air fryer at 380°F for 6-7 minutes. Any more and you'll see they start popping. Give the basket a shake when there is 3 minutes left.
Is Air Frying Pizza Rolls the best way to cook them?
Definitely. I have cooked three ways. Microwave (yuck). Oven (ok) and Air Fryer (yum!). Nothing beats it as it's quicker than the oven and a little crispier! Just cook until golden brown.
Can you freeze Pizza Rolls after they've been cooked?
Yes. Allow to cool completely then wrap in first paper towel, then plastic wrap and place into a freezer safe resealable bag. They will be good in the freezer for 3 months like that. When it comes time to defrost, do so in the refrigerator then add back to the air fryer at 350°F for 5 minutes.
Other Air Fryer Recipes:
You should also try this Puff Pastry Pizza Pinwheels recipe or these Ham and Cheese Bites, if you love this one.
---
If you've tried these Air Fryer Pizza Rolls or any other great recipe on my site, let me know in the comment section below, how it turned out, we love hearing from our readers!
If you love this recipe please give it 5 stars! ⭐️⭐️⭐️⭐️⭐️
You can also follow me on PINTEREST, FACEBOOK and INSTAGRAM to see more amazing recipes!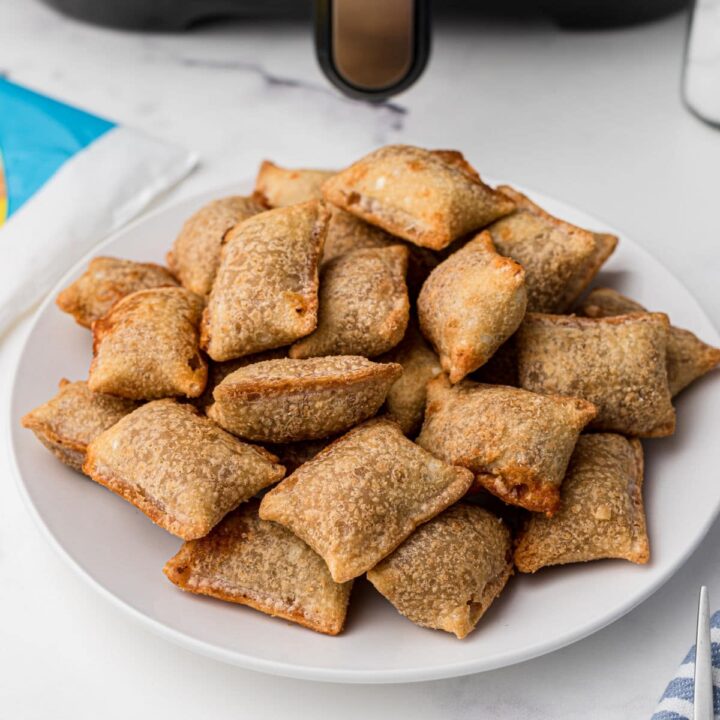 Air Fryer Pizza Rolls
Air Fryer Pizza Rolls are so delicious and yet simple to make, with only four ingredients you can whip up this easy meal in no time and still have a tasty filling meal for the family.
Ingredients
Fresh Homemade Pizza Rolls
1 Can Refrigerated Classic Pizza Crust
½ Cup Pizza Sauce
3oz Pepperoni Slices
½lb Mozzarella, freshly grated
Frozen Pizza Rolls
1 Bag Totino's Pizza Rolls
Cooking spray
Instructions
Fresh Homemade Pizza Rolls
Preheat Air Fryer to 320°F.
Lay out the pizza dough evenly on a piece of parchment paper.
Using the back of a spoon evenly spread the pizza sauce all over the pizza dough.
Lay out the pepperoni evenly and sprinkle the cheese all over.
On the long edge roll up (like a Swiss roll). You can use the parchment paper to help if needed.
Using a sharp knife slice the roll evenly.
Line your air fryer basket with parchment paper and arrange the sliced rolls (messy side down) on the parchment paper.
Air fry for 11 minutes.
Frozen Totino's Pizza Rolls
Preheat Air Fryer to 380°F. Spray basket with cooking spray.
Arrange frozen Pizza Rolls evenly in basket.
Cook for 7 Minutes. Give basket a shake when there's 3 minutes left.
Notes
I found using thin crust pizza dough was a little tricky to form the shape needed for the rectangle. Classic pizza dough works best for this recipe.
Use a block of mozzarella and grate it yourself. You won't be disappointed. Prepackaged grated cheese is full of starches to help it not clump together - which in turn doesn't melt as good as freshly grated cheese.
You can use any pizza topping you wish in this recipe. I keep it simple as my kids are big pepperoni pizza guys, but mushrooms, olives, peppers, onions... all the usual pizza toppings will work well with this recipe.
This recipe will work in the oven. Preheat oven to 350°F and cook for 30-35 minutes.
Different Air Fryers are a little different in the way they cook. I use the Vortex Plus by Instant (they make the instant pots) and it works super well.
Recommended Products
As an Amazon Associate and member of other affiliate programs, I earn from qualifying purchases.
Nutrition Information
Yield

8
Serving Size

1
Amount Per Serving
Calories

275
Total Fat

14g
Saturated Fat

6g
Trans Fat

0g
Unsaturated Fat

7g
Cholesterol

33mg
Sodium

584mg
Carbohydrates

25g
Fiber

1g
Sugar

2g
Protein

12g
This nutritional information is for the homemade pizza rolls and is provided automatically by Nutritionix.