Classic Amish Cinnamon Rolls, made using pantry staple ingredients. Super easy yet classically delicious. I added a slight twist added making them more like the famous Cinnabon Cinnamon Roll - ooey gooey and delicious.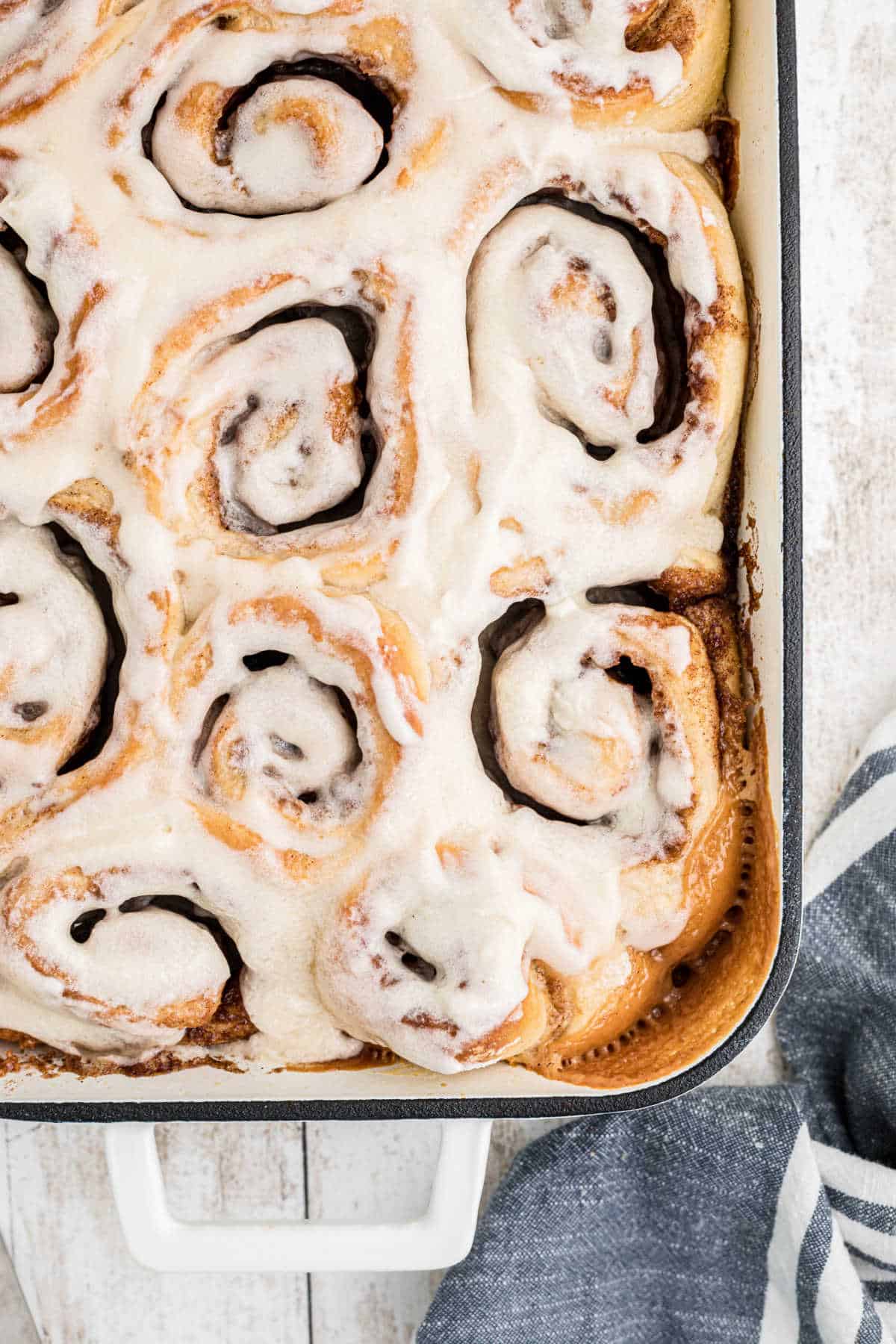 This is a recipe I love to make during the Christmas holidays. Making the family a pan of these delicious cinnamon rolls really makes everyone's Christmas morning.
Jump to:
❤️ Why you'll love it
They're easier to make than you'd think. With little hands on making time - there's more inactive time where you can do something else.
This recipe makes two batches of the cinnamon roll dough. Save a batch for another day (see at the bottom of this post for freezing directions).
Many Amish recipes use shortening, I just prefer to us butter - but now with the cost of butter these days - feel free to swap out the butter for shortening - 1 to 1 swap (equal parts).
This is a great recipe for special occasions.
Amish food is always super yummy and these are the best cinnamon rolls.
Homemade cinnamon rolls just make the whole house smell amazing while they're baking!
🧅 Ingredients
Warm Water
Granulated Sugar
Active Dry Yeast
Vegetable Oil
Salt
All Purpose Flour
Unsalted Butter
Brown Sugar
Ground Cinnamon
Powdered Sugar
Vanilla Extract
Evaporated Milk
See recipe card at the bottom of this post for quantities.
🥣 Instructions
Step 1: Add warm water, yeast and sugar to the bowl of a stand mixer. Wait 5 mins to get bubbly then add the vegetable oil and salt and mix with the dough hook attachment.
Step 2: Add the flour a little at a time while the dough hook is on low speed.
Step 3: Add a little bit more flour if the dough is still sticky. Or water if too dry. You're looking for a smooth ball.
Step 4: Cover the greased bowl with a clean kitchen towel and allow to rise in a warm dry area until doubled in size.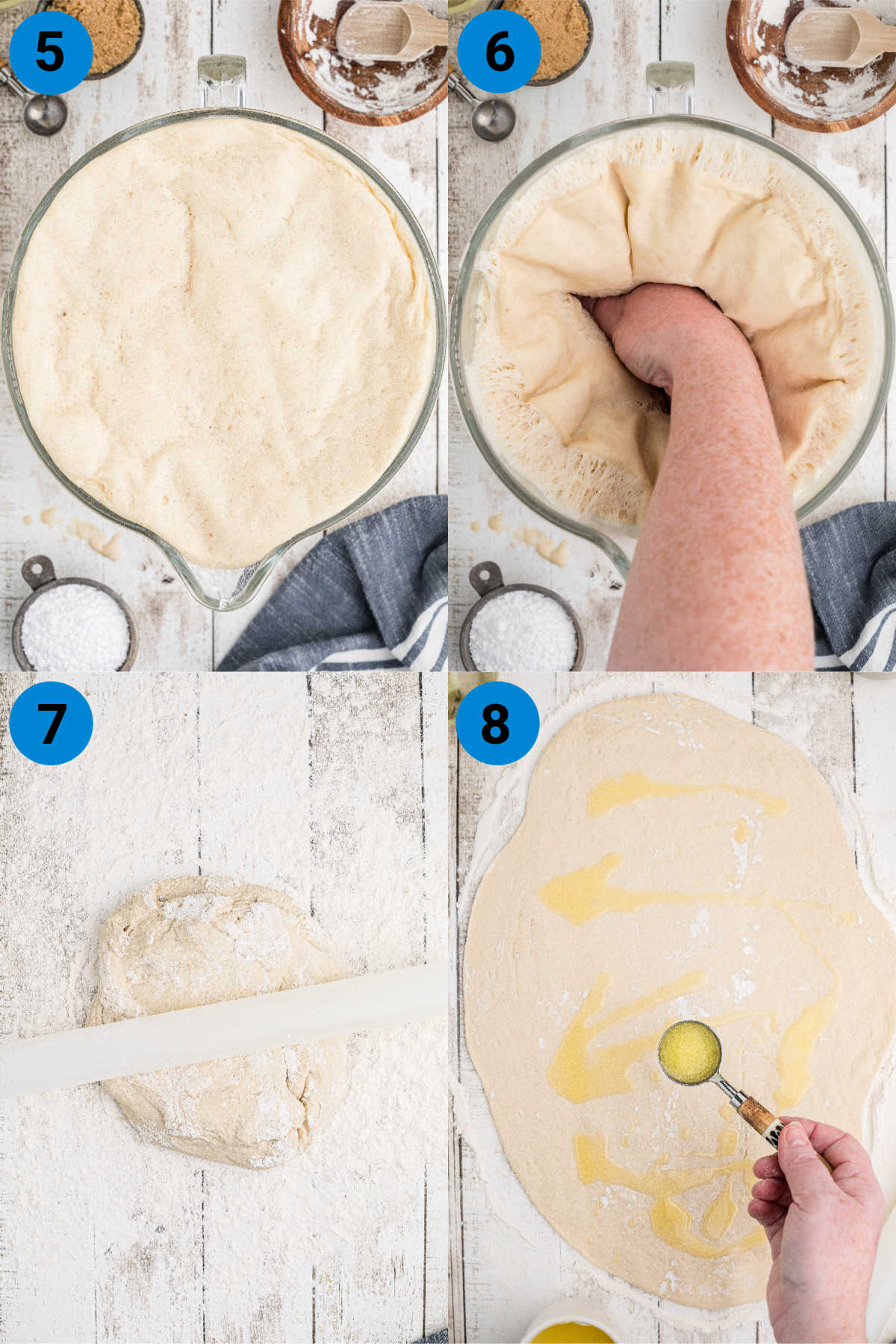 Step 5: I like to leave for about 2 hours, until doubled in size.
Step 6: Punch the dough down and divide dough.
Step 7: Roll half of dough on a well floured surface, into a large rectangular shape (about ¼ inch thickness).
Step 8: Pour half of the melted butter over the dough.
Step 9: Mix the brown sugar and cinnamon together.
Step 10: Sprinkle half of the sugar over the top of the dough.
Step 11: Roll the dough on the long edge, on a lightly floured surface.
Step 12: Using a knife cut the cinnamon roll in half, then half again etc until you have about 12-16 pieces (1-inch slices).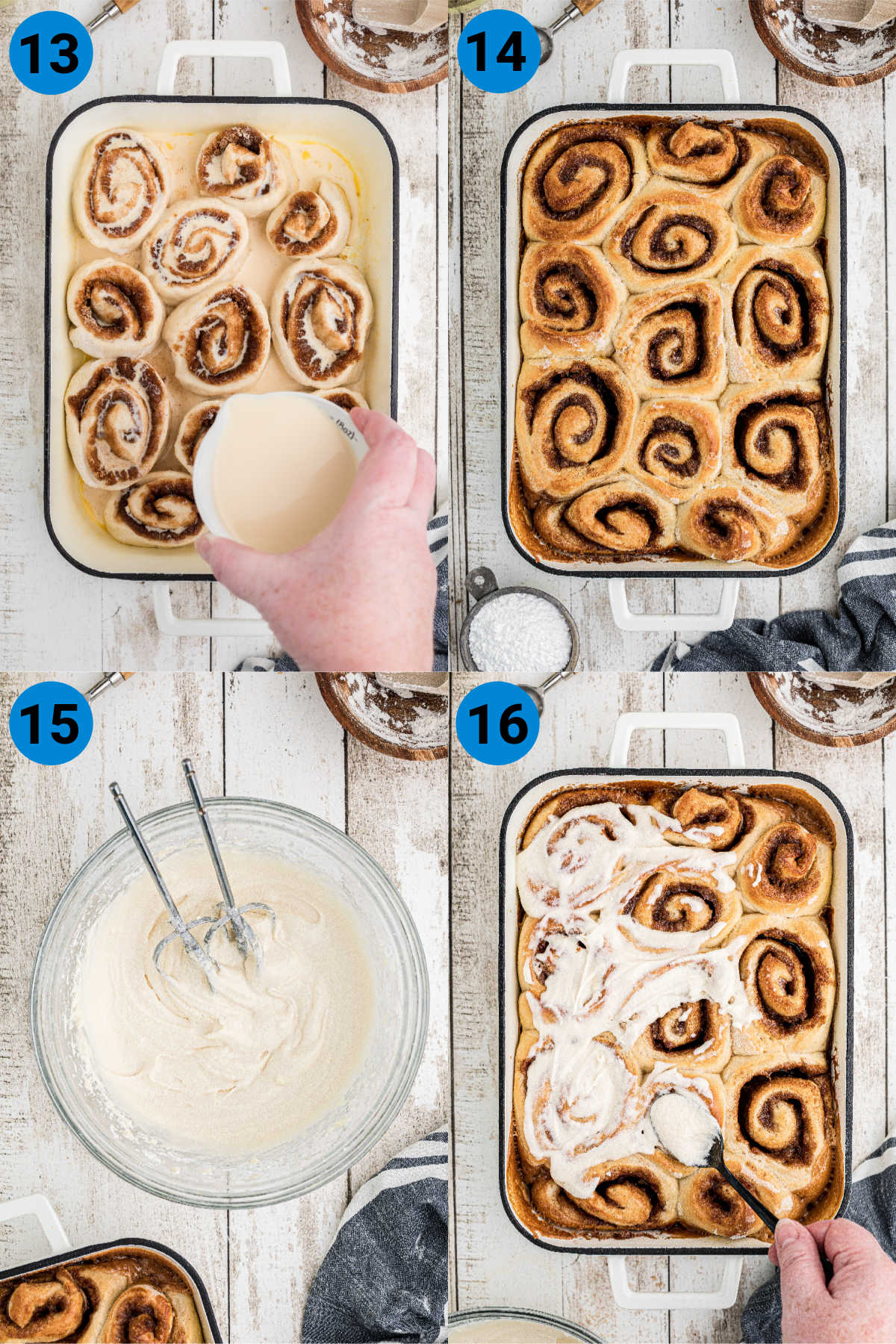 Step 13: Add the slices to a greased 13x9" baking dish then pour over some warmed evaporated milk.
Step 14: Allow the cinnamon rolls dough rise again for 30 minutes then bake in a preheated oven for 20-25 minutes, until golden brown.
Step 15: Remove from the oven to cool. Mix the icing ingredients together.
Step 16: Spoon the icing over the top of the rolls while they're still slightly warm.
Hint: Freeze the second batch of this cinnamon roll recipe for another morning (perhaps using a baking sheet). Or make a pan for Christmas Eve morning and a pan for Christmas Day.
🔄 Substitutions and Variations
Cream Cheese Icing - (cream cheese frosting) this is another popular icing.
Caramel Frosting - try this as another option.
Bread Flour - instead of All Purpose Flour.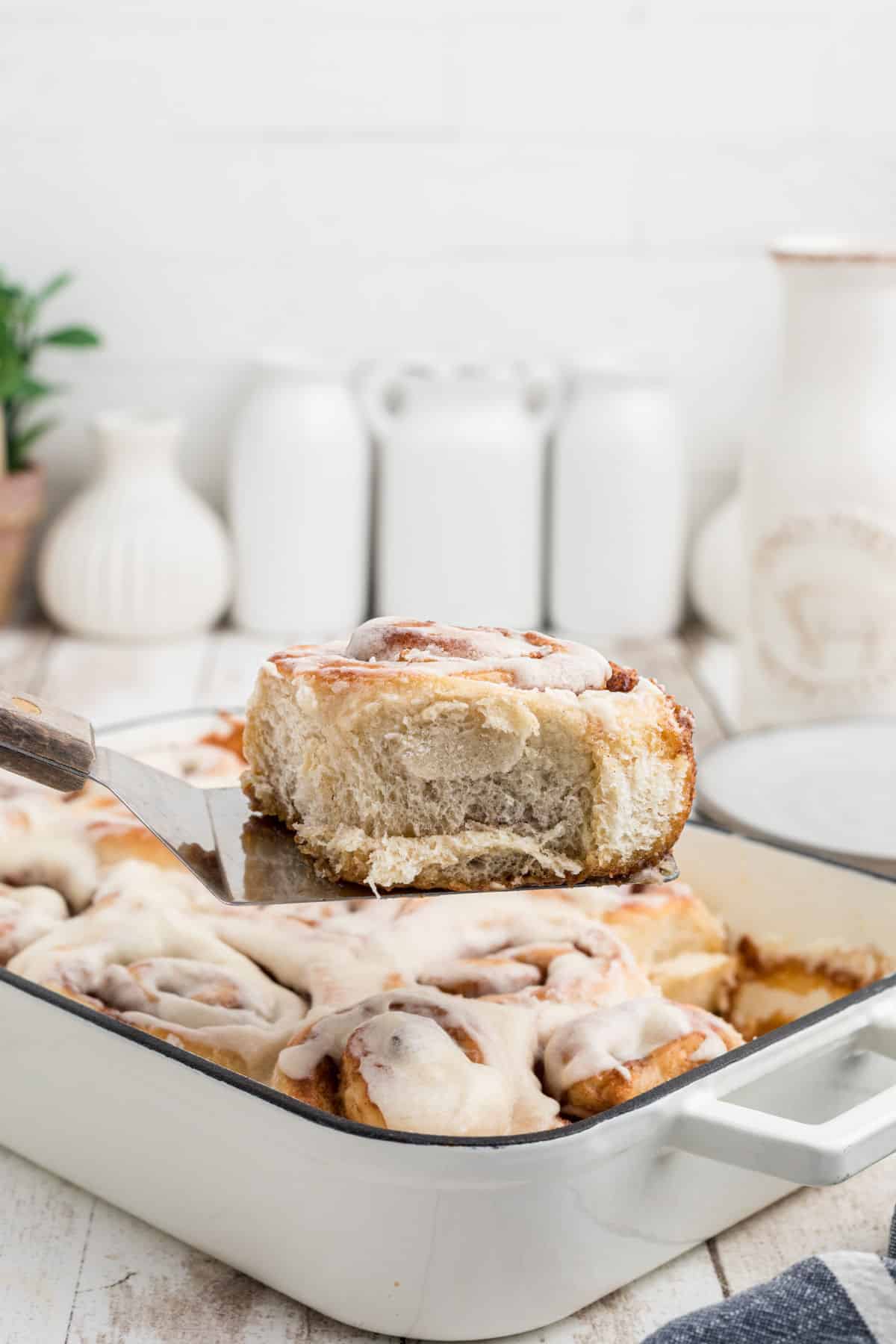 ❤ Sharing is Caring - Like Our Facebook Page ❤
🔌 Equipment
The following are affiliate links. We are a participant in the Amazon Services LLC Associates Program, an affiliate advertising program designed to provide a means for us to earn fees by linking to Amazon.com and affiliated sites.
I love my stand mixer (I have an affiliate link in the recipe card below) - I recommend using this with the dough hook attachment. Although you could use an electric mixer.
You'll also need a rolling pin, 13x9" baking dish and a medium mixing bowl. All links are below.
📘 Related Recipes
If you like Amish recipes, you should try my Amish Mashed Potatoes, or my Amish Pumpkin Pie. They're the best.
🧊 Storage
Once the Amish cinnamon buns have been served and you have some left over, feel free to store in an airtight container or cover with aluminum foil, in the refrigerator for up to 4 days.
💡 Tips
Expert Tip: Pouring the warmed evaporated milk over the dough before baking will add that extra ooey gooeyness - the perfect texture. You could use cream too.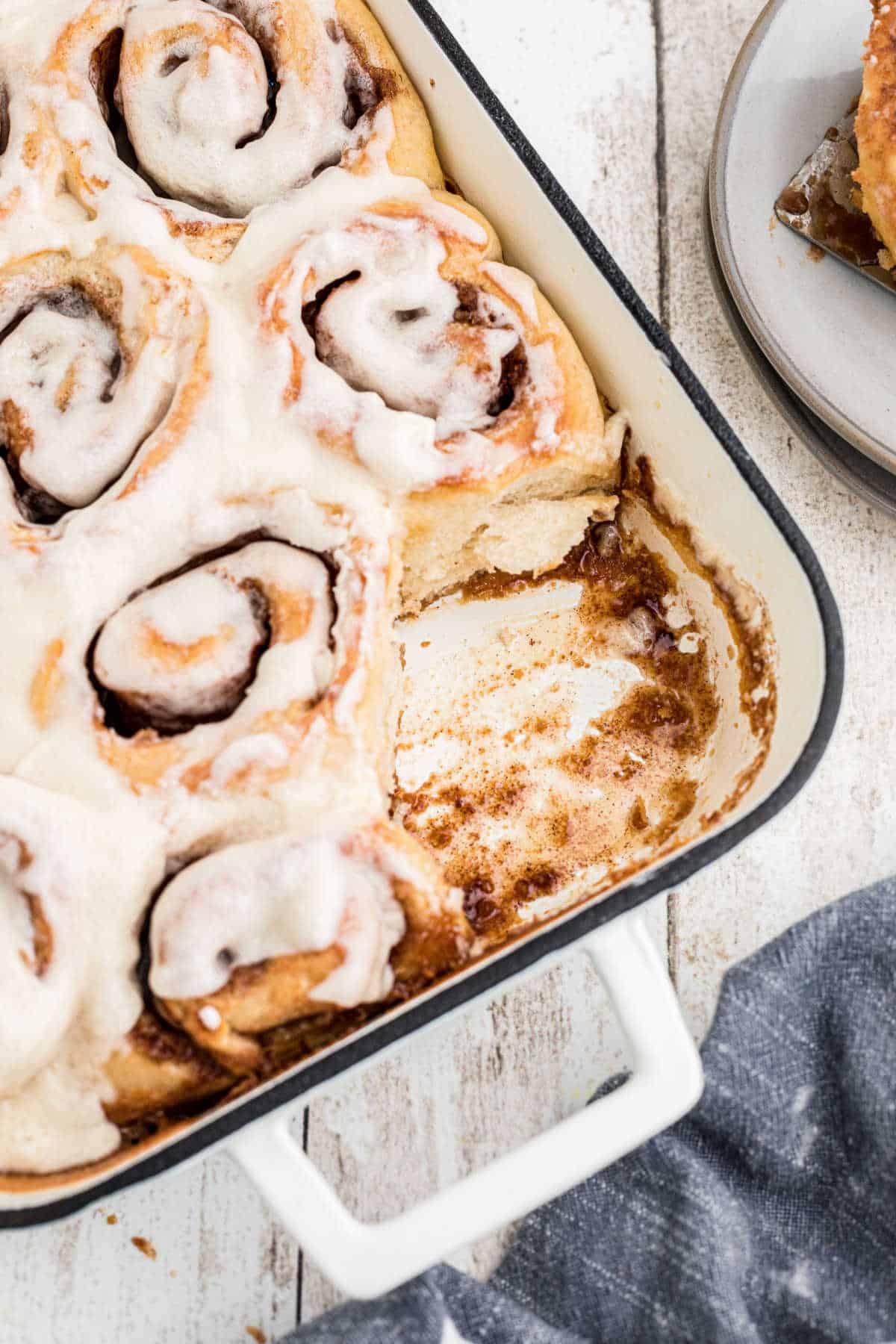 ---
If you've tried this Amish Cinnamon Rolls Recipe or any other great recipe on my site, let me know in the comment section below, how it turned out, we love hearing from our readers!
If you love this recipe please give it 5 stars! ⭐️⭐️⭐️⭐️⭐️
You can also follow me on PINTEREST, FACEBOOK and INSTAGRAM to see more amazing recipes!
Amish Cinnamon Rolls
Total Time:
3 hours
15 minutes
Classic Amish Cinnamon Rolls with a twist, giving them some extra ooey gooeyness, much like Cinnabon's famous Cinnamon Rolls.
Ingredients
Dough
2 Cups Warm Water (about 115°F)
⅓ Cup Granulated Sugar
1-½ Tablespoons Active Dry Yeast
1-½ teaspoons Salt
¼ Cup Vegetable Oil
6 Cups All Purpose Flour
½ Cup Evaporated Milk (divided and warmed)
Filling
½ Cup Butter, unsalted (melted)
2 Cups Light Brown Sugar
2 Tablespoons Ground Cinnamon
Vanilla Icing
½ Cup Unsalted Butter, softened
2 Cups Powdered Sugar
1-½ teaspoons Vanilla Extract
1-2 Tablespoons Evaporated Milk
Instructions
Add the warm water, sugar and yeast to the large bowl of a stand mixer. Slightly stir then allow to sit for 5 minutes. Check for bubbles. If it froths and bubbles then move onto the next step. If it doesn't, give it a bit longer. If it still doesn't you may need a new batch of yeast.
Add the vegetable oil and salt to the yeast mixture and mix, using the dough hook, for 1 minute.
Start to add the flour, little by little until totally incorporated. Allow the dough hook to work the dough on low speed for a minute or two.
Feel the dough, it should freely come away from the bowl and your fingers without being too sticky. Take the dough and sit on a piece of plastic wrap while you spray the bowl with cooking spray. Then put the dough back into the bowl.
Cover with a kitchen towel and allow to rise in a warm place for two hours (or until doubled in size).
Punch the dough down, then take half of the dough and roll out into a long rectangle on a well floured surface.
Take the melted butter and pour half of it over the rectangle, leaving the edges.
In another smaller mixing bowl add the brown sugar and cinnamon and mix with a whisk.
Sprinkle 1 cup sugar mixture on to the dough with the butter.
Press down slightly with your fingers, then roll the dough on the long side of the rectangle.
Taking a sharp knife cut the roll in half, then each half in half again, until you have 16 even slices (ish) - discard any end pieces.
Carefully lay the cinnamon roll slices in a greased 9x13" baking dish.
Pour ¼ Cup of warm evaporated milk all over the rolls. I actually use a spoon for this so that it's evenly poured.
Allow to sit for 30 minutes to rise again. Turn on your oven to 350°F to preheat.
Once the rolls have risen again place in your preheated oven and bake for 20-25 minutes, until nicely golden brown.
Remove and allow to cool. While they're cooling mix your icing ingredients then spread all over the top of the rolls - while they're still a little warm.
Notes
Although pouring the evaporated milk is not a traditional Amish way of making these cinnamon rolls, I like to add that step to make the rolls extra gooey and delicious. You can eliminate this step if you prefer.
This recipe makes two batches of cinnamon rolls (12-16 rolls). Either bake the second batch right away, if you plan on a lot of visitors or are cooking for a lot. Or you can do like I do and freeze the second batch. Just go ahead and prepare the dough like you did in the first batch but once you have them rolled up and sliced, place them in a freezer safe dish - cover and freeze. Just remove the night before you wish to bake them and they'll thaw and rise like you need.
Recommended Products
As an Amazon Associate and member of other affiliate programs, I earn from qualifying purchases.
Nutrition Information
Yield

24
Serving Size

1
Amount Per Serving
Calories

320
Total Fat

11g
Saturated Fat

5g
Trans Fat

0g
Unsaturated Fat

5g
Cholesterol

22mg
Sodium

191mg
Carbohydrates

52g
Fiber

1g
Sugar

27g
Protein

4g