This Amish Pumpkin Pie Recipe is made using pantry staples for the most part. Deliciously creamy, sweet cinnamon and a hint of nutmeg give all those great fall flavors.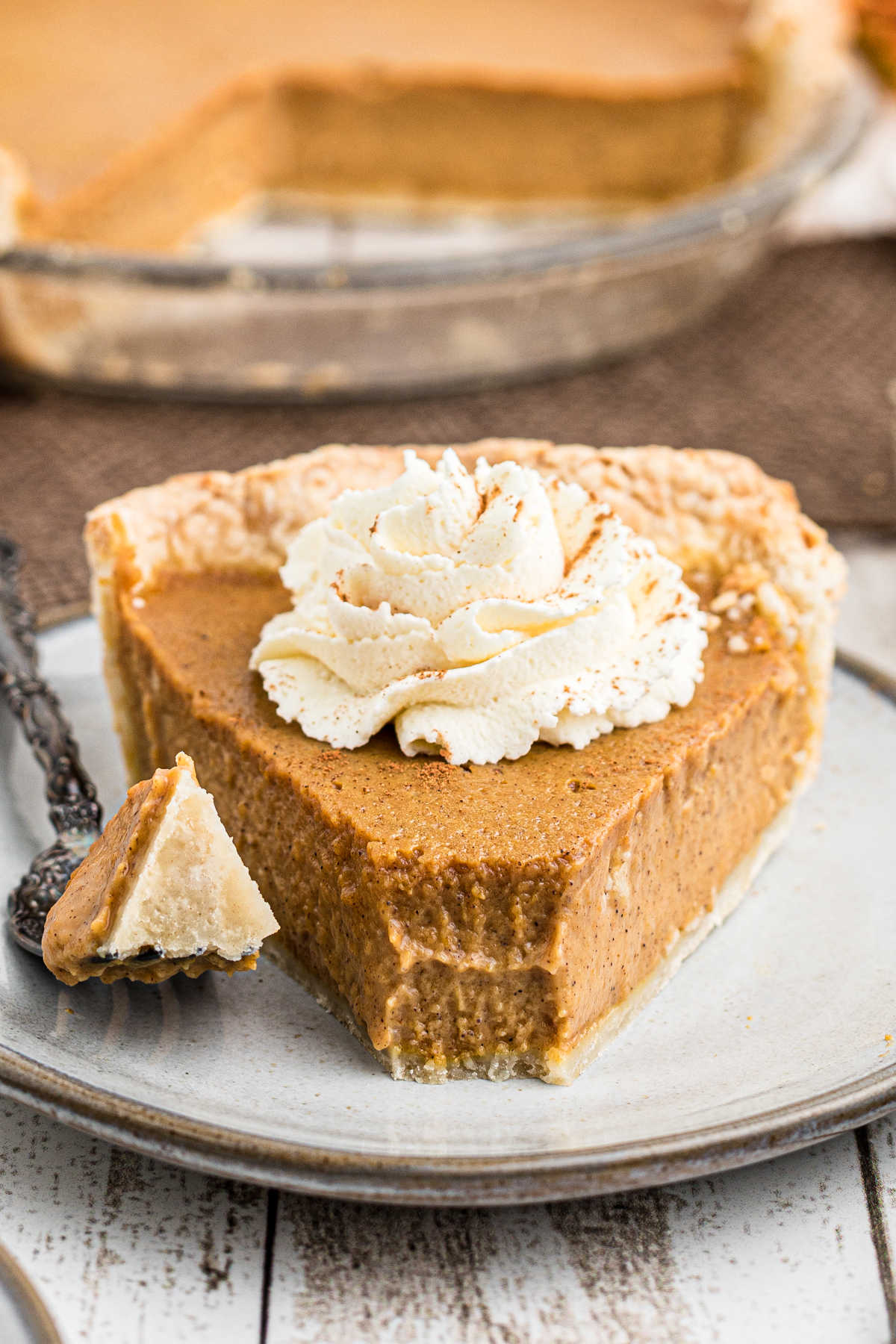 An Amish recipe is usually easy, fuss free and fresh without the need for the grocery stores (ish). A delicious dessert homemade.
Jump to:
❤️ Why you'll love it
This pie crust recipe is my favorite, it works with any pie and eliminates the need for cutting the butter in. It makes the best pumpkin pie.
It's so pretty that everyone will be impressed, without realizing it was so easy! A perfect fall dessert.
It's the perfect pie for a Thanksgiving feast!
🧅 Ingredients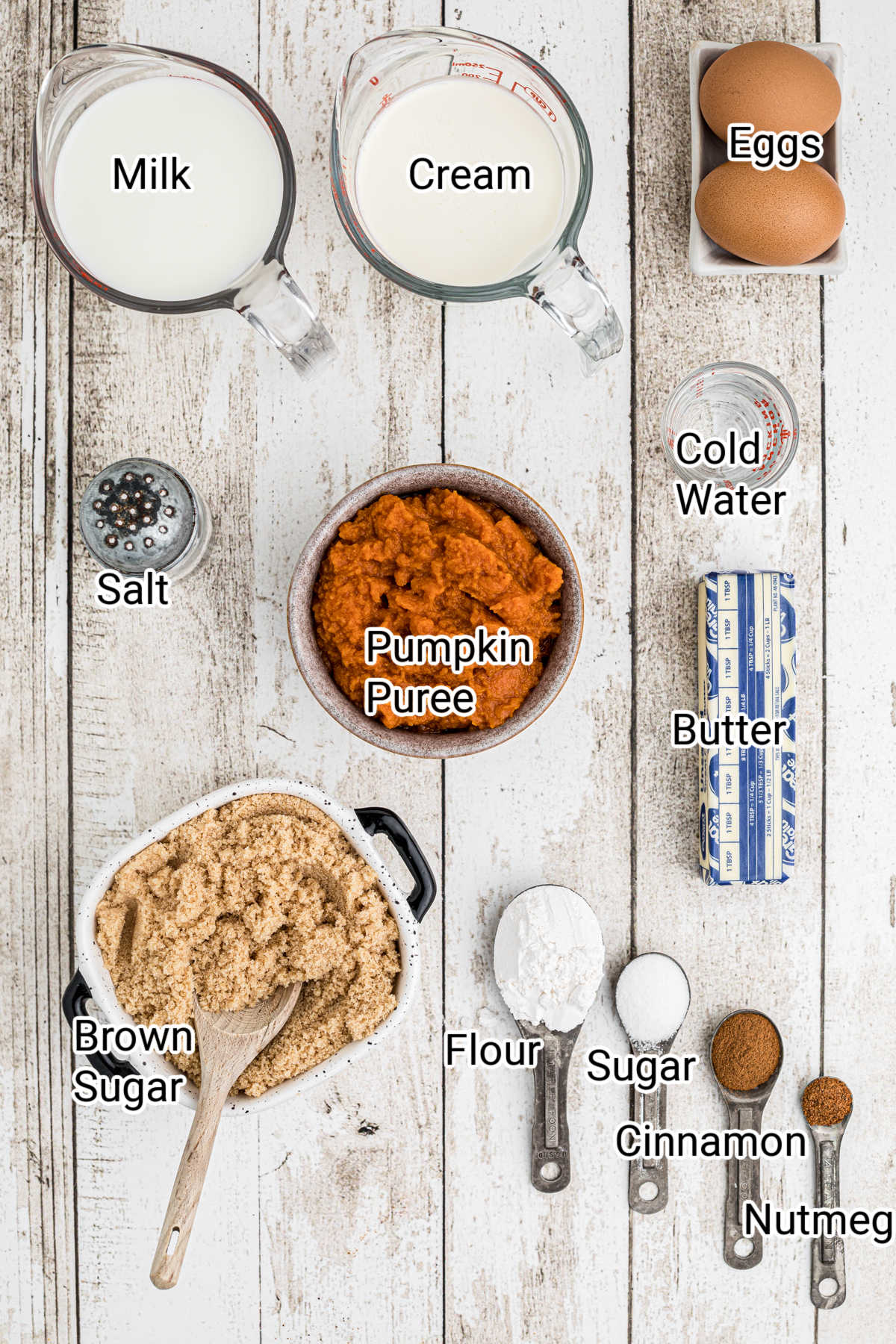 All purpose flour
Unsalted Butter
Granulated Sugar
Salt
Ice Water
Eggs
Brown Sugar
Cinnamon
Nutmeg
Whole Milk
Heavy Cream
Canned Pumpkin
See recipe card at the bottom of this post for quantities.
🥣 Instructions
Step 1: Place the stick of butter into the freezer for 30 minutes. Mix flour, salt and white sugar together in a mixing bowl with a whisk.
Step 2: Once the butter has been in the freezer long enough take it out and using a grater grate it into the flour mixture. Stir occasionally to avoid the butter clumping up.
Step 3: Add the cold water and mix together until it comes together and you can knead the dough. Add more water a little at a time if needed.
Step 4: Mold into a flat (ish) disk and wrap in cling film. Place in the refrigerator while you make the filling.
Step 5: Preheat the oven to 400 degrees f. In another large bowl add the brown sugar and flour and mix well.
Step 6: Beat the egg whites and egg yolks and add to the sugar flour mixture. Stir well to incorporate.
Step 7: Add the cinnamon, nutmeg, pumpkin, milk and cream to the bowl and mix well. Set aside.
Step 8: Remove the dough from the refrigerator and roll out into a large ¼" circle, large enough to cover a 9" pie dish and hang over. Using your fingers and knuckles flute the edges of the pie. Put the pie crust back into the refrigerator for 10 minutes to harden some more, then pour the pie filling into the unbaked pie crust and put straight into the oven.
Step 9: Bake at 400°F for 10 minutes, then turn down to 350°F and bake a further 45 minutes. Remove from the oven and allow to cool completely before storing in the refrigerator.
Hint: Keep an eye on the pumpkin pie in the oven. If it looks like the crust is getting too dark then cover with some foil (just the crust edges) or a pie crust liner for the remainder of the cooking time.
The top of the pie may darken a little and when you take the pie out it will still jiggle like it hasn't set. It will actually set up as it cools.
🔄 Substitutions and Variations
Pumpkin Pie Spice - You could use 2 teaspoons of this, instead of the cinnamon and nutmeg.
Unbaked Pie Shell - feel free to use a store-bought refrigerated pie crust to free up some time. A store-bought crust is not as good as this homemade version - but it will do in a pinch.
Fresh Pumpkin - if you have some fresh pumpkin and want to make your own pumpkin purée - that's great.
Cream Cheese - some people add cream cheese to their pumpkin pie.
Vanilla Extract - you could add a teaspoon vanilla.
Condensed Milk - often used, or evaporated milk too.
❤ Sharing is Caring - Like Our Facebook Page ❤
🔌 Equipment
First things first. You'll need a 9" Pie dish, ceramic or glass is the best. Also some mixing bowls and a rolling pin to roll out the pie crust.
I have some affiliate links in the bottom of this post if you want more information on what I used.
🧊 Storage
Once the Amish Pumpkin Pie has cooled completely it should be stored in the refrigerator, covered to keep the air from drying it out.
It will stay fresh in the refrigerator for 4-5 days.
🥧 More Pie Recipes
💡 Tips
Expert Tip: Due to the quantity of butter in the pie crust it needs to be especially chilled. Don't risk it, if the dough has warmed up even a little it will melt before setting. Follow the refrigeration instructions for best results.

Due to the length of time this pie bakes for there's no need to blind bake the pie crust.
If you like pumpkin desserts then you will love these Pumpkin Truffles from my friend over at Juggling Act Mama. They're delicious.
You could also try my Pecan Pie, it's another traditional fall dessert.
👩‍🍳 FAQs
Why is pumpkin pie not healthy?
There's a lot of fat and sodium in this pie so, if you are trying to eat healthier you might want to keep this recipe but make mini pumpkin pies to try to cut down on the portion size maybe.
Does pumpkin make you poop?
Lol, pumpkin is an excellent laxative, so yes. It does in fact, especially in the right quantities.
Is pumpkin pie an American thing?
Totally. Especially around Thanksgiving, this Amish Pumpkin Custard Pie Recipe goes back a long way - swapping out the canned pumpkin for fresh cooked pumpkin puree the recipe goes back even further.
What's the difference between an Amish Pumpkin Pie Recipe and a traditional pumpkin pie?
Typically, when you think of Amish cooking then you're looking at simplified, easy ingredients and homemade. A traditional pumpkin pie might have more spices/steps.
---
If you've tried these Amish Pumpkin Pie Recipe or any other great recipe on my site, let me know in the comment section below, how it turned out, we love hearing from our readers! If you love this recipe please give it 5 stars! ⭐️⭐️⭐️⭐️⭐️
You can also follow me on PINTEREST, FACEBOOK and INSTAGRAM to see more amazing recipes!
Amish Pumpkin Pie Recipe
Butter Freezing Time:
30 minutes
Total Time:
1 hour
40 minutes
Creamy, sweet cinnamon flavored pumpkin with a finish of nutmeg. This Amish Pumpkin Pie Recipe is my favorite fall dessert recipe.
Ingredients
Pie Crust
½ Cup Unsalted Butter, cold
1-¼ Cups All Purpose Flour
1-½ Teaspoons Granulated Sugar
½ Teaspoon Salt
2-3 Tablespoons Iced Water
Pie Filling
1 Cup Light Brown Sugar
1-½ Tablespoons All Purpose Flour Flour
2 Large Eggs, Beaten
2 Teaspoons Cinnamon
½ Teaspoon Nutmeg
1 Cup Whole Milk
¾ Cup Heavy Whipping Cream
1 Cup Pureed Pumpkin
Instructions
Place the stick of butter into the freezer for 30 minutes.
In a large mixing bowl measure the flour, sugar and salt and mix with a whisk.
Once the butter has been in the freezer for 30 minutes use a grater and quickly grate the butter into the flour. Every once in a while stir the butter shavings into the flour so that it doesn't clump together.
Mix all together then add the cold water. The dough should be coming together so knead together for about 2 minutes. Wrap in cling wrap and place into the refrigerator.
Turn on the oven and preheat to 400°F. In another mixing bowl add the brown sugar and flour and mix together.
Beat the eggs and add to the sugar/flour mixture. Stir together until mixed through.
Add the remaining ingredients and mix well.
Remove the dough from the refrigerator and roll out to a large circle. Line a 9" pie dish with the dough hanging over the sides and using your fingers and knuckles flute the edges of the dough.
Place the prepared pie crust back into the refrigerator to harden some more. Give it about 15 minutes then remove and fill the pie with the pumpkin pie filling. Place in the oven and bake for 10 minutes.
Turn down the oven temperature to 350 and bake a further 45 minutes.
Remove from the oven and allow to cool to room temperature on a wire and rack. Refrigerate before serving.
Notes
You could serve with a swirl of whipped cream on top, sprinkled with cinnamon (like in my image).
You could use a store-bought pie crust if you don't want to go through making a homemade pie crust.
This really is the perfect pumpkin pie recipe and is also great for the holiday season, after Thanksgiving or Christmas dinner. Recipes for pumpkin pie from scratch will always be the best (in my opinion.
If you like pumpkin recipes, you should try my pumpkin spice box mix cookies, or my pumpkin spice donuts.
I'm sometimes asked why I don't use evaporated milk. From what I understand about evaporated milk it was what was used during the war when you couldn't get cream. Making a pumpkin pie with evaporated milk is a mute point now.
If you want to make a homemade pumpkin pie from a fresh pumpkin, I would bake the pumpkin first - then mash to create a homemade pumpkin puree. Then follow the rest of this recipe.
Recommended Products
As an Amazon Associate and member of other affiliate programs, I earn from qualifying purchases.
Nutrition Information
Yield

8
Serving Size

1
Amount Per Serving
Calories

605
Total Fat

23g
Saturated Fat

13g
Trans Fat

0g
Unsaturated Fat

8g
Cholesterol

105mg
Sodium

179mg
Carbohydrates

89g
Fiber

3g
Sugar

26g
Protein

12g