My grandma's Pecan Pie recipe is not unique. In fact, after researching it somewhat most Pecan Pies are made the same way. Just the fact that it was her that made it though, I reckon she stirred in a whole bunch of love to make it taste that good!
Next time try adding my Cranberry Orange Shortbread Cookies on the Thanksgiving Dessert table, next to grandma's old-fashioned Pecan Pie or my Amish Pumpkin Pie.
This recipe is a classic Thanksgiving dessert recipe, because pecan trees are ready to be picked during the fall! It also works for Christmas too. You could even give it as Christmas gifts.
Jump to:
Although you can serve Pecan Pie at room temperature, I like it to be slightly warm, with a scoop of ice-cream on top starting to melt.
I have another classic dessert you may be interested in too, my Louisiana Crunch Cake is really popular for a reason!
🧅 Ingredients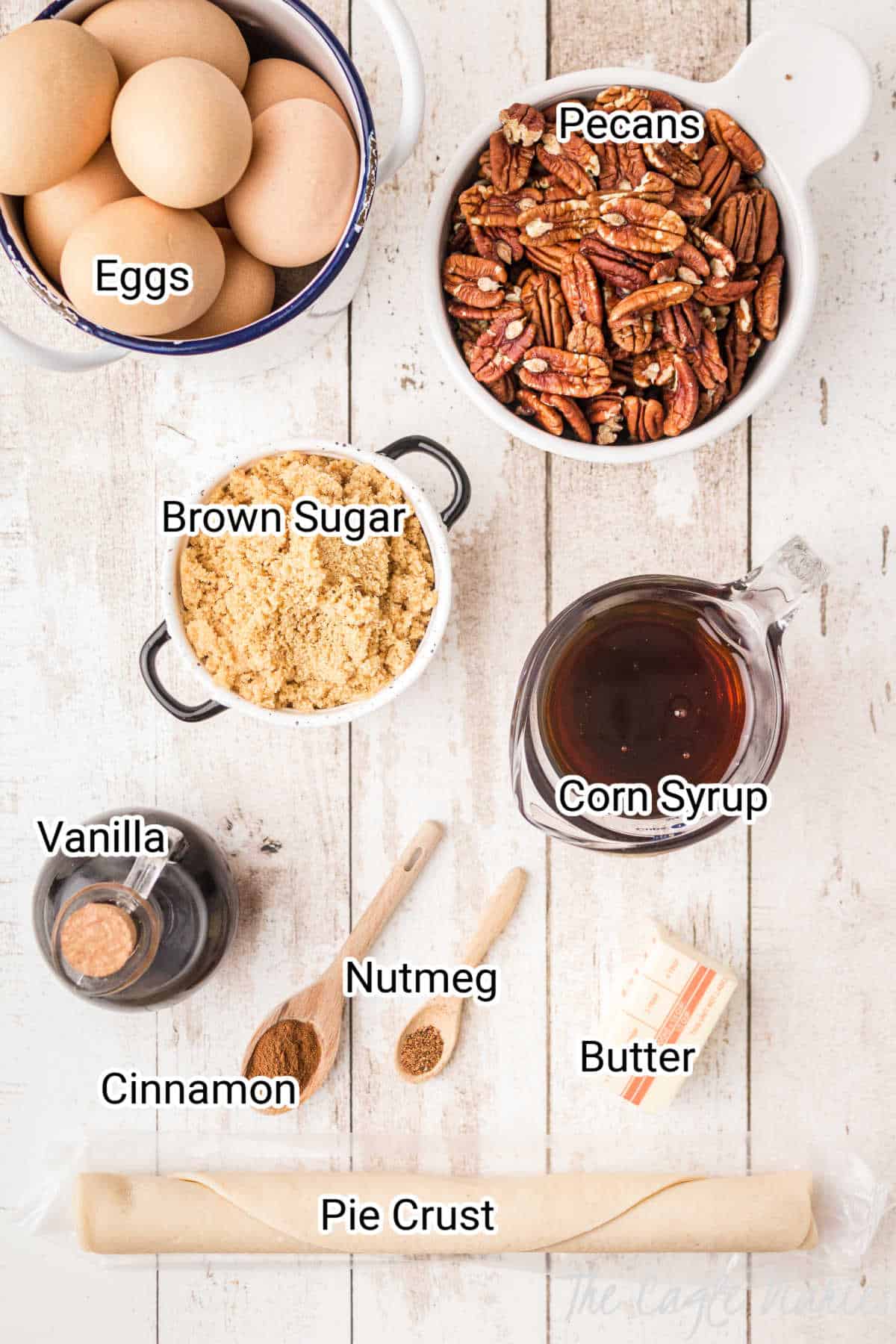 Chilled Pie Crust (flaky crust preferably)
Pecans, chopped
Butter, unsalted
Light Brown Sugar
Cinnamon
Nutmeg
Corn Syrup
Vanilla, extract
Large Eggs, beaten
Corn syrup gets a whole lot of bad rap. I don't really know, I'm not an expert where that's concerned. Pretty much anything processed is always going to be on the bad side. However, what have you ever known that's super delicious, that's not bad for you? I'm a firm believer in moderation. Moderation is key. Go ahead and enjoy that corn syrup, so long as you're not eating the whole pie (I've often thought about it though, lol)
See recipe card at the bottom of this post for quantities.
❤ Sharing is Caring - Like Our Facebook Page ❤
🥣 Instructions
Step 1: Prepare the pie crust in a 9-inch pie dish, then place in the refrigerator to keep cool.
Step 2: Melt the butter with the sugars and syrup.
Step 3: Add the nutmeg and cinnamon, stir well and remove from the heat. Allow to cool somewhat for a couple of minutes then add the beaten eggs and stir a lot with a wire whisk so as to not allow the eggs to form.
Step 4: Remove the pie pan from the refrigerator and add the pecans to the crust. Pour the sugar butter mixture on top of the pie, the pecan halves will float to the top naturally.
Step 5: Bake for 50 minutes and allow to cool on a wire rack and set.
I thought about trying to come up with a way to eliminate corn syrup from my recipe, as there are a lot of people who are steering away from the processed ingredients. It's so difficult though, in order for it to be the best Pecan Pie you ever tasted, I believe that it's an important ingredient. To bind the simple sugars, butter and the eggs help too. It helps with that ooey gooey texture.
Hint: You could take this recipe and adjust the baking container, to a 8x8 square pan, and make Pecan Pie Bars.
🔄 Substitutions/Variations
Chocolate Pecan Pie- reduce the amount of pecans by half a cup, add half a cup of semi-sweet chocolate chips.
Toasted Pecan Pie - for even more depth of flavor toast the pecans before cooking.
Bourbon Pecan Pie - Replace the Vanilla Extract with 1 Tablespoon of a good quality Bourbon!
🥧 Other Great Pie Recipes
🧊 Storage
Once cooled completely store this in an airtight container (or cover the whole 9-inch pie plate with plastic wrap) and keep at room temperature for up to 3 days.
You can also freeze this homemade pecan pie, by putting into a freezer safe container, and freezing for up to 3 months. When thawing, place in the refrigerator and allow to thaw slowly.
👩‍🍳 FAQs
How to reheat pecan pie?
The best way to reheat pecan pie is to bake in a preheated oven for 15 minutes at 275°F. If it has been refrigerated, allow to come to room temperature first.
Can dogs eat pecan pie?
No, don't feed your dogs this dessert. Apart from the toxicity in the pecans the high sugar level will also cause a stomach upset.
💡 Tips
Expert Tip: Keep half of the buttery pecans to the side and once you have filled the pie crust with all the filling, arrange the whole pecans neatly to add to the beautification of your classic dessert! This pie makes a wonderful Thanksgiving dessert, or Christmas dessert.
---
If you've tried this Old Fashioned Pecan Pie or any other great recipe on my site, let me know in the comment section below, how it turned out, we love hearing from our readers!
If you love this recipe please give it 5 star rating ⭐️⭐️⭐️⭐️⭐️ .
You can also follow me on PINTEREST, FACEBOOK and INSTAGRAM to see more amazing recipes!
Pecan Pie
This classic southern dessert will have you asking for seconds in no time! Pecan Pie served warm with a 'dollop' of ice cream, It's a winner every time.
Ingredients
1 Refrigerated Pie Crust
1-½ Cups Pecans, chopped
4 Tablespoons Butter, unsalted
1 Cup Light Brown Sugar
1 Teaspoon Cinnamon
¼ Teaspoon Nutmeg
¾ Cup Corn Syrup
1 Tablespoons Vanilla Extract
3 Large Eggs
Instructions
Preheat oven to 350°F.
Arrange the crust in a glass/ceramic pie dish (9") then place in the refrigerator while you prepare the rest.
In a pot heat the butter, sugar, vanilla and corn syrup until the sugar is melted.
In a medium bowl, beat the eggs with the cinnamon and nutmeg.
Allow the sugar mixture to cool slightly before adding the egg mixture, constantly stirring so that the egg doesn't form.
Remove the pie crust from the refrigerator and add the chopped pecans evenly over the bottom (the pecans will rise to the top during cooking)
Fill the pie crust with the butter/egg mixture.
Bake for 50 minutes. If it looks like the edges of the crust are browning too fast use foil to cover.
Notes
This pie is our favorite recipe and is delicious even with a store bought pie crust (pie dough), but if you have your own pastry recipe feel free to use it. It's perfect as a dessert at Thanksgiving dinner, it's right up there alongside a pumpkin pie and apple pie.
I found using a glass/ceramic dish to yield best results.
Crunchy pecans work the best in this classic pecan pie... make sure yours are fresh.
You could use a light corn syrup if you prefer, or I've also heard people use pure maple syrup too.
Grab yourself a large bowl and add a scoop of vanilla ice cream for the best taste!
A bit of trivia.... did you know that Pecan Pie goes as far back as the late 1800s?
Nutrition Information
Yield

8
Serving Size

1
Amount Per Serving
Calories

538
Total Fat

32g
Saturated Fat

8g
Trans Fat

0g
Unsaturated Fat

22g
Cholesterol

85mg
Sodium

189mg
Carbohydrates

62g
Fiber

3g
Sugar

49g
Protein

6g