If you like pumpkin pie then you're going to love this white pumpkin pie. The flavors of white pumpkins are very similar although a little sweeter, so you don't need as much sugar in your recipes.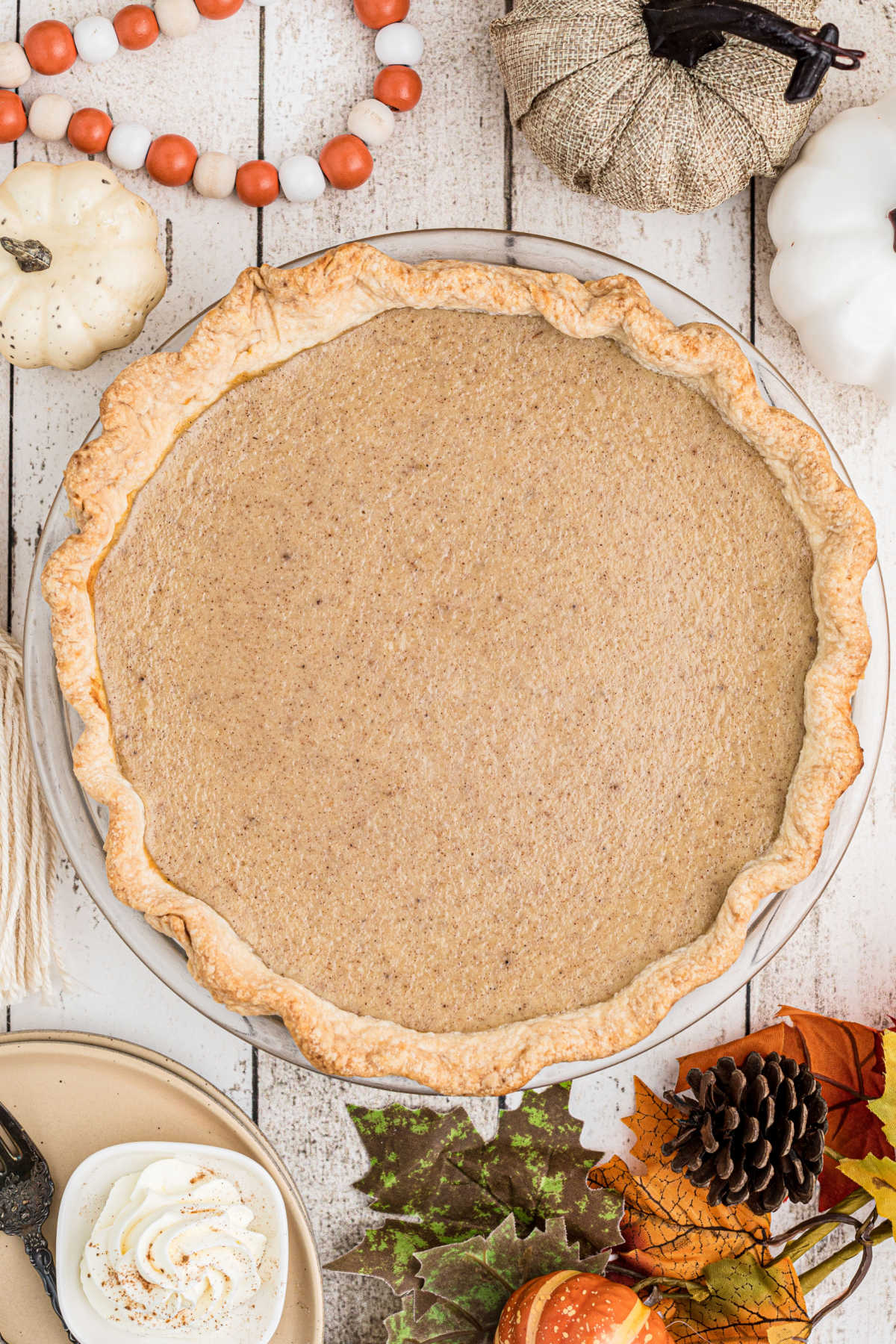 White pumpkins tend to be available during September through November. You'll often see them with their orange sisters at your local pumpkin patch and large grocery stores.
Jump to:
❤️ Why you'll love it
As mentioned, it is sweeter so you'll be using less processed sugar in your recipes.
Who doesn't like showing up with something a little different. Bring this white pumpkin pie recipe to your next family gathering or pot luck (during the fall).
A homemade pumpkin pie is so comforting and just the smell can really get you into the fall spirit.
It's an easy recipe for the holiday season with no real difficult steps.
🧅 Ingredients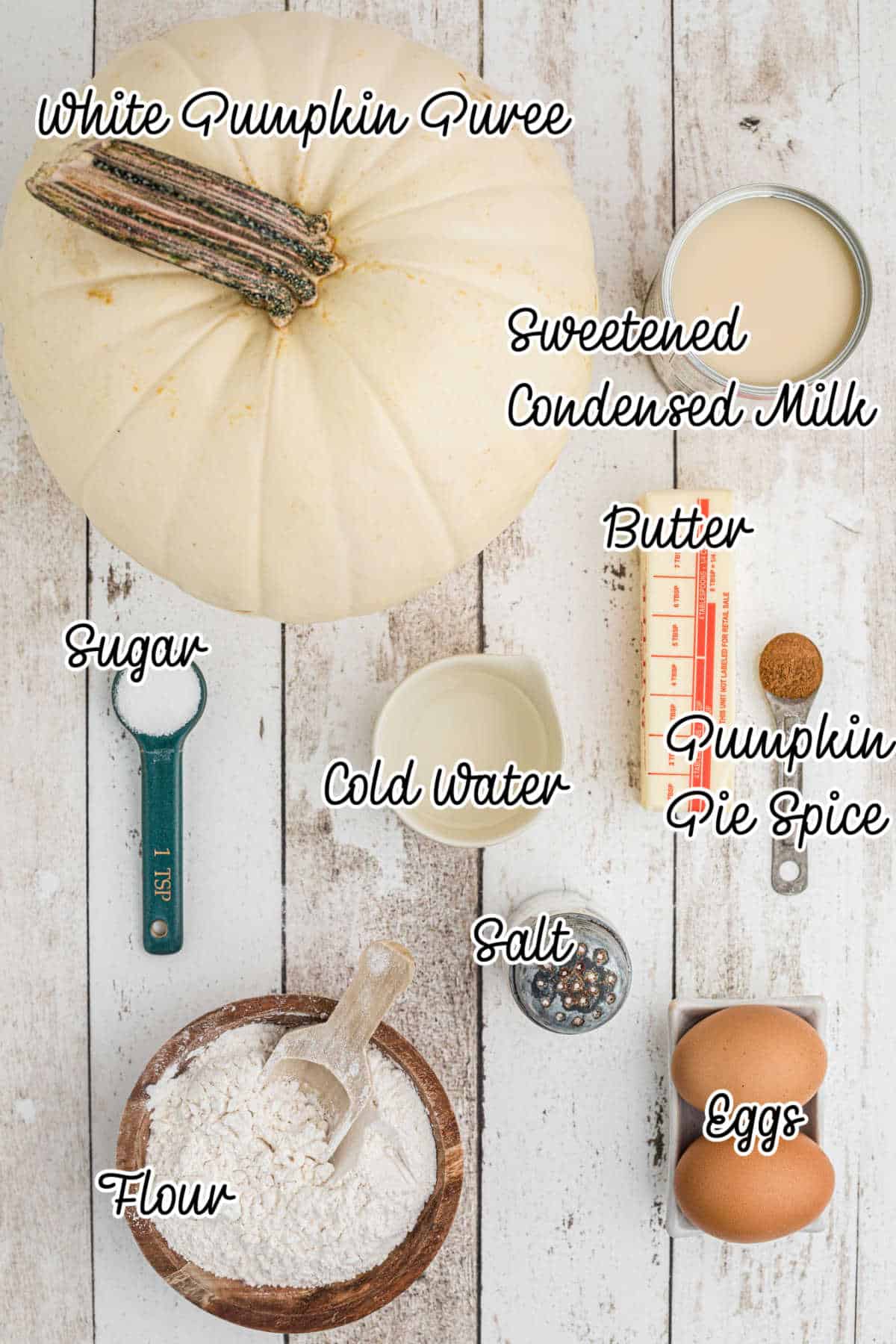 White Pumpkin
Flour
Butter, unsalted
Granulated Sugar
Salt
Cold Water
Sweetened Condensed Milk
Eggs
Pumpkin Pie Spice
See recipe card at the bottom of this post for quantities.
🥣 Instructions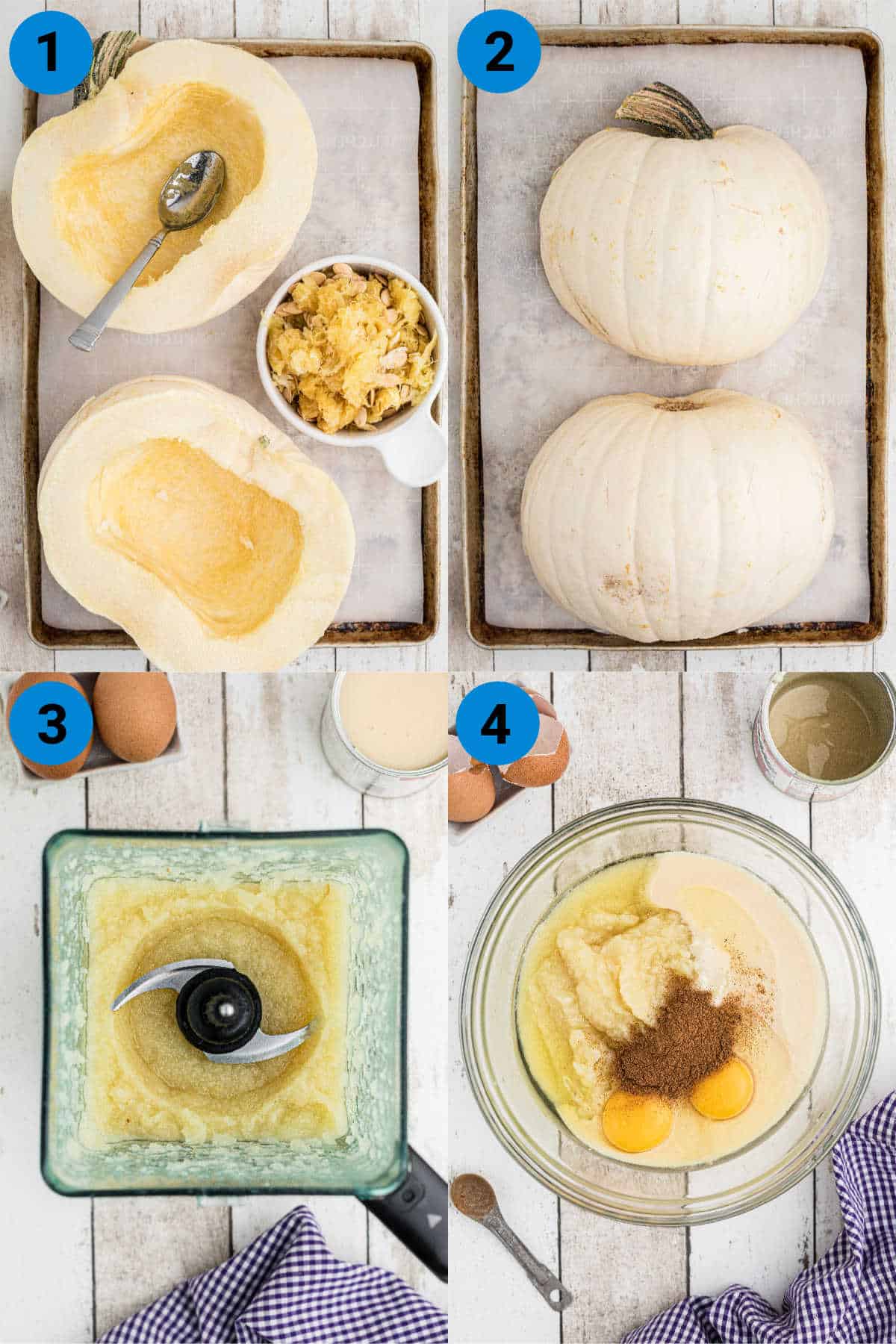 Step 1: Cut your white pumpkin in half. Remove the seeds and middle flesh with a spoon and discard.
Step 2: Lightly grease the surface of the inside of the pumpkin (I like to use coconut oil) and lightly sprinkle some salt. Turn over so that it's face down on a lined baking sheet lined with parchment paper. Bake in a preheated oven for 1 hour (then see Step 5).
Remove and allow to cool a little before scooping the soft cooked pumpkin into a large bowl.
Step 3: Once the pumpkin has cooled completely use a blender or food processor to make a pumpkin puree.
Pass through a sieve to catch any burnt pieces from baking or and stringy parts.
Step 4: Add 2 cups of the pumpkin puree to a large mixing bowl along with the 2 eggs, condensed milk and pumpkin pie spice. Stir carefully until totally combined. Don't be too vigorous as you don't want to incorporate air (that will create bubbles and the finished pumpkin pie filling won't be as smooth).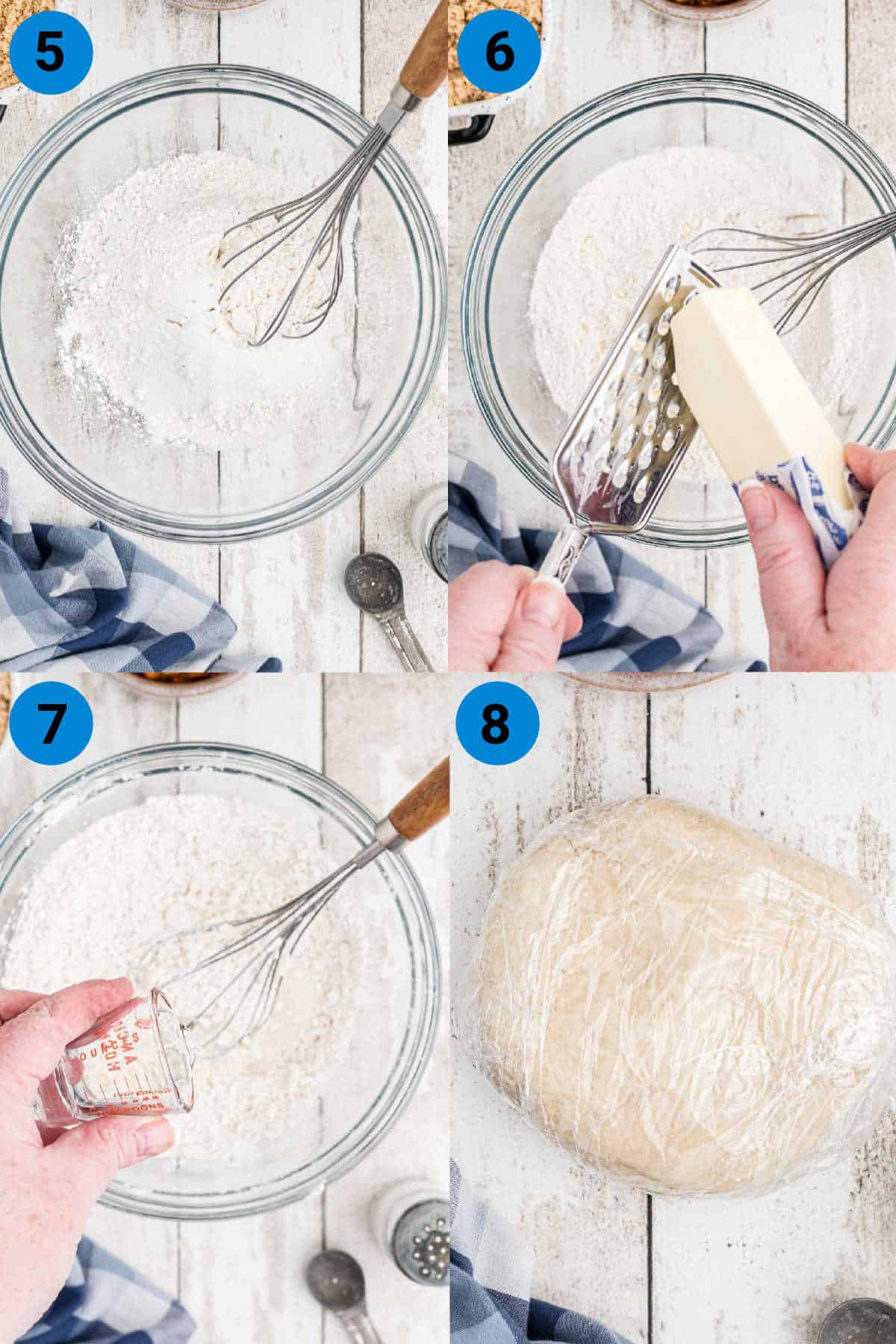 Step 5: While the pumpkin is baking add the flour to a mixing bowl, with the salt and sugar and mix.
Step 6: Grate the frozen butter into the flour, stirring occasionally so that it doesn't stick together.
Step 7: Add the cold water until a good dough texture has formed.
Step 8: Knead for 2 minutes then create a disk. Wrap in plastic wrap and place in the refrigerator.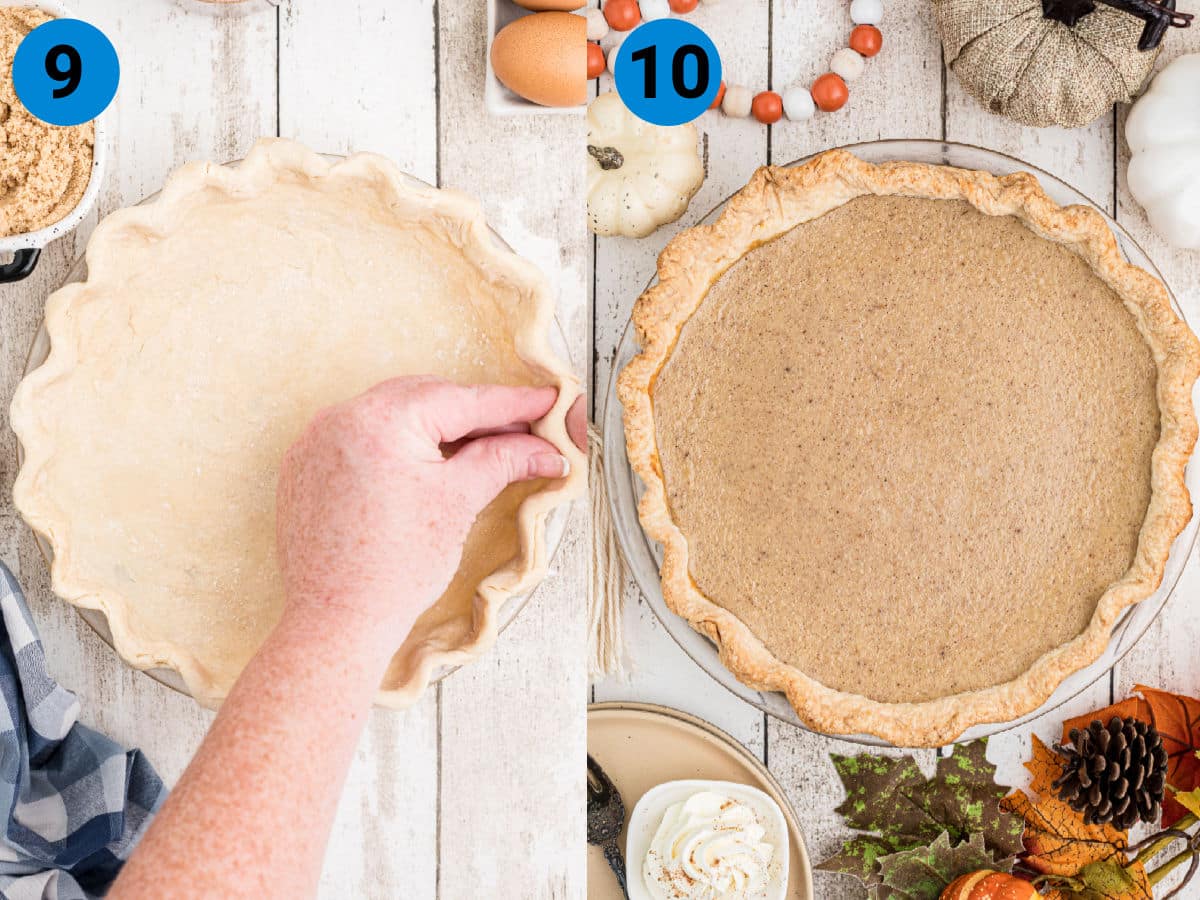 Step 9: Remove the cold pie dough from the refrigerator and roll out with a rolling pin. Drape over a pie dish then flute the edges.
Step 10: Pour the white pumpkin mixture into the pie shell and bake in a preheated oven.
Hint: Allow to cool completely on a wire rack at room temperature before placing into the refrigerator.
🔄 Substitutions and Variations
Orange Pumpkins - instead of the white pumpkin.
Brown sugar - can be substituted instead of the white sugar.
Canned Pumpkin - can be used instead of the homemade pumpkin puree.
Store-bought Crust - instead of a homemade pie crust (or a frozen crust).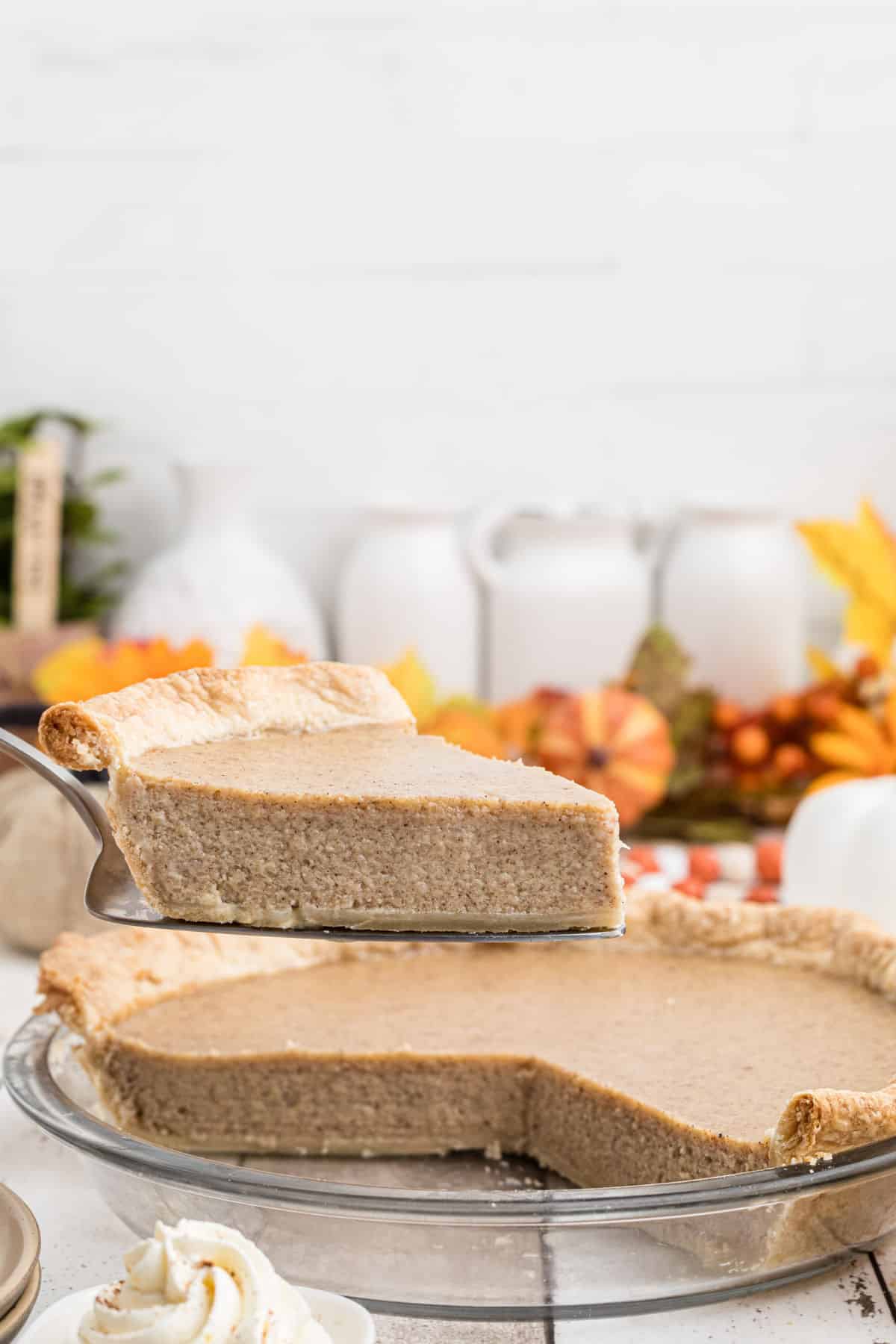 ❤ Sharing is Caring - Like Our Facebook Page ❤
🔌 Equipment
The following are affiliate links. We are a participant in the Amazon Services LLC Associates Program, an affiliate advertising program designed to provide a means for us to earn fees by linking to Amazon.com and affiliated sites.
I used a baking sheet to bake the white pumpkin on. I also used a blender to puree the cooked pumpkin flesh.
I used mixing bowls and a mixer to incorporate all ingredients.
A 9" Pie Dish was used to bake the pumpkin pie in.
I have affiliate links in the recipe card below for all these items.
🎃 Other Favorite Pumpkin Recipes
If you like pie you have to try my Grandma's Sweet Potato Pie Recipe. It's the best you'll ever make using my Amish Pie Crust Recipe.
🧊 Storage
Once cooled completely store this white pumpkin pie in the refrigerator, covered with plastic wrap. It will be good for up to 5 days.
Add any whipped cream toppings as you serve.
💡 Tips
Expert Tip: Serve with fresh whipping cream, heavy cream or vanilla ice cream to enhance the best pumpkin pie flavors.
---
If you've tried this White Pumpkin Pie Recipe or any other great recipe on my site, let me know in the comment section below, how it turned out, we love hearing from our readers!
If you love this recipe please give it 5 stars! ⭐️⭐️⭐️⭐️⭐️
You can also follow me on PINTEREST, FACEBOOK and INSTAGRAM to see more amazing recipes!
White Pumpkin Pie
Pumpkin Baking Time:
1 hour
Total Time:
2 hours
15 minutes
A slightly sweeter version of the fall classic, this white pumpkin pie is just as soft and tender and fall of fall flavors.
Ingredients
1 White Pumpkin, medium size
3 Teaspoons Salt, divided
2 Large Eggs
1 (14oz) Can Sweetened Condensed Milk
1 Teaspoon Pumpkin Pie Spice
½ Cup Butter, unsalted, cold/frozen
1-¼ Cups All Purpose Flour
1-½ Teaspoons Granulated Sugar
3 Tablespoons Cold Water
Instructions
Preheat the oven to 375°F
Cut the white pumpkin in half (carefully). Using a spoon scoop all the seeds and stringy parts. Either keep the seeds for use later or just discard.
Rub a little oil over the flesh (i like to use coconut oil just because it's better in a dessert) then sprinkle with salt. Lay face down on a baking sheet lined with parchment paper then poke some holes through the back with a shape knife.
Bake in the oven for about an hour (see step 7). When you take it out you should be able to scoop the pumpkin flesh away from the skin easily.
Add to a blender and blend until totally mixed and blended.
Pass through a sieve so that most of any fluid is out. Add two cups of the pumpkin puree to a mixing bowl with the eggs, condensed milk, ¼ teaspoon salt and the pumpkin spice. Mix together well with a whisk but don't get too vigorous that you incorporate bubbles.
While the pumpkin is baking in the oven add the flour, ½ teaspoon salt, and the sugar to a mixing bowl. Mix well with a whisk.
Grate the frozen butter into the flour mixture, in about four batches. Inbetween each batch stir the flour around the butter so that it doesn't stick.
Add the cold water then knead the mixture together for about 2-3 minutes. (you might need another little water). Make a disk then wrap in plastic wrap and refrigerate.
After the dough has refrigerated for about 20 minutes unwrap and lay on a floured surface and roll out with a rolling pin.
Lay the rolled out dough over a 9" pie dish. There should be plenty of extra hangover.
Tuck the sides under and create a fluted edge using fingers and thumbs. Add back to the refrigerator again.
Take the pumpkin filling and pour into the refrigerated pie crust. Put directly into the oven, preheated to 425°, for 15 minutes.
After those 15 minutes are up turn the temperature down to 350° and cook a further 30 minutes. The center of the pumpkin pie should be set.
Rremove from the oven when the center of the pie is set and allow to cool completely.
Notes
Add some whipped cream for extra optional topping.
If the edges of the pie crust start to brown too much use a pie shield.
If you're using a frozen pie crust and prefer to blind bake first, just bake with the filling at 350°F for 35-40 minutes.
Recommended Products
As an Amazon Associate and member of other affiliate programs, I earn from qualifying purchases.
Nutrition Information
Yield

6
Serving Size

1
Amount Per Serving
Calories

498
Total Fat

18g
Saturated Fat

11g
Trans Fat

0g
Unsaturated Fat

7g
Cholesterol

105mg
Sodium

1094mg
Carbohydrates

71g
Fiber

3g
Sugar

6g
Protein

12g