Lemon Blueberry Muffins with Sour Cream are one of my weaknesses. I love an opposites taste combo, like sweet and salty... well these have a hint of sourness from the lemon and a hint of of sweetness from the sugar and blueberries making for the perfect combination.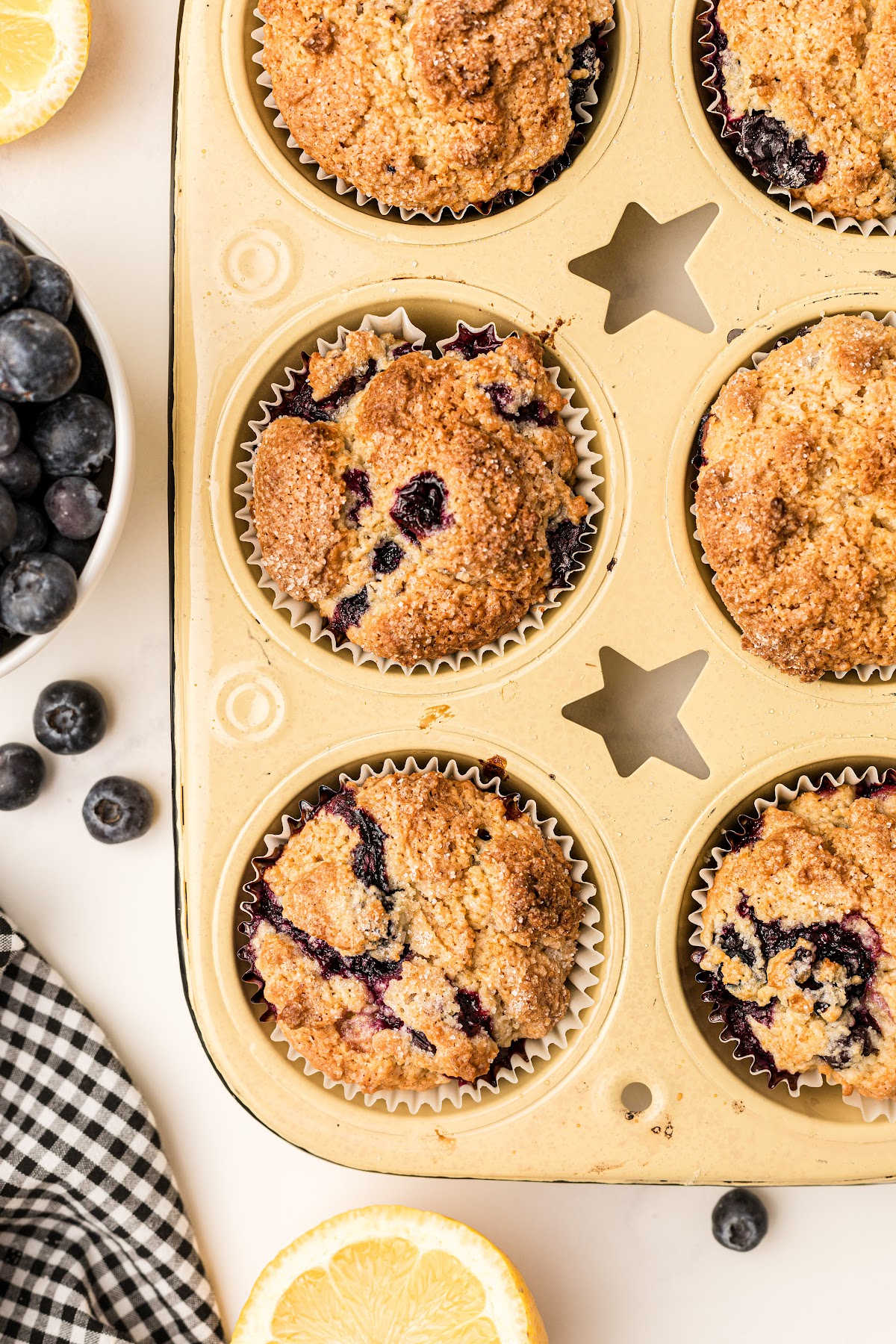 Good old fashioned blueberry muffins, just like the bakery makes, give you 'to die for blueberry muffins' (but with a hint of lemon!)
I like to grab one of these bakery-style muffins in the morning along with my cup of coffee. I feel they're the perfect breakfast snack.
They're not overly sweet with a moist crumb.
Jump to:
❤️ Why you'll love it
Those sweet juicy blueberries mixed with that slightly tangy lemon flavor really sets your tastebuds tingling. It's the perfect combination.
These muffins are also really easy to make too, what's not to love about that
You could make a lemon glaze for the muffin tops, as an easy change up.
🧅 Ingredients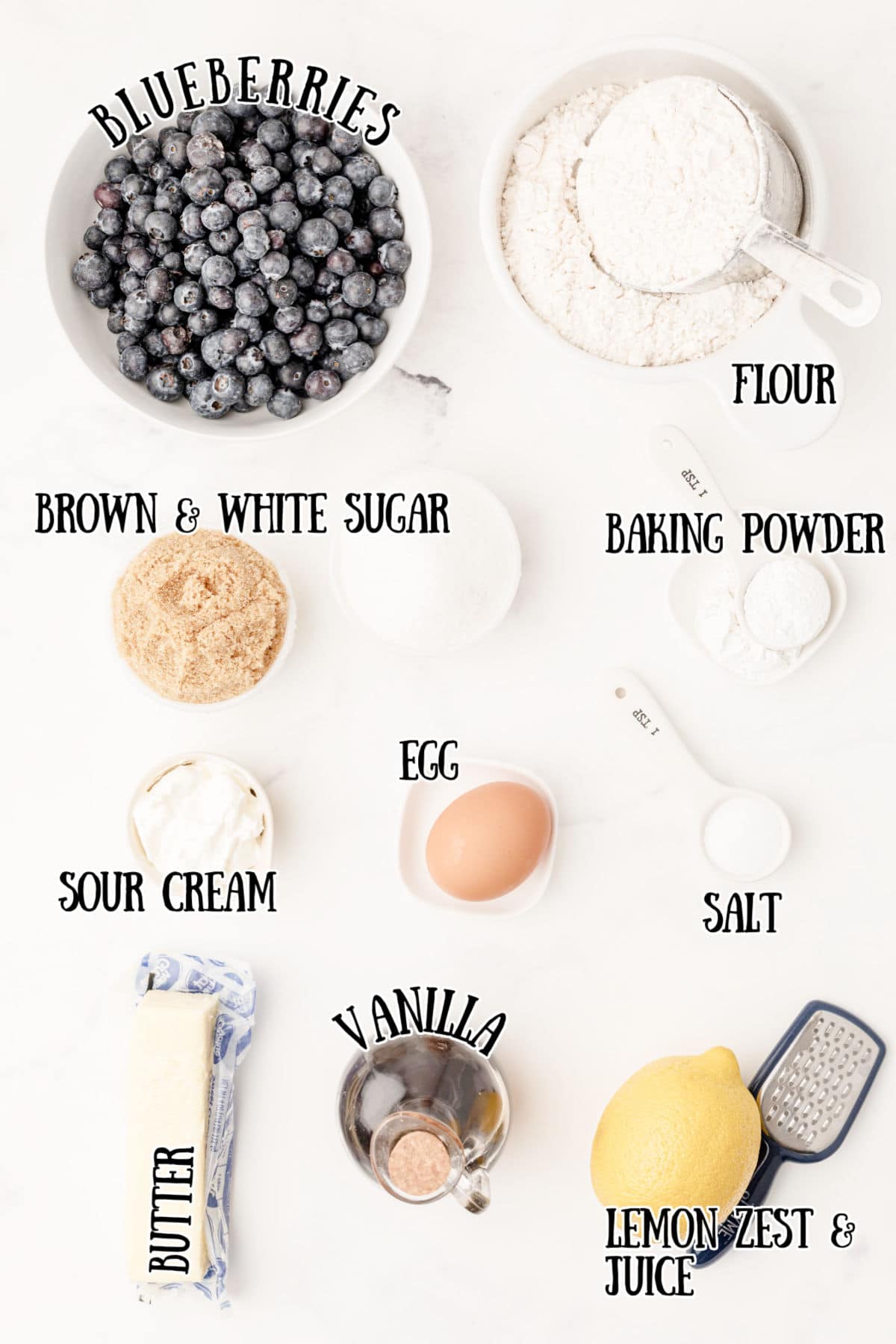 You will need:
Unsalted Butter, room temperature
Lemon Zest
1 Large Egg, room temperature
Vanilla Extract
Sour Cream
Freshly Squeezed Lemon Juice
Granulated Sugar
Light Brown Sugar
All Purpose Flour
Baking Powder
Salt
Blueberries
See recipe card at the bottom of this post for quantities.
🥣 Instructions
This is an overview of the recipe steps. For more detailed instructions visit the recipe card at the bottom of this post.
Step 1: In a large bowl mix the butter and lemon zest. Then add the egg, vanilla, sour cream and lemon juice. Mix well.
Step 2: Take ½ cup of the flour and mix with the blueberries so that they are all coated well.
Step 3: In a separate medium sized mixing bowl add the sugars, remaining flour, baking powder and salt.
Step 4: Mix those ingredients well with a whisk.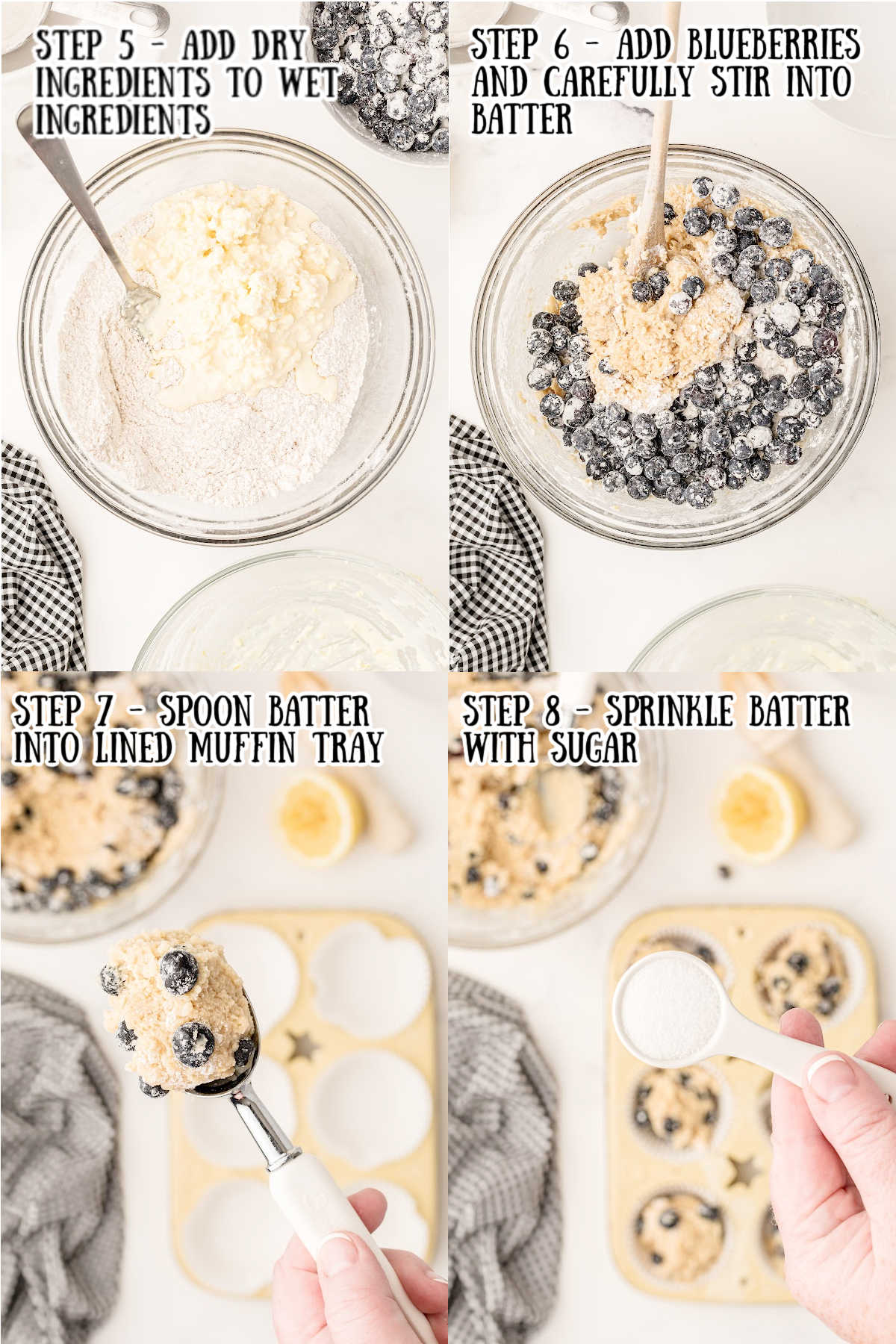 Step 5: Add dry ingredients to wet and mix until just combined (be careful not to overmix)
Step 6: Add blueberries and carefully stir into the batter.
Step 7: Spoon the batter into a muffin tray lined with muffin liners.
Step 8: Sprinkle Batter with Sugar
Hint: Use paper muffin cups (paper liners) to make removing the muffins from the baking tray easier.
🔄 Substitutions and Variations
You could use any other berries that you like in this recipe, if you want to take out the fresh blueberries, or maybe just half. Then mix in some blackberries, or raspberries... play away to your heart's content! Fresh berries are always great in muffins.
Instead of just the sprinkle of sugar on the top, like I do, you could opt for a lemon glaze. Which is just powdered sugar, butter, vanilla and lemon zest. You could also choose to go for a streusel topping too (sugar, butter, flour/oats). Some people like that too. I like the simplicity of the sugar sprinkled on top.
Instead of muffins you could make a Blueberry Muffin Bread. Use the same recipe but add the dough to a loaf pan and cook at 350°F for an hour (or so).
Turn these lemon blueberry muffins into mini muffins by using a mini muffin tray. You'll need to adjust the cooking time though.
❤ Sharing is Caring - Like Our Facebook Page ❤
🍽 How To Serve Muffins
This is all personal preference. I like to cut my muffin in half (still warm) and slather it with butter. Some people even eat ice cream with theirs. You could top with a sauce, or even create a different type of bread pudding (after they've staled a little!) What you do with your muffin is your own business 😉
🧊 Storage
Muffins can be stored at room temperature in an airtight container. Due to the moisture level it is best to store with a paper towel to help keep free from the moisture.
These muffins are also great to freeze. After they have cooled completely wrap in plastic wrap or foil and place inside a freezer safe container or a resealable bag. They will be good for 3 months.
💡 Tips
Expert Tip: For a little extra - make a sweet lemon glaze and drizzle over the top.
📘 More Breakfast Recipes:
👩‍🍳 FAQs
Can you freeze muffins?
Yes, definitely. Just wrap them in plastic wrap or foil and put into a freezer safe resealable bag. They will stay fresh for 3 months.
Muffin vs Cupcake - What's the difference between muffin and cupcake?
There's a few variances at work here. First, the batter is different. Usually a cupcake batter starts off with the butter and sugar being creamed together creating a lighter cupcake. A muffin is beaten very briefly so that the consistency remains quite dense.
A cupcake will also have a glaze or a frosting on top whereas a muffin may have a sprinkling of sugar or a crumb topping. Also, a cupcake needs to have a small dome in order to apply the frosting - a muffin is encouraged to have a bigger bloom at the top making it almost mushroom in shape.
What are Superhero Muffins?
I had been hearing about these muffins for a while so I had to look it up. They are muffins designed to hide secret veggies and where honey replaces sugar. They're designed for athletes and those wanting to eat well.
---
If you've tried these Lemon Blueberry Muffins With Sour Cream Recipe or any other great recipe on my site, let me know in the comment section below, how it turned out, we love hearing from our readers!
If you love this recipe please give it 5 stars! ⭐️⭐️⭐️⭐️⭐️
You can also follow me on PINTEREST, FACEBOOK and INSTAGRAM to see more amazing recipes!
Lemon Blueberry Muffins
These Lemon Blueberry Muffins are just like the bakery would make them. Delicious, sweet and tart. Eaten warm with a little butter this muffin is a perfect grab and go breakfast!
Ingredients
- ½ Cup Unsalted Butter, room temperature
- Zest of 1 Lemon
- 1 Large Egg, room temperature
- 1 Teaspoon Vanilla
- 5 Tablespoons Sour Cream
- 1 Tablespoon Freshly Squeezed Lemon Juice
- ½ Cup Granulated Sugar + 1 Tablespoon for sprinkling
- ½ Cup Light Brown Sugar
- 2 Cups All Purpose Flour, divided
- 2 Teaspoons Baking Powder
- 1 Teaspoon Salt
- 2 Cups Blueberries
Instructions
1. Preheat oven to 375°F.
2. In a large mixing bowl mix the butter and lemon zest. Then add the egg, vanilla, sour cream and lemon juice. Mix well.
3. Take ½ cup of the flour and mix with the blueberries so that they are all coated well.
4. In a separate medium sized mixing bowl add the sugars, remaining flour, baking powder and salt and mix with a whisk.
5. Add those dry ingredients to the wet ingredients and fold together with a spoon so as to not overmix.
6. Add the blueberries in flour and carefully fold into the dough.
7. Using an ice cream scoop, add one scoop to each liner in a muffin pan.
8. Sprinkle the 1 tablespoon of sugar evenly over the top of the muffins.
9. Bake in the oven for 25-30 minutes (until a toothpick comes out clean).
10. Remove from the oven and allow to cool for 5 minutes before moving the muffins to a cooling rack.
Notes
When making this lemon blueberry muffin dough it will seem as if the dough is too dry. It's not, it should be like that. Follow the recipe.
Recommended Products
As an Amazon Associate and member of other affiliate programs, I earn from qualifying purchases.
Nutrition Information
Yield

18
Serving Size

1
Amount Per Serving
Calories

160
Total Fat

6g
Saturated Fat

4g
Trans Fat

0g
Unsaturated Fat

2g
Cholesterol

26mg
Sodium

180mg
Carbohydrates

24g
Fiber

1g
Sugar

12g
Protein

2g