These super delicious New Orleans Style Biscuit Beignets are a total mom-hack! They are ready in less than 5 minutes and are simple to make.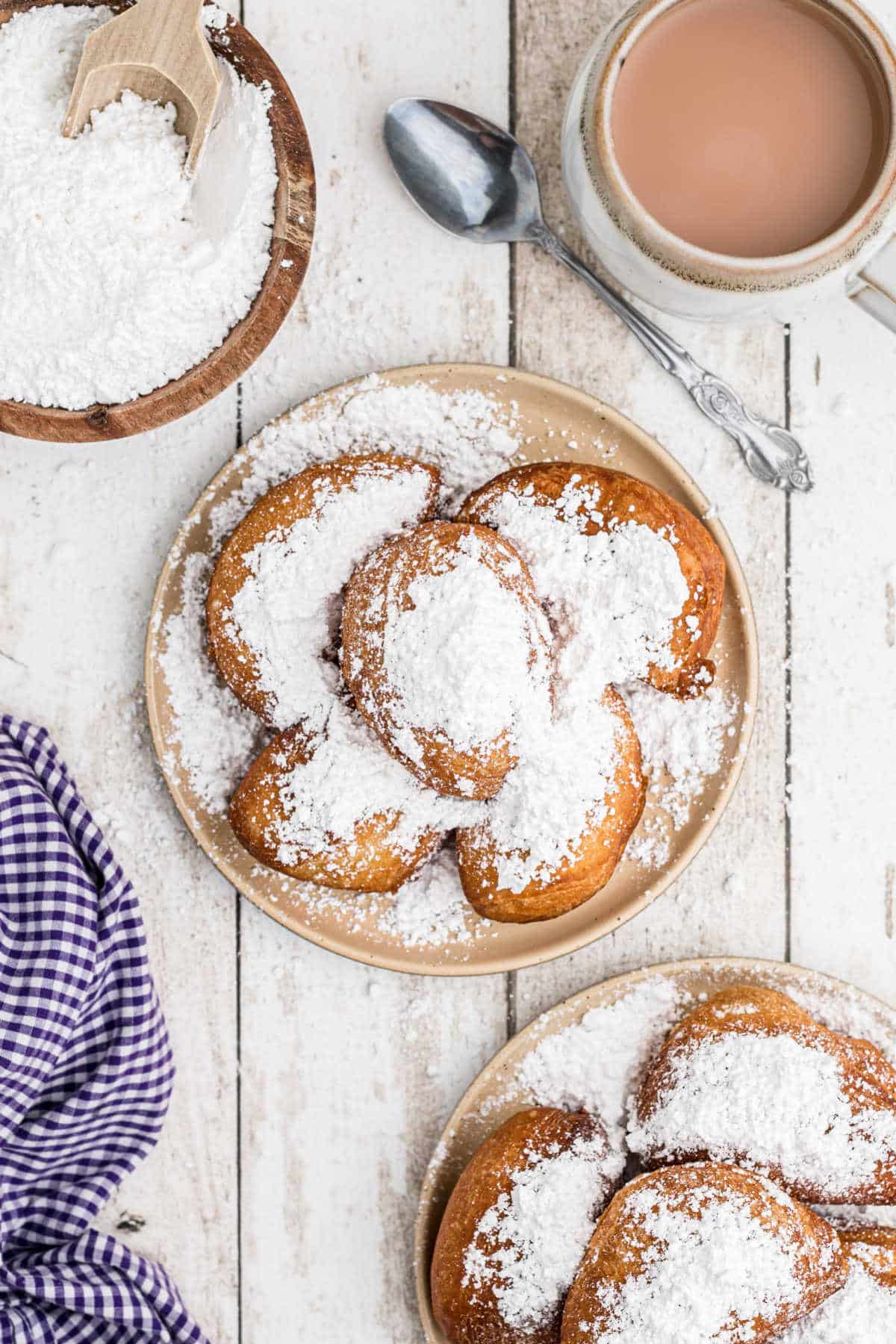 Jump to:
❤️ Why you'll love it
The first time I was introduced to beignets was watching the Disney movie that features them. Princess and the Frog beignets is how my daughter refers to them!
These biscuit beignets are ready in 5 minutes - literally (other than the time it takes to heat the cooking oil). Even though it's this simple they really do taste like the real deal from Cafe Du Monde.
Fresh hot beignets are hard to beat with a hot cup of coffee.
🧅 Ingredients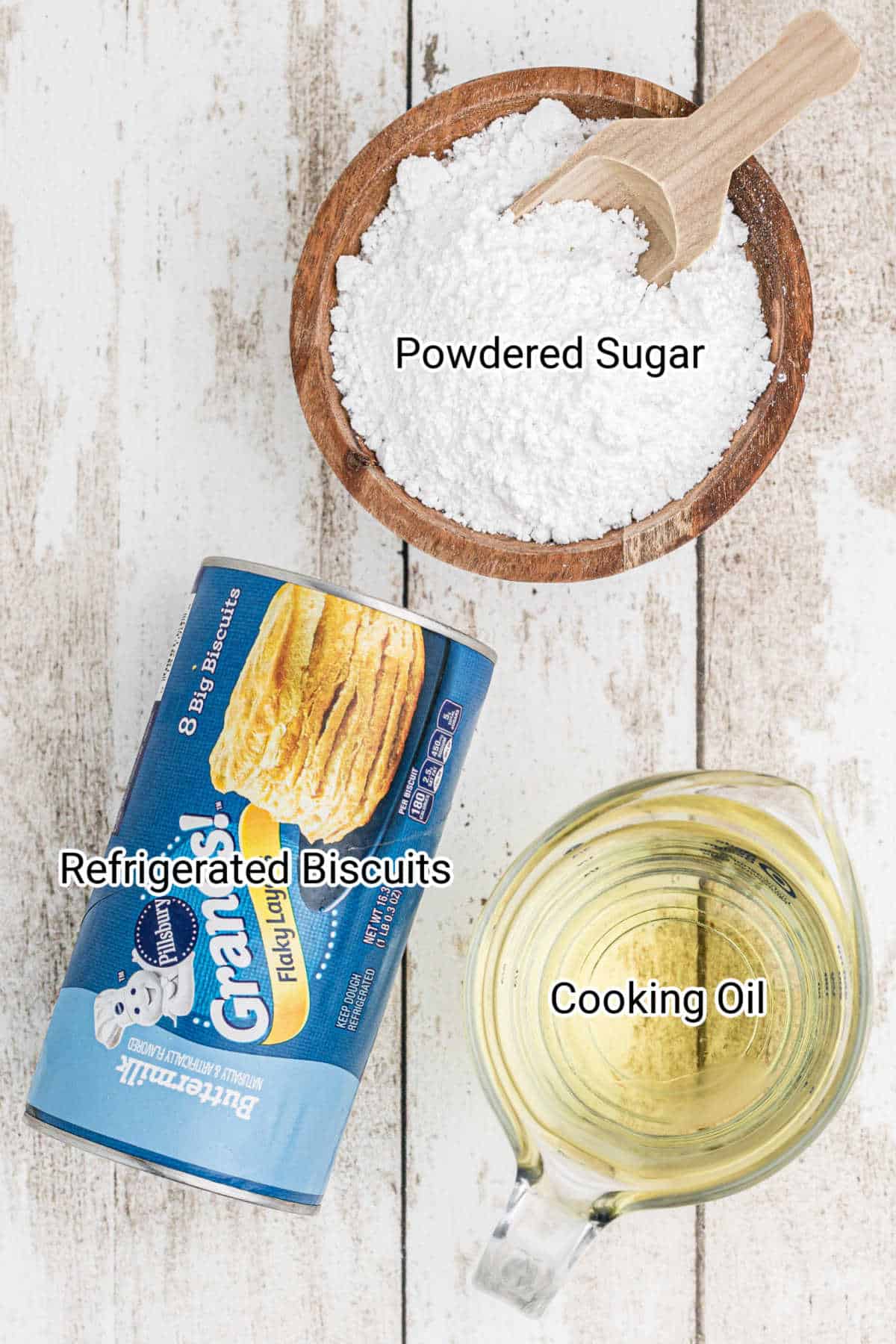 Refrigerated Biscuits (or canned biscuits) - I like to use the flaky layers Southern Style or Buttermilk.
Powdered Sugar
Cooking Oil
See recipe card for quantities.
🥣 Instructions
Step 1: Take your can of refrigerated biscuits and cut each on in half.
Step 2: Drop the biscuit dough into the hot grease over medium heat, carefully so you don't splash. This happens really quickly so keep a close watch. Turn them over as they start to color and separate biscuits.
Step 3: Remove promptly from the grease onto paper towels for just a moment.
Step 4: Then place them straight onto the dish you will serve them on, liberally coat them with powdered sugar. The more the better!
Hint: The traditional Cafe du Monde beignets are square. If you have not had Cafe du Monde traditional beignets, boy have you missed out! You might be more familiar with Tiana's beignets (from the Disney movie The Princess and the Frog), they are also square.
🔄 Substitutions and Variations
Biscuits - There is quite a variety of refrigerated biscuits out there, I have found that the flaky layers type works best for beignets and I like the flavor of the buttermilk or southern style. Any refrigerated biscuit would work though, to make biscuit beignets.
Cooking Oil - I usually use vegetable oil, but you could use canola oil or peanut oil just the same.
Honey - drizzle some honey on your beignets, for another yummy sweetness.
Mardi Gras Style - around Mardi Gras you could use colored sugar to add some festivity to your breakfast!
Cinnamon Sugar - use cinnamon sugar instead of powdered sugar to add some more flavor.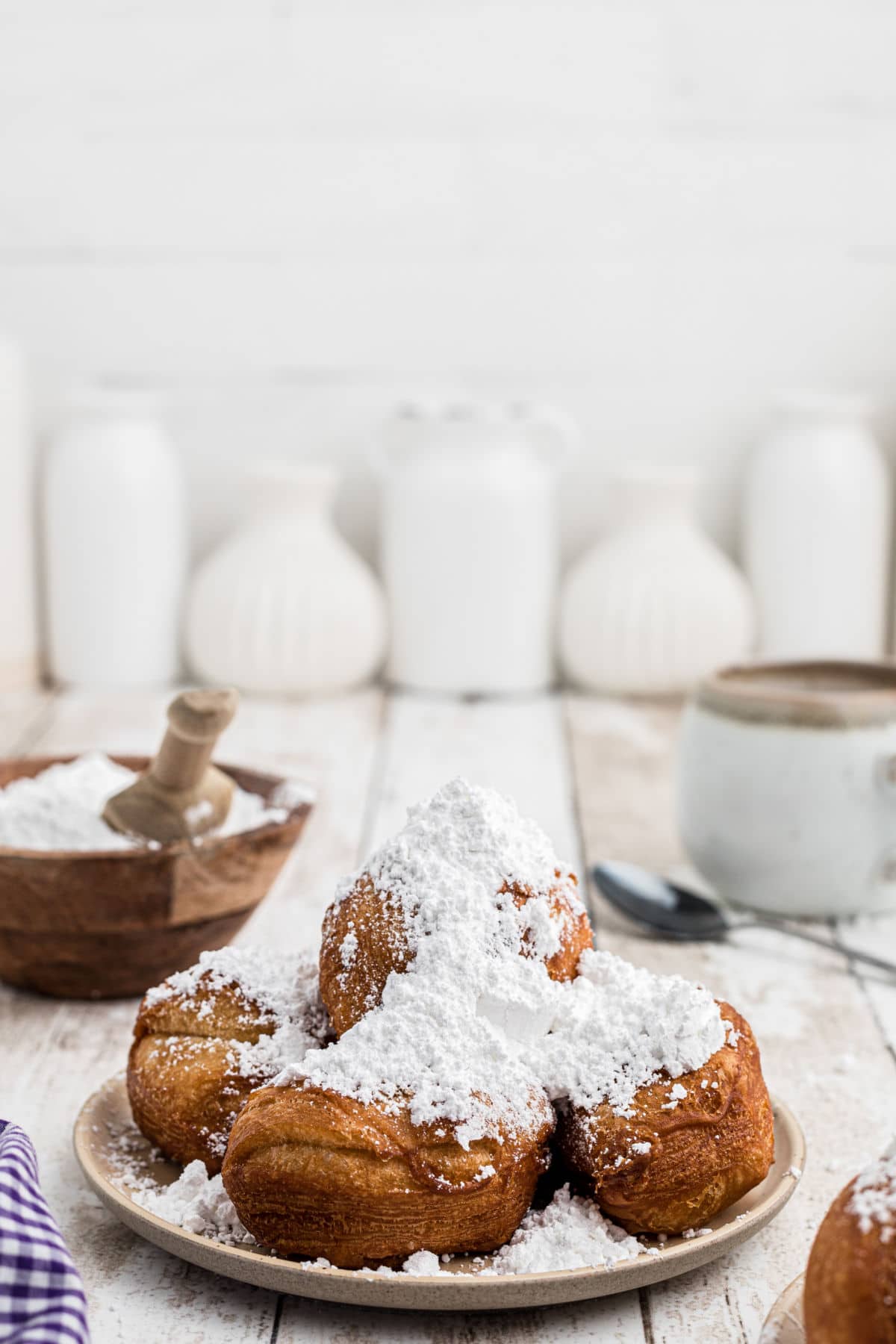 ❤ Sharing is Caring - Like Our Facebook Page ❤
🔌 Equipment
You'll need a heavy bottomed pot to fry in and enough oil - I like to use my Dutch Oven. Or you could use a cast iron pot... or even better, you could use an electric fryer.
You'll also need a frying spatula to remove the beignets from the hot grease.
🧊 Storage
Beignets are not really made to be reheated, they're best eaten fresh and coated with powdered sugar.
💡 Tips
Expert Tip: An easy way to tell if your cooking oil has reached 350°F, if you do not have a thermometer, is stick the handle of a wooden spoon into the pot. If there is a steady course of bubbles around the wood then the grease is hot enough.
⚜️ Other Delicious New Orleans Favorites
👩‍🍳 FAQs
Can you use biscuits to make beignets?
Oh definitely. In fact I recommend it for a short cut breakfast! All you need then is a nice cup of coffee!
What is the difference between a beignet and a donut?
They are very similar, a beignet does have a softer inside though, they're pillowy soft.
What are beignets?
A French breakfast food that is traditionally served for Mardi Gras or carnival. It's a deep fried dough that is coated in sugar.
Are beignets French or Cajun?
When the Acadians settled in Louisiana they brought their food and their language. Today beignets are more associated with the French Quarter of New Orleans and Cafe Du Monde.
---
If you've tried this BISCUIT BEIGNETS RECIPE or any other great recipe on my site, let me know in the comment section below, how it turned out, we love hearing from our readers!
If you love this recipe please give it 5 stars! ⭐️⭐️⭐️⭐️⭐️
You can also follow me on PINTEREST, FACEBOOK and INSTAGRAM to see more amazing recipes!
Biscuit Beignets
This breakfast couldn't be easier. The wonderful, slightly crisp, sugary goodness is almost as good as the real thing! For beignets cooked in 3 minutes, this is perfection!
Ingredients
1 Can Refrigerated Biscuits
3 Cups Powdered Sugar, for dusting
Canola Oil, for frying
Instructions
Open the roll of biscuits and arrange on your chopping board.
Cut each biscuit in half.
Allow oil to heat to 350°F.
Drop the dough carefully into the oil and fry for about 3 minutes (until golden brown).
Remove from oil onto paper towel, then serve with generous dusting of powdered sugar.
Notes
Dip handle of wooden spoon into oil, if you see bubbles form around the wood then the oil is hot enough.
Try serving these delicious beignets with this Blueberry Milk, the kids will love it (in place of a coffee).
Recommended Products
As an Amazon Associate and member of other affiliate programs, I earn from qualifying purchases.
Nutrition Information
Yield

6
Serving Size

1
Amount Per Serving
Calories

270
Total Fat

4g
Saturated Fat

1g
Trans Fat

0g
Unsaturated Fat

3g
Cholesterol

0mg
Sodium

59mg
Carbohydrates

59g
Fiber

0g
Sugar

54g
Protein

1g