I discovered Blueberry Milk very recently, when I was trying to decide what on earth I was going to do with all the Blueberries Cody brought to us one day. I got to doing some research and was heading down the usual smoothies or pie route, then I came across a Blueberry Milk recipe that I thought sounded delicious (and became healthier once I swapped out the sugar for honey!)
Obviously, this will depend on the blueberry season, but you could use frozen blueberries too, that way this will be available year round.
Jump to:
❤️ Why you'll love it
The natural flavors in this blueberry milk make it so much healthier. You will love offering this healthy alternative to your children.
My kids were chocolate milk freaks, until they tried this.
🧅 Ingredients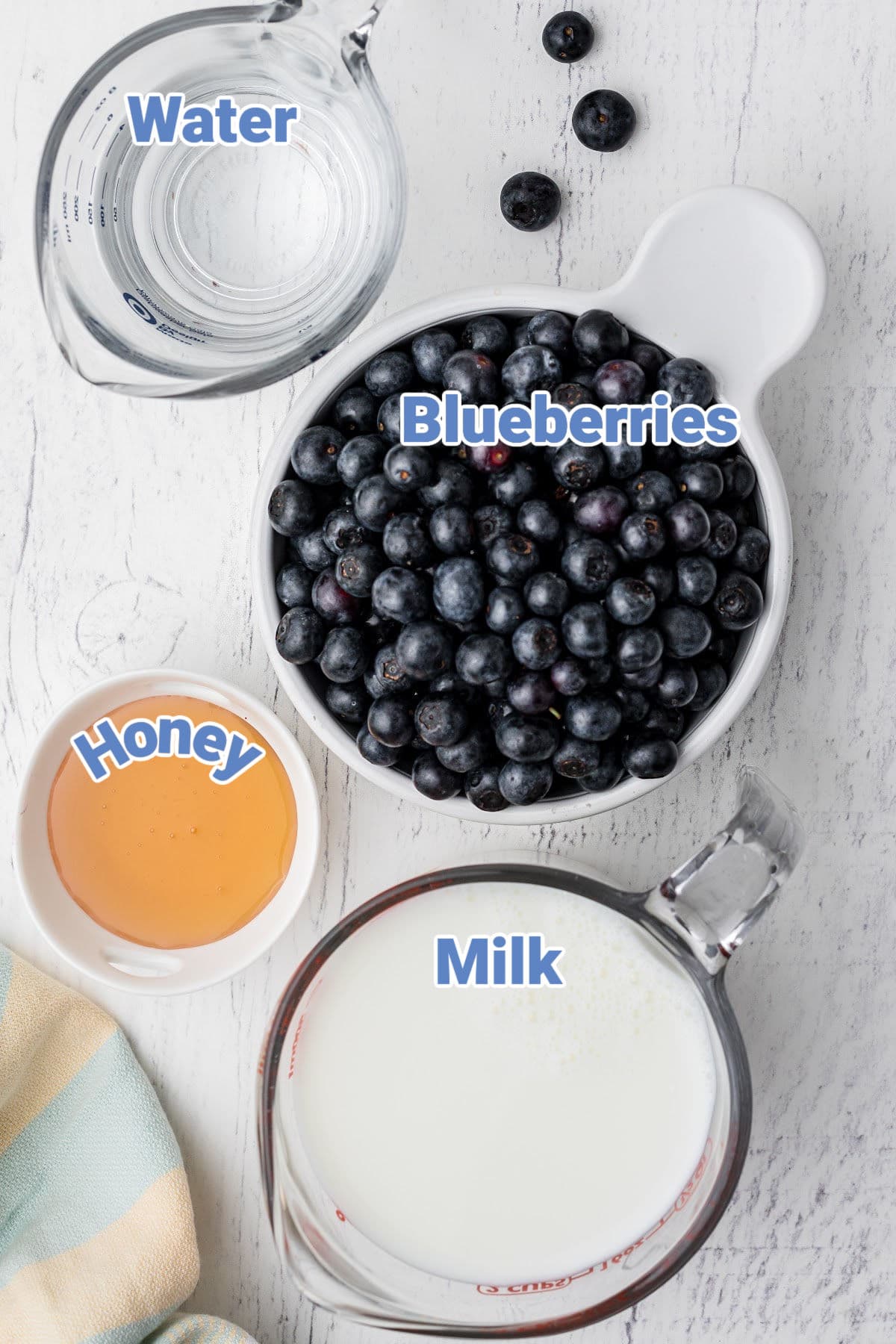 Fresh Blueberries (wild blueberries are best)
Honey
Water
Milk
See recipe card at the bottom of this post for quantities.
🥣 Instructions
Step 1: Place the blueberries, honey and water into a medium sized pan and bring to a boil. Simmer for 10 minutes.
Step 2: Strain the remnants out with a sieve, that will give you a nice thick blueberry syrup.
Step 3: Decant into a jar and refrigerate for use when desired.
Step 4: Mix syrup with milk, when desired.
🔄 Substitutions and Variations
I wanted to make my blueberry milk just a little healthier by swapping out the sugar for honey. It isn't as sweet, however. Which I don't mind, I don't have much of a sweet tooth, but if you think the honey is not going to cut it go ahead and use granulated sugar instead. Just swap it out during the simmering process.
You can use skimmed milk, whole milk or even almond milk will work well with this recipe. Substitute for strawberries, and make strawberry milk.
❤ Sharing is Caring - Like Our Facebook Page ❤
🔌 Equipment
No special equipment is required, just a pot to simmer the ingredients and a sieve to strain the syrup.
🧊 Storage
Store the syrup in an airtight container in the refrigerator for up to 4 days.
It also freezes well (just the blueberry syrup). Add the syrup to an ice cube tray, freeze, then remove the syrup cubes and put into a freezer safe ziplok bag and pull them out when you need to.
💡 Tips
Expert Tip: Make the syrup and store in the refrigerator. That way you can make blueberry milk on demand (or even add to ice cream desserts, etc).
👩‍🍳 FAQs
Can Dogs Eat Blueberries?
I've often wondered are blueberries good for dogs. I checked into it while making this post. Blueberries are actually fantastic for dogs according to Purina, they are a healthy antioxidant that will help nourish your dog.
Can Cats Eat Blueberries?
Yes, blueberries are good for cats too.
How long do blueberries last?
Blueberries will last a day or so at room temperature. About 6-10 days in the refrigerator.
Can you freeze blueberries?
Yes, blueberries freeze well - for up to 6 months.
What color are blueberries?
Blueberries are actually not blue, more a shade of deep purple. They have a pigment called Anthocyanin which gives it this color.
How to make Blueberry syrup
Add blueberries to a pan with some water and honey/sugar and simmer for 10 minutes. This will thicken and give a delicious blueberry syrup.
---
If you've tried this Blueberry Milk Recipe or any other great recipe on my site, let me know in the comment section below, how it turned out, we love hearing from our readers!
If you love this recipe please give it 5 stars! ⭐️⭐️⭐️⭐️⭐️
You can also follow me on PINTEREST, FACEBOOK and INSTAGRAM to see more amazing recipes!
Blueberry Milk
Delicious homemade Blueberry Milk, made with fresh blueberries and sweetened with honey - healthy and easy!
Ingredients
2 Cups Blueberries, fresh
¼ Cup Honey, raw
¾ Cup Water
3 Cups Milk, 2%
Instructions
Add the blueberries to a medium sized pan, with the water and honey.
Bring to a boil and then reduce to simmer for 10 minutes.
Strain the blueberries through a sieve and the remaining syrup can be placed into a decanter and refrigerated until desired.
Add ¼ cup of the syrup to 1 Cup of Milk.
Notes
I used honey in this recipe as I like to avoid sugar where possible. If you prefer your milk drink sweeter feel free to add sugar to the blueberries when cooking down.
Nutrition Information
Yield

3
Serving Size

1
Amount Per Serving
Calories

264
Total Fat

5g
Saturated Fat

3g
Trans Fat

0g
Unsaturated Fat

2g
Cholesterol

20mg
Sodium

119mg
Carbohydrates

49g
Fiber

2g
Sugar

45g
Protein

9g