This fried frog legs recipe gives you beautiful soft white meat, fall off the bone tender, with a slightly crispy crust that is full of Cajun flavors.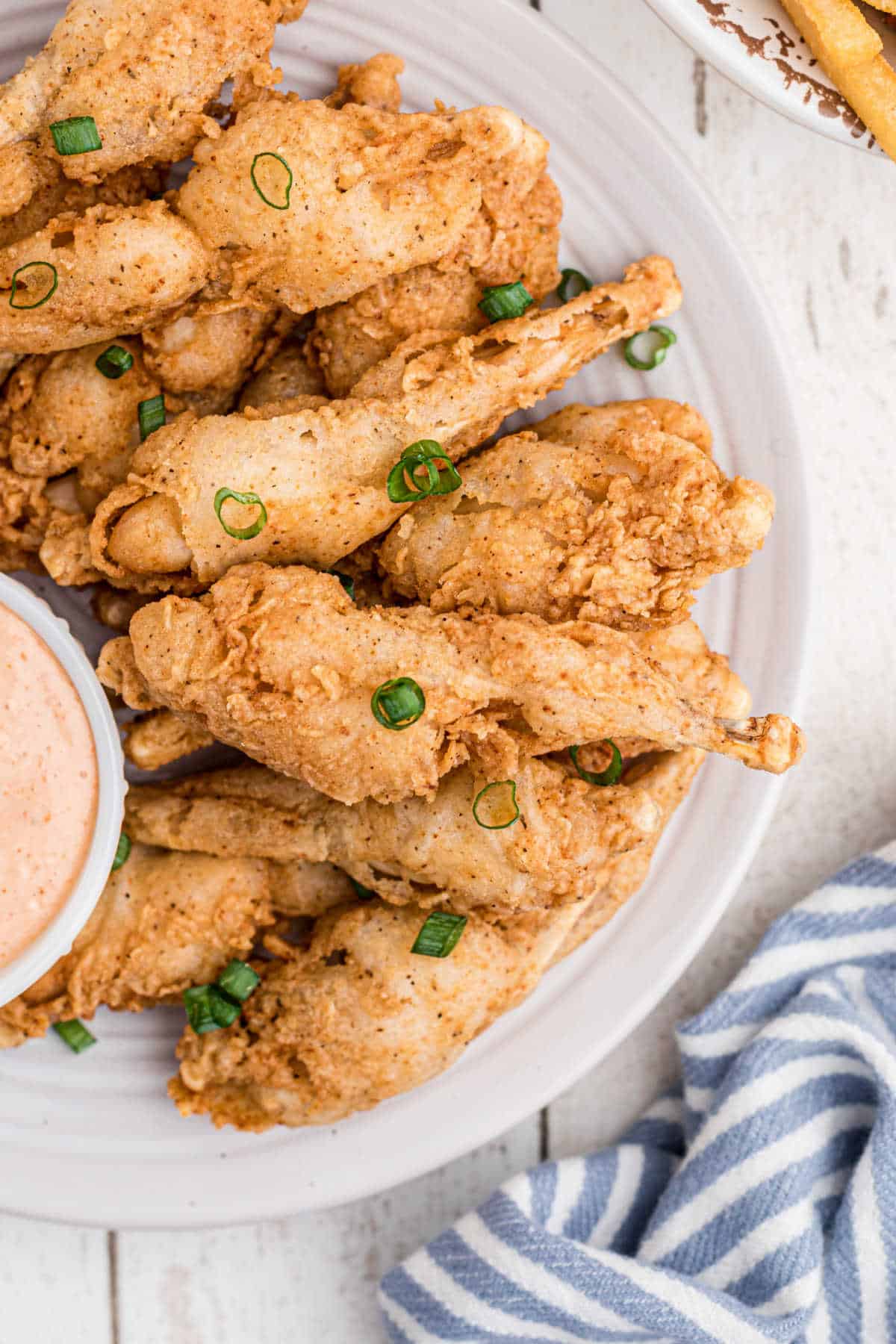 We typically eat frog legs more in the summer as this is when the season for catching them is.
Jump to:
❤️ Why you'll love it
Not too many ingredients are needed, most of which should be in your pantry.
Guess what. Fried frog legs really do taste like chicken, lol. At least, they have the same kind of texture anyway. Cooked the right way they are delicious and tender.
Frog legs are actually quite a lean meat, they're just like mini chicken legs.
🧅 Ingredients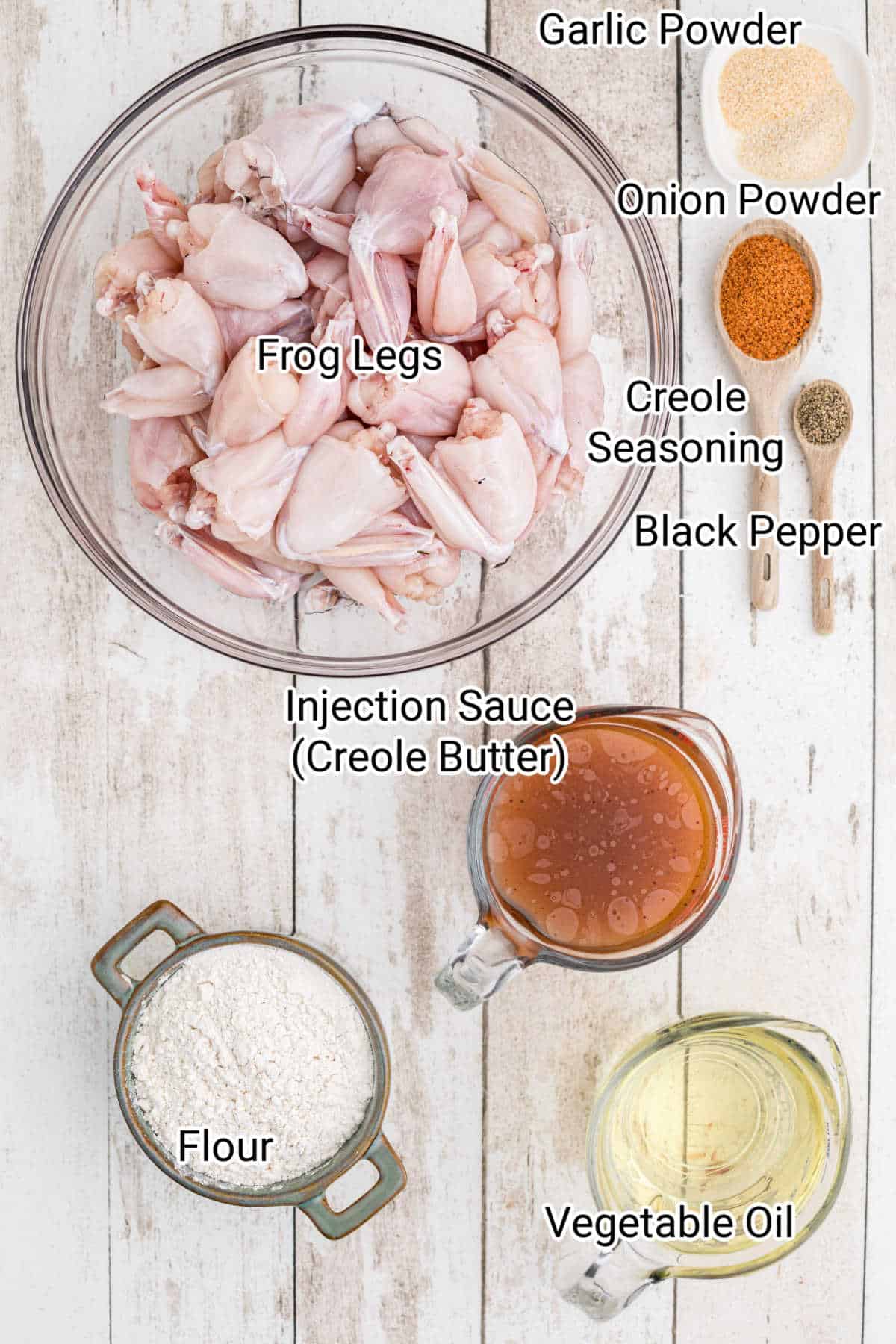 Frogs Legs - We are very lucky in South Louisiana to have A LOT of frogs in the marshes. It's so much fun to go 'frogging' during season and naturally we have an abundance due to my husband being the avid hunter he is.

If you don't have access to frog's legs like us, if you are not able to find these in your local grocery stores I've included an affiliate link to the best place to purchase online in the recipe card in the bottom of this post.
Creole Butter Injection Sauce - I use the Zatarains Cajun Injector brand but there are a few others out there that are good too.
All Purpose Flour (plain flour)
Garlic Powder
Onion Powder
Creole Seasoning - or Cajun seasoning is also great (it's practically the same thing anyway).
Black Pepper
Vegetable Oil (for frying)
See recipe card for quantities.
🥣 Instructions
Step 1: Place the frog legs in a large bowl and pour the injection marinade all over making sure they're all coated and covered.
Step 2: Marinate in the refrigerator for at least 4 hours, overnight preferably.
Step 3: In a medium mixing bowl add the flour and seasonings and mix with a whisk.
Step 4: Dip each of the frog legs in the flour mixture and fry in hot oil until golden brown (about 4-5 mins). Serve with a seafood sauce/dip (try my recipe here) or cocktail sauce.
Hint: Pull out the frog legs from the refrigerator about an hour before you intend to fry - to allow them to come to room temperature (ish). This helps with the tenderness.
🔄 Substitutions and Variations
Milk - If you can't get your hands on the injection marinade you can use milk. Make sure to season it up though.
Buttermilk -Another great dairy product you could soak the frog legs in.
Spicy - you could add some red pepper flakes, or cayenne pepper or even hot sauce to the marinade if you like your food spicier.
Old Bay Seasoning - use this instead of the Creole Seasoning if you like.
Peanut Oil - the frying oil is not important just as long as it has a high burn point.
Breadcrumbs - instead of a flour crust you could opt for a crumb crust - it'll make the legs more crunchy.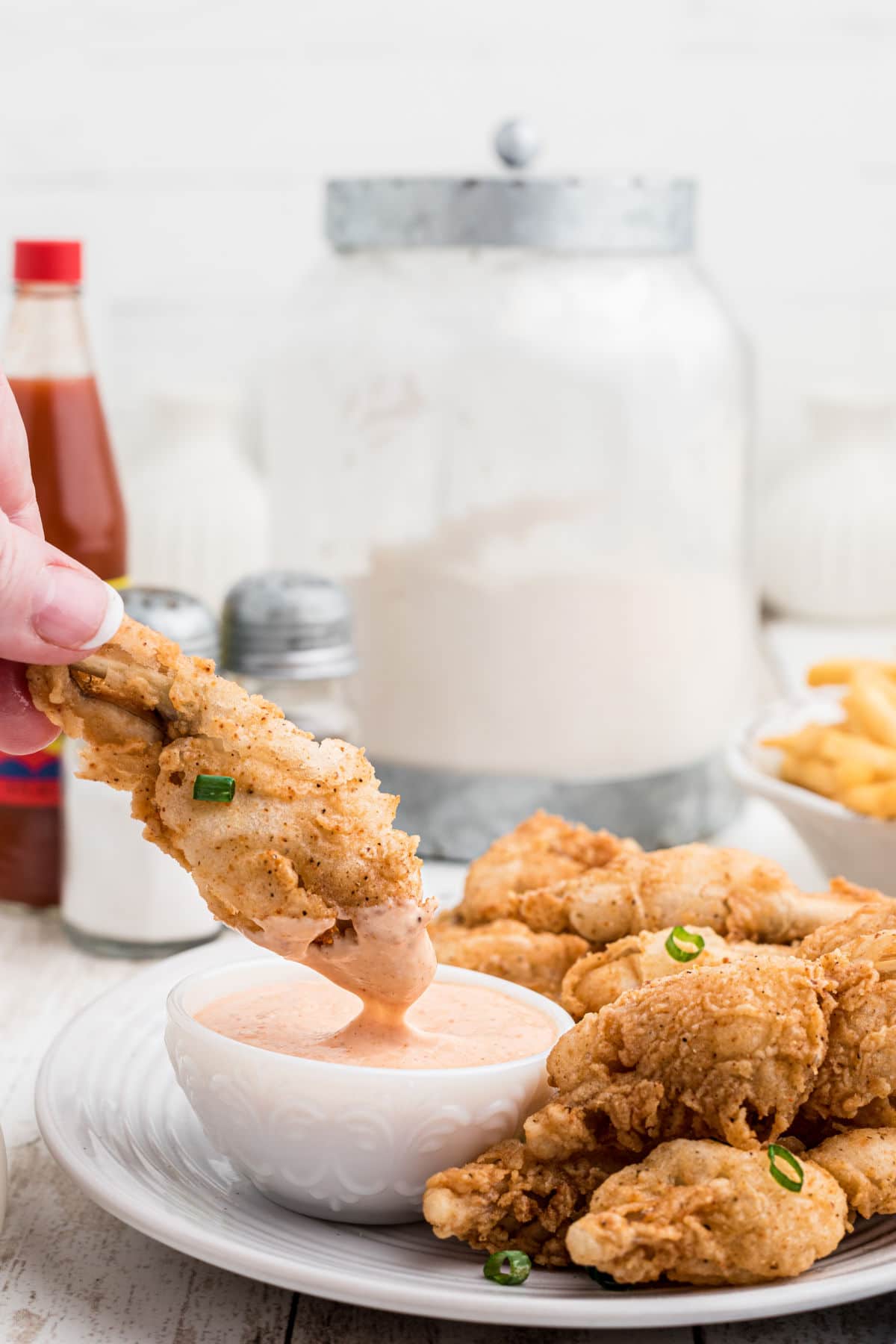 ❤ Sharing is Caring - Like Our Facebook Page ❤
🔌 Equipment
You will need a large bowl to soak the frog's legs, or you could use resealable bags (you have to be careful not to pierce the bags though, those little bones in the legs can sometimes have sharp points).
A frying pot, frying pan, deep fryer or electric fryer are all fine to fry them.
🧊 Storage
Once they have cooled completely, store in an airtight container (with a little paper towel) in the refrigerator for up to 3 days.
Reheat using the oven or air fryer for best results.
💡 Tips
Expert Tip: Dairy is really great for marinating meats as the acidity is so mild you can soak long enough to tenderize the meat without damaging the proteins on the surface.
Dairy reacts with enzymes in meat to gently soften it. This is why I like to use the Creole Butter Marinade specifically.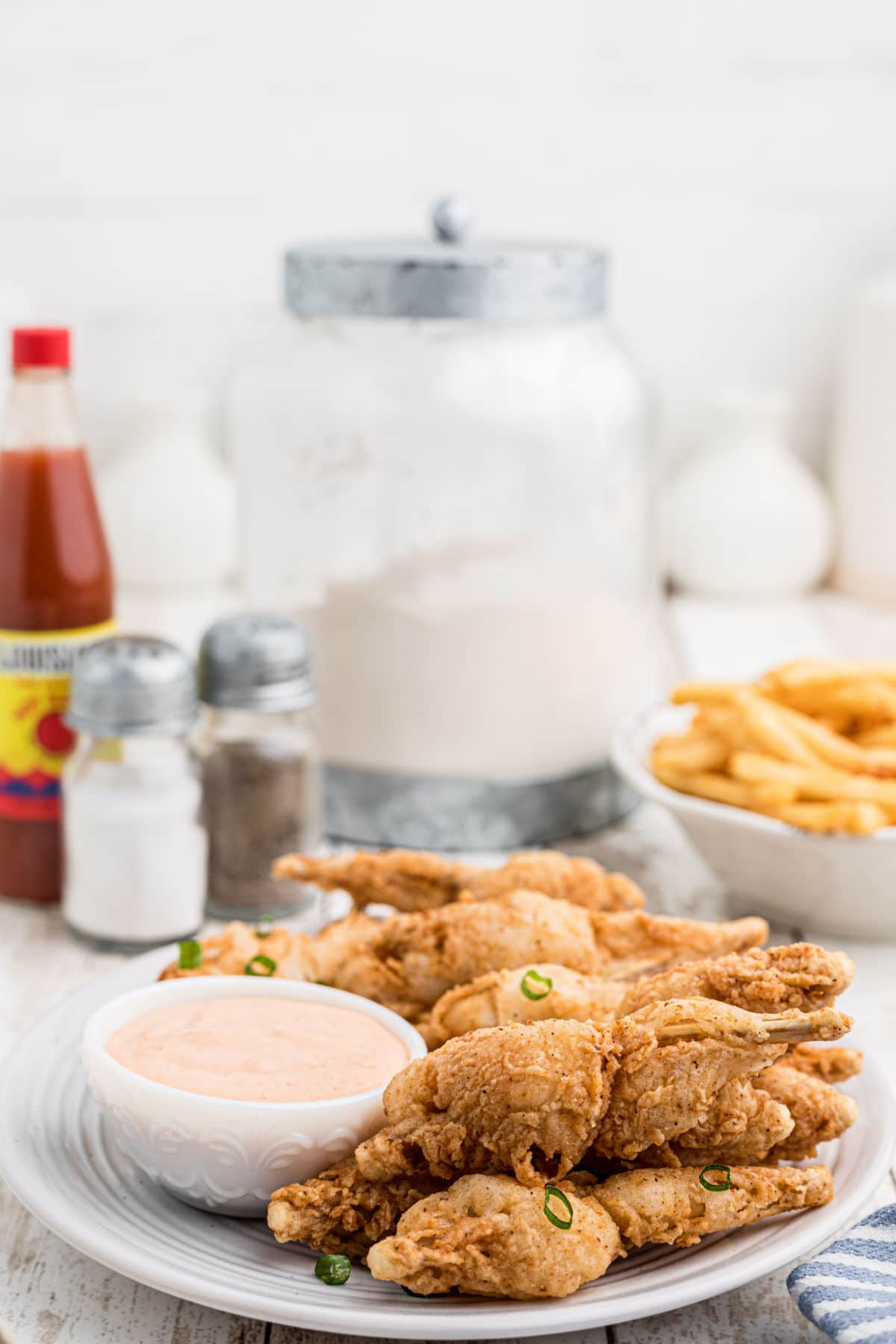 👩‍🍳 FAQs
Why do you soak frog legs in milk? (or dairy)
This helps tenderize the meat. Dairy reacts with the enzymes in meat to gently soften it.
How long do frog legs take to fry?
In oil that is 350°F, it'll take about 5 minutes to fry. They'll be golden brown and need an internal temperature of 145°F.
What to serve with frog legs?
Depending on how you are eating (for lunch, a snack or dinner). We like to eat with Cajun Fries with some seafood sauce to dip into! You can throw some lemon wedges on the side too.
Why do I sometimes see a pair of frog legs together and sometimes they're just single legs?
This is just the preference of the person preparing them. There's no baring on taste or outcome, it's like whether you like your bread cut in halves or triangles.
You should check out this post for What To Serve With Fried Catfish. This list would work well with these frog legs too.
---
If you've tried this FRIED FROG LEGS RECIPE or any other great recipe on my site, let me know in the comment section below, how it turned out, we love hearing from our readers!
If you love this recipe please give it 5 stars! ⭐️⭐️⭐️⭐️⭐️
You can also follow me on PINTEREST, FACEBOOK and INSTAGRAM to see more amazing recipes!
Fried Frog Legs Recipe
Total Time:
4 hours
15 minutes
Fried frog legs are a deliciously soft white meat that when cooked right are surprisingly tasty and fall off the bone tender.
Ingredients
2 Cups All Purpose Flour
2 Teaspoons Garlic Powder
2 Teaspoons Onion Powder
1 Teaspoon Black Pepper
Vegetable Oil (for frying)
Instructions
Place the frog legs into a bowl and cover with the Creole Butter marinade.
Allow to marinate (soak) for at least 4 hours (overnight is really good).
Add oil to your frying pot and heat to 350°F. In a large bowl add the flour, onion powder, garlic powder, Creole Seasoning and black pepper and mix with a whisk.
Add the frog legs to the flour mixture to coat.
Deep fry until golden brown - about 4-5 minutes.
Remove and allow to drain on paper towels.
Notes
Soaking the frog legs really helps soften the meat before frying. If you can't get the injectable marinade then milk or buttermilk is a good alternative.
Recommended Products
As an Amazon Associate and member of other affiliate programs, I earn from qualifying purchases.
Nutrition Information
Yield

6
Serving Size

1
Amount Per Serving
Calories

461
Total Fat

13g
Saturated Fat

3g
Trans Fat

0g
Unsaturated Fat

10g
Cholesterol

118mg
Sodium

2062mg
Carbohydrates

39g
Fiber

2g
Sugar

3g
Protein

43g