This Southern Cheese Grits Recipe is such a southern staple, especially here in Louisiana where we live, but Grits can be found all over the South served with Breakfast!
Silky smooth Cheesy Grits are also perfect served as Shrimp and Grits as well as a bunch of other possibilities! They are a perfect accompaniment to a lot of dishes!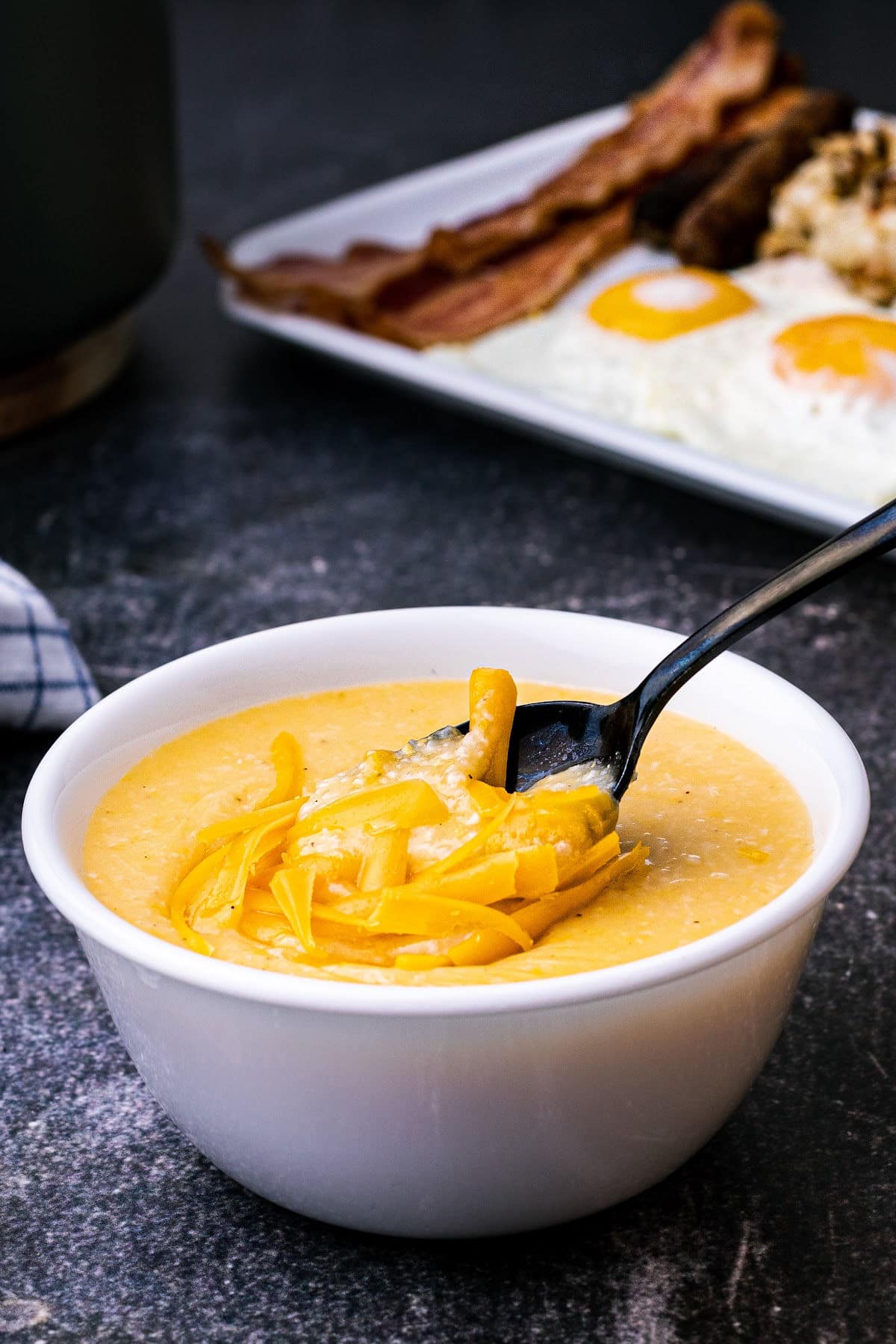 Jump to:
❤️ Why you'll love it
This southern cheese grits recipe is super simple to make - it's quick and full of flavor. Talk about something sticking to your ribs, this side dish really helps fill up the emptiest of tummies.
🧅 Ingredients
You will need:
Water
Salt
Quick Cooking Grits
Cheese
Butter
Black Pepper
🥣 Instructions
Step 1: Add water and salt to a large pan and bring to a boil.
Step 2: Reduce heat to low-med and stir in the grits. Cook for 4-5 minutes continuously stirring.
Step 3: Remove from the heat and add the butter, cheese and pepper.
Step 4: Stir until blended and creamy.
🍽 How To Serve
This Southern Cheese Grits Recipe is the perfect accompaniment to many foods! The most famous is breakfast (like in my image above), but can be served with Shrimp and Grits, as well as a side to many meals! Best served in a bowl to the side.
❤ Sharing is Caring - Like Our Facebook Page ❤
🔄 Substitutions and Variations
Cheese - I like to use a combination of extra sharp cheddar cheese as well as Monteray Jack, but these cheeses can be changed out for your favorite.
There are different types of Grits, as following:

STONE GROUND GRITS - These are the old fashioned version of regular grits. This is the type that would have been used back in the nineteenth century. They take roughly 30-60 minutes to cook.
HOMINY GRITS - This type of grits are where the hull and the germ have been removed.
QUICK COOKING GRITS - Uncooked and ground very fine to help cook quicker. (The type I use in this recipe)
INSTANT GRITS - These are ground fine, precooked and dehydrated. If you've seen the movie "My Cousin Vinny" there's a scene where they discuss cooking grits. They say "No self respecting southerner would use instant grits!" Lol, I'm not sure about all that, with the advancement of technology these days I say why not take advantage of some of the opportunities to save time this offers us!

Jalapenos - If you like a little spice in your grits go ahead and add some jalapenos, this gives a whole new dimension to the cheese grits!
Cauliflower Grits - If you're on a keto diet, you could try a keto grits recipe - usually uses cauliflower instead of corn.
Chicken Broth - you could use chicken broth instead for the fluid.
Heavy Cream - you could add this for richness.
🧊 Storage
Stone ground grits do lose freshness very quickly so it's recommended they be stored in the freezer.
Once grits have been cooked and cooled they're best stored in the refrigerator in an airtight container. They'll be good for 3-4 days. When reheating you may need to add a little more fluid.
More Breakfast Recipes:
👩‍🍳 FAQs
Are Grits gluten free?
Grits in their natural form are just ground corn, so yes they are naturally gluten free. However, some companies may not be as careful to avoid cross contamination during making/packaging so always check.
What are Keto Grits?
Unfortunately your standard bowl of grits are full of carbs. If you're trying to avoid carbs like many on the Keto diet there are recipes out there to substitute - try Twosleevers Keto Grits recipe here.
Where can I find Grits near me?
If you live close to a grocery store, you'll usually find grits in the breakfast aisle - but at a push you could order from Amazon.
What are yellow grits?
Grits usually get their color from the type of corn used. White Corn will make white grits, where yellow corn makes yellow grits.
---
If you've tried this Southern Cheese Grits Recipe or any other great recipe on my site, let me know in the comment section below, how it turned out, we love hearing from our readers!
If you love this recipe please give it 5 stars! ⭐️⭐️⭐️⭐️⭐️
You can also follow me on PINTEREST, FACEBOOK and INSTAGRAM to see more amazing recipes!
Cheese Grits
Delicious Southern Cheese Grits, creamy and rich these Grits will leave you feeling full and satisfied!
Ingredients
6 Cups Water
½ Teaspoon Salt
1-½ Cups Uncooked Quick Cooking Grits
2 Cups Freshly Grated Cheese (sharp cheddar, Monteray Jack)
2 Tablespoons Butter, unsalted
½ Teaspoon Black Pepper
Instructions
Bring water to a boil, with the salt added.
Gradually stir in the grits and cook for 4-5 Minutes, until thickened.
Remove from the heat and add the freshly grated cheese, butter and black pepper.
Stir until completely combined and creamy.
Serve immediately.
Notes
There are different types of grits. Stone Ground Grits, Hominy Grits, Quick Grits and Easy Grits are the most common. This recipe uses Quick Grits, but you could use the others, you'd have to adjust the cooking times accordingly though (see post above).
Nutrition Information
Yield

6
Serving Size

1
Amount Per Serving
Calories

237
Total Fat

17g
Saturated Fat

10g
Trans Fat

0g
Unsaturated Fat

5g
Cholesterol

47mg
Sodium

434mg
Carbohydrates

12g
Fiber

1g
Sugar

0g
Protein

10g