If you've never had Boudin King Cake you're in for a treat. Croissant pastry filled with delicious Boudin sausage, pepper jack cheese and Cajun spices and drizzled with a Creole Butter infused sauce, created to look and feel like the New Orleans classic dessert but in savory form.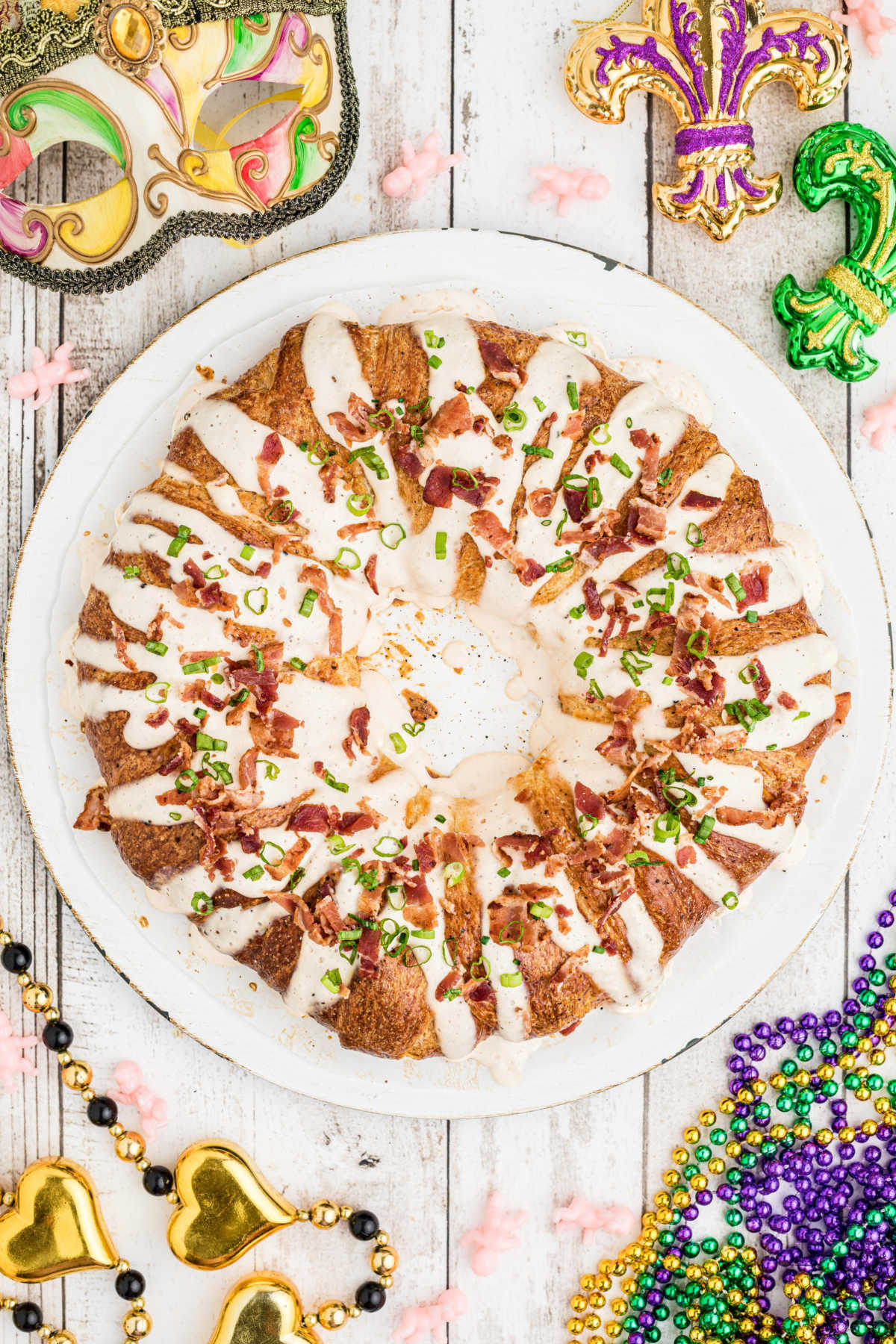 You've got to know that this is becoming more and more popular around carnival season. Mardi Gras season is like a religion around here and food is taken very seriously.
Good times are had based around the food prepared in Louisiana and the Boudin King Cake Craze didn't take long to take off.
Jump to:
❤️ Why you'll love it
By using the canned refrigerated croissant dough there's no need for too much fuss when putting it together. It makes preparing the Boudin Cake that much easier.
Boudin Sausage is full of spices and rice, as well as the delicious meats. Boudin in itself is a very popular southern sausage. Anything that incorporates it becomes an instant hit.
🧅 Ingredients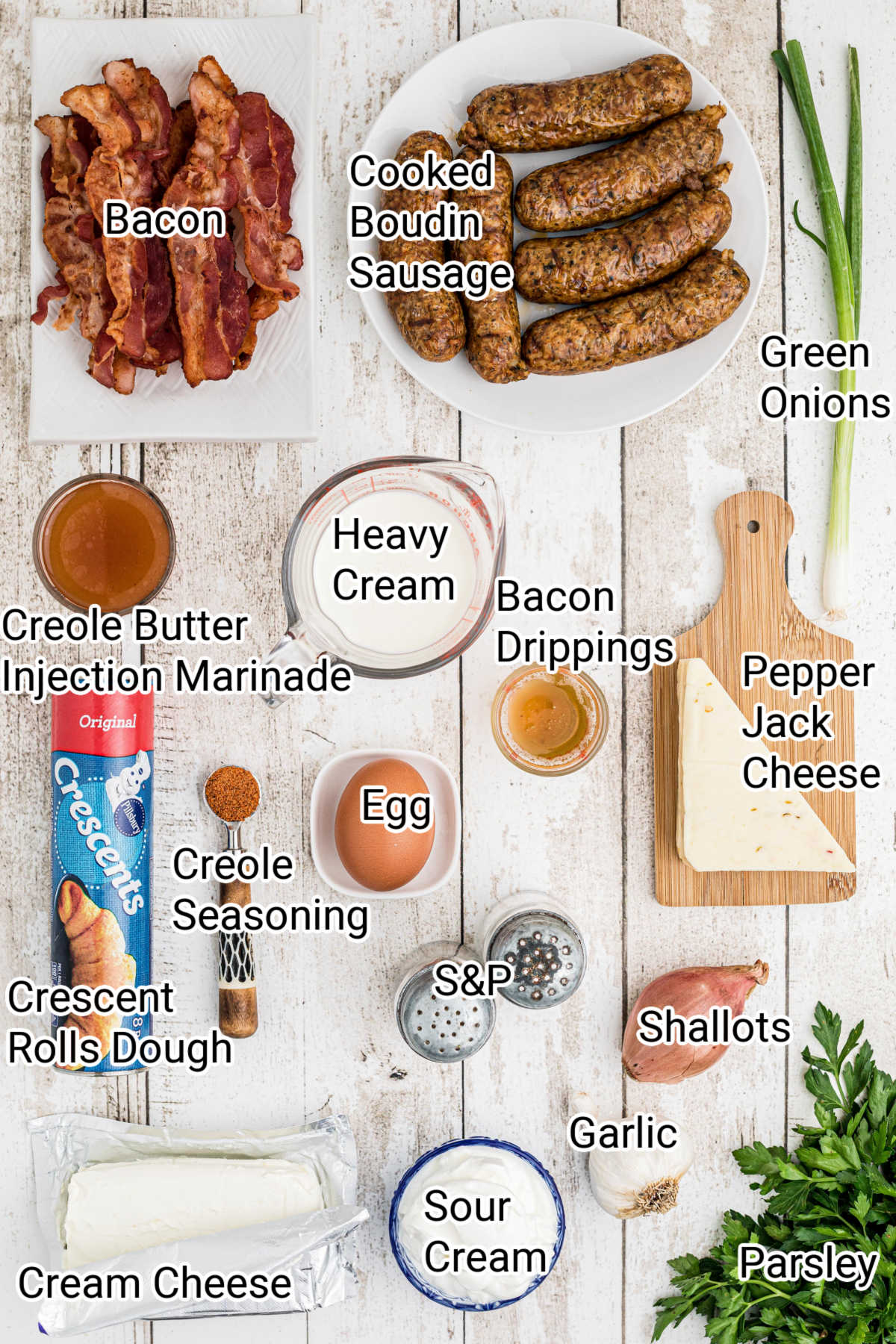 Refrigerated croissant dough (or crescent roll dough)
Cooked links of Cajun boudin sausage, casing removed
Shallots
Garlic
Creole Seasoning (or Cajun seasoning)
Salt and pepper
Pepper Jack Cheese
Bacon Drippings
Cream Cheese
Sour Cream
Creole Butter Injection Marinade
Heavy Cream
Bacon
Green Onions
Parsley
See recipe card at the bottom of this post for quantities.
🥣 Instructions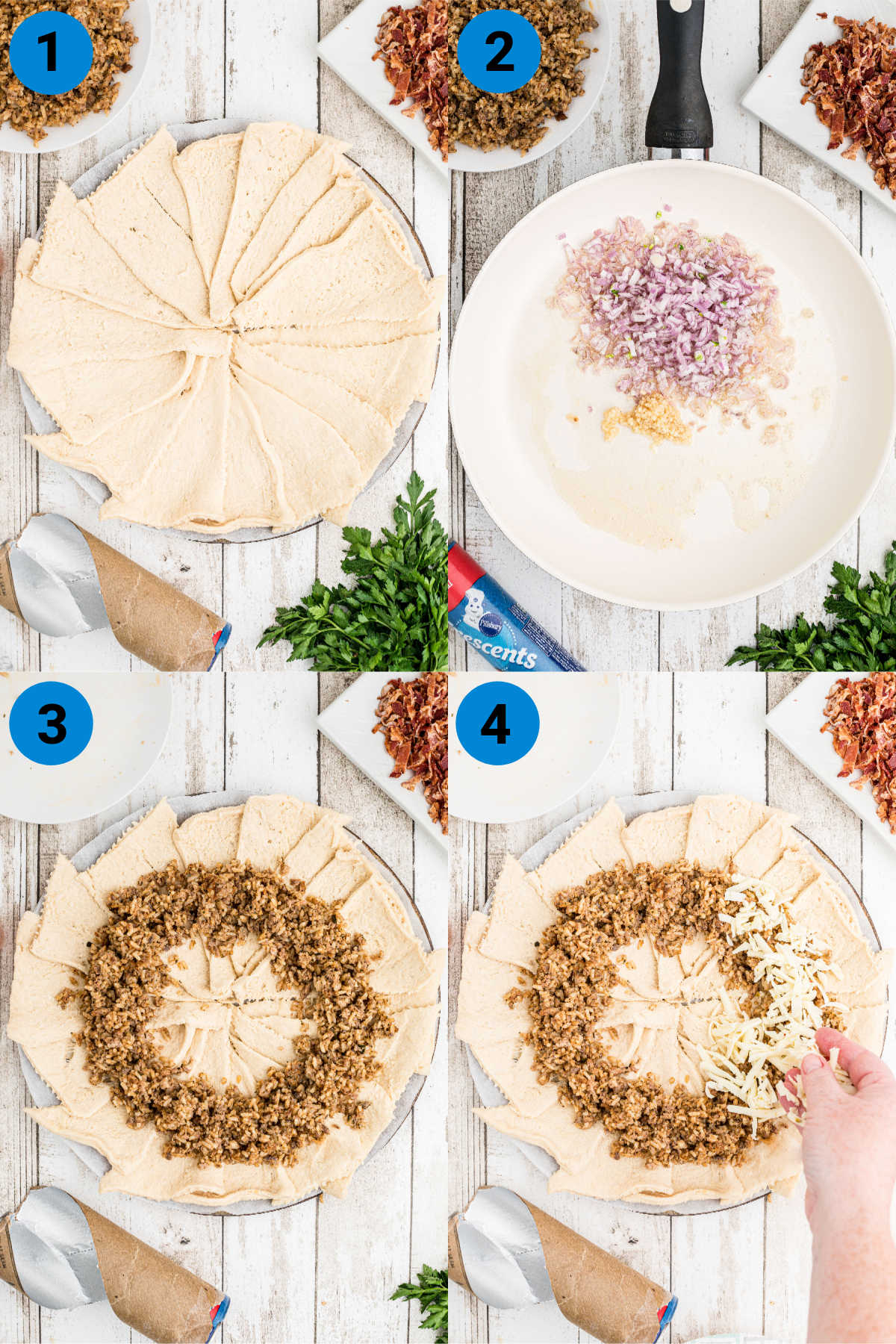 Step 1: Lay out the crescent roll dough in a circle on a parchment paper lined baking sheet (or pizza sheet).
Step 2: In a skillet add the bacon drippings and cook the shallots and garlic until soft.
Step 3: Sprinkle sausage in a circle around the laid out crescent rolls.
Step 4: Sprinkle the pepper jack on top of the boudin.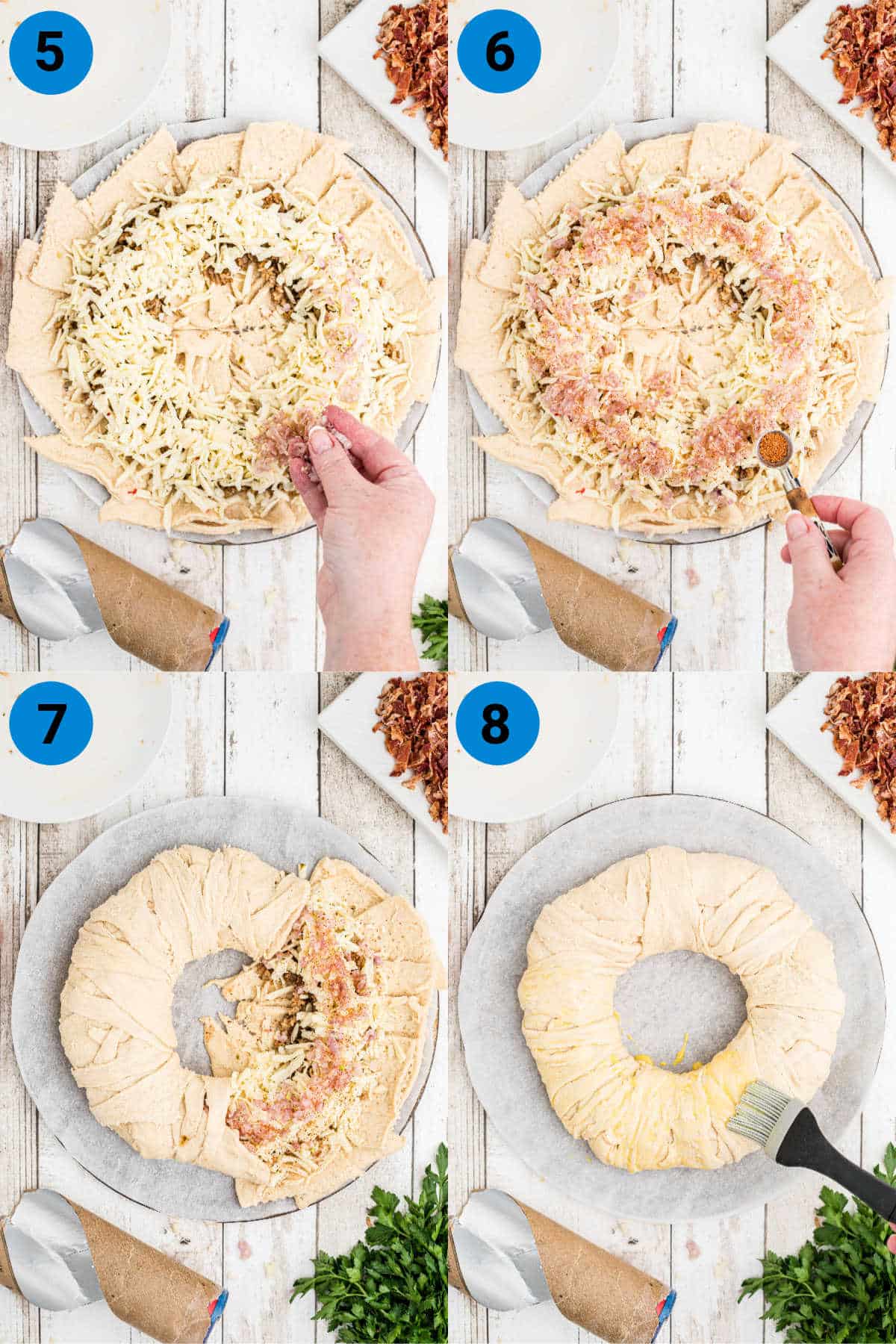 Step 5: Sprinkle the chopped shallots and garlic on top of the cheese.
Step 6: Sprinkle the seasoning on top of everything.
Step 7: Close up the pastry to completely cover the filling. Open another can of crescent rolls if you find it hard to completely cover. (I actually used three in the images to totally enclose the filling I used.)
Step 8: Brush the outside with beaten egg wash.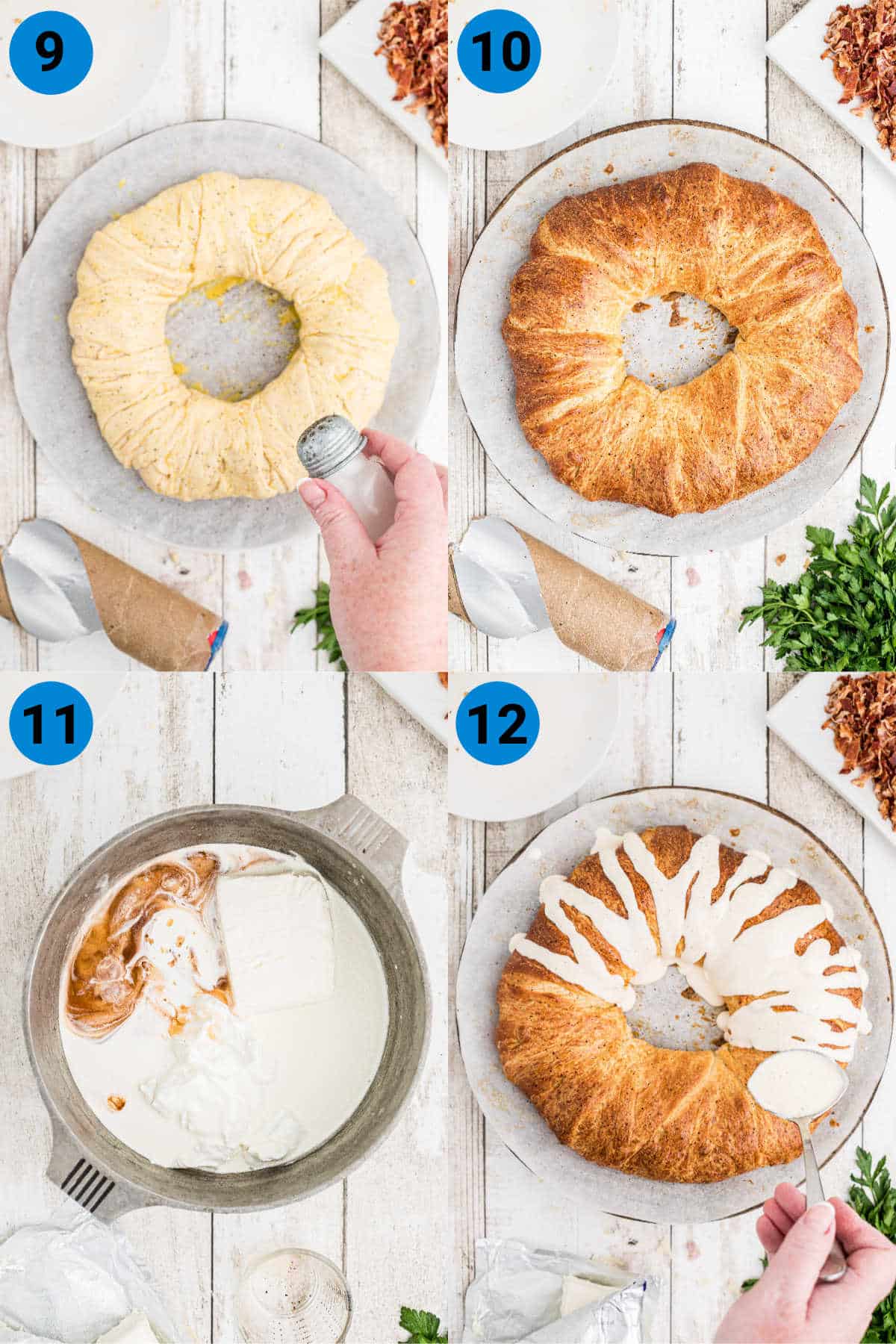 Step 9: Sprinkle the whole thing with salt and pepper.
Step 10: Bake in the oven at 350 degrees f for 35 minutes, until golden brown.
Step 11: While the Boudin King Cake is baking in the oven add the cream cheese, sour cream, heavy cream and injection marinade to a small saucepan and heat over medium heat until bubbling - then remove the heat.
Step 12: Drizzle over the top of the king cake but don't make it too heavy.
Step 13: Sprinkle the chopped bacon bits on top of the drizzled sauce.
Step 14: Sprinkle with green onion tops and a little chopped parsley (for color).

Hint: don't overdo the sauce as it does have a strong flavor due to the injection marinade and may overpower the flavor of the Boudin King Cake. Perhaps offer a small bowl of the sauce on the side.
🔄 Substitutions and Variations
Red Pepper Jelly - tuck some red pepper jelly inside the delicious king cake for a sweet surprise.
Cracklin crumbs - instead of bacon crumble some crispy cracklin on top of the king cake.
Green peppers - try adding some green peppers when cooking the shallots.
Crawfish - make a crawfish boudin king cake! Oh my....
❤ Sharing is Caring - Like Our Facebook Page ❤
🔌 Equipment
When making this boudin king cake I actually baked it on a round pizza pan. It was the perfect size.
If you don't have one a regular baking tray will be fine (large baking sheet).
🧊 Storage
Once cooled you'll need to store in an airtight container in the refrigerator, for up to 3 days.
Due to the nature of the ingredients and the sauce etc I would not recommend freezing - however, if you want to make in advance and add the sauce after thawing you could potentially do this. Wrap in a freezer safe container with foil then plastic wrap, for up to 3 months.
Other Boudin Recipes
💡 Tips
Expert Tip: Baking the Boudin King Cake on parchment paper not only prevents sticking but it also helps make it transportable in case you want to transfer to another dish for serving.

Also - the quality of the links of boudin can differ. Make sure you find a really great boudin sausage to use. It can make a huge difference. I like to use homemade boudin as I can control the flavors but there are also some really great store bought too.
👩‍🍳 FAQs
What's with the small baby?
Lol, that's a king cake baby. It's tradition to hide a small plastic baby inside a king cake and whoever find the baby in their slice would be the person who would have to host the next gathering.
Can this be a braided loaf?
You could, but not made this way with the crescent roll pastry. You'd have to use the crescent dough sheets and roll smaller rolls to make a braid.
---
If you've tried these Boudin King Cake Recipe or any other great recipe on my site, let me know in the comment section below, how it turned out, we love hearing from our readers!
If you love this recipe please give it 5 stars! ⭐️⭐️⭐️⭐️⭐️
You can also follow me on PINTEREST, FACEBOOK and INSTAGRAM to see more amazing recipes!
Boudin King Cake
Total Time:
1 hour
5 minutes
A delicious savory treat based on the classic New Orleans dessert but made with a croissant dough filled with delicious boudin sausage and more.
Ingredients
3 (8oz) Cans Refrigerated Crescent Rolls
1 Tablespoon bacon drippings
2 Large Shallots, chopped
3 Cloves Garlic, minced
1lb Boudin Sausage Links (cooked)
8oz Pepper Jack Cheese, freshly grated
2 Teaspoons Cajun Seasoning
1 Large Egg
Salt to taste
Pepper to taste
½ Cup Bacon, cooked and chopped
1 Green Onion, chopped
2 Tablespoons Parsley, chopped
4oz Cream Cheese
½ Cup Heavy Cream
4oz Sour Cream
½ Cup Creole Butter Injection Marinade/Sauce
Instructions
Preheat the oven to 350°F.
Open out 2 cans of crescent rolls and layer in a circle (as shown in the images above).
In a skillet add the bacon drippings and heat over medium-high heat. Add the shallots and garlic and cook a couple minutes until soft.
Take the cooked boudin sausage and remove the casing so you have a bowl of crumbled sausage meat and rice. Arrange around the crescent roll dough evenly.
Sprinkle the grated pepper jack cheese over the boudin sausage.
Sprinkle the cooked shallots and garlic.
Season with the Cajun seasoning.
Fold the crescent rolls over the filling to create a circle. Open up another can of crescent roll dough if you struggle to completely cover the filling.
Brush the dough with beaten egg then bake in the oven for about 35 minutes.
Add the cream cheese, heavy cream, sour cream and injection sauce to a small sauce pan and heat through.
After 35 minutes is up remove the boudin king cake from the oven and allow to rest for 5 minutes then drizzle the sauce over the top of the king cake.
Top with chopped bacon and green onion and fresh parsley.
Serve with a king cake baby hidden somewhere on the plate.
Notes
The sauce is quite sharp so don't drown the king cake in it.
Use the third can of crescent roll dough to help close up the king cake in places.
Nutrition Information
Yield

8
Serving Size

1
Amount Per Serving
Calories

566
Total Fat

46g
Saturated Fat

24g
Trans Fat

1g
Unsaturated Fat

19g
Cholesterol

165mg
Sodium

1685mg
Carbohydrates

19g
Fiber

1g
Sugar

6g
Protein

20g