Pecan Praline King Cake is my favorite flavor of King Cake.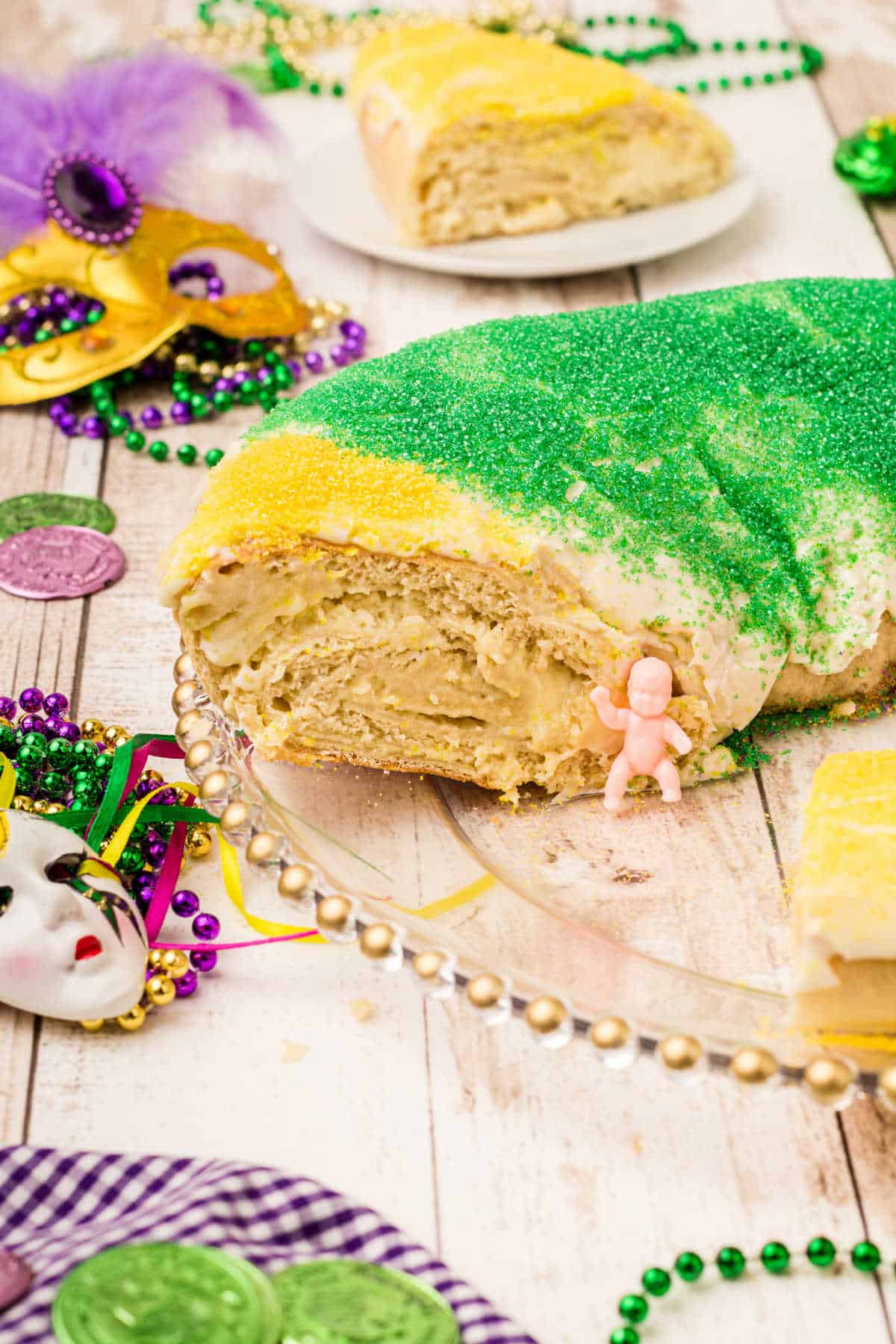 King Cake tradition is almost law in Louisiana, at least I'm led to believe it is by my Cajun friends. There's King Cake New Orleans, a recipe that I've seen from time to time while I was looking up the history of King Cake and Mardi Gras.
The practice of King Cakes shipped throughout the states and then there's the King Cake baby (the baby Jesus)... it's a lot.
Basically, this is what I have managed to put together;
Mardi Gras season (carnival season) officially kicks off on January 6th - or Twelfth Night as it's commonly referred to. There is usually a big 'Twelfth Night' party held by the different carnival clubs.
Twelfth Night is a Catholic date centered around Epiphany - the day that Jesus first showed himself to the 3 Kings (get it? Kings). This is where the tradition of placing a baby inside the King Cake comes from - it represents Jesus being seen by the 3 Kings.
The tradition is, whoever finds the baby inside the cake is crowned king for the day and is then the host for the next party!
Mardi Gras (Fat Tuesday) is always the Tuesday before Ash Wednesday - the beginning of lent - a period of abstinence and so this delicious treat would not have commonly been eaten during the lent period.
Jump to:
This King Cake recipe I was able to put together by doing a lot of trial and error as well as investigating! Some people can be quite secretive about their recipes! I have found that this king cake recipe that I'm sharing with you here is probably going to be hard to beat.
If you like Southern desserts, you should check out my Pecan Pie recipe here!
🧅 Ingredients
Unsalted Butter
Sour Cream
White Sugar
Salt
Active Dry Yeast
Warm Water
Large Eggs
All Purpose Flour
Cream Cheese
White Sugar
Vanilla
Dark Brown Sugar, packed
Cinnamon
Vanilla
1 Cup finely chopped candied Pecans
Confectioners Sugar
Butter
4 Tbsp. Whole Milk
Sanding Sugars
Most of the ingredients listed above you should have as pantry staples (if you're a baking type). I particularly like to use a candied type of pecan as it adds a little something more to the praline. If you can find praline coated pecans even better (apparently you can find them at Costco?)
See recipe card at the bottom of this post for quantities.
🥣 Instructions
Step 1: Following the instructions below will get you started. Warm up the first set of ingredients just to the point of having the butter all melted.
Step 2: Add the yeast and sugar to the warm water, mix well and allow to sit for 5 minutes.
Step 3: Mix those two together, add the eggs and flour and there's your dough.
Step 4: Knead the dough until there's elasticity.
Make sure you have a surface area big enough for this. This recipe makes two Cakes, so take your dough after it has doubled in size and split into two halves. Put one half back into the bowl and set aside.
Step 5: The other half roll out on your floured surface. Roll it out to approximately 28X10 inch rectangle.
Step 6: Spread the filling out over the entire area of the dough with the back of a spoon. t
Step 7: Roll up into a log on the long side.
Step 8: Form a ring and press the seams together.
Transfer to a baking sheet and cover. Allow to rest for 20 minutes.
Step 9: Bake for 20 minutes at 375°F then remove from the oven. Allow to cool.
Step 10: Mix the glaze ingredients together.
Step 11: Insert the baby into the king cake - carefully.
Step 12: Once your glaze is ready start by covering the hole where the baby is. Work quickly as it dries quickly and you still need to decorate with the sanding sugar before it sets.
Then finally all that is left is to decorate with the sanding sugars. You can buy this at the store, but if you can't get it you can easily make some yourself with some sugar and food color.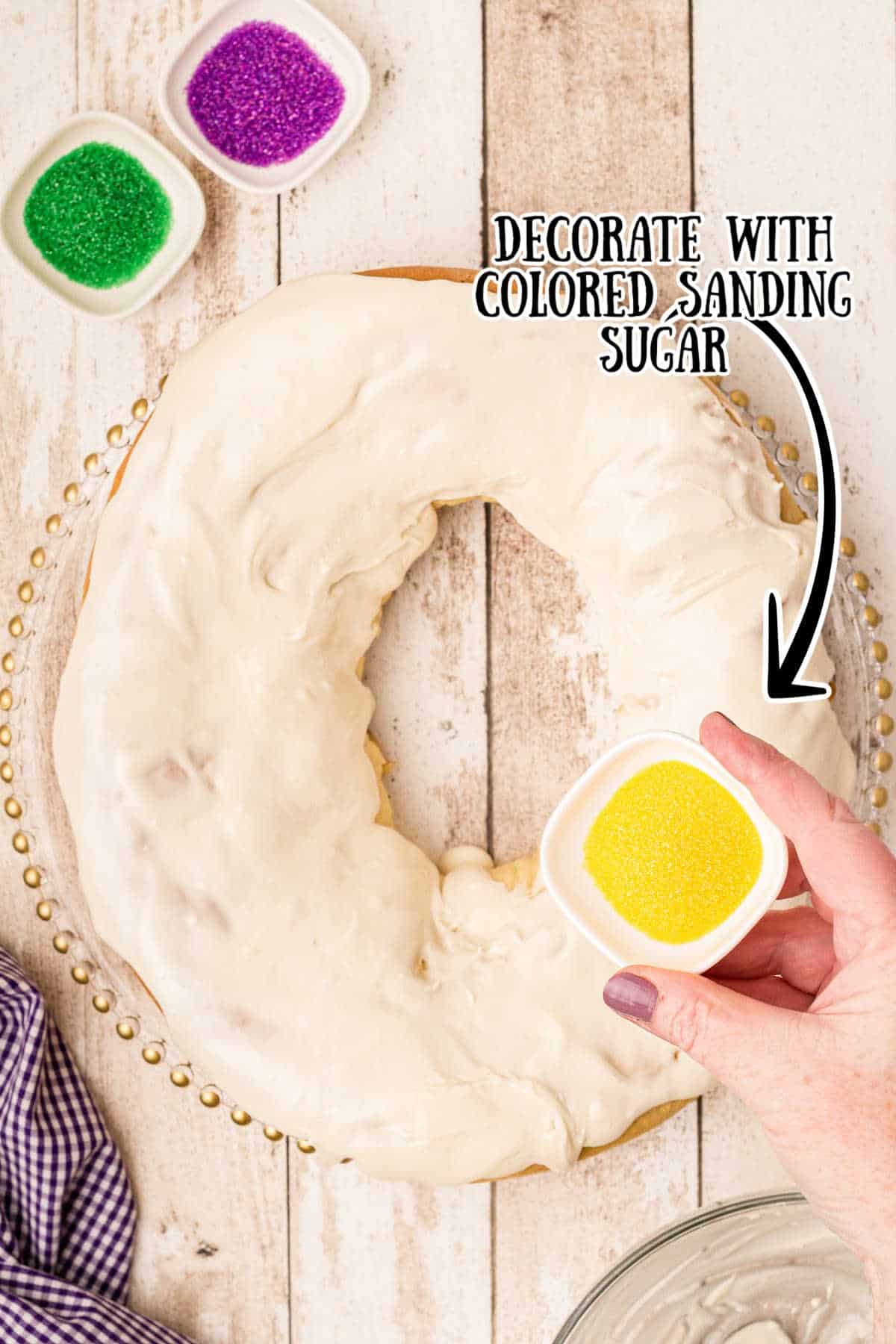 Hint: You can make homemade sanding sugars if you can't find any locally. Basically, drop a touch of food color into a batch of granulated sugar.
🔄 Variations
There are so many different fillings for a king cake. The most popular is the traditional cinnamon flavored dough (tastes like a cinnamon roll). In close second is the pecan praline, followed by the cream cheese. You can also find strawberry, blueberry, apple pecan amongst MANY others.
See this other traditional Louisiana Dessert on my site - the Louisiana Crunch Cake.
🔌 Equipment
You'll need baking sheets, rolling pins and some space to be able to roll our a pretty large area.
🧊 Storage
Depending on your choice of filling for the king cake, if you chose a cream cheese type filling, or one containing dairy then it is recommended to be refrigerated until served. Otherwise, most others can be stored at room temperature in an airtight container.
💡 Top tip
Visit your local craft store for some really great Mardi Gras decorations to help dress up your cake. Some beads and trinkets can really make it stand out!
More Mardi Gras Recipes
👩‍🍳 King Cake FAQ's
Can you get King Cakes shipped?
This has become quite a big market - for those people that don't have the time to bake at home there are a number of bakeries in Louisiana especially that ship King Cake all over the country! Just look up the following:
Meches King Cakes
Gambino's King Cake
Randazzo King Cake
Can you freeze King Cake?
I wouldn't recommend it. It would get quite mushy when defrosting and be weird. Anyway, who has leftover king cake??
I don't want to use the sanding sugar, can I decorate with something else?
This is entirely your preference. The way I have written here in this recipe is the traditional way - but you could just color the glaze if you prefer, or something else. It's totally up to you!
What are the different King Cake flavors?
I did a survey, it seems the two most popular flavors are Cream Cheese (by far) and Praline coming in second. After that there's Blueberry Cream Cheese, Bavaria Cream, Strawberry Cream, Cinnamon, Raspberry Cream Cheese, Chocolate, Turtle, Plain, Lemon, Cinnamon Pecan....
Do I have to add the King Cake baby?
No - this is an old tradition. But if you prefer you can just put the baby on the side, for safety!
---
If you've tried this King Cake Recipe or any other great recipe on my site, let me know in the comment section below, how it turned out, we love hearing from our readers! You can also follow me on PINTEREST, FACEBOOK and INSTAGRAM to see more amazing recipes!
King Cake
Additional Time:
1 hour
25 minutes
Total Time:
2 hours
20 minutes
This traditional Mardi Gras King Cake recipe has routes deep in New Orleans, filled with a variety of fillings - it's simple yet oh so yummy!
Ingredients
For The King Cake
¼ Cup Unsalted Butter
16oz Sour Cream
⅓ Cup White Sugar + 1 Tsp.
1 Tsp. Salt
2 Packets Active Dry Yeast
½ Cup Warm Water
2 Large Eggs
6-½ Cups All Purpose Flour
Cream Cheese Filling
2 8oz Packs Cream Cheese
1 Large Egg
¾ Cup White Sugar
2 Tsp. Vanilla
Pecan Praline Filling
2 8oz Packs Cream Cheese
½ Cup White Sugar
¼ Cup Dark Brown Sugar, packed
2 Tsp. Cinnamon
2 Tsp. Vanilla
1 Large Egg
1 Cup finely chopped candied Pecans
Vanilla Glaze
3 Cups Confectioners Sugar
4 Tbsp. Melted Butter
2 Tsp. Vanilla
4 Tbsp. Whole Milk
Sanding Sugars - purple, green and yellow
Instructions
Take the butter, sour cream, sugar and salt and put into a sauce pan. Heat until the butter has all melted.
In a large bowl take the yeast, warm water and sugar - mix and let stand for 5 minutes.
Mix the sour cream mixture into the yeast mixture and add the 2 eggs and 2 cups of the flour. Mix well for 2 minutes on medium speed.
Stir in the remaining flour, stir until combined.
Empty out onto a clean, floured surface. Knead the dough for 10 minutes until it becomes soft and elasticy.
Put this dough into a large greased mixing bowl, then turn the dough over (now the top has been greased. Cover lightly with plastic wrap and allow to rise for 1 hour in a draft-free warm area.
While the dough is rising make the filling. In a medium sized mixing bowl take all the cream cheese filling ingredients and mix together on medium setting for 1 minute.
Same with the pecan praline filling, except leave out the pecans until the ingredients have been mixed, then stir in the pecans.
Once the dough has doubled in size divide in half. Take one half and roll out onto a floured surface - making a 28X10 inch rectangle (ish).
Using the back of a spoon carefully spread the filling on top of the king cake dough. Be careful not to tear the dough.
Starting at the long end start to roll the dough into a log shape. Try to keep it even.
Transfer the 'log' onto a baking sheet (with parchment paper) and shape into a circle/oval. Press the ends of the log into each other and press the seams closed as best you can. It doesn't have to be perfect because the icing afterward can cover imperfections pretty well.
Preheat the oven to 375°F.
Cover the dough with a dry towel and allow to rest again for 20 minutes.
Remove the towel and put into the oven for 20 minutes.
Remove from the oven and allow to cool.
If you are inserting a plastic king cake baby into your king cake now is the time to do it. Just press the baby into the cake in an inconspicuous place.
Take the vanilla glaze ingredients and mix together well. Spoon onto the king cake starting at the place you just inserted the baby. Work quickly because the glaze dries quickly and you still need to sprinkle the sanding sugar while it's wet.
Sprinkle the sanding sugar all over the icing, liberally. Traditional Mardi Gras colors are purple green and yellow, but this is your choice!
Slice and enjoy!
Notes
This recipe makes 2 King Cakes - the filling recipes is enough to fill 2 King Cakes (each)
If you like a clean seal don't spread the filling completely to the edges. I personally like filling to be consistent throughout the dough so I like to spread all the way to the edges.
Make sure the king cake has completely cooled before glazing
Make sure to sprinkle the sanding sugar while the glaze is still wet - it dries quickly - so get to it!
You can buy the ready made sanding sugar but it's also easy to make using food coloring and sugar.
Nutrition Information
Yield

24
Serving Size

1
Amount Per Serving
Calories

381
Total Fat

23g
Saturated Fat

12g
Trans Fat

0g
Unsaturated Fat

8g
Cholesterol

91mg
Sodium

263mg
Carbohydrates

39g
Fiber

1g
Sugar

29g
Protein

5g