A delicious change-up from the usual Gumbo - Alligator Gumbo has all the usual flavors you would expect from a Cajun Gumbo, but with Alligator added. The smoked sausage helps give that extra profile that you just can't get from anything else and throw in some shrimp, because - why not!? C'est Bon!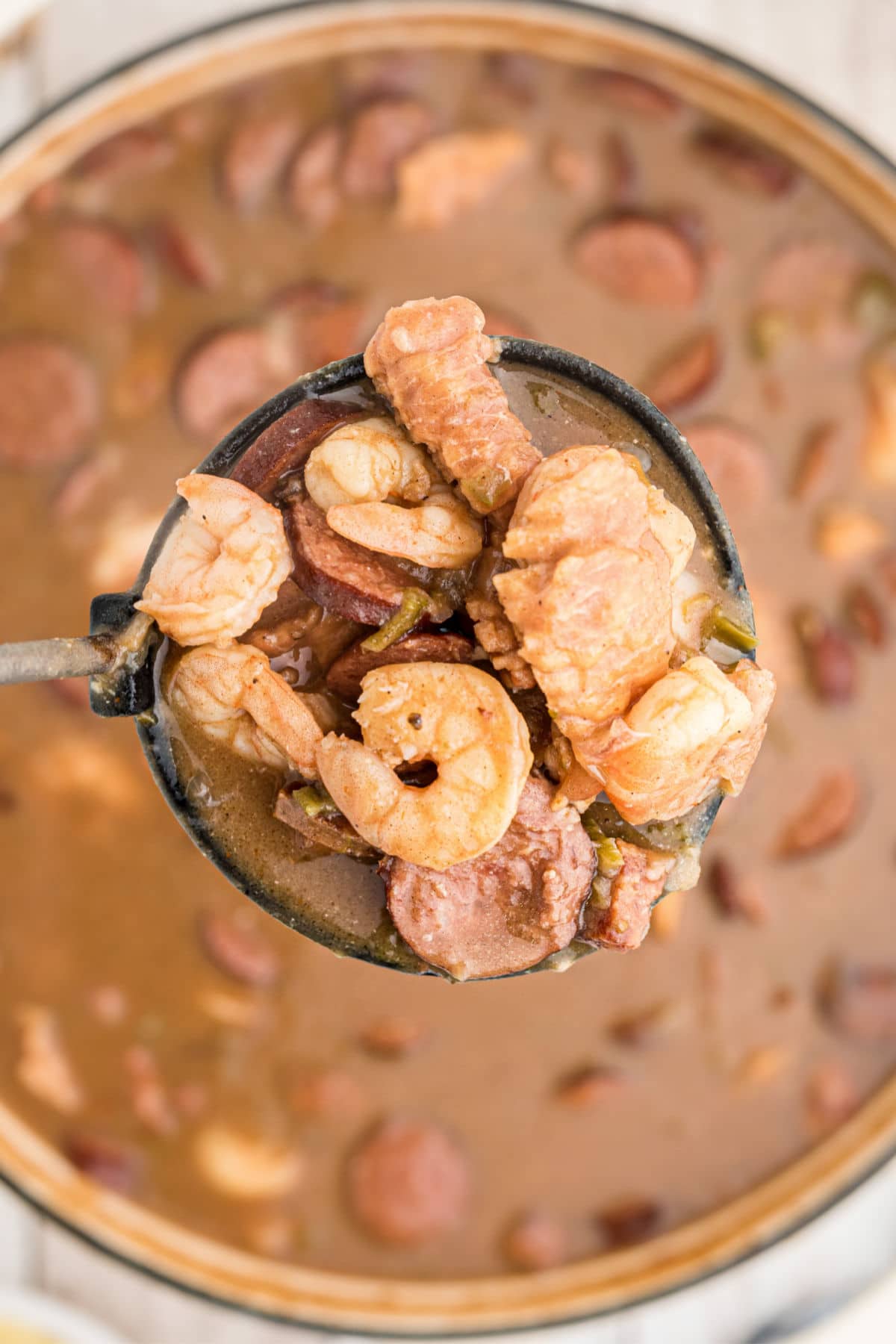 Traditionally we eat Gumbo during the colder months. As soon as the first cold front comes through Louisiana out comes the Gumbo Pots! Any excuse really. To be honest, we do sometimes make it in the summer too because it's just too good. That's one of the great things about Cajun food.
This was inspired by my Louisiana Seafood Gumbo and my Chicken and Sausage Gumbo, which are also super delicious. This recipes is very similar but instead of using a more seafood base (and stock) I chose to go with a meaty base.
Jump to:
🧅 Ingredients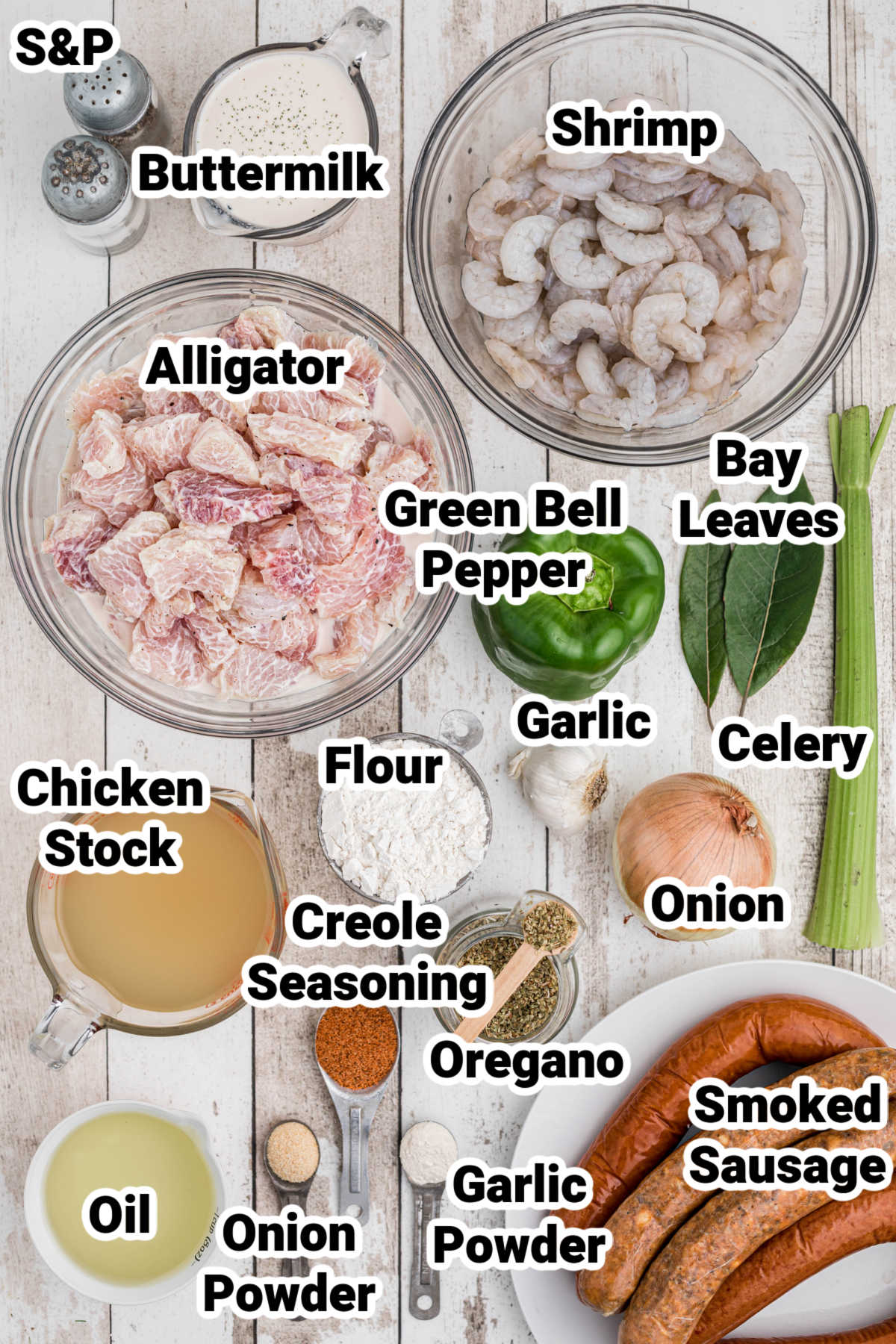 Alligator Tenderloin
Buttermilk
Shrimp
Smoked Sausage
Andouille Sausage
All Purpose Flour
Vegetable Oil
Onion
Green Bell Pepper
Celery
Garlic
Chicken Stock
Onion Powder
Garlic Powder
Oregano, dried
Bay Leaves
See recipe card for quantities.
🥣 Instructions
Step 1: Soak the alligator meat in seasoned buttermilk overnight.
Step 2: Add the flour and oil to a large Dutch Oven (or heavy bottomed pot) and cook the roux until dark.
Step 3: While the roux is cooking, chop all your vegetables and sausages, but DON'T BURN THE ROUX!
Step 4: Add the smoked sausage and cook a few minutes until caramelized (golden brown).
Step 5: Add the trinity of onion, bell peppers and celery and cook until translucent. Then add the garlic and cook another 2 mintues.
Step 6: Add the chicken stock turn up to a medium-high heat and stir until well combined.
Step 7: Add the seasonings then cover. Cook on a medium-low heat for one hour - stirring occasionally.
Step 8: Drain the alligator meat and add to the pot. Stir well and cover again. Cook 1 hour.
Step 9: Add the shrimp and cook another 5 minutes. Turn off the heat.
Step 10: Serve with white rice and potato salad. Offer some hot pepper sauce and Gumbo File.
Hint: Chopping the smoked sausage and the andouille sausage into different shapes help identify it when serving. Andouille can sometimes be hot/spicy and the kiddos don't appreciate it. By cutting it smaller it's easier to eat without too much spice at one time.
🔄 Substitutions and Variations
Okra - instead of making the roux you could use okra instead. This was the original way to make Gumbo yesteryear and it thickens the soup.
Eggs - Add a few boiled eggs at the end for some surprise treats. The egg soaks up the flavor of the alligator gumbo and becomes super delicious.
Seafood Stock - use seafood stock instead of chicken stock for it to have a more seafood taste.
Crab Meat - if you choose to make it more seafood based you could add crab meat too.
Spicy - add hot sauce to the dish if you like it spicier.
Picky Kid friendly - don't add the andouille sausage.
Green Onions - Add at the end for a little extra (and for garnish)
For ideas on what to serve with seafood gumbo check out this compilation.
❤Sharing is Caring - Like Us On Facebook❤
📘 More Cajun Recipes
🔌 Equipment
For this recipe I like to use my Dutch Oven, but sometimes my Gumbo gets a little too big for it. In which case, I switch over to my big stock pot. It inevitably happens, I think I'll fit it, then end up having to transfer! See recipe card below for a link.
🧊Storage
Once cooled completely store in an airtight container in the refrigerator, for up to 3 days.
It will freeze ok, add to a freezer safe container and freeze for up to 3 months.
💡 Top tip
Expert Tip: For best results don't skimp on time to soak the alligator meat, it's important for it to be as tender as possible. I like to give it a good 24 hours in the seasoned buttermilk. Also, alligator meat tends to be very bland so don't skimp on the seasonings in the buttermilk too, add as much as you feel comfortable - then add a little more.
---
If you've tried this Alligator Gumbo or any other great recipe on my site, let me know in the comment section below, how it turned out, we love hearing from our readers!
You can also follow me on PINTEREST, FACEBOOK and INSTAGRAM to see more amazing recipes!
Alligator Gumbo
Cook Time:
2 hours
30 minutes
Total Time:
1 day
2 hours
45 minutes
Delicious Cajun Alligator Gumbo with shrimp and sausage. Tasty, smoky and full of seasoning this dish is a surprising change from the usual.
Ingredients
3lb Alligator Meat
1 Quart Buttermilk
2lb Small Shrimp, peeled, de-veined tail-off
2lb Smoked Sausage, cut into coins
½lb Andouille Sausage, diced
1 Cup Vegetable Oil
1-½ Cups All Purpose Flour
2 Yellow Onions, diced
2 Stalks Celery, diced
1 Green Bell Pepper, diced
6 Cloves Garlic, minced
2 Tablespoons Garlic Powder
2 Tablespoons Onion Powder
4 Tablespoons Creole Seasoning
1 Tablespoon Oregano, dried
2 Large Bay Leaves
Instructions
Add the alligator to an airtight container and cover with buttermilk, 1 Tablespoon of Onion Powder, 1 Tablespoon Garlic Powder and 2 Tablespoons Creole Seasoning. Soak in the refrigerator overnight.
Start making your roux. Add the flour and oil to a large soup pot. Cook on medium heat stirring about every minute or so to make sure you don't burn it. You want your roux to look as dark as Hershey Chocolate.
Add the smoked sausage and andouille sausage and cook in the roux for a few minutes, to caramelize the sausage.
Add the trinity of onions, green pepper and celery. Cook until translucent.
Add the garlic and cook a further 2 minutes.
Add the chicken stock, stirring, until combined.
Add 1 Tablespoon Garlic Powder, 1 Tablespoon Onion Powder, 2 Tablespoons Creole Seasoning, 1 Tablespoon Oregano and 2 Bay Leaves. Stir and cover the pot. Turn the heat to low to allow a good simmer.
Cook for 1 hour like this.
Drain the alligator from the buttermilk and add to the gumbo. Cover again and cook another 1 hour.
Add the shrimp cook to a rolling simmer for about 5 minutes.
Turn off the heat and serve on rice, with potato salad.
Notes
Have some gumbo file handy to offer when serving.
It is important to soak the alligator meat as it tends to be quite a tough type of meat. Soaking in the buttermilk overnight will ensure it's soft.
I used the tenderloin (from the tail) - it's the most tender part of the alligator.
Traditionally Okra is used to thicken soups (back in the day). Gumbo actually translates to Okra. I however am not a fan and prefer to use a roux.
American alligators are in abundance in the south and you can pick up alligator meat from a local meat market - or if you're lucky like we are - happen to know some alligator hunters. This is something you have to be licensed for though, it's not something anyone can just go out and do.
If you find your Gumbo is a little too thick you can add some boiling water or extra stock.
Recommended Products
As an Amazon Associate and member of other affiliate programs, I earn from qualifying purchases.
Nutrition Information
Yield

18
Serving Size

1
Amount Per Serving
Calories

599
Total Fat

36g
Saturated Fat

9g
Trans Fat

0g
Unsaturated Fat

24g
Cholesterol

179mg
Sodium

2012mg
Carbohydrates

22g
Fiber

1g
Sugar

6g
Protein

43g