My kids are always asking me to make their favorite shrimp recipe - Boom Boom Shrimp. Otherwise known as Bang Bang Shrimp too. This yummy Asian inspired dish has a tempura battered crispy shrimp with a sweet and spicy chili sauce.
Next time try my Shrimp Boil Foil Packets, for another delicious shrimp inspired dish. Or my copycat Texas Roadhouse Grilled Shrimp.
Jump to:
MORE SEAFOOD RECIPES:
Shrimp & Grits | Seafood Gumbo | Crawfish Etouffee
Ingredients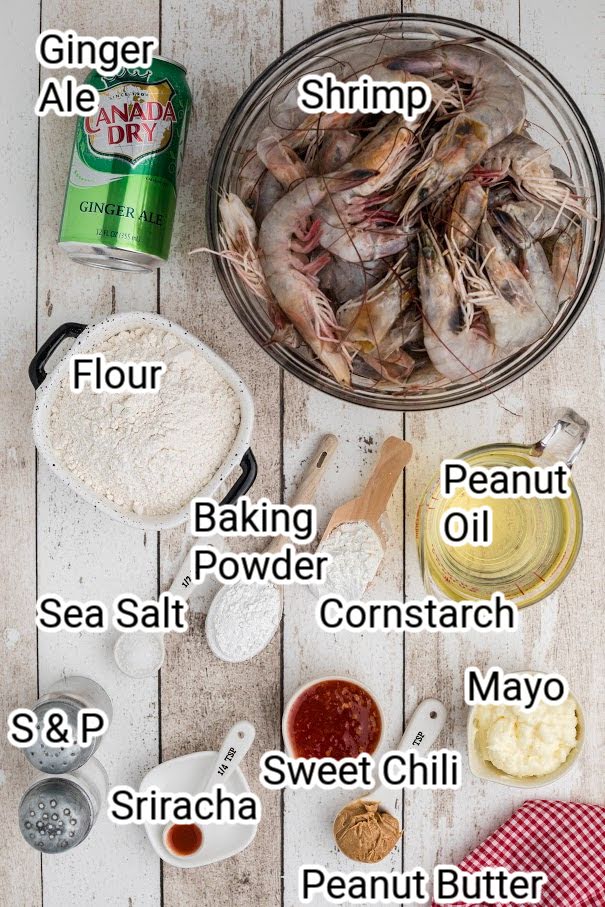 ---
You will need:
Large Shrimp, peeled and deveined
All Purpose Flour
Cornstarch
Baking Powder
Sea Salt
Ginger Ale
Peanut Oil for frying
Mayonnaise
Sweet Thai Chili Sauce
Peanut Butter
Sriracha Sauce
Salt
Black Pepper
See recipe card below for quantities.
Substitutions and Additions
Swap out the shrimp for another protein, it would be delicious with small bites of chicken.
Instead of using peanut oil you could use another high temperature tolerant oil like canola.
Try club soda instead of Ginger Ale, or even Sprite.
If you don't have sriracha sauce feel free to use another type of hot sauce, like Tabasco Sauce.
How To Make This Recipe
Step One: Turn the heat on for the oil to heat while you prepare the rest. You're looking for a temperature of about 330°F to fry Boom Boom Shrimp. I have the best experience with Deep fryers , but you can fry in your iron pot for even cooking, if not.
Step Two: In a large mixing bowl, mix the flour, cornstarch, baking powder and sea salt, with a whisk.
Step Three: Once the peanut oil has reached temperature, add the ginger ale to the flour mixture and stir well with a whisk.
Step Four: Place shrimp in the batter and drop individually into the oil, cooking only 8-10 at a time.
Step Five: Fry for 3 minutes and then remove to paper towel lined pan.
Step Six: Fry the remaining shrimp.
Step Seven: Mix the Mayonnaise, Sweet Chili Sauce, Peanut Butter, Sriracha and salt and pepper together to make the sauce. Either pour onto the shrimp or add a dipping bowl to the plate.
---
How To Serve
This Boom Boom Shrimp Recipe is best served with a delicious salad on the side. Perhaps some French fries. Whatever your preference. I think a salad works best.
You can also decide whether you want to pour the Boom Boom Sauce over the top of the battered shrimp or on the side as a dip. Again, this is personal preference.
Storage
If you have any left (which would be strange), go ahead and store in the refrigerator for up to 3 days. If you have a feeling there will be leftovers, I'd advise not pouring the sauce all over, as it will be easier (and taste better) if the sauce is poured on at the time.
If you have an air fryer this is the best way to reheat any fried foods like this. Pop into the air fryer (400°F) for 3-4 minutes. They'll crisp up to just like they were when you first cooked them. This will also work in a convection oven the same. If you don't have an air fryer or a convection oven rather use a regular oven to reheat them. Microwave is not the best, as it reheats from the inside and will make the batter soggy.
Festive Boom Boom Shrimp Skewers
It's really easy to turn this recipe into a seasonally decorated skewer. Just place the shrimp onto skewers and dip them into the batter just like that. Fry for the same amount of time.
After you remove them from the oil, allow to cool then decorate as per season.
My July 4th skewers below have red bell pepper stars on the top with a red, white and blue fringe on the bottom. Simple right? I brushed the Bang Bang sauce all over then sprinkled some sesame seeds all over.
---
---
Boom Boom Shrimp
Additional Time:
15 minutes
Boom boom shrimp (also known as Bang Bang Shrimp) is a delicious battered shrimp recipe with a sweet chili sauce coating. Incredibly tasty and moreish, you'll keep going back for more!
Ingredients
1lb Large Shrimp, peeled and deveined
1-½ Cups All Purpose Flour
¾ Cup Cornstarch
1-½ Tablespoons Baking Powder
½ Teaspoon Sea Salt
1 (12oz) Can Ginger Ale
Peanut Oil (for frying)
Boom Boom Sauce
⅓ Cup Mayonnaise
¼ Cup Sweet Chili Sauce
1 Teaspoon Peanut Butter
4-6 Drops Sriracha Sauce
¼ Teaspoon Salt/Pepper (each)
Instructions
Place a large pot of peanut oil to heat up.
In a large mixing bowl add the flour, cornstarch, baking powder and salt and mix well with a whisk.
Once the oil has reached 330°F add the ginger ale to the mixing bowl with the flour. Stir with whisk.
Dredge the shrimp in the batter then drop one by one into the batter, working quickly but being careful not to burn your fingers. Only do batches of about 8-10.
Cook for 3 minutes then remove immediately and place on paper towels to drain. Repeat with the remaining Shrimp.
In a small mixing bowl add the mayonnaise, sweet chili sauce, peanut butter, sriracha sauce and salt and pepper. Mix well then either spoon it over the shrimp or add as a dipping bowl.
Notes
If you cook more than 8-10 shrimp at one time you'll have a problem with the earlier shrimp being more cooked than the latter. This will help with an even cook.
If you prefer to use a fork to lower the shrimp into the grease go ahead, I like to use my hands because I like the batter to stay on the shrimp better.
If you like a spicier sauce feel free to add more sriracha.
Recommended Products
As an Amazon Associate and member of other affiliate programs, I earn from qualifying purchases.
Nutrition Information
Yield

4
Serving Size

1
Amount Per Serving
Calories

695
Total Fat

20g
Saturated Fat

4g
Trans Fat

0g
Unsaturated Fat

16g
Cholesterol

247mg
Sodium

2545mg
Carbohydrates

93g
Fiber

2g
Sugar

18g
Protein

33g