I have been wanting to try making Shrimp Boil Foil Packets since I saw it circulating on social media a while ago. I figured now's a good a time as any.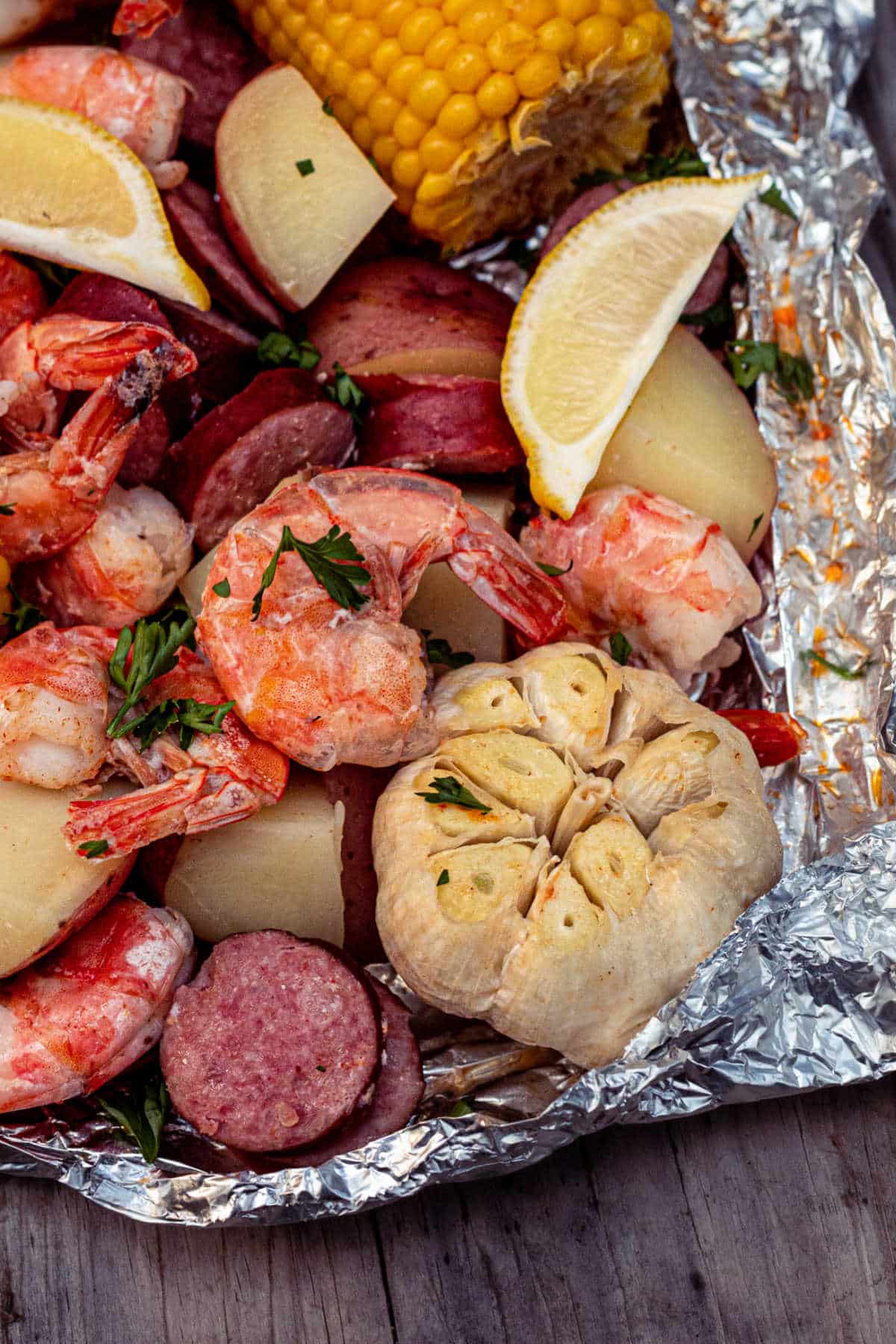 Next time try my Creole Shrimp and Grits recipe, it's a readers favorite and is Creole/Cajun cooking at it's finest!
You don't get more southern, than having a good ol' shrimp boil (aka - low country boil). Sometimes though, you just don't have the amenities to do it.
Jump to:
What better way to get those same flavors on your plate than by firing up the grill and throwing it all together in foil packs?
I wasn't sure it was going to be 'all that' - but this easy recipe really was delicious and the great thing that impressed me most... no dishes!
🧅 Ingredients
There are so many other ingredients that can be used for this recipe. Whatever you would normally put in a shrimp boil.
Literally, I used what I had at my disposal (Ida and all) - and these basics were enough to get that great shrimp boil taste!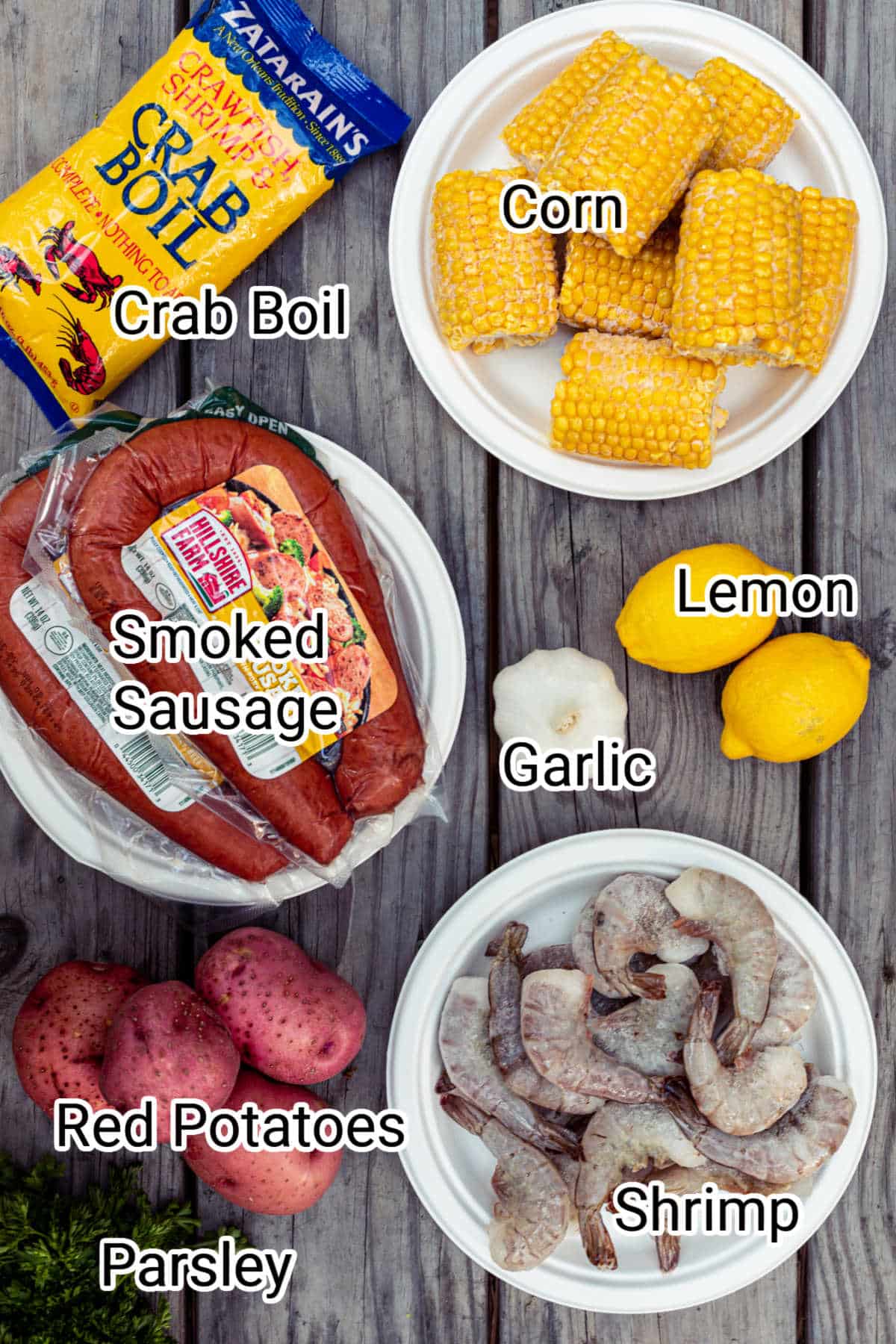 Large Shrimp (I used #16-24)
Smoked Sausage
Sweet Corn
Red Potatoes
Olive Oil
Garlic
Crab Boil (or Cajun Spices)
Fresh Parsley
See recipe card for quantities.
🥣 Instructions
Step 1: Cut your foil sheets into 8 same size pieces (about 24") and lay 2 out on top of each other. Grease the top layer with olive oil.
Step 2: Divide shrimp etc into four portions. Place potatoes, corn, sausage, shrimp and garlic and sprinkle with crab boil (1 portion per packet).
Step 3: Fold the sides of foil tightly so they don't leak and put on to the grill. Place foil packets on the grill (on a medium-high heat), turning half way through the cooking time.
Step 4: Remove from the grill and sprinkle with parsley, add lemon wedges to serve.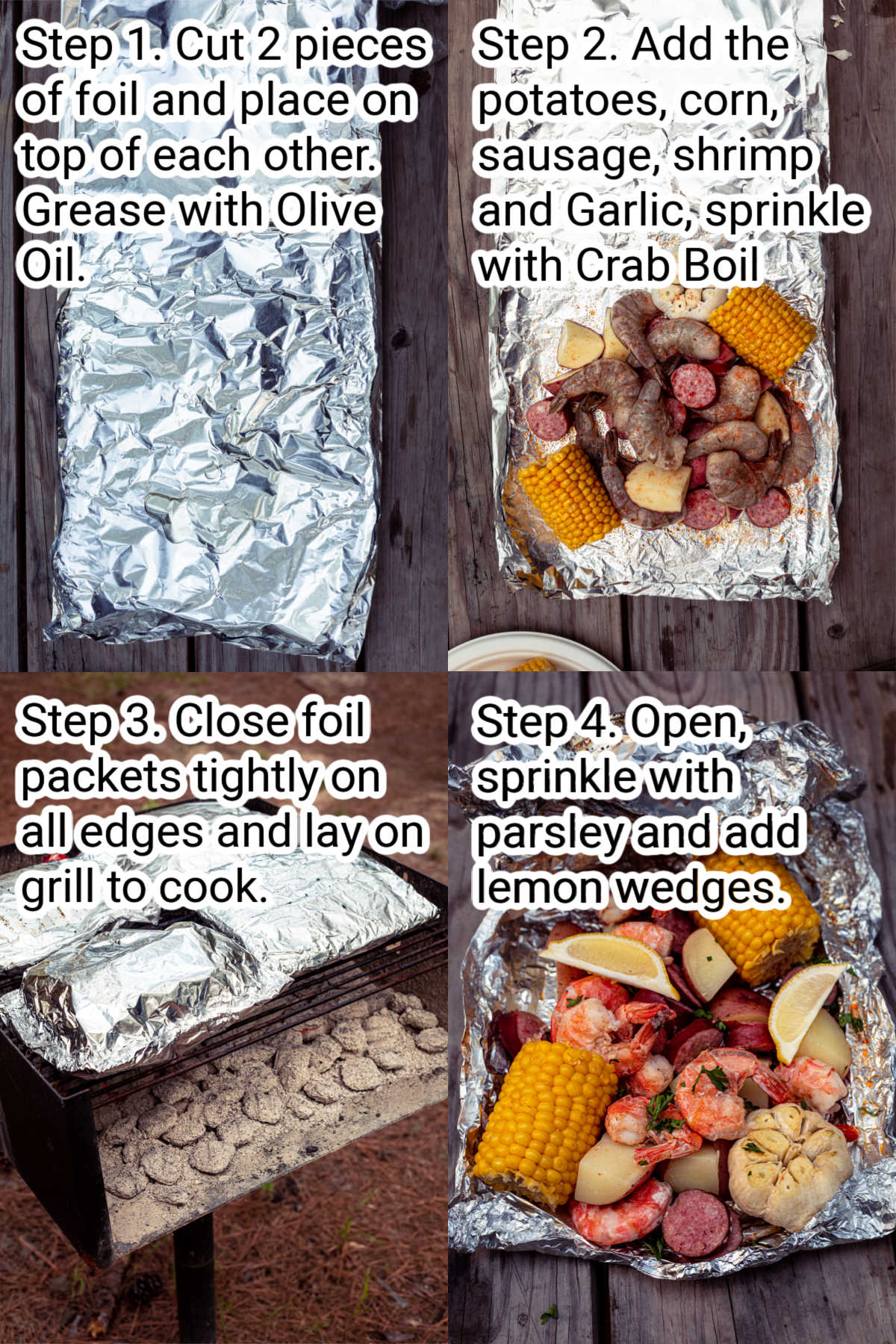 Hint: The most difficult part about cooking these shrimp boil foil packs, is making sure those potatoes are cooked.
If you prefer your potatoes a little bigger and want to partially cook them ahead of putting them in the foil packet you can do that. Otherwise, keep those potato pieces small enough to steam in 15 minutes.
🔄 Substitutions and Variations
Old Bay Seasoning - instead of Crab Boil (if you can't get it or prefer not to use it) Old Bay Seasoning is another good all around seafood seasoning (add red pepper if needed). Or use simple Cajun Seasoning and black pepper.
Andouille Sausage - swap out the regular smoked sausage for Andouille sausage for even more spice and flavor!
Red Onion - this tastes great too.
Crawfish - want to try this as a crawfish boil foil packet? I'd love to hear how you get on. Crawfish definitely need longer to cook, bear that in mind.
Spicy - add chili pepper flakes to imbue more heat into the dish
Vegetables - add carrots, mushrooms, bell peppers - any of your normal favorite shrimp boil veggies!
Kid friendly - reduce the amount of seasoning.
🦐 Other favorite Shrimp recipes
🔌 Equipment
All you need to cook this dish is a good old grill for outside, or you can even put them on a rack over coals of a campfire. Heck, you can even throw this in the oven on a baking sheet if you really want to make foil packet dinners and want to use the convenience of your oven. Oh, and let's not forget the sheets of foil you'll need.
🧊 Storage
After allowing to cool completely, store in an airtight container, or a large bowl with plastic wrap in the refrigerator for up to 3 days.
This foil packet meal does not hold up to freezing well.
💡 Tips
Expert Tip: By leaving your shrimp with the shells on you are adding a lot more depth to your dish! There's so much flavor in those shrimp shells, so allow them to cook with the shells on and peel as you are eating! That's part of the fun of a shrimp boil anyway right?
---
If you've tried these shrimp boil foil packets or any other great recipe on my site, let me know in the comment section below, how it turned out, we love hearing from our readers! You can also follow me on PINTEREST, FACEBOOK and INSTAGRAM to see more amazing recipes!
Shrimp Boil Foil Packets
Additional Time:
30 minutes
A delicious and simple way to get those flavors from a Shrimp Boil while camping! This no-fuss way of cooking shrimp will have everyone so excited it tastes just like the real deal. Spicy Cajun flavors infused into every bite.
Ingredients
2lb Large Shrimp
20oz Smoked Sausage, sliced
8 Corn Cob Halves
5-6 Large Red Potatoes, cut into small pieces (about 1")
4 Garlic Bulbs, tip cut off
4 Tablespoons Olive Oil
4 Tablespoons Crab Boil
4 Tablespoons Parsley, freshly chopped
Instructions
If you are using a charcoal grill, go ahead and light your coals and let them get red.
Cut 8 pieces of foil (each about 24"). Lay 2 pieces down on top of each other.
Take 1 Tablespoon of the olive oil and pour it on the top side of the foil.
Using your fingers rub that oil all over that foil surface.
Take 1 quarter of the ingredients - 2 pieces of corn, 1 garlic bulb, some potatoes, shrimp and sausage and place over on one side of the foil.
Take 1 Tablespoon of the crab boil and sprinkle all over the ingredients.
Close the other side of the foil over the top of the ingredients. Crimp all sides closed and make sure there are no seams open.
Repeat this process with the other three foil packets.
Lay the foil packets on the grill and allow to cook for 15 minutes (+/-) turning the packets half way.
After you remove them from the grill, open up and sprinkle with the tablespoon of parsley and add lemon wedges to serve.
Notes
The amount of spice in boiled shrimp is a personal preference. You may feel like 1 tablespoon of crab boil is not enough. Feel free to add more as required. (or less).
Make sure the potatoes are small in size as they will not cook in time. If you prefer your potatoes bigger perhaps try partially cooking them first.
Nutrition Information
Yield

4
Serving Size

1
Amount Per Serving
Calories

1410
Total Fat

61g
Saturated Fat

17g
Trans Fat

0g
Unsaturated Fat

36g
Cholesterol

573mg
Sodium

3410mg
Carbohydrates

131g
Fiber

13g
Sugar

16g
Protein

87g