This Garlicky Shrimp Alfredo Bake recipe is something I always whip up when I have some shrimp left over from either eating out or having a shrimp boil at home. It's creamy, cheesy and full of garlic - I usually make it using Fettucine, in fact I've heard friends call it a shrimp fettucine. It's all good, whatever we call it - it's darn good!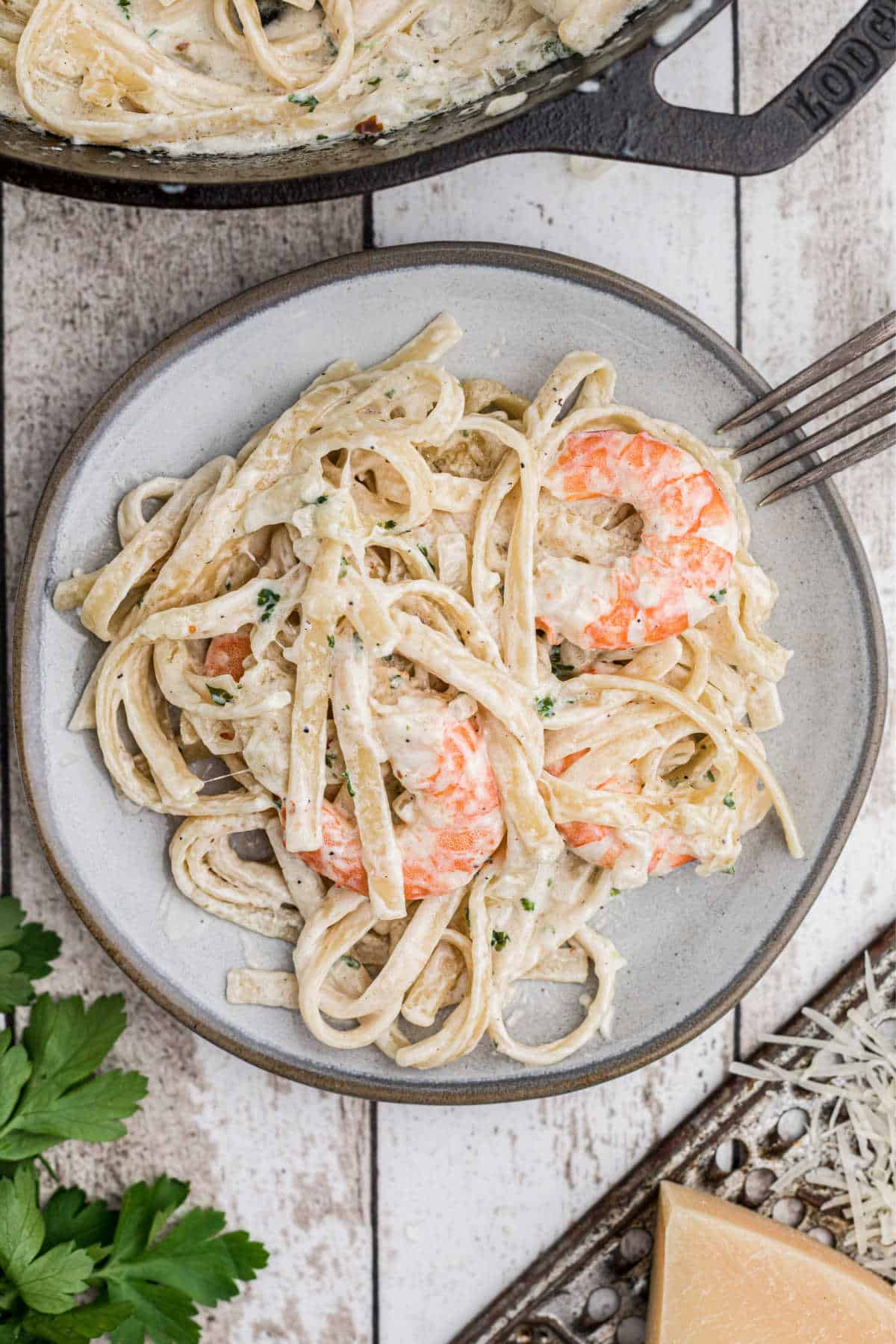 Shrimp season is when this dish can be very popular at my house. We often end up boiling shrimp then I am usually left with a little to do something with afterward. Shrimping season can depend on your location - in Louisiana it typically runs May to December (with changes of brown to white shrimp).
Jump to:
🧅 Ingredients
Fettucine Noodles (or favorite pasta)
Peeled Shrimp (cooked or raw)
Red Pepper Flakes
Extra Virgin Olive Oil
Garlic, crushed
Yellow Onion, chopped
Fresh Parsley, chopped
Butter, unsalted
Cream Cheese
Heavy Whipping Cream
Parmesan Cheese
Salt and Pepper to taste
Mozzarella Cheese (or Provolone)
See recipe card for quantities.
🥣 Instructions
Step 1: Cook the pasta per the package directions, to Al Dente. Drain (reserve a cup of the pasta water) and set aside.
Step 2: Over a medium heat to medium-high heat add the olive oil to a large cast iron skillet (or a large skillet that is oven safe).
Step 3: If you are using raw shrimp, add them now. Cook for a few minutes each side then remove. Then add the onions, garlic and fresh parsley and cook a few minutes until soft.
Step 4: Add and melt butter, cream cheese, red pepper flakes and salt and pepper (to taste). Bring to a slight boil.
Step 5: Add the grated parmesan cheese and stir well to melt.
Step 6: Add the cooked fettucine pasta mixture and the shrimp (if using cooked shrimp) and stir until evenly combined.
Step 7: Sprinkle Mozzarella cheese over the top, evenly.
Step 8: Place under your broiler to cook the cheese on top, for a few minutes.
Hint: Pasta recipes are my favorite but can sometimes be tricky to get that right consistency in the sauce. Save a cup of the pasta water to keep on hand, just in case you want to thin this homemade alfredo sauce.
🔄 Substitutions and Variations
Crawfish - instead of shrimp you could use crawfish if you have a bunch leftover.
Sour Cream - try sour cream instead of cream cheese.
Penne Pasta - try changing the pasta to your favorite, like penne pasta.
Vegetarian - don't add shrimp.
Chicken - this dish tastes great with chicken instead of shrimp.
Spicy - add more chili pepper flakes.
Garlic Powder - Add a little more garlicky flavor by adding a little garlic powder. It has a slightly different taste to fresh garlic and will give it a little extra.
Deluxe - add some crab meat to the dish too!
Kid friendly - don't add the red pepper flakes if you think it might be too much for the whole family. Although it is quite a mild kick.
See this Asian Inspired Shrimp recipe on my website!
🍤 More Shrimp Recipes
🔌 Equipment
For this Shrimp Alfredo recipe I like to use my cast iron skillet. I imbues a little extra flavor but it also cooks so evenly. It's safe in the oven too.
🧊 Storage
Allow the Shrimp Alfredo to cool completely, then decant to a refrigerator safe container that is airtight. Store for up to 3 days.
When reheating use a little milk if you find it has thickened too much.
💡 Tips
Expert Tip: Make some stock ahead of time and boil the shrimp shells for ½ hour. Remove the shrimp shells and add the pasta to this water - to give your pasta bake an extra level of flavor!
---
If you've tried this Garlicky Shrimp Alfredo Bake Recipe or any other great recipe on my site, let me know in the comment section below, how it turned out, we love hearing from our readers! If you love this recipe please give it 5 stars! ⭐️⭐️⭐️⭐️⭐️
You can also follow me on PINTEREST, FACEBOOK and INSTAGRAM to see more amazing recipes!
Garlicky Shrimp Alfredo Bake
Deliciously creamy and cheesy this Garlicky Shrimp Alfredo Bake is super easy to make and perfect for using up any excess shrimp you may have.
Ingredients
250g Fettucine Pasta
2 Teaspoons Salt
2 Tablespoons Olive Oil
½ Small Yellow Onion, chopped
4-5 Cloves Garlic, crushed
¼ Cup Fresh Parsley, chopped
1 Stick (½ Cup) Butter, unsalted
4oz Cream Cheese
1 Cup Heavy Cream
¼ Teaspoon Red Pepper Flakes
Kosher Salt and Black pepper to taste
½ - 1lb Peeled Large Shrimp (cooked or raw)
1 Cup Mozzarella
Instructions
Bring a large pot of water to boil, with 2 teaspoons salt.
Add the Fettucine Noodles and cook until Al Dente per the package instructions (about 8-9 Minutes). Drain and set aside. Reserve 1 cup of the pasta water in case you need it later.
In a large ovenproof skillet - a cast iron skillet if you have one - heat the olive oil over a medium to medium high heat. If you are using raw shrimp add them now for a few minutes either side, then remove to the side.
Add the chopped onions, garlic and parsley and cook a few minutes until the onions are soft and the garlic is fragrant.
Add the butter, cream cheese, cream, red pepper flakes and salt and pepper. Continue stirring until all has melted.
Stir in the parmesan until melted.
Add the noodles back, along with the shrimp and stir to combine.
Top with the grated mozzarella and place under a broiler for a few minutes until the cheese on top has melted and turned a golden brown.
Notes
Feel free to change up the amount of butter - I usually play it by ear mostly but add anywhere from 6-8 tablespoon butter.
Sprinkle a few tablespoons parsley for garnish if you want to pretty it up.
Have a few tablespoons parmesan handy to serve with, in case anyone wants extra to sprinkle on top.
When reheating this dish you may need a splash of milk to thin it a little.
For a little extra texture try sprinkling some bread crumbs on top with the mozzarella.
Recommended Products
As an Amazon Associate and member of other affiliate programs, I earn from qualifying purchases.
Nutrition Information
Yield

6
Serving Size

1
Amount Per Serving
Calories

415
Total Fat

31g
Saturated Fat

16g
Trans Fat

1g
Unsaturated Fat

12g
Cholesterol

158mg
Sodium

1302mg
Carbohydrates

18g
Fiber

1g
Sugar

3g
Protein

18g