A list of 5 Brownie Recipes you simply have to make now. Or at least try now. If you are a fan of brownies as much as I am you're going to have to etch out some time over the next weekend and try them. I promise you'll agree with me that they really are the best brownie recipes.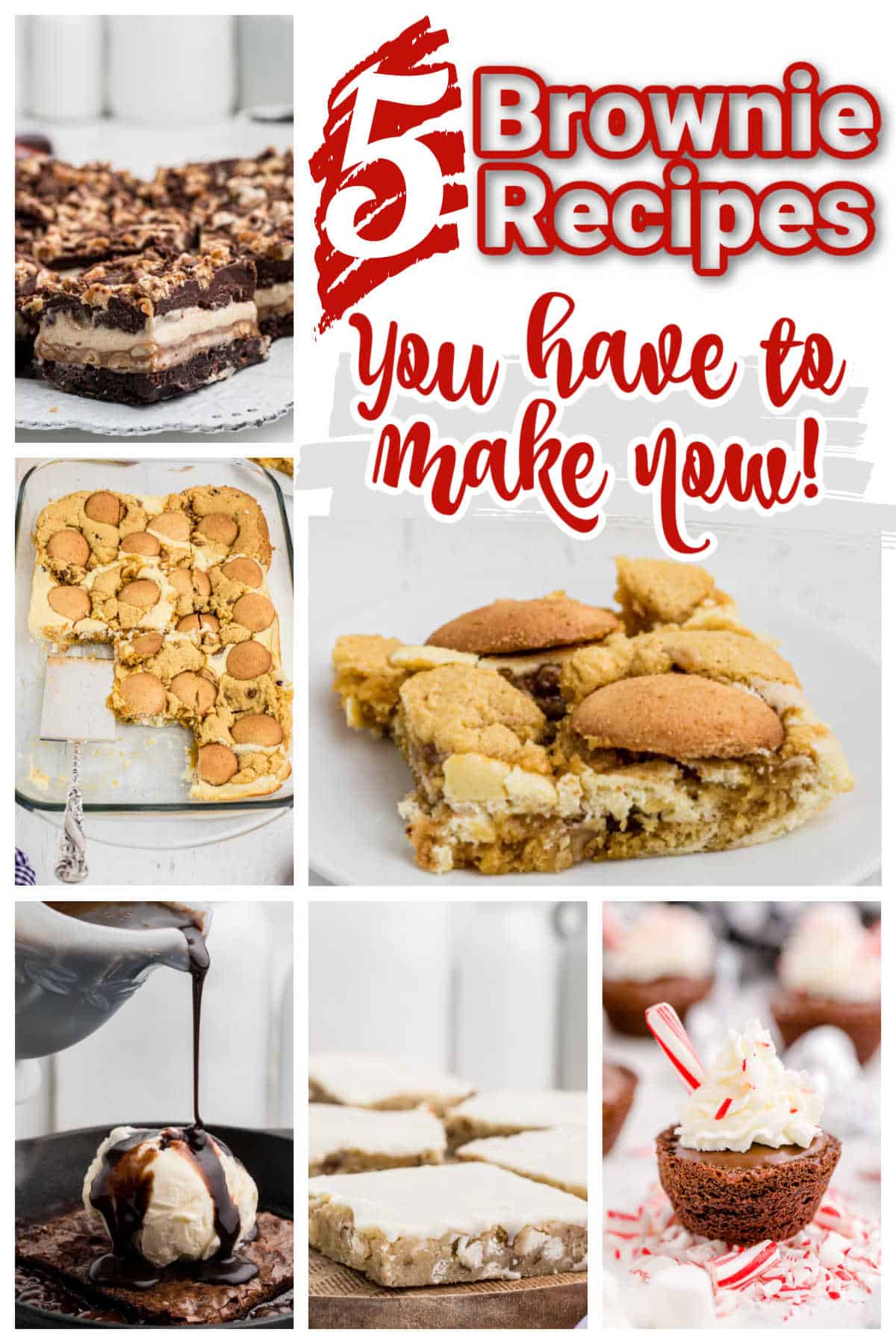 The Sizzling Brownie is one that I remember from my childhood. In England there are a lot of Indian restaurants and this was always on the menu. I would love to go, just as much as I love Indian food, these gooey brownies are a delight.
I came up with the Snickers Brownie as an accident actually. I wanted to create the perfect brownie recipe and was inspired by my favorite candy bar. I'll choose a Snickers Bar every single time someone asks what I want. It's my favorite part of my kids' Halloween candy - lol.
Banana pudding just happens to be my new favorite 'southern dessert' - since moving here I realize that it's a classic and it's not hard to see why. Creating a brownie out of this classic dessert was a no-brainer for me and has become my best brownie recipe.
Jump to:
Recipes
The following 5 recipes are my ultimate favorite brownies to make any time, any day, any occasion. They're the recipes that have become very popular on social media and the recipe printed too many times to count! Let's see what you think:
❤ Sharing is Caring - Like us on Facebook ❤
👩‍🍳 Brownie FAQ's
What's the best brownie recipe you have?
Oh goodness, I hate to choose, but if I had to choose one... I'd say the Banana Pudding Brownies are my favorite and the best performing on my site too.
What makes brownies more fudgy?
The eggs in a brownie recipe will create that cakey texture. The more eggs the fudgier they will be. Just adding extra egg yolks does the trick too.
The molasses in the brown sugar helps too.
How can I get brownies to bake evenly?
If you're worried about your oven not cooking evenly then you could turn the baking pan half way through the cooking time.
Is it cheaper to make brownies at home from scratch?
There's very little difference. Practically none. However, making at home from scratch you know exactly what's in your brownies. Some of these pre-packaged mixes can have things added that you didn't realize to help keep on the shelf longer.
What can substitute butter in a brownies recipe?
You could use apple sauce instead. This is a great alternative to butter.
You could also try avocado, mashed banana, Greek yoghurt or pumpkin puree.
What is the best flour to use for brownies?
All purpose is the best flour to use, due to the gluten content. Using cake flour or bread flour differs in the gluten content and will mess with your brownies' texture.
Are brownies classified as a cake or a cookie?
Surprisingly brownies are actually considered a cookie. It's because of the fact it is a finger food (like a cookie), whereas cake is eaten with a fork.
How can I make brownies with cake flour?
Add 2 tablespoons of cake flour extra for every cup of all purpose flour.
Are brownies better with butter or oil?
Both will work to make brownies, however, only butter will give the brownie batter the aeriation it needs to rise sufficiently. If you are looking for a brownie that has a denser more fudgy texture then go ahead and use oil.
Should I use parchment paper?
It depends on the recipe itself. I find using a good cooking spray is all I need to help prevent sticking. However, if the brownie recipe itself needs some help being removed from a pan then sometimes being lifted out with the help of parchment paper is needed.
🔄 Storage
The best part about brownies is that they don't need to be refrigerated. Although sometimes, I guess, there could be a special ingredient - however, 9 times out of 10 brownies are going to be able to be stored at room temperature. Use an airtight container and they'll keep fresh for up to one week.
Like my Hot Chocolate Brownie Bites, if the brownies have cream on them or something dairy like that that needs to be refrigerated just store in an airtight container in the refrigerator for up to 4 days. Or you could also just add the cream upon serving.
Brownies do freeze well. Store in a freezer safe container for up to 6 months.
Other Recommended Dessert Recipes