If you like banana pudding, then this is the dessert for you. Banana Pudding Tacos are super simple to make and give a delicious change-up from the every day classic banana pudding you're used to.
I'll even show you how to make delicious vanilla taco shells at home for this recipe.
Banana pudding is an incredible dessert that is popular year round, particularly in the south. If I want to make it spectacular then I will make my own pudding (instead of the instant mix) but for a quick dessert that is easy to throw together making it this way really take the effort away.
Jump to:
❤️ Why You'll Love It
It's one of my favorite ways to make banana pudding.
Dessert tacos are a fun new twist that is actually very simple and can be made for virtually any dessert recipe. You can make all kinds of tacos.
Simple Ingredients.
🧅 Ingredients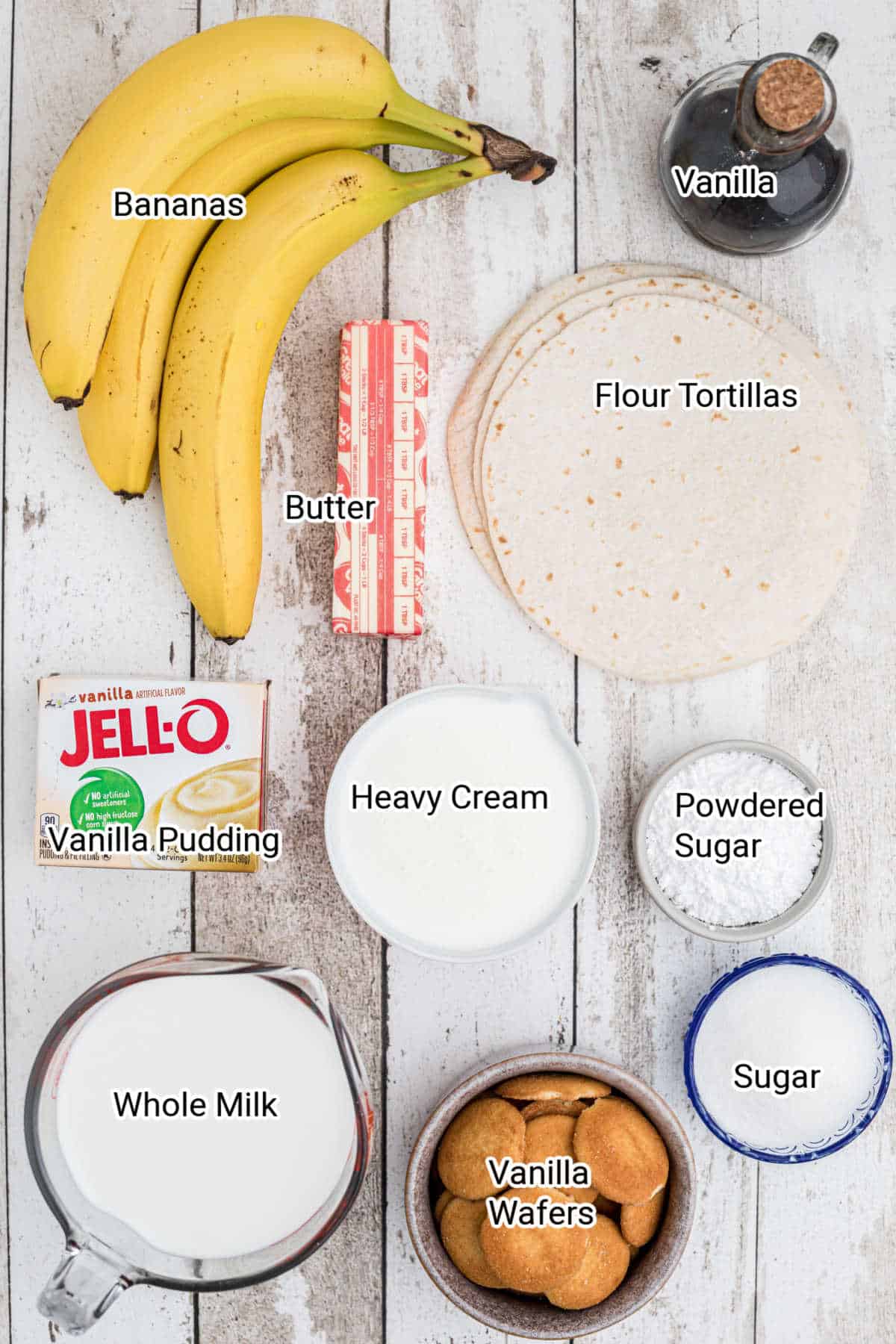 Ripe Bananas
Vanilla Extract
Vanilla Wafers
Whole Milk
Vanilla Pudding
Granulated sugar
Heavy cream
Powdered Sugar
Flour Tortillas (6")
Unsalted Melted Butter
See recipe card for quantities.
🥣 Instructions
Step 1: Add 1 sliced banana, ½ cup vanilla wafers and the pudding mix to a large bowl.
Step 2: Add the cold milk to the mixing bowl.
Step 3: Mix well with a whisk, cover and refrigerate while you complete the next steps.
Step 4: Melt the butter in a small mixing bowl and add the granulated sugar and 1 teaspoon of vanilla. Stir well.
Step 5: Brush the sugar butter mixture over both sides of a tortilla.
Step 6: Stand up folded in half in-between the peaks on a flipped muffin pan. Bake in a preheated oven (400°F) for 10 minutes. (Medium-high heat)
Step 7: When they're golden brown on the edges remove from the oven and sprinkle with sugar while they're still hot. Repeat with the remaining tortillas then set aside.
Step 8: Add the heavy cream, powdered sugar and 1 teaspoon of vanilla to a medium mixing bowl and beat until stiff peaks form.
Step 9: Add a few spoonfuls of banana pudding to each taco standing up.
Step 10: Add a few additional banana slices and vanilla wafer to each taco.
Step 11: Spoon the whipped cream over the top of each taco. There should be roughly equal amount of pudding to whipped cream.
Step 12: Sprinkle crushed vanilla wafers over the top and serve.
Hint: After following the above steps, if you find the taco has baked in a kind of closed position, take a tooth pick and place in-between to hold it open to form the taco shell shape while still hot out of the oven and pliable. Remove the toothpick after it has cooled and set.
📘 More Banana Pudding Recipes
If you like this recipe then you'll love my Banana Pudding Brownies - or my Banana Pudding Cupcakes. Look at this Banana Pudding Cupcake recipe from my friend Ang over at Juggling Act Mama!
I also have a banana pudding popsicle recipe and Banana Pudding Cups.
🔄 Substitutions and Variations
Mini vanilla wafers - if you like use ½ cup mini vanilla wafers instead.
Banana Pudding Mix - Instead of vanilla pudding you could use a pack of banana jello pudding if you can get it. I feel it is a little too much banana so maybe eliminate adding the sliced banana into the pudding?
Chocolate Rim to Taco - I've seen where people dip the rims of the dessert taco in melted chocolate then allow it to set. Chocolate does go well with banana so this could be a good variation.
Homemade Pudding - Vanilla pudding is actually quite easy to make, it does involve cooking though and will need to cool to be refrigerated etc. You're looking at adding hours onto this recipe if you use a banana pudding recipe from scratch. If you prefer it to be homemade then by all means.
Caramel Sauce - drizzle some of this sauce, or even a salted caramel sauce.
Maraschino Cherries - some people like these cherries with their banana pudding.
Banana Pudding Cake - crumble some of this in there.
❤ Sharing is Caring - Like Our Facebook Page ❤
🔌 Equipment
To make the dessert taco shells I use the back of a muffin pan. Not a cupcake pan (those are smaller and not as tall so cannot hold up the tortillas as well). You'll also need a stand mixer or hand mixer to beat the cream (you can beat by hand though with a whisk if you're up to the task).
I like to serve these banana pudding tacos in an 11x7 casserole dish. It's the perfect size! You might find it difficult to fit these tacos into a taco holder. You can try it though.
Storage
Banana pudding does need to be refrigerated, it will stay good in the refrigerator for up to 5 days.
I wouldn't recommend freezing this dessert. It doesn't take long to make (less than half an hour).
💡 Tips
Expert Tip: To speed things up or to make ahead you could make the banana pudding and keep it covered and refrigerated and make the shells and store them in an airtight container until you're ready to assemble. Then all you need to do is whip up the cream and assemble the tacos for your delicious sweet treat.
---
If you've tried these Banana Pudding Tacos or any other great recipe on my site, let me know in the comment section below, how it turned out, we love hearing from our readers!
You can also follow me on PINTEREST, FACEBOOK and INSTAGRAM to see more amazing recipes!
Banana Pudding Tacos
Delicious sweetened and baked tacos stuffed with decadent banana pudding, as we would expect filled with bananas, cream and vanilla wafers.
Ingredients
1 (3.4oz) Box of Instant Vanilla Pudding
2 Large Bananas
6oz Vanilla Wafers
2 Cups Whole Milk
6 (6") Flour Tortillas
4 Tablespoons Unsalted Butter
3 Tablespoons Granulated Sugar
1 Cup Heavy Whipping Cream
2 Teaspoons Vanilla Extract, divided
2 Tablespoons Powdered Sugar
Instructions
Preheat the oven to 400°F.
Add 1 sliced banana, ½ Cup of crushed vanilla wafers and the pudding mix to a medium mixing bowl.
Pour the 2 cups of milk into the mixing bowl and mix well with a whisk. Cover and place in the refrigerator while you prepare the rest.
In a small bowl melt the butter and add the granulated sugar and 1 teaspoon of vanilla, stir to mix well.
Brush this butter over both sides of a tortilla. Stand up in the crease of the back of a muffin tin (not a cupcake tin - muffin tins are bigger). You should be able to bake 2 at a time like this.
Place the muffin tin (with the tortillas) into the oven and bake for about 10 minutes. Watch closely - the edges should turn a golden brown when they're ready.
Remove from the oven and sprinkle a little more sugar over while they're still hot.
Repeat with the remaining taco shells until they have all baked and cooled.
Add the cream, vanilla and powdered sugar to a separate bowl and beat until stiff peaks form.
Place the baked tacos into a dish, all standing upright. Fill to ⅔ full with the refrigerated banana pudding.
Slice the remaining sliced bananas and arrange on top along with a little more crushed vanilla wafers.
Top with the whipped cream and sprinkle with crushed vanilla wafers.
Notes
Making the vanilla taco shells will not work with a regular cupcake pan as it will be too small - if you don't have a muffin tin you could lay them down flat on a baking sheet and place something on the inside of a folded tortilla that is oven proof. A small ramekin maybe.
Using instant pudding mix does make an easy banana pudding. If you prefer to make your own pudding.
You could use mini vanilla wafers if you prefer.
When mixing the banana pudding you could use a stand mixer with the paddle attachment, if you have one. It'll help mix it nicely. It's not totally necessary though.
You could make the tortillas yourself too, if you're feeling up to it. It will add more time to the preparation time though. Search for a dessert tortilla recipe - add a cup of batter to a pan and allow tortillas to cook for a minute or two. You'll probably need all purpose flour, an egg mixture and some sugar.
I've heard of people using those little snack pack puddings to make this. I guess it could work if you don't mind that pudding.
Make your banana pudding mobile. Take an individual packet of vanilla wafers and spoon your banana pudding mix into it, with some cream and a disposable spoon. Now you have walking tacos.
Recommended Products
As an Amazon Associate and member of other affiliate programs, I earn from qualifying purchases.
Nutrition Information
Yield

6
Serving Size

1
Amount Per Serving
Calories

512
Total Fat

31g
Saturated Fat

17g
Trans Fat

1g
Unsaturated Fat

11g
Cholesterol

74mg
Sodium

226mg
Carbohydrates

54g
Fiber

2g
Sugar

32g
Protein

6g