Halloween has to be my favorite time of year. It gets crazy fun! Making these Easy Frankenstein Cupcakes is a tradition - and you'd think we'd have gotten better at it by now. But for us, it's all about the fun!
Tasty green frosting on a chocolate cupcake and decorated like Frankie just makes my kids' day!
Next time try my S'Mores Cupcake recipe, it's another reader favorite if you haven't seen it already.
Jump to:
I wanted to share our quick and easy process of whipping up some cupcakes, just to have at home, or to bring to school.
You could even give these out to trick or treaters or at your next Halloween party, if you were feeling extra generous! Get the kids to help, it's so much fun.... and the cupcakes don't have to be perfect!
🧅 Ingredients
I use very basic ingredients for these cupcakes. Unless you want to go all out and make your own cupcakes/frosting from scratch. When it comes to whipping these up for the classroom or trick or treaters I want to make my life as easy as possible.
Chocolate and vanilla cake mix
Vanilla frosting (or cream cheese frosting)
Chocolate Frosting
Sprinkles
Candy Eyes
Hershey Kisses (or mini chocolate chips)
Piping Bag
See recipe card for more information.
🥣 Instructions
Step 1: Prepare cake mix per package instructions.
Step 2: Add cake mix to cupcake pan and cook as instructed. Allow to cool before starting to frost.
Step 3: Frost cupcakes in your favorite design.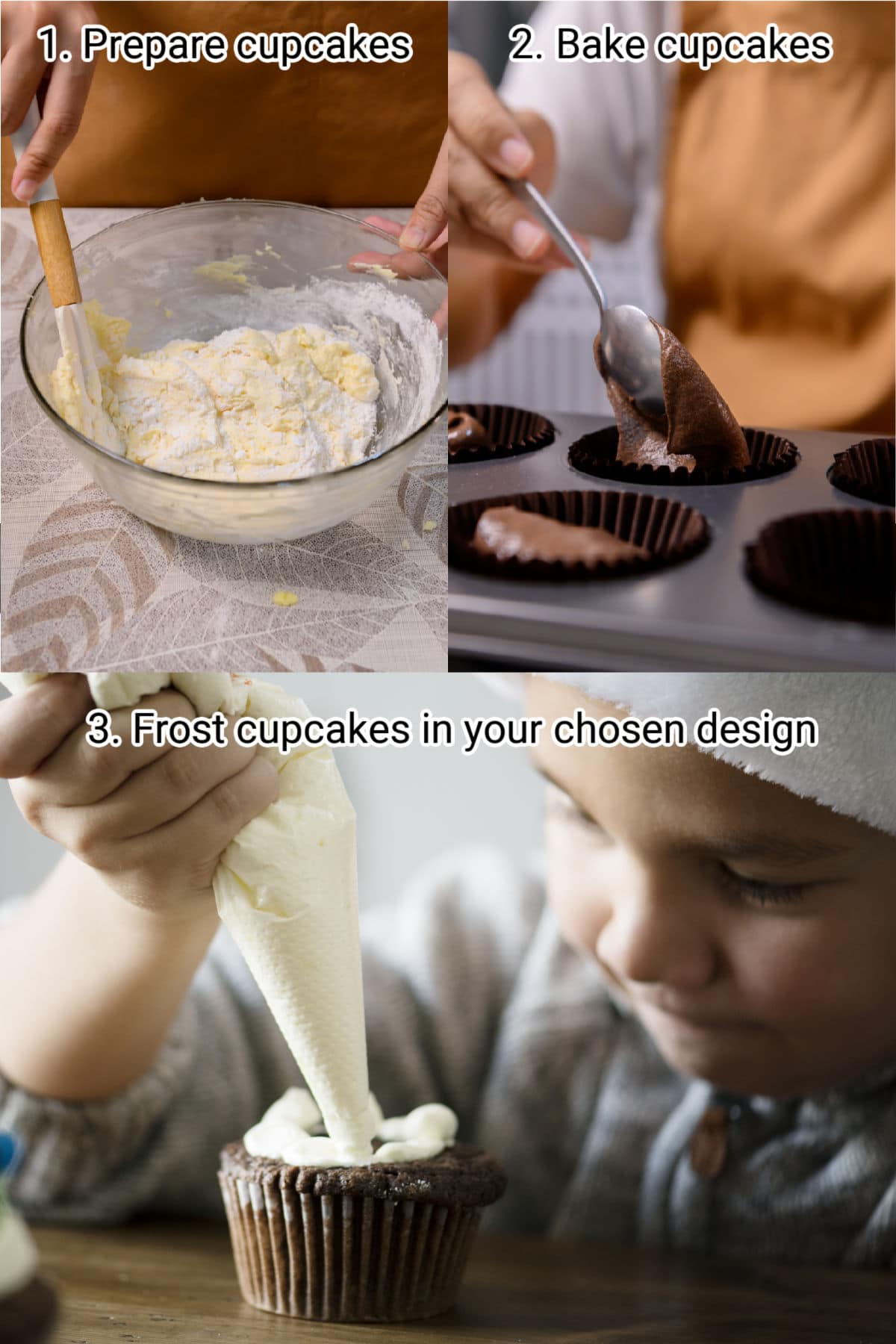 Hint: To allow some good height to your cupcakes allow your frosting to be nice and stiff - this will be the powdered sugar ratio.
---
Expert Tips: To make these easy Halloween Treats as delicious as possible, make sure to use your favorite cake mix and favorite frosting. The decoration then becomes the only important thing!
🔄 Substitutions / Variations
The great thing about these easy Halloween cupcakes is there is a variety of spooky decorations.
Ghost Cupcakes - a simple vanilla cupcake with white frosting piped on there in the shape of a ghost, with simple candy eyes and a Hershey Kiss as a ghost mouth.
Frankenstein Cupcakes (or Monster Cupcakes) - use a chocolate cupcake and frost with a green colored frosting (or use green candy melts). Use Hershey Kisses or mini chocolate chips as Frankie's bolts in the side of the neck. Some Candy eyes and some sprinkles for hair. Easy peasy.
Spider Webs - a chocolate cupcake with black frosting. Then make a spider web shaped out of melted white chocolate.
🔌 Equipment
Other than a cupcake pan, piping bag and a cake box there's not any other equipment you will need. Try to find dark/black cupcake liners.
If you don't have a piping bag, use a small sandwich bag and snip the corner.
🧊 Storage
After the cupcakes have been decorated they should be eaten in the same few hours to keep their shape etc. They may begin to wilt if the room is a little warmer. If you have the space, keeping them refrigerated will probably help.
👀 Other Halloween Recipes
Get into the Halloween spirit with these other holiday treats:
The inspiration for these decorated cupcakes came from Tessa, at Handle The Heat!
---
If you've tried this Halloween Cupcake Recipe or any other recipe on my site, let me know in the comment section below, how it turned out, we love hearing from our readers!
You can also follow me on PINTEREST, FACEBOOK and INSTAGRAM to see more amazing recipes!
Halloween Cupcakes
These cute and easy to make Halloween Cupcakes are perfect for Halloween get-togethers or classroom parties.
Ingredients
2 Boxes Cake Mix (vanilla and chocolate)
2 Cups Chocolate Frosting
2 Cups Vanilla Frosting
¼ Cup Sprinkles (black/brown)
Eyeballs, sugar decorations
Food Coloring (red, yellow, black and green)
Hershey Kisses
Instructions
Make your favorite cupcakes - either your own recipe or you can make a box mix to make things easier.
Mix frosting - again, either use your own recipe or use store bought ready to use. You'll need both chocolate and vanilla.
Take a small batch of the vanilla frosting and mix green food color into it until you get a good dark green color for the frankenstein cupcakes.
Put green icing into a piping bag or resealable bag with a smalll corner cut out and pipe onto the chocolate cupcakes.
Take the dark sprinkles and arrange on the top for Frankie's hair. Then add two eyeballs. Take two Hershey Kisses and insert into the sides for his bolts.
Take a vanilla cupcake and pipe white frosting on top to form the shape of a ghost.
Add 2 eyeballs and a Herskey Kiss for a ghostly mouth.
Melt some white chocolate just until it is ready to drizzle. Drizzle onto wax paper in the shape of a spider web. Make sure webs are not too big. Place the wax paper in the refrigerator for about 10 minutes to allow the chocolate to harden again.
Mix black food color into some chocolate frosting to make black frosting. Pipe onto a chocolate cupcake and arrange the spider web on top.
Take 2 more bowls and some vanilla frosting. In one bowl mix yellow food color and the other mix orange.
Fill another resealable bag - one side orange frosting and on top of that the yellow frosting - this way the frosting will squeeze out of the piping bag as two colors combined. This will give a sort of candy corn theme.
Notes
Make your frosting firm - especially for Frankie!
Nutrition Information
Yield

15
Serving Size

1
Amount Per Serving
Calories

612
Total Fat

17g
Saturated Fat

5g
Trans Fat

0g
Unsaturated Fat

11g
Cholesterol

1mg
Sodium

656mg
Carbohydrates

113g
Fiber

1g
Sugar

81g
Protein

3g