Delicious, juicy and full of flavor, this grilled venison burger recipe is a family favorite around here. Mixed with Creole flavors of the south they really make for flavorful burgers.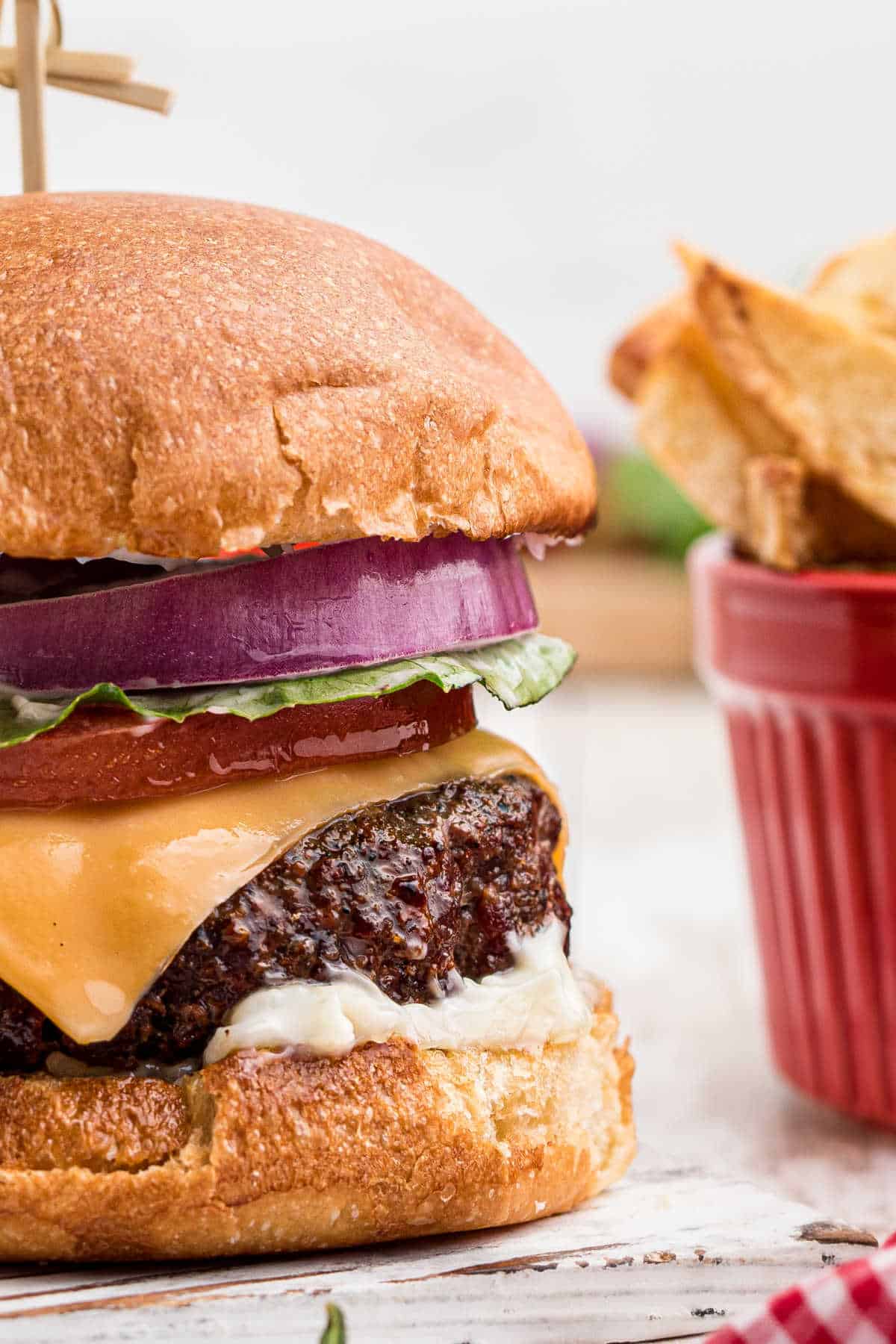 I love to char the outside of the deer burgers on the grill just enough to get that yummy grilled meat taste yet keep the inside nice and juicy.
Once deer season starts (for us in September) that's all the boys can talk about being an avid hunter.
They spend a lot of hours chasing their dream buck.... then we have an abundance of venison meat to use up throughout the year. It's our favorite red meat and has so many health benefits.
Jump to:
We don't only grill burgers in the summer though, we cook them year round, so a lot of venison meat is needed and it really does make the best burger.
I also like to make a Chili, especially on those cold winter days - I have my recipe on this site too.
🧅 Ingredients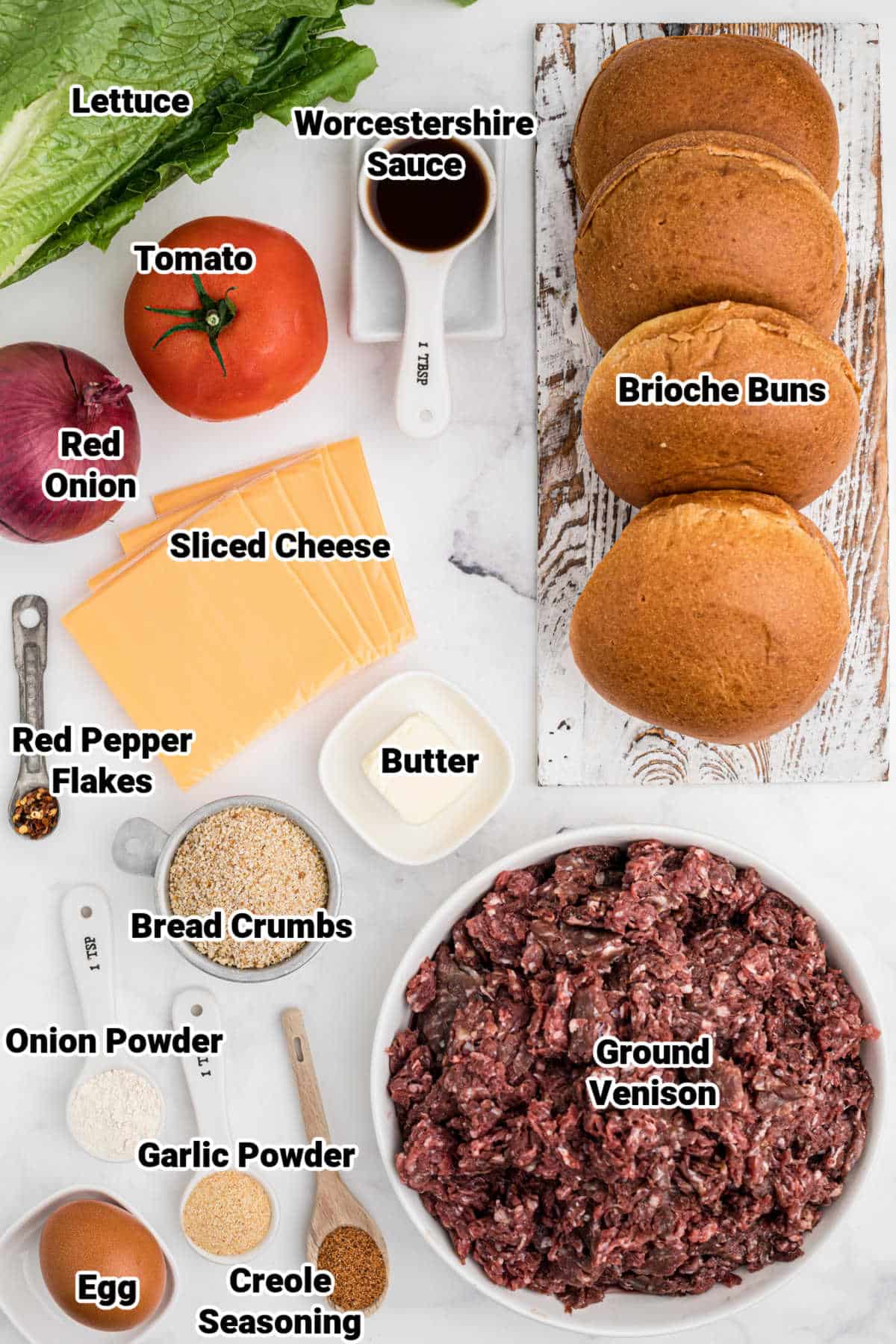 Ground Venison (Deer meat)
Eggs
Worcestershire Sauce
Onion Powder
Garlic Powder
Breadcrumbs
Red Pepper Flakes
Butter
Brioche Buns (or hamburger buns)
Lettuce, tomato, red onion, sliced cheese (optional garnish)
See recipe card at the bottom of this post for quantities.
🥣 Instructions
Step 1: In a large mixing bowl add the ground venison, egg, breadcrumbs, Worcestershire sauce, garlic powder, onion powder and red pepper flakes and mix well.
Step 2: Take ⅔ Cup of the meat mixture and mold into a patty using your hands. You can wear gloves at this point if you prefer, otherwise make sure to wash your hands well after handling the raw meat.
Step 3: Place the patty on a baking sheet and repeat until all the meat has gone and season with Creole Seasoning. Place the patties on your grill over medium-high heat for about 10 minutes flipping half way.
Step 4: Take the brioche buns and brush melted butter over the face of the bun. When your burgers are finished cooking place the buns face down on the grill grate to get a little char.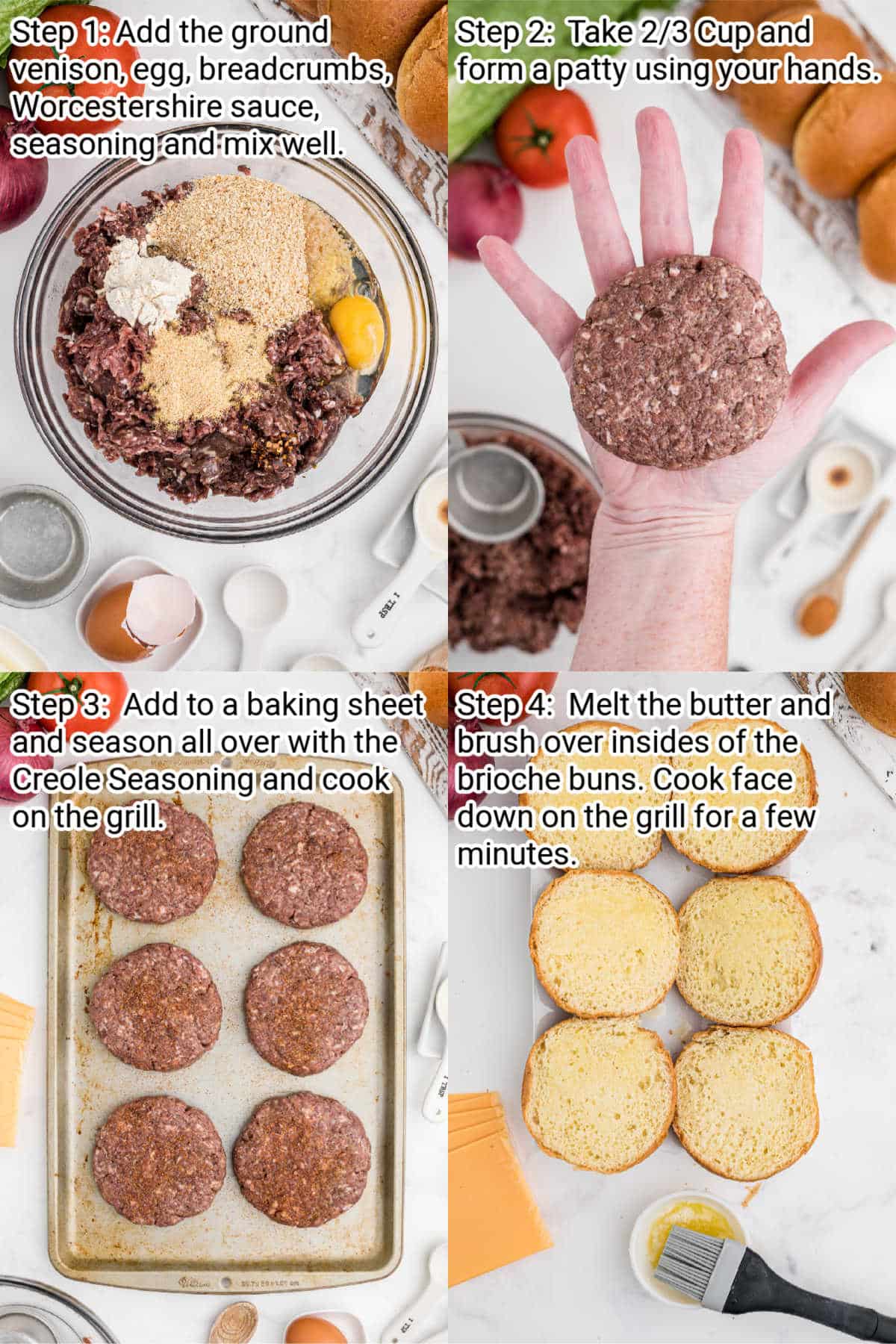 Step 5: Add a slice of cheese to each patty 1 minute before you take them off the grill.
Step 6: Allow the burgers to sit and rest for 5 minutes before assembling and serving. This will ensure juices remain inside.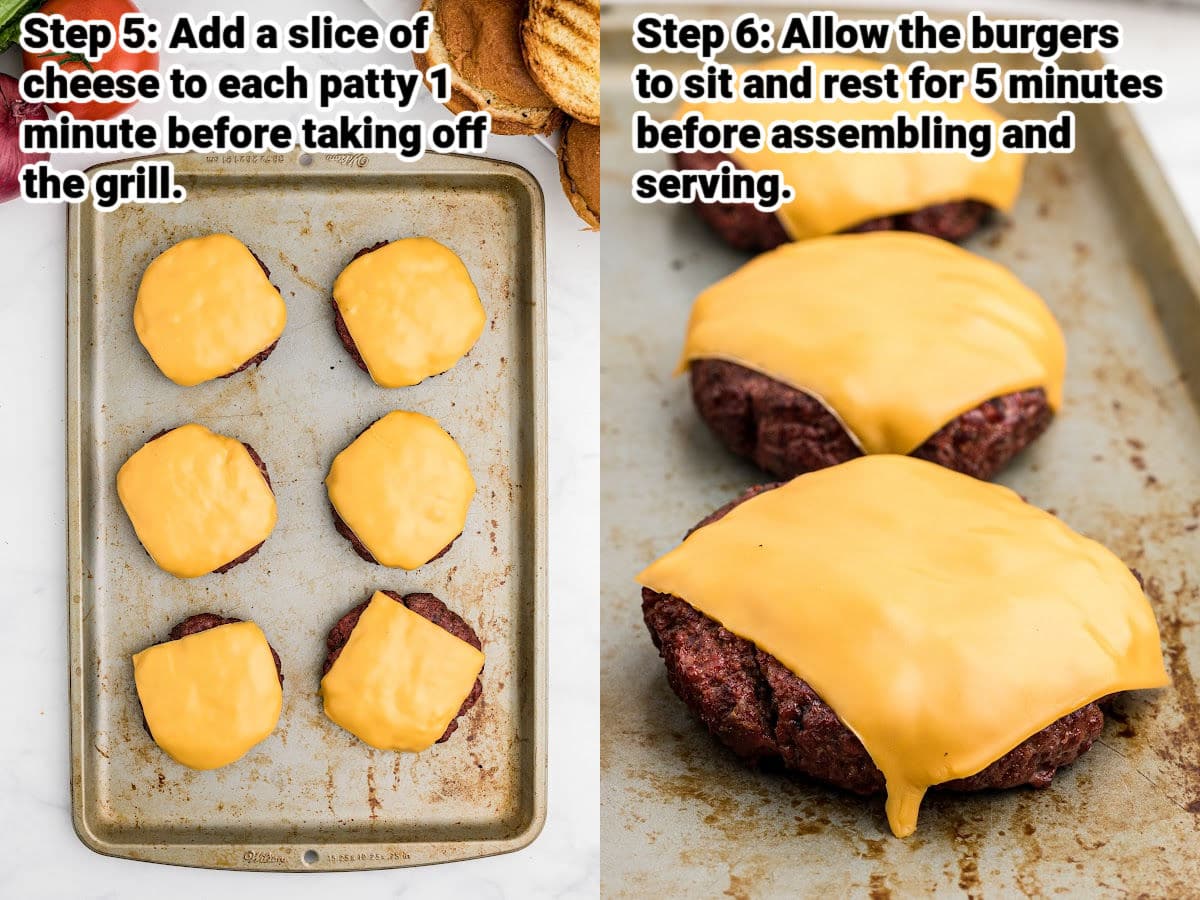 I personally prefer a deer burger over a beef burger, I think there's a flavor that can't be beat. I do dress it the same way though, I like tomato, lettuce and onion with cheese and maybe a pickle or two if we have any.
I often make some Pinto Beans for the side when I'm cooking on the grill. This makes my tummy very happy (and me very lazy!) Or try this Smoked Venison Backstrap recipe.
Hint: Our ground venison is mixed with ground pork. We normally get it 80/20% fat ratio (80% venison, 20% pork), the pork fat helps keep the extremely lean meat juicy.
🔄 Substitutions and Variations
Lettuce - instead of ice berg lettuce, you can use romaine lettuce or spinach
Bun - use gluten free buns instead of brioche bread buns to make this gluten free (you'll also have to swap it out in the breadcrumbs too.
Cheese - use your favorite cheese - we like to use the American cheese just because it melts so nicely on the burger patty and the kids prefer it.
Chili Pepper Flakes - I like to add a pinch just to imbue just a little heat - but not so much that it burns. You can leave this out if you prefer.
Deluxe - Add guacamole, crispy onion rings, streaky bacon etc.
Ground Beef - you could still use this recipe and use ground beef instead! It's a great recipe.
Black Pepper - add a little for that spice.
Cheddar Cheese - try adding a little grated cheese to the ground meat.
Ground Turkey - make turkey burgers instead.
Next time try this recipe for Crock Pot Spaghetti and Meatballs on my website. I also use deer meat for the meatballs!
🔌 Equipment
You don't have to cook these burgers on an outside grill, although I feel like it does taste better like that. You could also cook the juicy burger on your stove, maybe with a cast iron skillet and a little olive oil.
We like our gas grills, it has last so far 20 years and still looks amazing!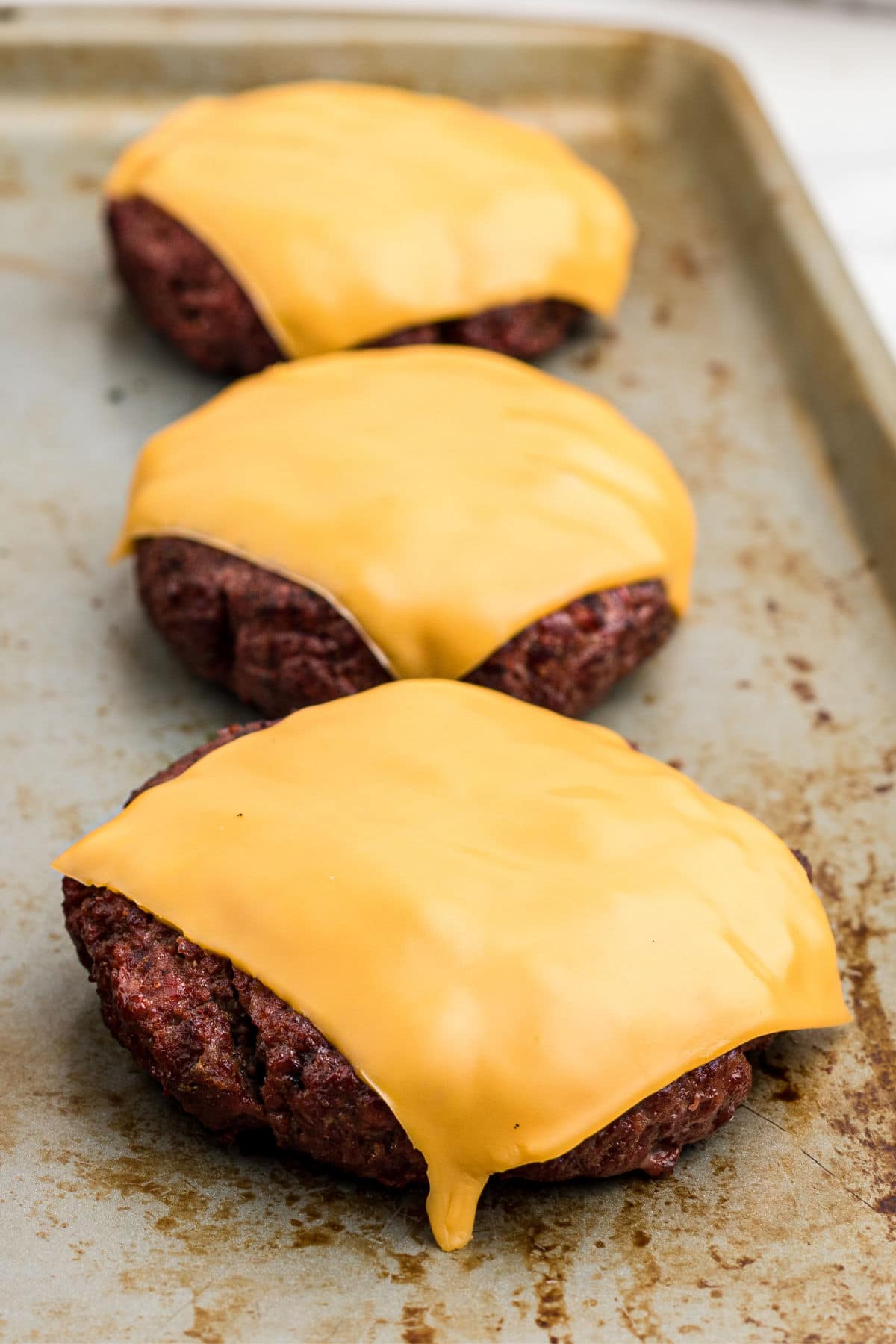 🧊 Storage
Store the wet ingredients (lettuce, tomato, onion) separately from the dry ingredients (buns) in the refrigerator in an airtight container, and recombine when reheating.
The burgers will freeze well (best not to add the cheese in this case).
🦌 More Venison Recipes
💡 Tips
Expert Tip: I like my grilled venison burger to be cooked to about 145°F inside - that puts them at medium to medium rare - if you prefer just cook them a little longer 160°F will be more medium-well.
---
If you've tried this Grilled Venison Burger recipe or any other great recipe on my site, let me know in the comment section below, how it turned out, we love hearing from our readers!
If you love this recipe please give it 5 stars! ⭐️⭐️⭐️⭐️⭐️
You can also follow me on PINTEREST, FACEBOOK and INSTAGRAM to see more amazing recipes!
Grilled Venison Burger
Delicious and juicy this Grilled Venison Burger is full of flavor and healthier than regular beef burgers.
Ingredients
2lb Ground Venison (mixed with pork)
1 Tablespoon Worcestershire Sauce
2 Teaspoons Garlic Powder
2 Teaspoons Onion Powder
1 Pinch Red Pepper Flakes
1 Large Egg
⅓ Cup Bread Crumbs
2 Teaspoons Creole Seasoning (or Seasonall)
6 Brioche Buns
3 Tablespoons Butter
Sliced cheese, Lettuce, tomato and red onions (optional)
Instructions
Turn on the grill to a medium heat, to heat up.
In a large bowl add the ground venison, Worcestershire sauce, garlic powder, onion powder, red pepper flakes, egg and breadcrumbs.
Mix together using your hands (using gloves if you prefer – otherwise, make sure to wash hands well before and after).
Form patties using ⅔ Cup of the freshly mixed meat. First roll into a ball, nice and tight, then start flattening out using your hands.
Lay them out on a baking sheet, season all over with the Creole Seasoning, then take them to the grill.
Lightly spray the grill with cooking spray then add the burgers carefully. Allow to sit and cook for about 4-5 minutes then flip the burgers to cook the other side, for again about 4-5 minutes. Double check with a meat thermometer that the center has reached an internal temperature of at least 145°F – this will be a more medium rare burger. Add a slice of cheese for the final 1 minute of cooking time.
Melt the butter in a small bowl and brush over the inside of the brioche buns. Place these buns face down on the grill.
Cook for about 2 minutes, until crispy and a nice char has formed.
Remove the buns and dress the burgers how you prefer. Serve with French fries.


Notes
If you don't have a grill, these burgers taste good using a cast iron pan on the stove, or even in the oven.
If you don't like using your hands to form the burgers you could use a burger press to form the burgers.
Recommended Products
As an Amazon Associate and member of other affiliate programs, I earn from qualifying purchases.
Nutrition Information
Yield

6
Serving Size

1
Amount Per Serving
Calories

695
Total Fat

34g
Saturated Fat

19g
Trans Fat

1g
Unsaturated Fat

11g
Cholesterol

306mg
Sodium

977mg
Carbohydrates

44g
Fiber

3g
Sugar

9g
Protein

50g