The Oyster - a delicious mollusc that us humans have been eating for thousands of years. More recently we have become better at serving it - from raw with horseradish and hot sauce, to grilling and frying. These Chargrilled Oysters New Orleans Style are close to perfection.
It's amazing how many delicious recipes you can use with a simple bushel of oysters.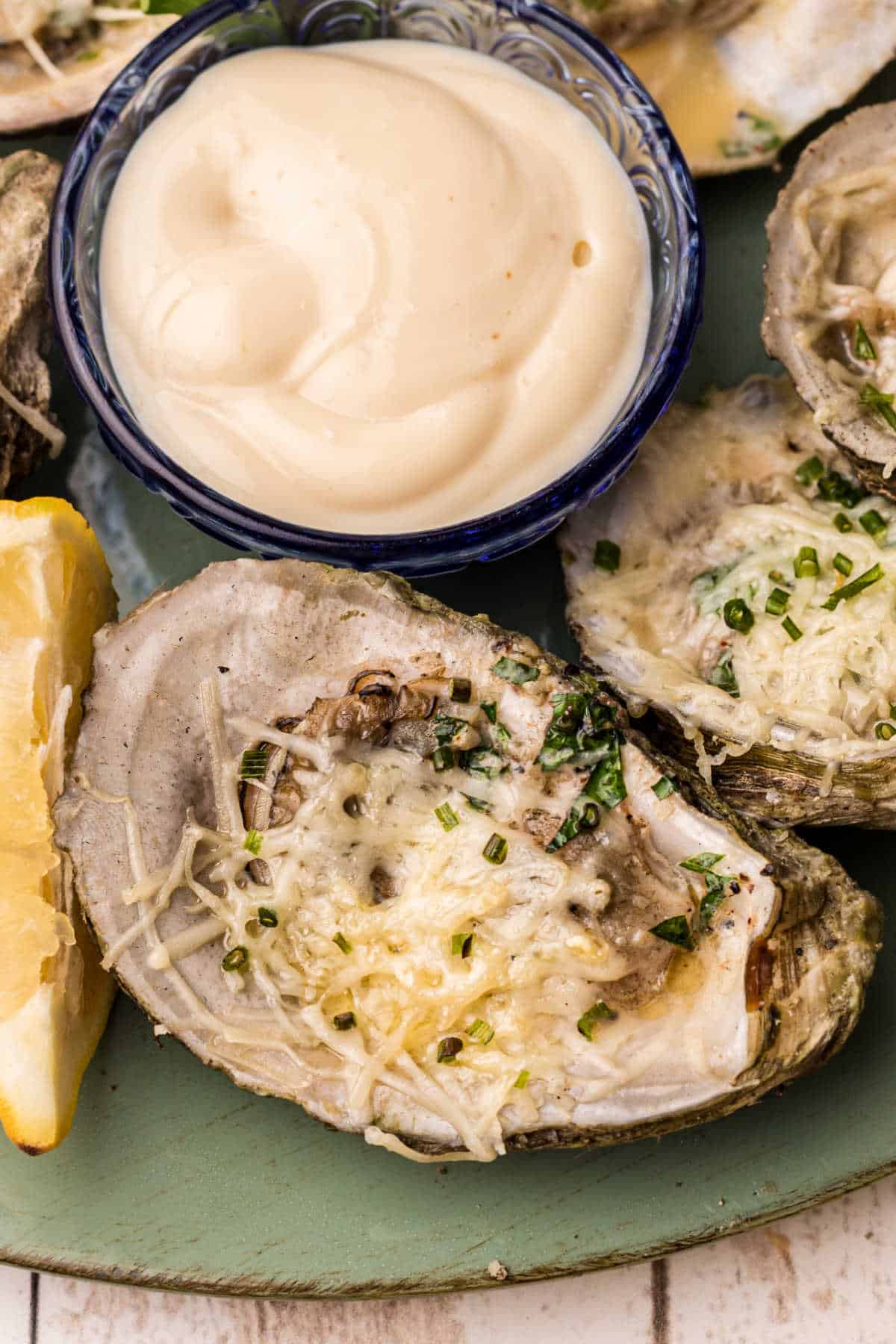 One of my favorites is the Chargrilled Oyster. It is so delicious, full of garlicky butter and topped with yummy parmesan cheese, there really is no better way to serve Louisiana oysters!
There's a restaurant in New Orleans French Quarter, the Acme Oyster House. They serve the best oysters. I love to stop in there whenever I'm in the city. Drago's Seafood Restaurant is another favorite.
Jump to:
❤️ Why you'll love it
Fresh oysters that are nice and salty have a flavor that can't be matched. If you love oysters then eating them charbroiled (chargrilled) really can't be matched.
Some people don't like the idea of eating oysters raw and that's fine. Eating them this way means you are getting them cooked but in a truly delicious way.
🧅 Ingredients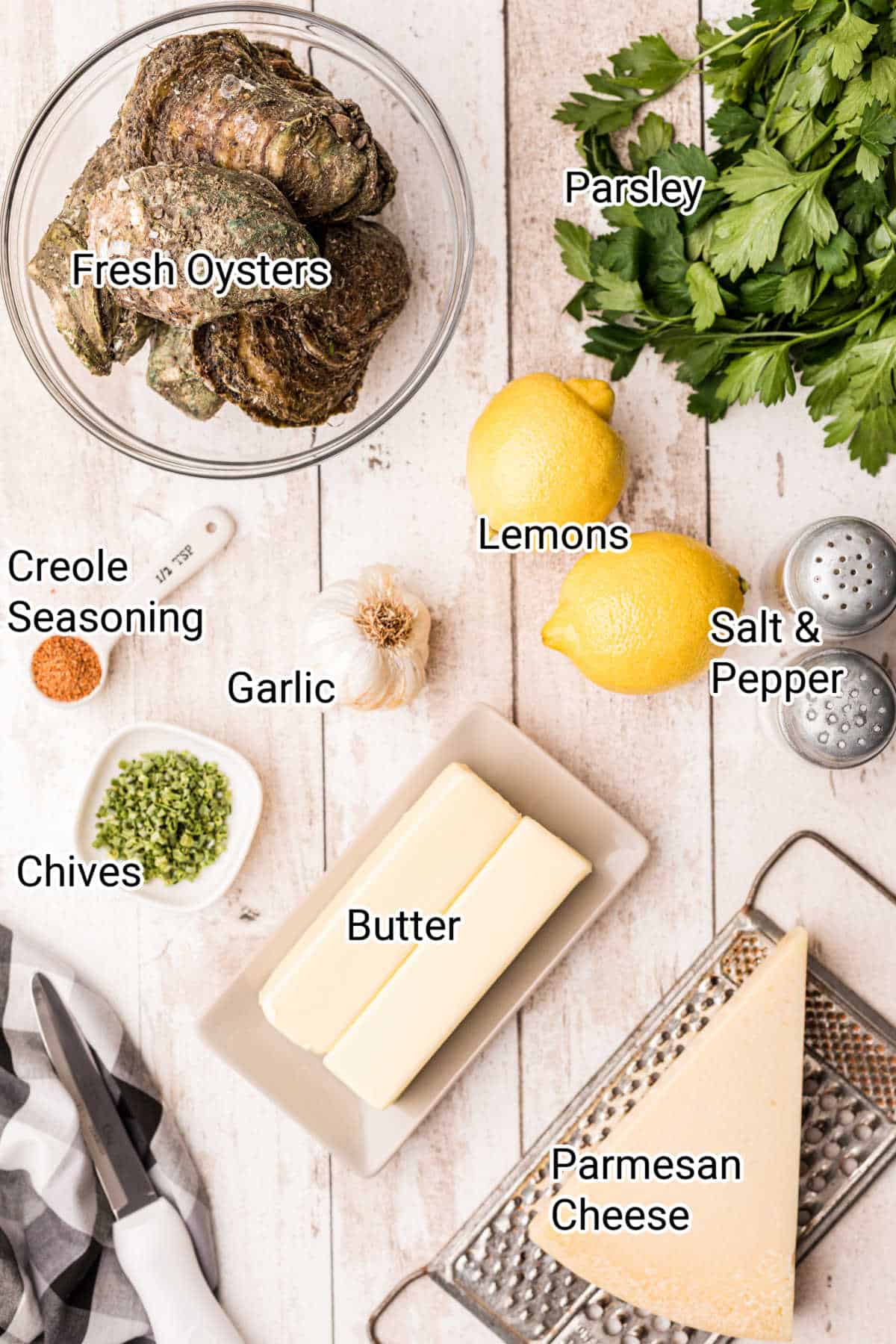 Raw Oysters
Melted Butter
Garlic
Creole Seasoning
Chopped Parsley
Pepper
Parmesan Cheese
Chives
Lemon wedges
See recipe card at the bottom of this post for quantities.
🥣 Instructions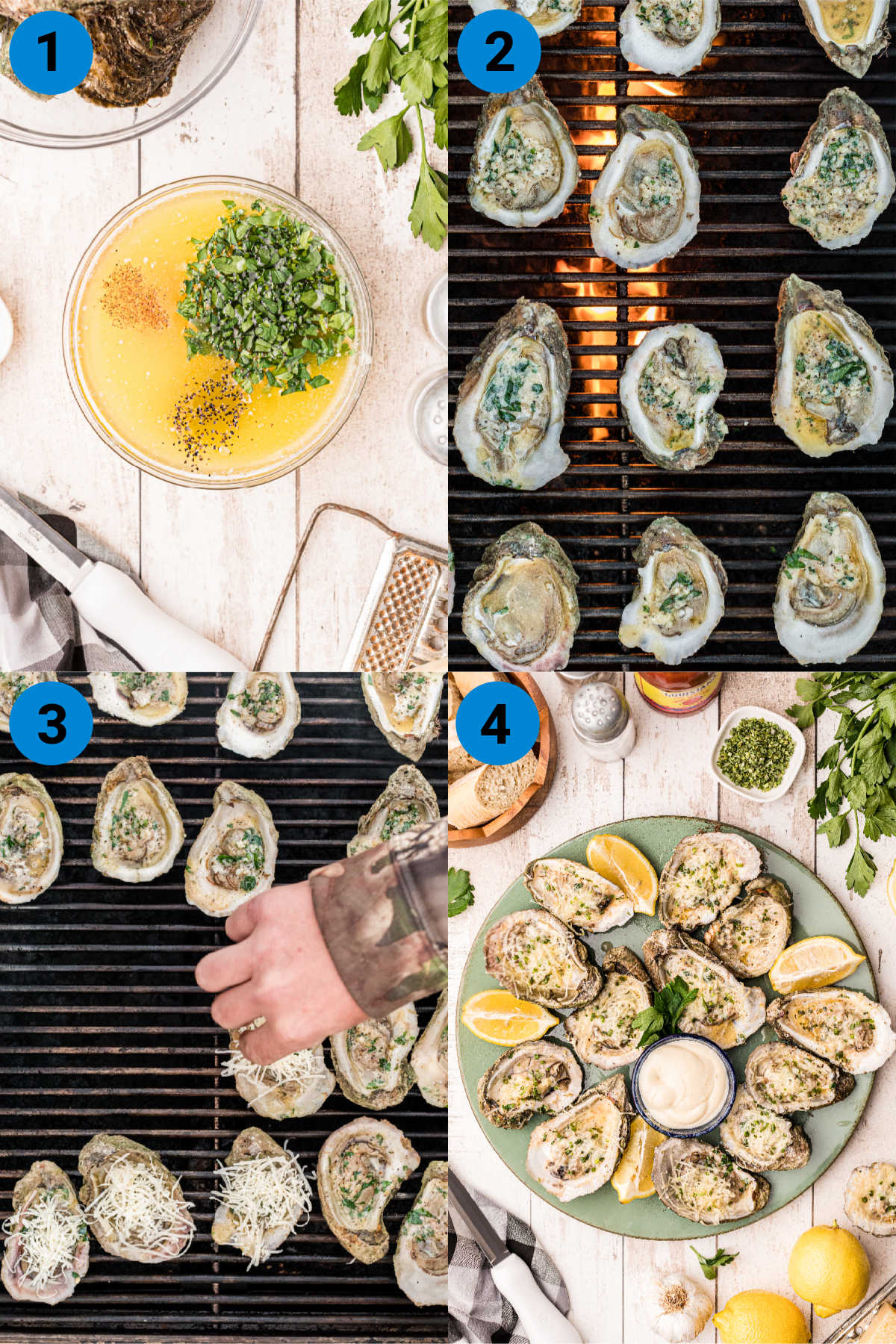 Step 1: In a mixing bowl add the melted butter, garlic, Creole seasoning, chopped parsley and black pepper. Give a good stir.
Step 2: Please the fresh oysters on the half shell onto the hot grill then spoon the garlic butter sauce over the top of the oysters. Cook like this for about 5 minutes - until the edges start to bubble.
Step 3: Sprinkle with the parmesan cheese and chives.
Step 4: Cook for a further 2 minutes, until the cheese has melted. Remove from the grill and serve on a platter with lemon wedges and your favorite dips and sauce.
Hint: using charcoal as your source of grilling is fine and yes it does impart great flavor - but I feel using a gas grill helps keep a very even source of heat all over the grill and can be relied on more.
🔄 Substitutions and Variations
Romano Cheese - instead of parmesan you could use Romano, it's very similar. Or maybe try a blend of parmesan and romano.
Cheddar Cheese - if you don't like the taste of parmesan, you could try this with cheddar cheese instead, but not too much.
Green Onions - add green onions to the herb butter sauce.
White Wine - add a touch of white wine to the butter sauce.
Lemon Juice - squeeze a touch of lemon juice over the chargrilled oysters after you have cooked them.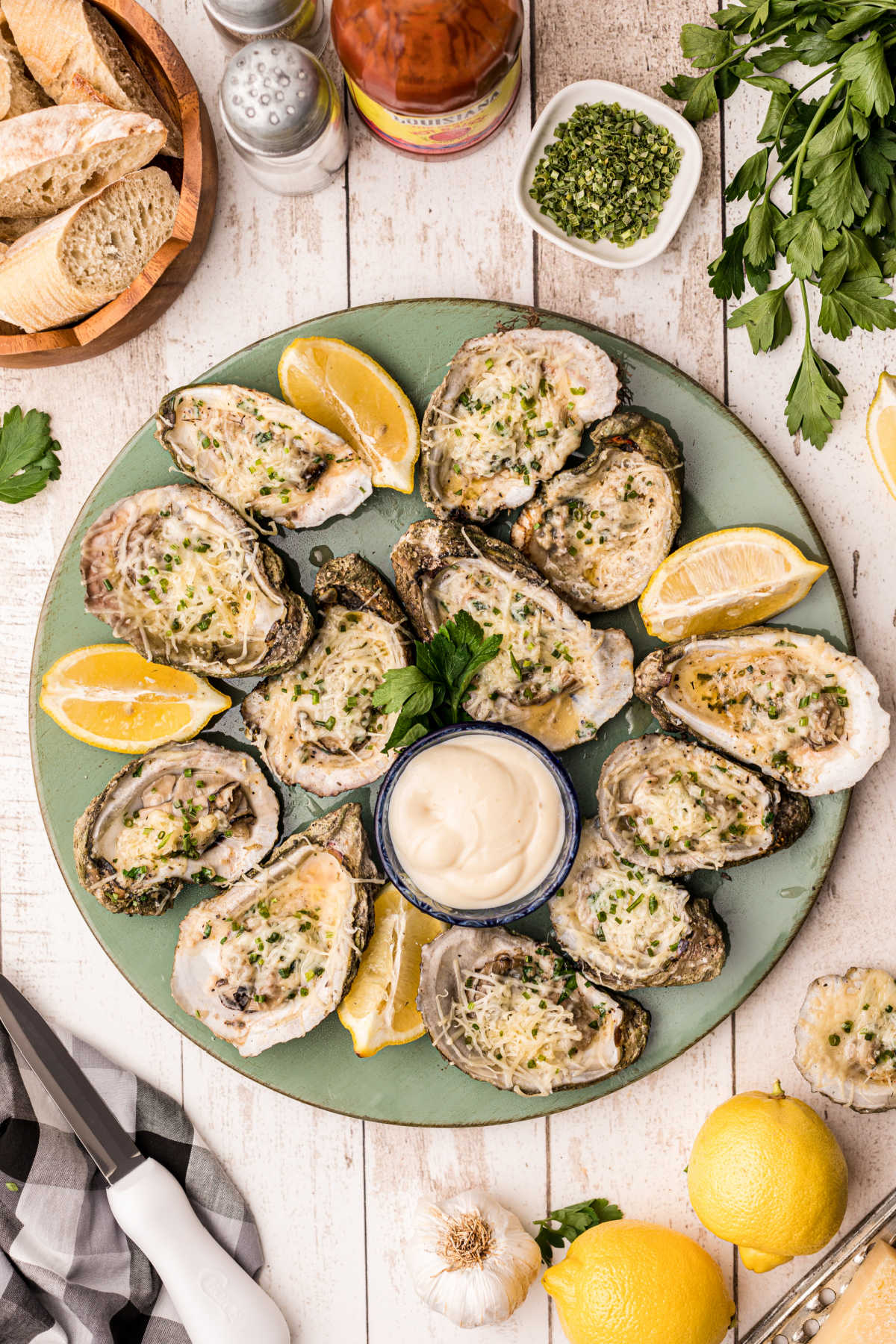 ❤ Sharing is Caring - Like Our Facebook Page ❤
🔌 Equipment
In order to make chargrilled oysters you will need a grill.
The type of grill I use in linked in the recipe card at the bottom of this post. We like it because it stands up to the harsh Gulf coast salty air very well.
You're also going to need a large platter to serve the oysters and some oyster knives to shuck the oysters.
🧊 Storage
Oysters are best eaten immediately, they will most likely overcook if you reheat them and they're not the best when allowed to go cold. Unless of course you're eating them raw.
💡 Tips
Expert Tip: Work fast when putting the oysters onto the grill. They cook very quickly and you don't want to overcook them.
👩‍🍳 FAQs
What is a bushel of oysters?
A bushel is the measurement given, basically, for a sack of oysters.
What is an Oyster House?
This is just a term for a restaurant that specializes in preparing oysters for consumption.
What is an oyster bar restaurant?
An oyster bar restaurant is the same as mentioned above, a restaurant/bar dedicated to the preparation of serving oysters for consumption.
An oyster bar?
Oyster bar, oyster house, oyster bar restaurant, same same. lol
How can I find oysters near me?
Your best course of action will be to enter that exact search term into the google search box 'oysters near me' and it will give you a list of places where you can find oysters.
What is an oyster shucker?
This is a special knife made especially for opening the shell of an oyster. The blade is dull but VERY strong so that it doesn't break when prying open the shell.
How many oysters in a bushel?
There are roughly 100 oysters in a bushel.
Can dogs eat oysters?
Yes, just like for you an me, oysters are a wonderful source of protein. Of course depending on if you cook them and what you cook them with....
Where will I find an Oyster Bar near me?
As long as you have your location turned on on your mobile phone you can search using google. Just type in 'oyster bar near me' and it will quickly give you the results of the oyster bars closest to you.
Can you tell me how to shuck oysters?
Shucking oysters is easy, as long as you have the right type of knife and an oyster glove. Just use the blade to slice along the inside of the shell until it begins to open then twist the knife until the oyster shell pops.
What are mountain oysters?
Lol, nothing to do with a real oyster. This is a comical name given to bull's testicles that have been cooked for consumption.
Other Oyster Recipes
---
If you've tried these Chargrilled Oysters New Orleans Style Recipe or any other great recipe on my site, let me know in the comment section below, how it turned out, we love hearing from our readers! If you love this recipe please give it 5 stars! ⭐️⭐️⭐️⭐️⭐️
You can also follow me on PINTEREST, FACEBOOK and INSTAGRAM to see more amazing recipes!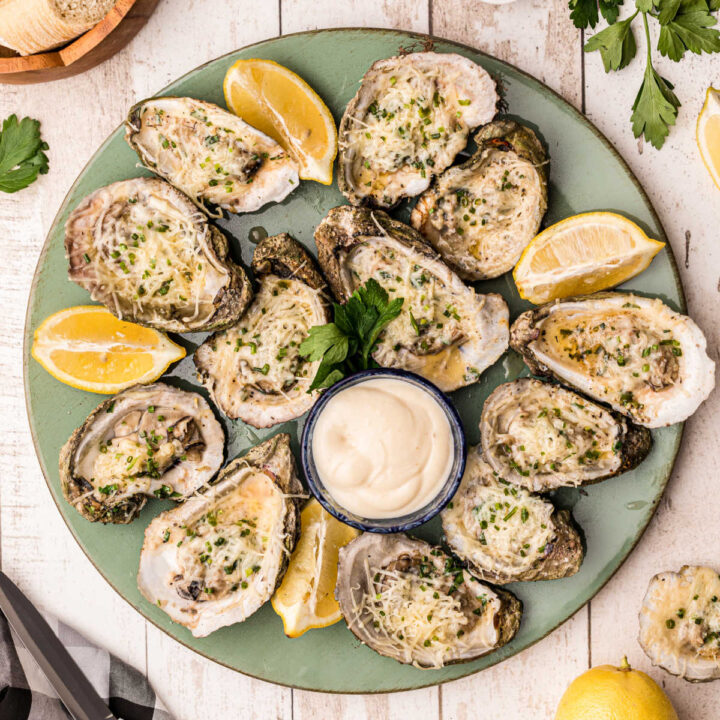 Chargrilled Oysters
These delicious chargrilled oysters are dripping with buttery garlicky goodness with a touch of parmesan cheese to top it off - better than an oyster bar are those made at home, with friends.
Ingredients
2 Dozen Oysters, on the half shell
½ Cup Butter, salted
2 Tbsp. Garlic, minced
1 Tsp. Black Pepper
½ Tsp. Creole Seasoning
2 Tsp. Chopped Parsley
1 Cup Parmesan Cheese, freshly grated
Chopped chives for garnish (optional)
Lemon Wedges for garnish (optional)
Instructions
Light your grill. If using a gas grill allow the temperature to settle at med-high. If using charcoal you'll want to add the oysters to cook once the coals have turned white and stopped smoking.
After opening the oyster shells lay the oysters out on a tray (try to preserve some of the juice inside if they have any)
In a bowl melt the butter, add the garlic, black pepper, creole seasoning and chopped parsley and stir until combined.
Spoon evenly onto each oyster.
Place the oysters on the grill once ready and cook for 5 minutes. You'll notice the outer edges start to bubble.
At this point add a pinch of parmesan cheese to each oyster and cook for a further 2-3 minutes.
Remove from the grill and serve immediately with lemon wedges and hot sauce.
Notes
When opening your oysters, if they are fresh enough and you don't mind doing so try one of them (or try the juice inside) to check for saltiness. If they're not salty add more seasoning to the butter mixture.
Recommended Products
As an Amazon Associate and member of other affiliate programs, I earn from qualifying purchases.
Nutrition Information
Yield

6
Serving Size

1
Amount Per Serving
Calories

311
Total Fat

22g
Saturated Fat

13g
Trans Fat

1g
Unsaturated Fat

7g
Cholesterol

105mg
Sodium

619mg
Carbohydrates

13g
Fiber

1g
Sugar

0g
Protein

15g