Who would have thought that hash browns in the air fryer were so good?! I've been experimenting a lot with mine since getting it not too long ago and these air fryer hash browns are to die for. Crispy on the outside and light and fluffy inside.
---
My son is so happy that I discovered how to make these hash browns, because if I ever let the kids have breakfast from McDonalds he always has to have about 3 of them! He loves theirs so much. I'm therefore happy that I've found a way to satisfy his love for them with something healthier cooked at home.
You should also try my Air Fryer Biscuits on this site, and pairs well with this amazing Cheese Grits dish. In fact, any breakfast item goes well with hash browns!
Jump to:
Ingredients
This ingredients list was easy to make. Literally we're looking at as many frozen hash browns as you can fit in your basket, without crowding.
---
Frozen Hash Brown Patties
Cooking Spray for basket
Salt
See recipe card for quantities.
Instructions
Step 1: Add frozen hash browns to your preheated air fryer basket.
Step 2: Cook at 390°F for 9 minutes, flipping half way through if your air fryer calls for it.
Step 3: Remove, season with salt and serve immediately.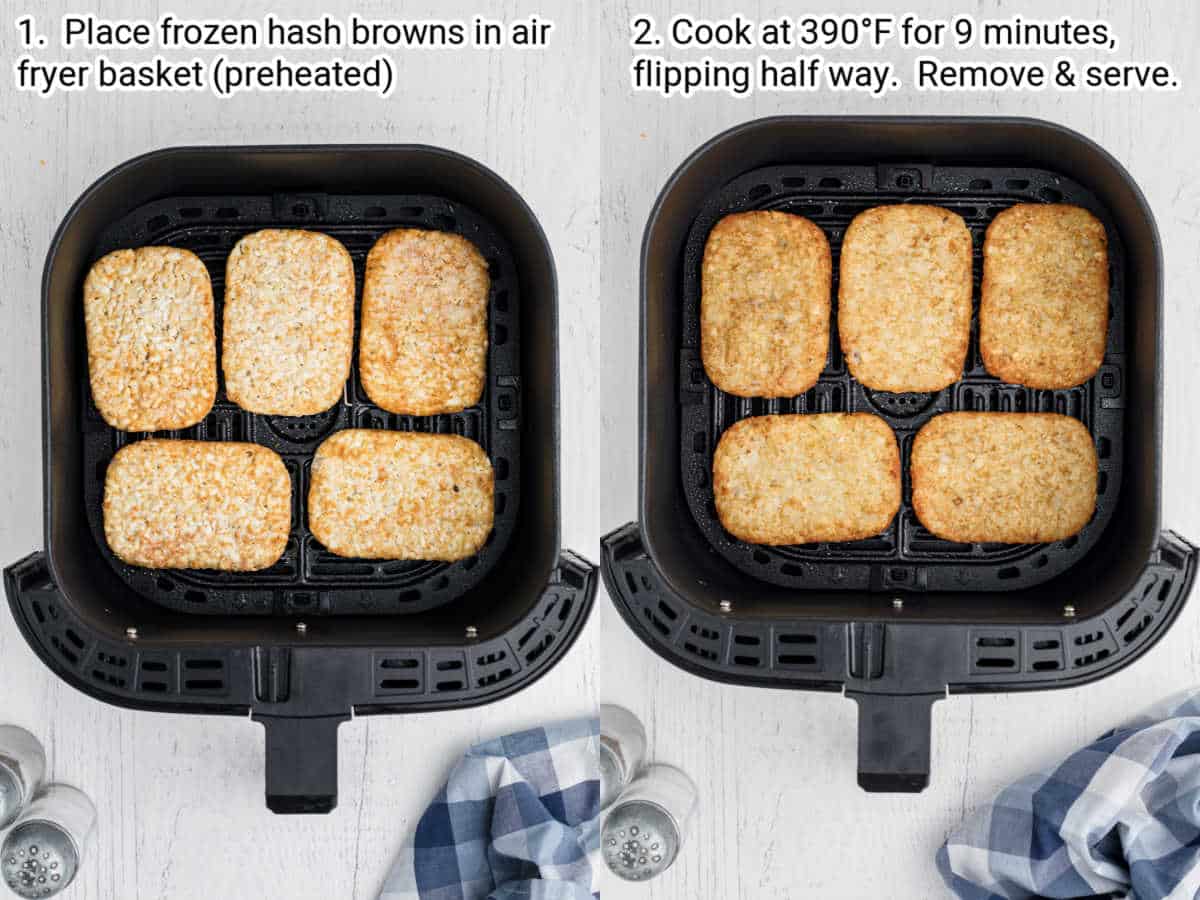 ---
Hint: I like to sprinkle with salt immediately as they're finished cooking because they still have a slight moistness to them from cooking. This way, when the salt is sprinkled it sticks to the hash browns better!
Substitutions
If you are watching the carbs but miss your hash browns you could try this Air Fryer Cauliflower Hash Browns, by Healthier Steps.
Variations
I tried cooking the shredded hash browns in the air fryer and it does not work. For me it didn't anyway. I find that the forced air circulation has some of the shredded potatoes flying around inside. Plus, the way an air fryer works is it needs room to circulate so you can't fill the basket too much.
If you are making fresh hash browns, I definitely recommend soaking them first and using a binding agent to help keep the patties together. This will work... but who has time for that, lol!
Equipment
I like the Vortex Air Fryer by Instant (they make the Instant Pot). If you don't already have an air fryer I would definitely recommend this one. The basket is really simple to clean in between uses and the selection panel is easy to understand.
If you like a bigger air fryer, than the basket type, you can look into the versions that have the racks. The one I have at home is the Emeril Lagasse version, which I can fully recommend. I have had no problems with it and it can cook much more quantities than the basket type. It even has a rotisserie for cooking chickens and small turkeys.
Storage
If you have any hash browns left (it never happens in my house) - pop them into an airtight container in the refrigerator, with a piece of paper towel to help with moisture. They will be good for up to 4 days.
Top tip
To heat any leftovers back up again place them back into the air fryer for 4-5 more minutes. They'll crisp up and be just as good as when you cooked them fresh. I love using my air fryer to reheat most foods, but anything like fries, hash browns, pizza is perfect reheated in this way.
Air Fryer Hash Browns
Super quick and easy way to cook these frozen hash brown patties. Delicious and crispy on the outside and fluffy inside, just like they were fried!
Ingredients
5 Frozen Hash Brown Patties
Oil Spray for air fryer basket
½ Teaspoon salt
Instructions
Turn on air fryer and input settings, to 390°F for a time of 9 minutes. Allow it to heat up.
Have the hash brown patties ready for when the air fryer tells you it's ready.
Spray the basket lightly with cooking oil then add the hash browns allowing enough air to circulate all around.
Cook for 9 minutes, turning half way.
Remove, season with salt and serve immediately.
Notes
My air fryer requires the food be turned over half way. Some air fryers out there might not need this step.
It's also good to bear in mind that some will cook a little different too. You may require an extra minute either way to get that perfect hash brown.
Recommended Products
As an Amazon Associate and member of other affiliate programs, I earn from qualifying purchases.
Nutrition Information
Yield

5
Serving Size

1
Amount Per Serving
Calories

88
Total Fat

6g
Saturated Fat

0g
Trans Fat

0g
Unsaturated Fat

5g
Cholesterol

0mg
Sodium

216mg
Carbohydrates

8g
Fiber

1g
Sugar

0g
Protein

1g