Stacked Christmas Tree Cookies are super cute, as well as delicious. Simple yet perfect sugar cookies in three stackable sizes, held together with some tasty green frosting make for the perfect holiday cookie in tree shapes for anyone's Christmas gathering.
Next time try my Cranberry Orange Shortbread Cookies for another Christmas cookie treat.
These holiday cookies really are super easy to make, but they can be quite tedious with the rolling of the cookie dough. That's why I like to get McKenzie involved, it's so much fun and she loves cooking and especially cookies. She could help in the kitchen all day if I'd let her!
Jump to:
If you already have a good sugar cookie recipe, then you already have a good base. These cookies are made by rolling three different sizes and holding the three layers together with some green colored buttercream frosting (much easier than Royal Icing)! Super cute Christmas Trees that are eagerly waited on.
These cookies make great gifts, as do my Chocolate Turtles, they are super easy to make too.
🧅 Ingredients
Salted butter
Granulated sugar
Egg
Vanilla
All Purpose Flour
Baking powder
Powdered sugar
Milk
Green Food coloring
Decorative Sprinkles
See recipe card for quantities.
🥣 Instructions
Step 1: In a medium bowl mix together on a medium speed the butter, sugar, egg and vanilla until light and fluffy.
Step 2: In a separate bowl - large bowl - mix together the flour and baking powder (dry ingredients) using a whisk.
Step 3: Add the flour mixture to the butter mixture.
Step 4: Beat well until well combined.
Step 5: Divide the dough and make three different size balls. One makes 3 teaspoons (large cookie), another makes 2 teaspoons (medium cookies) and the last makes 1 teaspoon of the cookie dough (small cookie). You could use round cookie cutters here, but I prefer to roll them out with my hands.
Step 6: Lay the balls of sugar cookie dough out on separate baking sheets lined with parchment paper, one cookie sheet per size ball. Then press down gently on each ball with the bottom of a glass.
Step 7: Bake the cookies in a preheated oven (350°F) - the smallest cookies for 4-6 minutes, the medium sized cookies for 6-8 minutes and the largest cookies for 8-10 minutes. Just until the bottoms turn a golden brown.
Step 8: Remove from oven and allow to cool completely on a wire rack.
Step 9: In another bowl beat together the powdered sugar and butter.
Step 10: Add the milk and vanilla and beat well again.
Step 11: Add the food coloring, if using and mix well again.
Step 12: On your work surface, use a piping bag to pipe the frosting onto first the largest cookie, then place the medium cookie on top gently and pipe frosting on top of that layer. Then add the smallest cookie on top gently and pipe on top of that to make a point.
Step 13: Stack the rest of the Christmas Tree Cookies.
Step 14: Add sprinkles as decorations to the Christmas Trees. If you have yellow stars use those on top of the tree.
Hint: Use Christmas themed sprinkles to further add to the Christmas spirit. Try to find yellow stars to add to the top of each tree.
🔄 Substitutions and Variations
Almond Extract - instead of vanilla extract use Almond Extract, it works well and tastes yummy.
Nuts - Add ¼ cup of finely chopped nuts to the cookie dough to add a little more texture/depth.
Star cookies - use star cookies instead of round (using a star cookie cutter) with the largest star at the bottom.
🧊 Storage
Place cookies in an airtight container and store at room temperature for up to one week.
The cookies themselves will freeze well, but I recommend making the frosting fresh when you want to serve them. Place the cookies in a freezer safe container and freeze for up to 3 months.
💡 Tips
Expert Tip: Make these Christmas cookies ahead of time, by making all the sugar cookies first. keep them fresh in an airtight container, then pull them out when you're ready to decorate and serve.
---
🍽 Related Recipes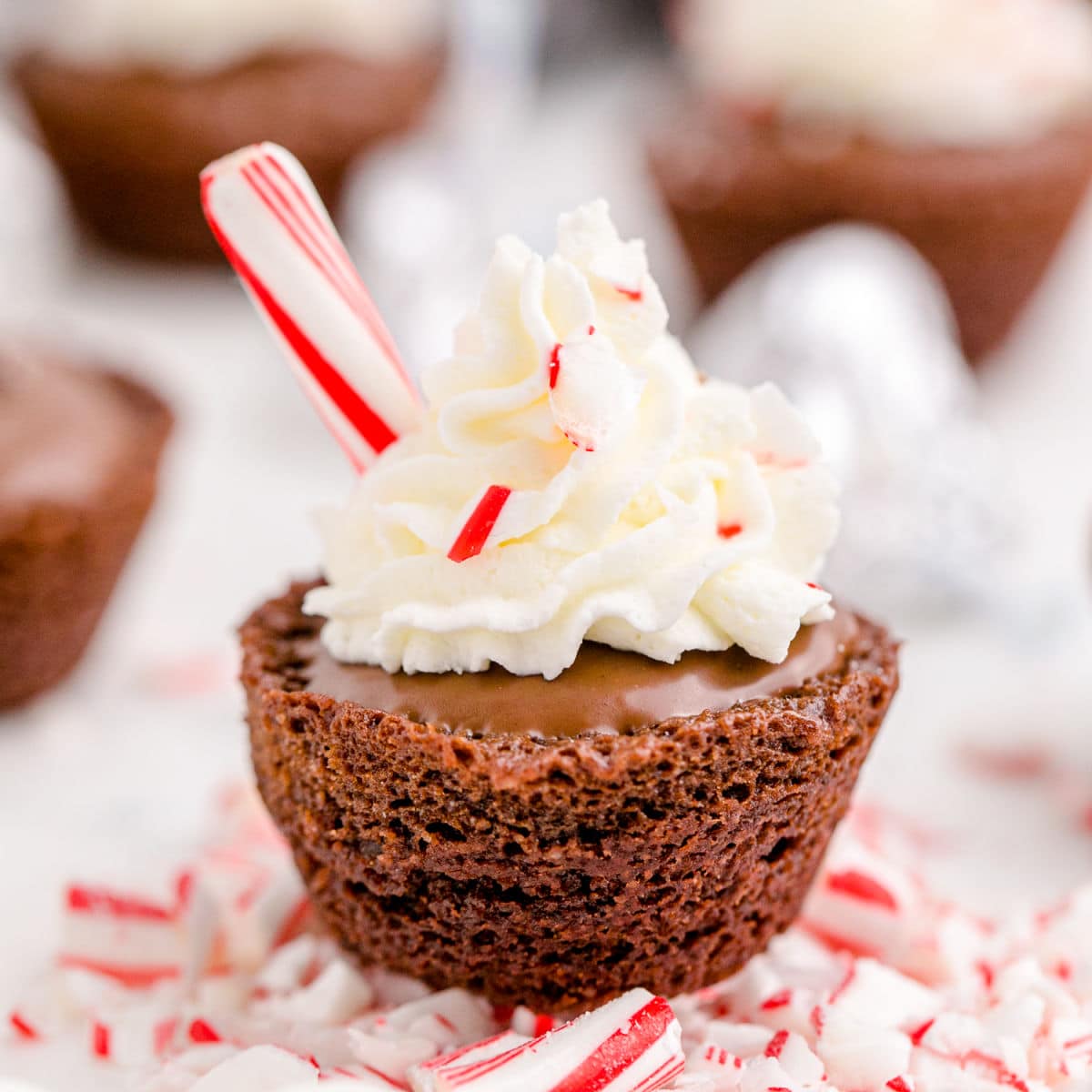 Hot Chocolate Brownie Bites - these delicious little treats of chocolatey-brownie goodness not only set a perfect Christmas theme but they bring a smile to the face of any age group.
Chocolate Turtles are the perfect Christmas gift for friends, relatives and neighbors! They taste just like the classic Demet's version.... but they're just 4 ingredients and super easy to make! Plus aren't they cutest!?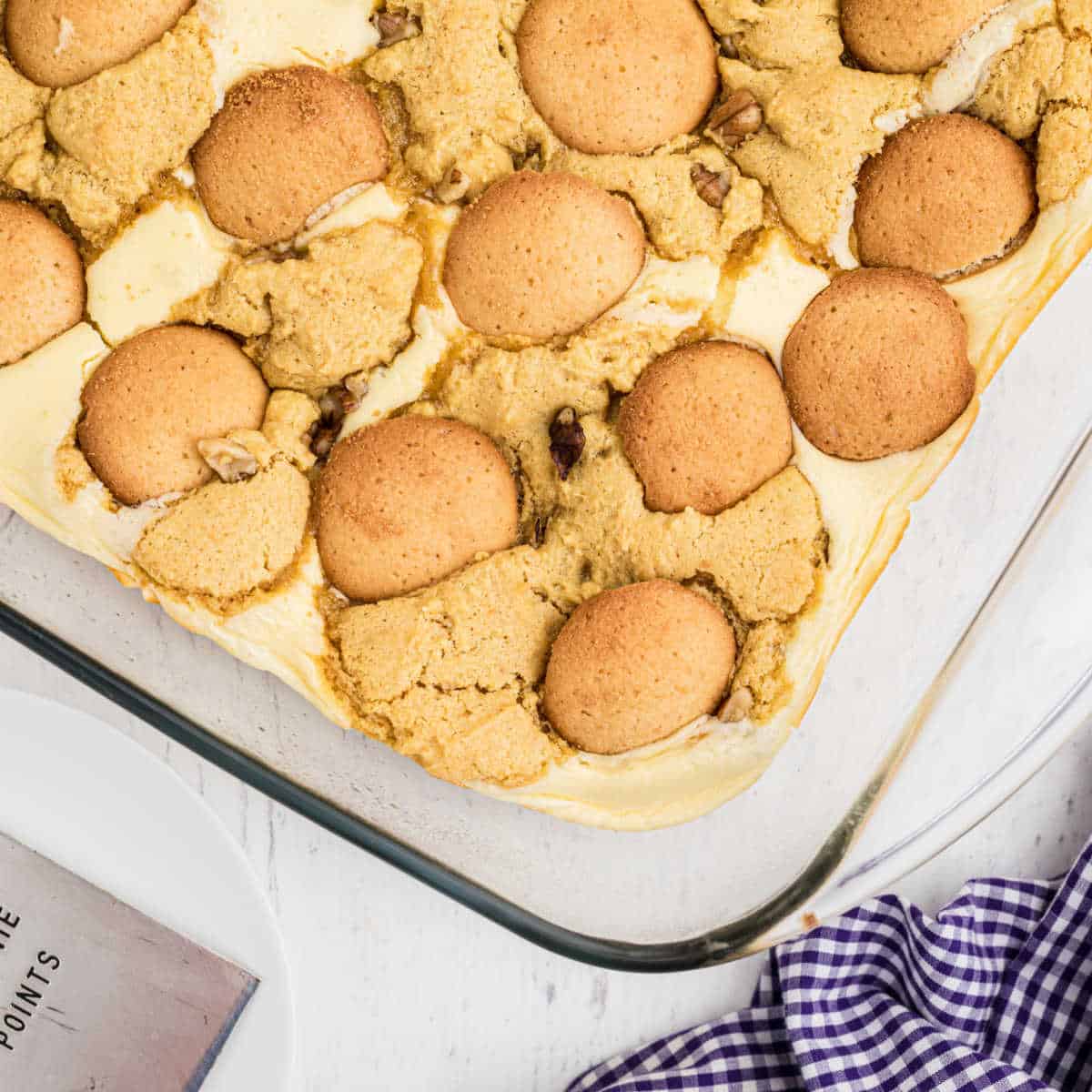 Banana Pudding Brownies - I already know what you're thinking... you're thinking 'wait, what?' Lol, that's always the reaction I get for this delicious unusual brownie dessert that tastes just like banana pudding!
Hot Chocolate Bombs - the perfect Christmas/winter time snack that is a perfect gift too! Just drop the sphere of hot cocoa filled chocolate into a cup of hot milk and watch the magic happen!
Tiktok Jam Heart Cookies - inspired by a tiktok viral video these jam heart cookies are a new favorite, for a lot of people. Soft and buttery cookies filled with a sweet and slightly tart jam center.
---
If you've tried these Stacked Christmas Tree Cookies or any other great recipe on my site, let me know in the comment section below, how it turned out, we love hearing from our readers!
You can also follow me on PINTEREST, FACEBOOK and INSTAGRAM to see more amazing recipes!
Stacked Christmas Tree Cookies
Additional Time:
20 minutes
Cute sugar cookies stacked into a Christmas tree, with delicious green frosting and decorated with Christmas sprinkles. These are perfect for your Christmas dessert table or for a get together.
Ingredients
Cookies:
1 cup salted butter, softened
¾ cup granulated sugar
1 egg
1 teaspoon vanilla
2 ½ cups flour
1 teaspoon baking powder
Frosting:
3 cups powdered sugar
½ cup salted butter, softened
3 Tablespoon milk
1 teaspoon vanilla extract
Food coloring, green
Sprinkles for decorating
Instructions
Preheat the oven to 350°F.
In a medium bowl, beat together butter, sugar, egg and vanilla until fluffy.
In a separate bowl, whisk together flour and baking powder.
Then add this mixture to the butter mixture and beat until well blended.
Next, we will shape the dough into 3 different sizes of cookies. (Each cookie will be rolled into a ball.)Use a rounded 1 teaspoon of dough to make 1 small ball. Then you will use 2 rounded teaspoons of dough to make a middle size ball. And 3 rounded teaspoons of dough to make a large ball. You want to have the same number of each size of ball. You should be able to make at least 15 balls of each size.
Place the small balls onto 1 parchment paper lined baking sheet. Use a glass to gently flatten them a little. Place the medium size balls on another sheet and again press them down gently. And place the large balls on a separate sheet and press them down slightly. (The different sizes of cookies should bake on different sheets as they will not bake at the same rate.)
Bake until the bottoms are just golden. Small cookies will take 4-6 minutes. Medium will take 6-8 minutes. Large will take 8-10 minutes.
Remove the cookies from the baking sheets and allow them to cool completely on wire racks.
Prepare the frosting while the cookies are cooling.
In a medium bowl, beat together powdered sugar, and butter. When this is well creamed together, beat in the milk and vanilla (and food coloring if desired).
Use the frosting to "glue" together the 3 cookies (largest on the bottom, then middle sized, then the smallest on top) to make a christmas tree or snowman. Pipe (or spread) icing onto the top of the largest size cookie and place the middle size cookie on top. Pipe (or spread) icing on the top of the middle size cookie and place the small size cookie on top. Then continue decorating with the icing.
Notes
These cookies should be stored in an airtight container at room temperature, for up to a week.
They do freeze well, store in a freezer safe container for up to 3 months.
Recommended Products
As an Amazon Associate and member of other affiliate programs, I earn from qualifying purchases.
Nutrition Information
Yield

15
Serving Size

1
Amount Per Serving
Calories

372
Total Fat

19g
Saturated Fat

12g
Trans Fat

1g
Unsaturated Fat

6g
Cholesterol

61mg
Sodium

186mg
Carbohydrates

48g
Fiber

1g
Sugar

32g
Protein

3g