In South Louisiana, most kids grow up learning how to boil crawfish! For many others who don't grow up with this boiling tradition, the idea of being in charge of a Louisiana crawfish boil is quite scary.
I want to ease those minds though, it's really not as scary as it seems - as long as you follow the basics I'm going to give you some tips that will help you through your first 'crawfish boil' - and after that you will never look back. It really is a crowd-pleaser, something to pull out when you want to get everyone together and pass a good time!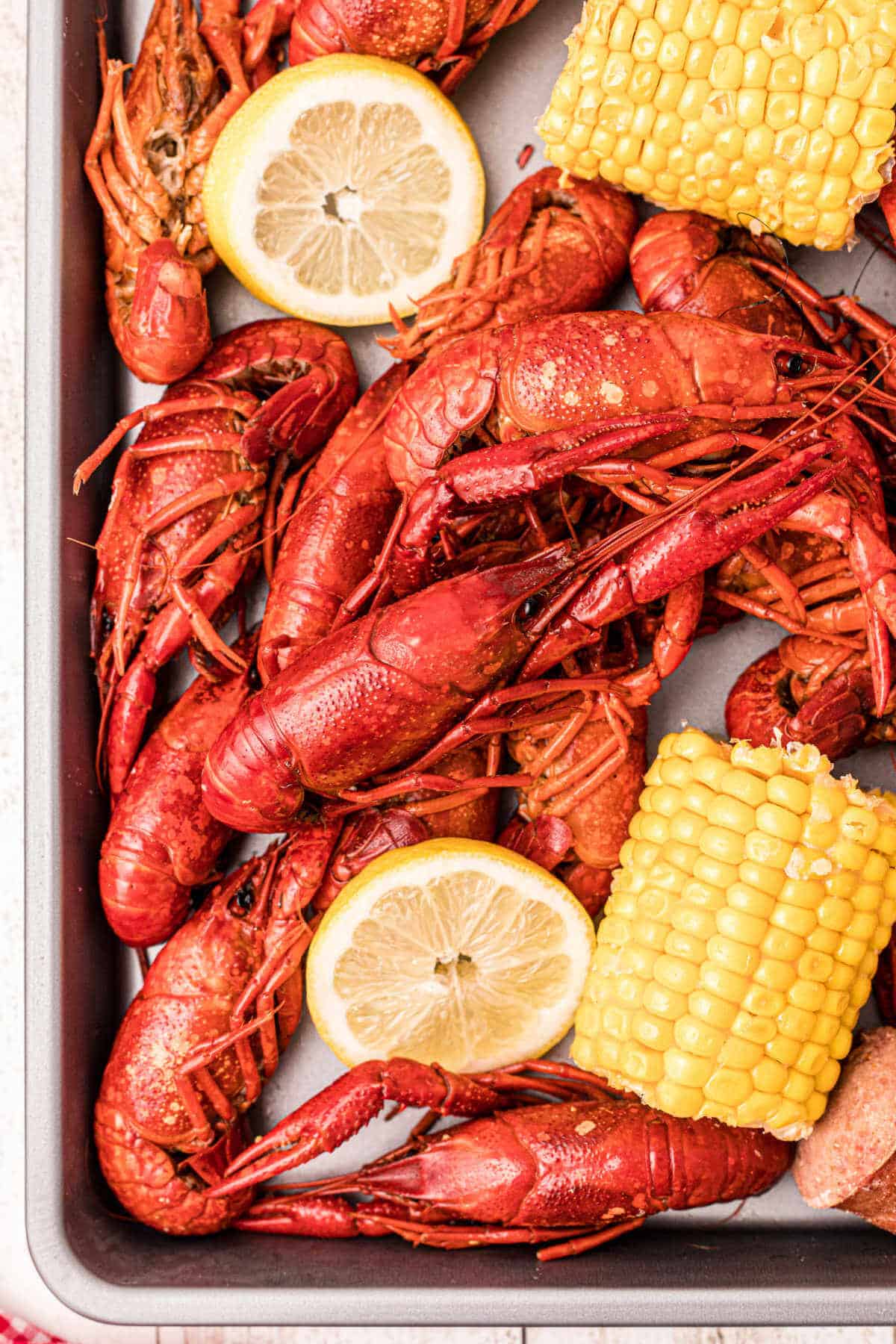 Boiling crawfish is dependent on one thing - Crawfish season. Usually, you're looking at January to June. It's slow going in January (and so expensive) but it starts gearing up into February, just in time for Mardi Gras and Fat Tuesday.
Jump to:
It's good to be gluttonous the day before lent and so you'll find a lot of people throwing huge get togethers to boil crawfish and have a good old time. Another thing - during lent most Catholic followers do not eat meat on Fridays and so can be a tradition to have crawfish boils every Friday!
If you're looking for recipes for those leftover crawfish tails, look no further. I have a full list of the crawfish recipes I have on my site at the bottom of this post.
🧅 Ingredients
I didn't include the crawfish in this ingredients shot - Just imagine a big ol' bag of fresh crawfish with about 30-40lb of live crawfish next to all these ingredients.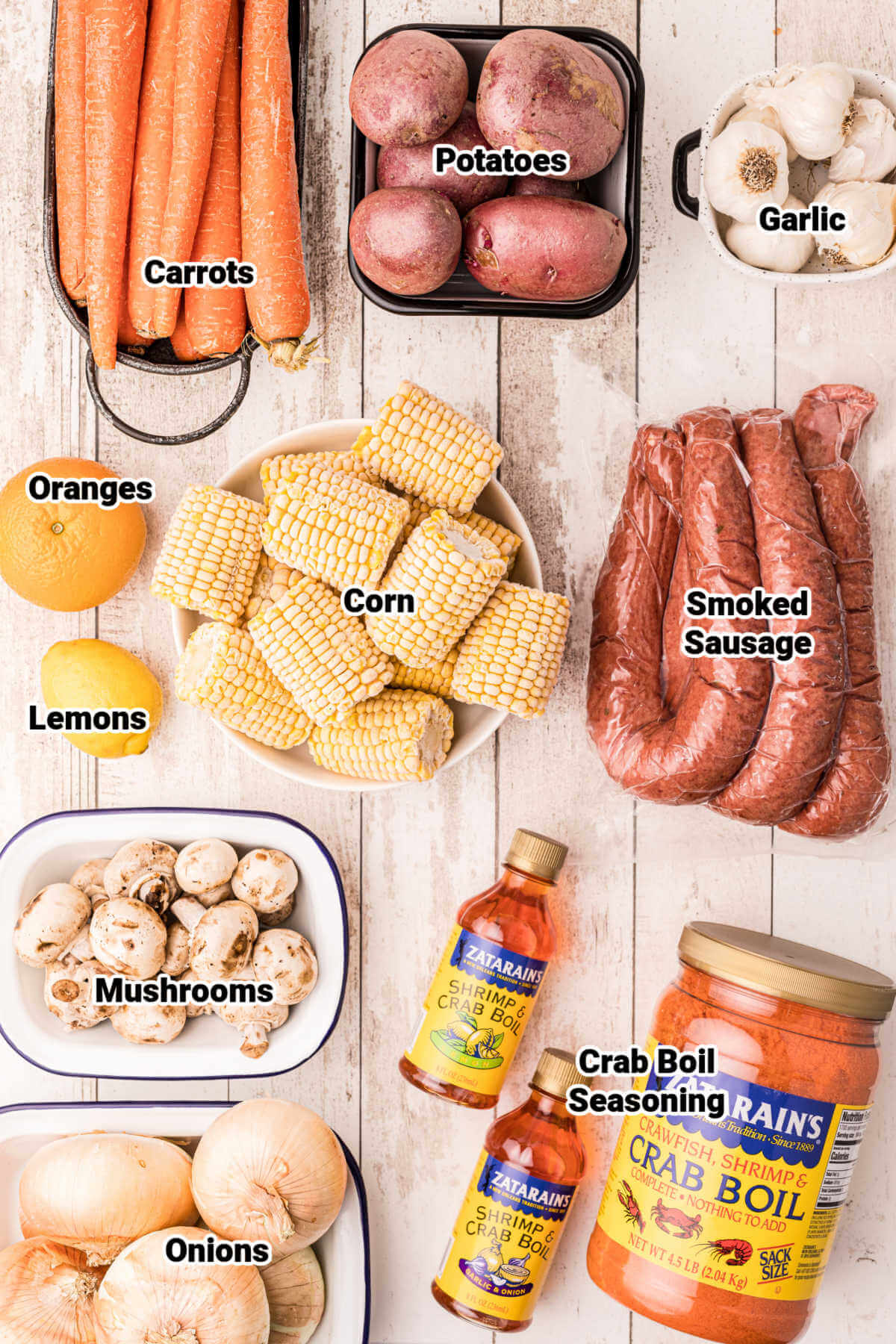 Carrots
Potatoes
Garlic
Yellow Onions
Ears of Corn
Mushrooms
Oranges
Lemons
Smoked Sausage
Live Crawfish (30-40 pounds of crawfish is in one sack)
Crab Boil Louisiana (Louisiana Crawfish Seasoning)
Cajun Seasoning (optional)
See recipe card for quantities (including ingredients for a seafood dip).
❤ Sharing Is Caring - Like My Page On Facebook ❤
🥣 Instructions
Step 1: Untie the sack of crawfish and empty into a large ice chest. Fill with fresh water and stir the crawfish around with a paddle.
Step 2: To the crawfish boil pot with the basket - Add the crawfish boil seasoning to enough water to fill and apply a high heat to get a rolling boil - at this point add the veggies and sausage.
Step 3: After boiling, remove from the water and wedge the basket to be able to drain for a few minutes then transfer to an ice chest to keep warm.
Step 4: Add the live crawfish to the basket.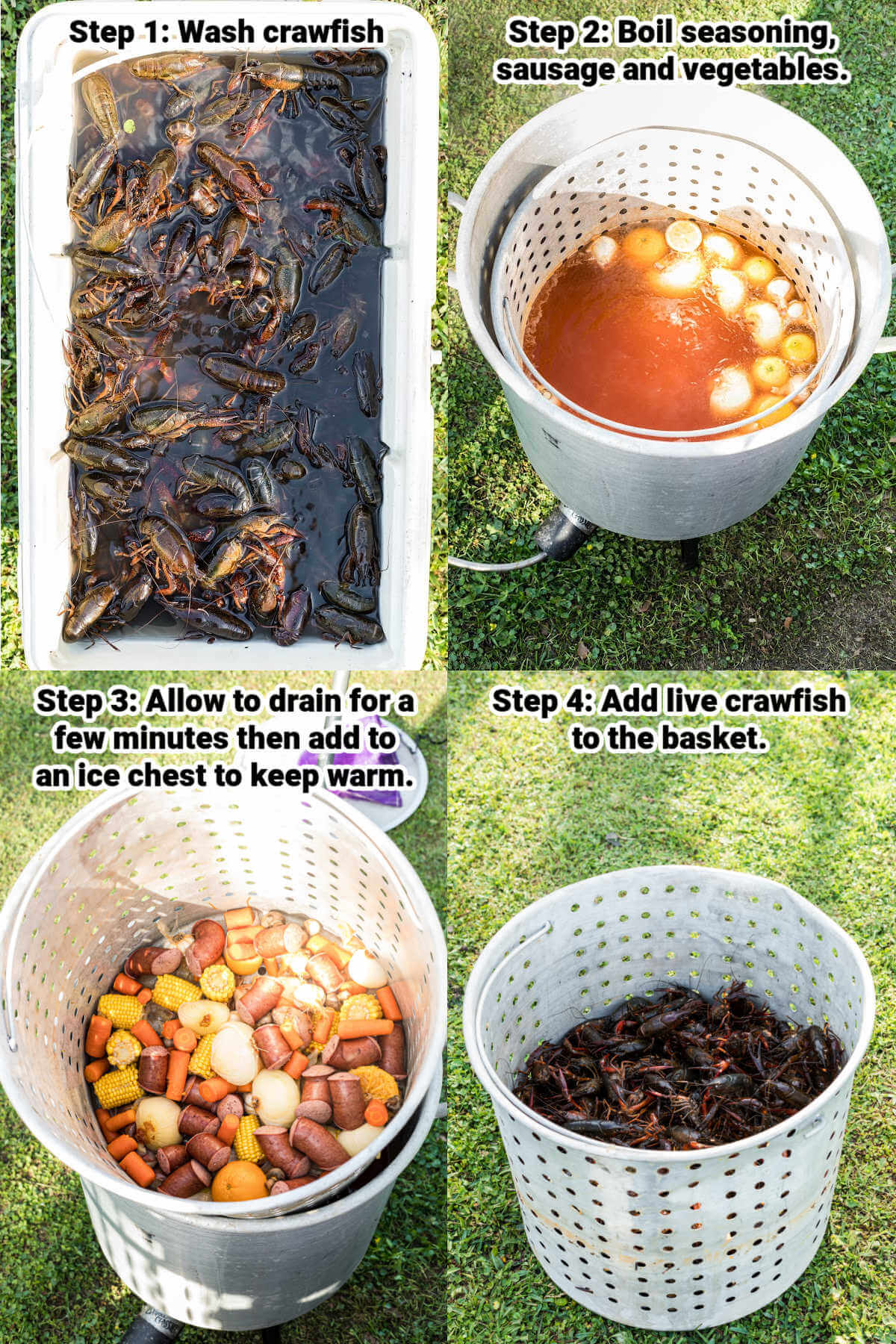 Step 5: Drop the crawfish into the reseasoned water and bring to a rolling boil - at which point time 4 minutes. Turn off the burner and soak in the hot water for a further 10 minutes.
Step 6: Lift the basket out again and wedge to allow to drain.
Step 7: Add the crawfish to the veggies in the ice chest, to keep warm.
Step 8: Add to serving platters as needed. Don't forget the seafood dip (recipe below).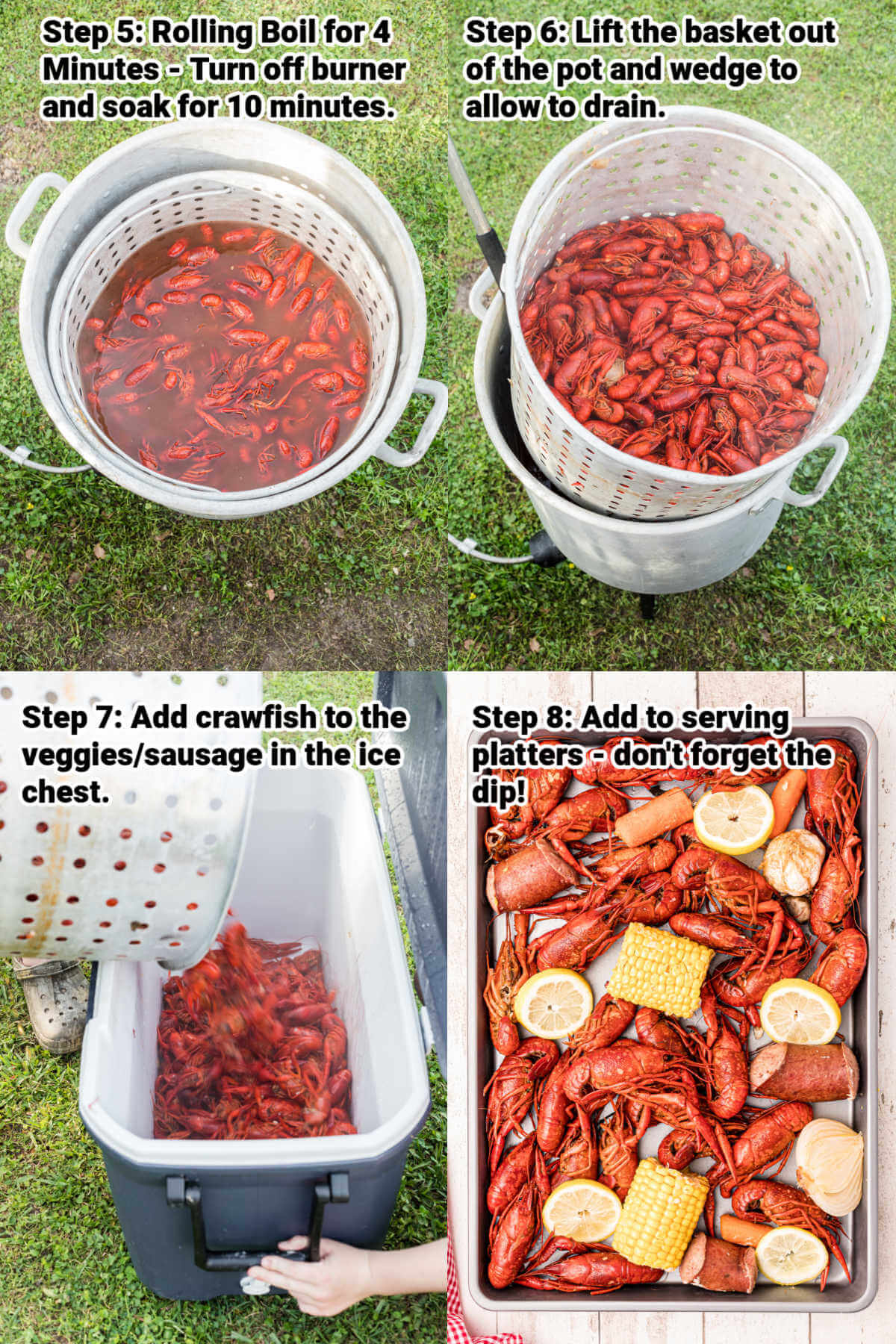 Boiled crawfish season in Louisiana is from around the end of January through to about May (spring time). This is when the best crawfish is in abundance in the seafood markets and they're nice and big (and cheaper).
Hint: This crawfish boiling recipe gives a good bite to the veggies and crawfish. We like to have just enough of a kick for our lips to tingle but no more than that. If you like a lot of heat increase the seasoning and the same in reverse. If you like it milder, reduce the seasoning.
🔄 Substitutions and Variations
Shrimp - if you prefer to boil shrimp instead you can use roughly the same ingredients. Don't add the seasoning though during the boil. Just boil the shrimp for 2 minutes then turn off the heat. Add the seasoning at this point (and just half of that in this recipe, shrimp have a much thinner shell and absorb easier). Allow to soak for 5-10 minutes and remove. You'll see a little bubble appear on the back of the shrimp when it fills with the seasoning. That's a little indicator that the shrimp boil is ready.
Vegetables- any vegetables can be added depending on your preferences. Some popular ones are cauliflower, broccoli, brussel sprouts, green beans...
Eggs - Add some eggs and make boiled eggs in this delicious seasoned water. You'd be amazed at how good those eggs are.
Tamales - Poke a few holes in a bag with tamales and toss them in there at the end.
Turkey Necks - A turkey neck infused with the flavors of the crawfish boil is absolutely delicious!
See this recipe for Crawfish Monica on my website!
🦞 Crawfish Dipping Sauce
The dipping sauce you use for your crawfish is important. I have the perfect recipe nailed down - I actually use it for all my seafood. See my recipe here.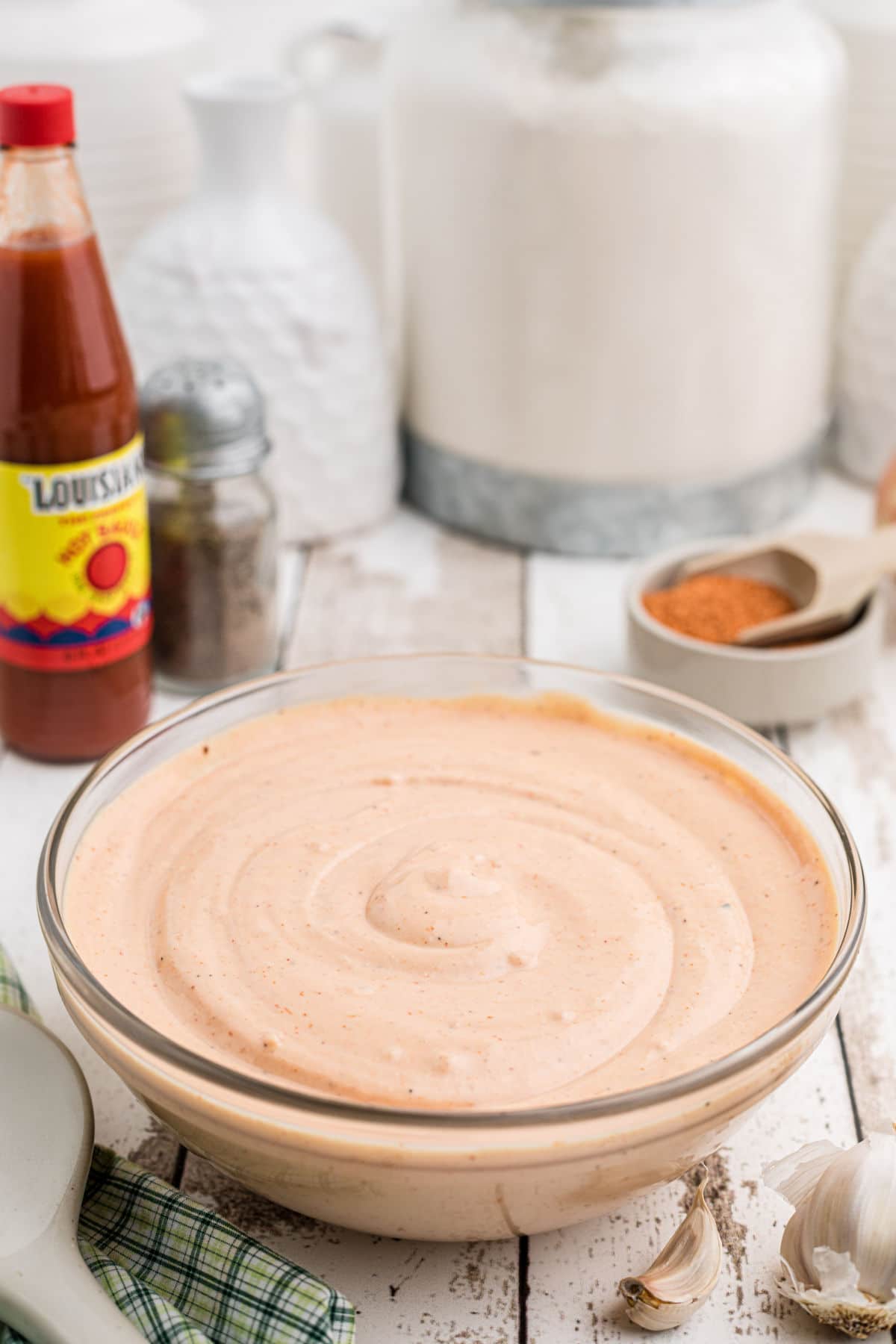 🔌 Crawfish Boil Equipment
It's important you have the right equipment (especially pot size) before you even get started on a traditional crawfish boil.
The following are affiliate links. We are a participant in the Amazon Services LLC Associates Program, an affiliate advertising program designed to provide a means for us to earn fees by linking to Amazon.com and affiliated sites.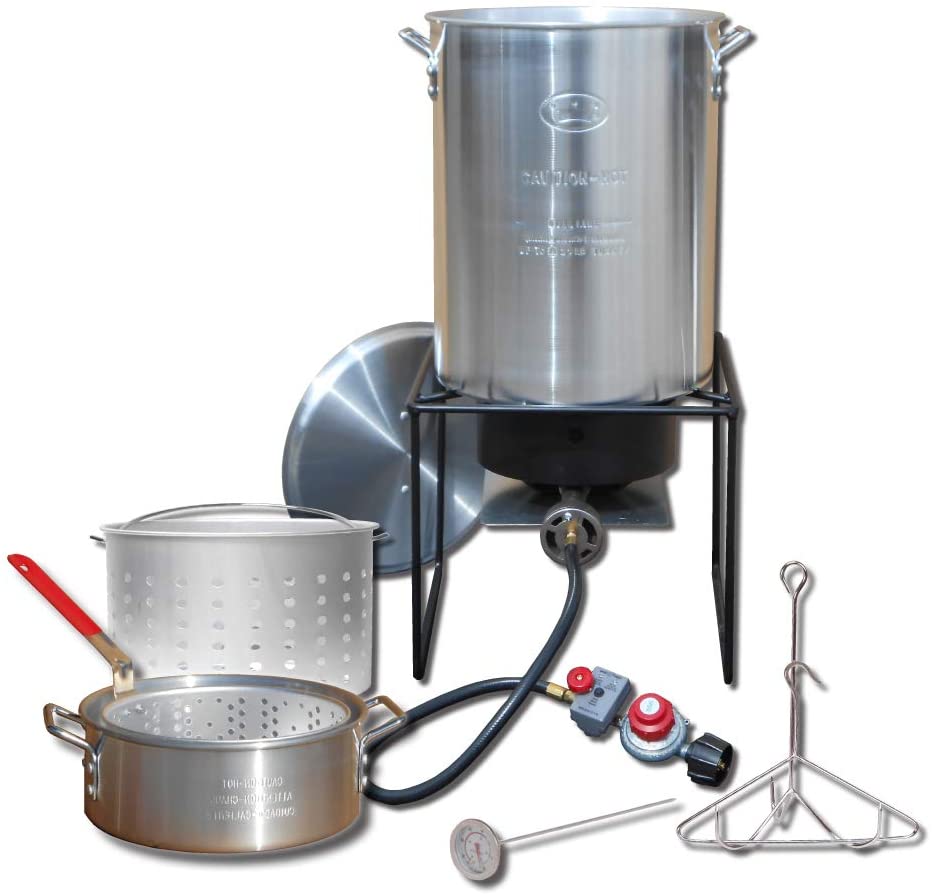 The most basic way (and cheapest) for a crawfish boil is to use a large aluminum pot with a basket insert and an outdoor propane cooker (burner) for underneath - you'll need to supply the propane tanks.
This gorgeous Cajun Crawfish Cooker and seafood boiler is more extravagant and is on most Cajun guys ultimate wish list! Talk about the perfect present! It makes the whole crawfish boil experience just so much easier. You'll also need a propane tank.
You will definitely need an ice chest to keep the boiled crawfish warm while everyone is chowing down.
Eating boiled crawfish can get really messy. Serving it up on these trays is the most popular way to keep everything together.
An important part of any crawfish boil, you need to be able to stir those crawfish around.
🧊 Storage
Once cooled completely add ice to the ice chest and store this way instead of using up refrigerator space. As long as it stays iced and the water can drain they will stay good for 2 days.
Get that leftover crawfish peeled and store in a freezer safe container for up to 3 months.
👩‍🍳 FAQ's
How long do you boil crawfish?
Some may argue but this is the way we feel produces the best - perfect to peel crawfish! Drop the crawfish into the water, bring to a rolling boil. Boil for 4 minutes then turn off the burner. Soak for 10 minutes.
Can you overcook crawfish?
Oh most definitely. It happens more than you think. They become really hard to peel if overcooked and the crawfish a little rubbery. Not good.
How long do you purge crawfish?
Purging crawfish is not really a done thing anymore since they found out it doesn't work so much anyway. People used to put salt into the water when soaking/washing the crawfish to purge them - but science has revealed it doesn't really do anything. Really and truly, get the crawfish washed in the water, move around a good bit to get the mud off them (mudbugs, remember!) and that's all that's needed. Change the water if they're really muddy and do it again.
How long do you let crawfish soak after boiling?
10 minutes has been the magic number for us, and 4 boiling minutes.
How many pounds of crawfish per person?
Obviously everyone's different, but average is about 3lb per person. Around here though, the guys can easily put away 5-8lb!
How many crawfish are in a pound?
Typically about 20-30 crawfish in each pound. Although depending on the time of the crawfish season it can be as many as 40 when they're really small - or 12-15 when they're huge!
Are crawfish and crayfish the same thing?
In north America yes. In other countries crayfish are a saltwater lobster type shellfish but here, they're crawfish, crayfish, crawdads, yabbies....
How do you serve boiled crawfish?
A lot of times picnic tables are covered with newspaper and the crawfish are just dumped out and everyone dives in. It's also popular to serve them on a big round plastic tray.
💡 Tips
Expert Tip: After everyone has finished eating and the crawfish has cooled completely add ice to the ice chest instead of trying to find room in your refrigerator. This way you can get to peeling the crawfish and making crawfish pies or something with the leftover crawfish tails!
---
Host your own crawfish boil. Or have you already tried this Boiled Crawfish recipe or any other great recipe on my site, let me know in the comment section below, how it turned out, we love hearing from our readers! You can also follow me on PINTEREST, FACEBOOK and INSTAGRAM to see more amazing recipes!
Crawfish Boil
Additional Time:
10 minutes
Total Time:
1 hour
34 minutes
Crawfish Boil - you don't get any more Southern than that. A delicious blend of crawfish, seasonings and vegetables mixed with good friends, get ready to fall in love with this crawfish boil recipe.
Ingredients
1 sack (+/-40lb)Live crawfish
3lb Red Potatoes
3lb Onions
6 Bulbs Garlic
3lb Carrots
3lb Whole Corn
16oz Whole Mushrooms
3lb Smoked Sausage
10 cups (Zatarains) Crab Boil Seasoning
8 oz bottle (Zatarains) Lemon shrimp & crab boil
8 oz bottle (Zatarains) Garlic & onion shrimp & crab boil
2 Whole Oranges, halved
2 Whole Lemons, halved
Instructions
Soak live crawfish in fresh cool water for about ½ hour, removing dead crawfish. Drain and soak again for a further ½ hour.
Bring large pot of water to boil.
While crawfish are soaking prepare vegetables - chop carrots into long pieces. Cut onions in half. Chop sausage into long pieces.
Add 2 cups of crab boil to water.
Put potatoes, garlic, onions, carrots and sausage into basket and drop into the water. Boil for 10 minutes. Add corn and mushrooms and cook for another 10 minutes.
Take vegetables out and put into ice chest to keep warm.
Add another 8 cups of crab boil to the water and the two bottles of liquid crab boil, to boil the crawfish in.
Dump crawfish into basket (that the veggies were in) and when the water is back boiling drop the crawfish.
Cook crawfish for 4 minutes (timed once the water gets to boiling point again).
Turn off heat and allow crawfish to soak in the pot for a further 10 minutes.
Remove crawfish.
Serve immediately with vegetables and seafood dip.
Notes
It takes about 7 pounds of live crawfish to produce 1 pound of peeled tails.
You do have to be concerned about cholesterol. Crawfish tend to be higher in cholesterol than most other shellfish. And what you put in the pot can add to the mix.
Nutritional information below does not include the vegetables.
Add some Cayenne Pepper to make it even hotter! Use Andouille Sausage too.
Don't forget that roll of paper towels. You're going to need it.
See video below on How To Peel Crawfish:
Recommended Products
As an Amazon Associate and member of other affiliate programs, I earn from qualifying purchases.
Nutrition Information
Yield

6
Serving Size

1 bls
Amount Per Serving
Calories

1463
Total Fat

70g
Saturated Fat

22g
Trans Fat

1g
Unsaturated Fat

37g
Cholesterol

274mg
Sodium

3210mg
Carbohydrates

154g
Fiber

24g
Sugar

42g
Protein

66g
Kids really love to play with the crawfish before they go into the pot. It fascinates them. My two love to try to catch them without getting pinched then they're so proud of themselves and parade around with it before dropping it back and trying to catch another.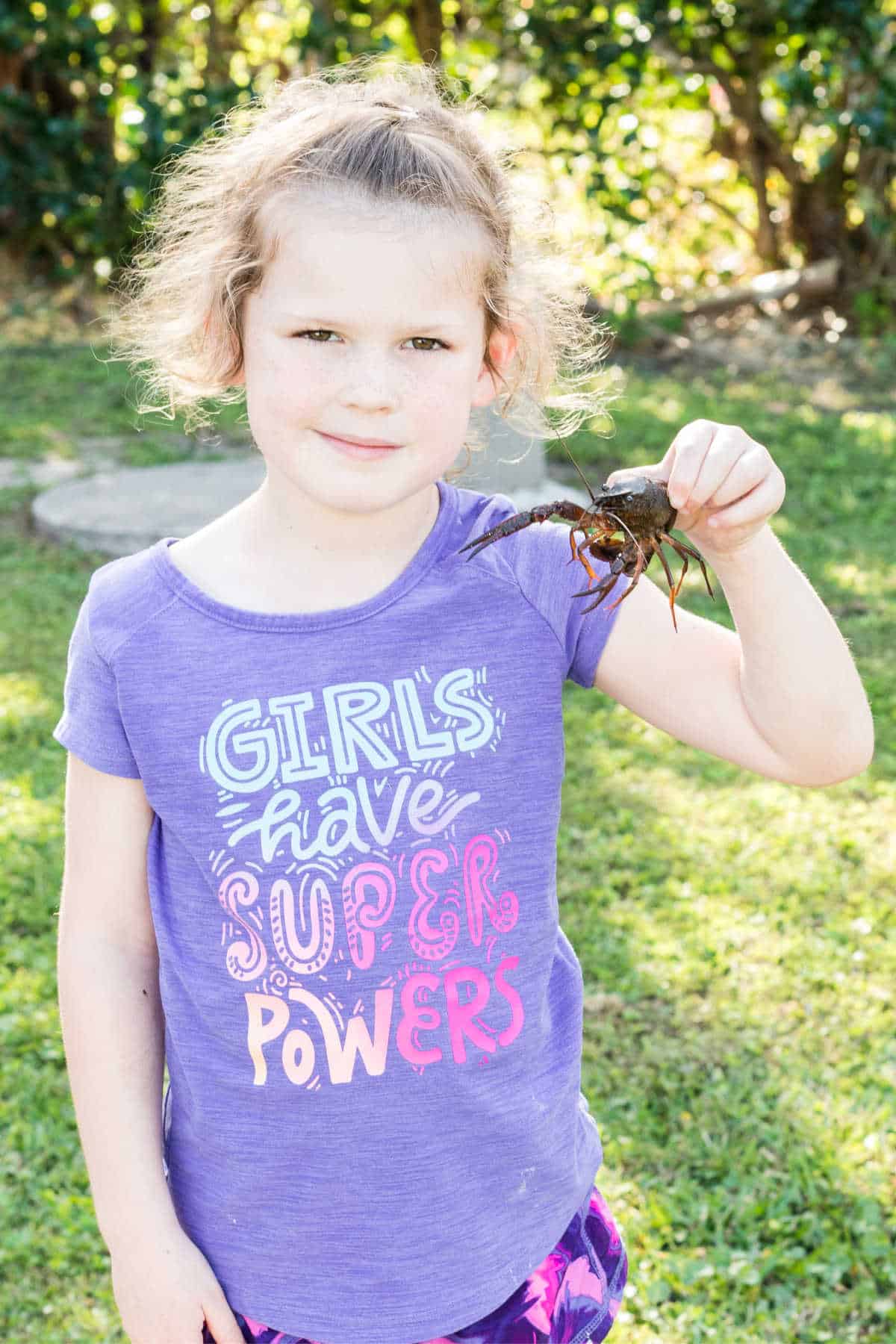 Recipes for Leftover Crawfish Tails