Crock Pot Spaghetti and meatballs is always a family favorite for us. What I love about this recipe is I can just throw it together and let it cook all day while I'm busy either working, or out with the kids! Then come home to that beautiful smell .... and everyone shouts, "Yay, Spaghetti Meatballs!!"
Next time try my Pastalaya recipe - it's a reader favorite, as well as a family favorite! Or this Slow Cooker Buffalo Chicken Chili Recipe.
Jump to:
Crockpot Spaghetti is a great recipe that the whole family enjoys and that due to the ability to simmer a good tomato sauce I feel is best cooked in the crock pot.
🧅 Ingredients
Ground Beef (or ground venison)
Sweet Italian Sausage, casing removed
Breadcrumbs, seasoned
Eggs, large
Tomato Sauce
Parmesan Cheese
Italian Seasoning
Parsley, fresh
Worcestershire Sauce
Chopped Tomatoes (with basil)
Green Bell Pepper
Sweet Onion
Celery
Garlic
Carrots
Bay Leaves
Dry Spaghetti noodles
Olive Oil
Salt and peper
See recipe card for quantities.
🥣 Instructions
Step 1: Add the all the sauce ingredients to the crock pot, stir to combine and turn on to the high setting.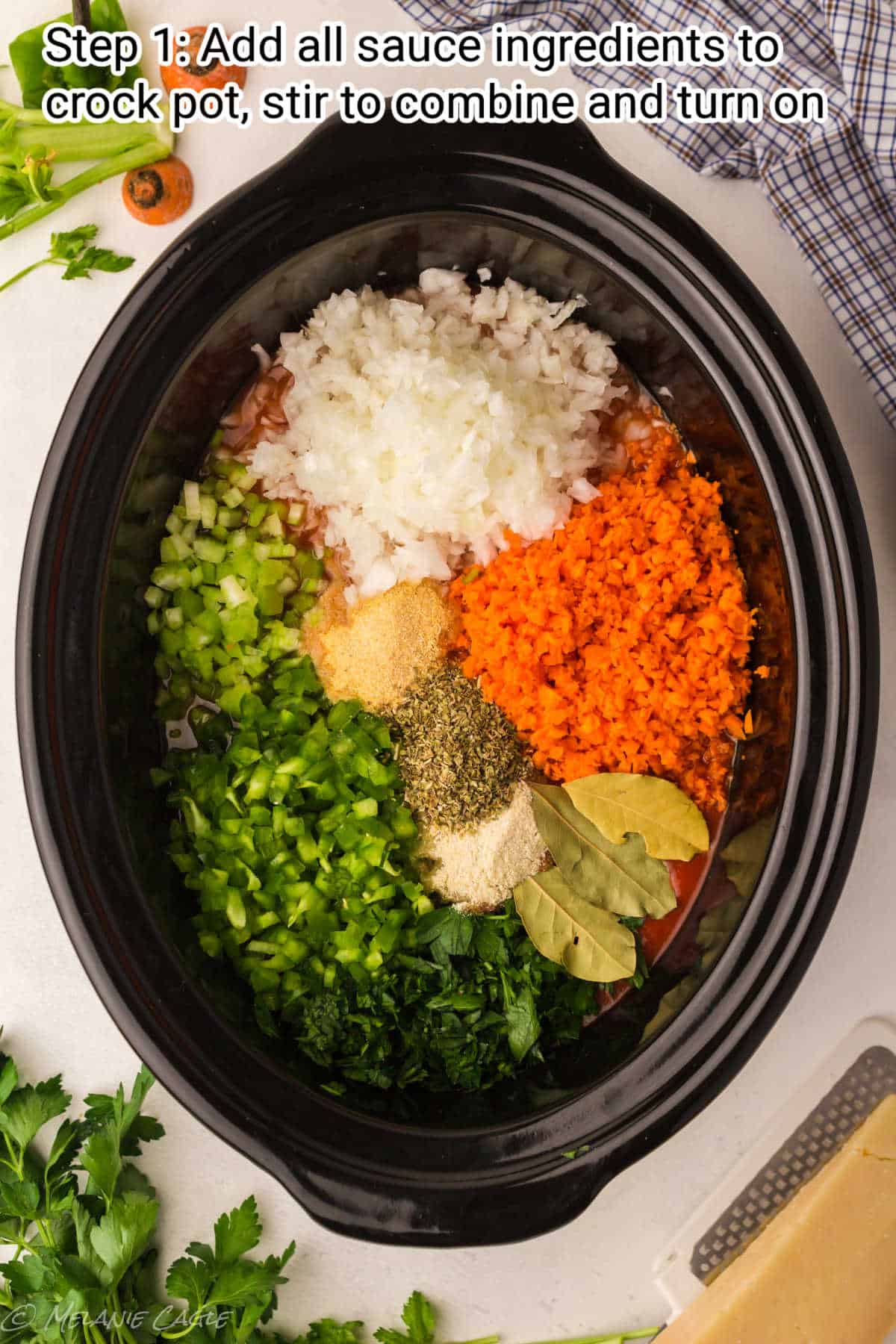 Step 2: In a large bowl, add all the meatball ingredients and mix together using your hands (wear gloves or make sure to wash your hands well afterward).
Step 3: Form balls of meat using your hands, about 1-½" in diameter.
Step 4: In a large hot skillet add the meatballs and cook until brown on all sides.
Step 5: Add the meatballs to the slow cooker, stir carefully then put on the lid. Turn down to the low setting and cook for 6 hours.
Step 6: Cook the spaghetti noodles until just al dente and serve with the meatballs and sauce on top, with some garlic bread on the side.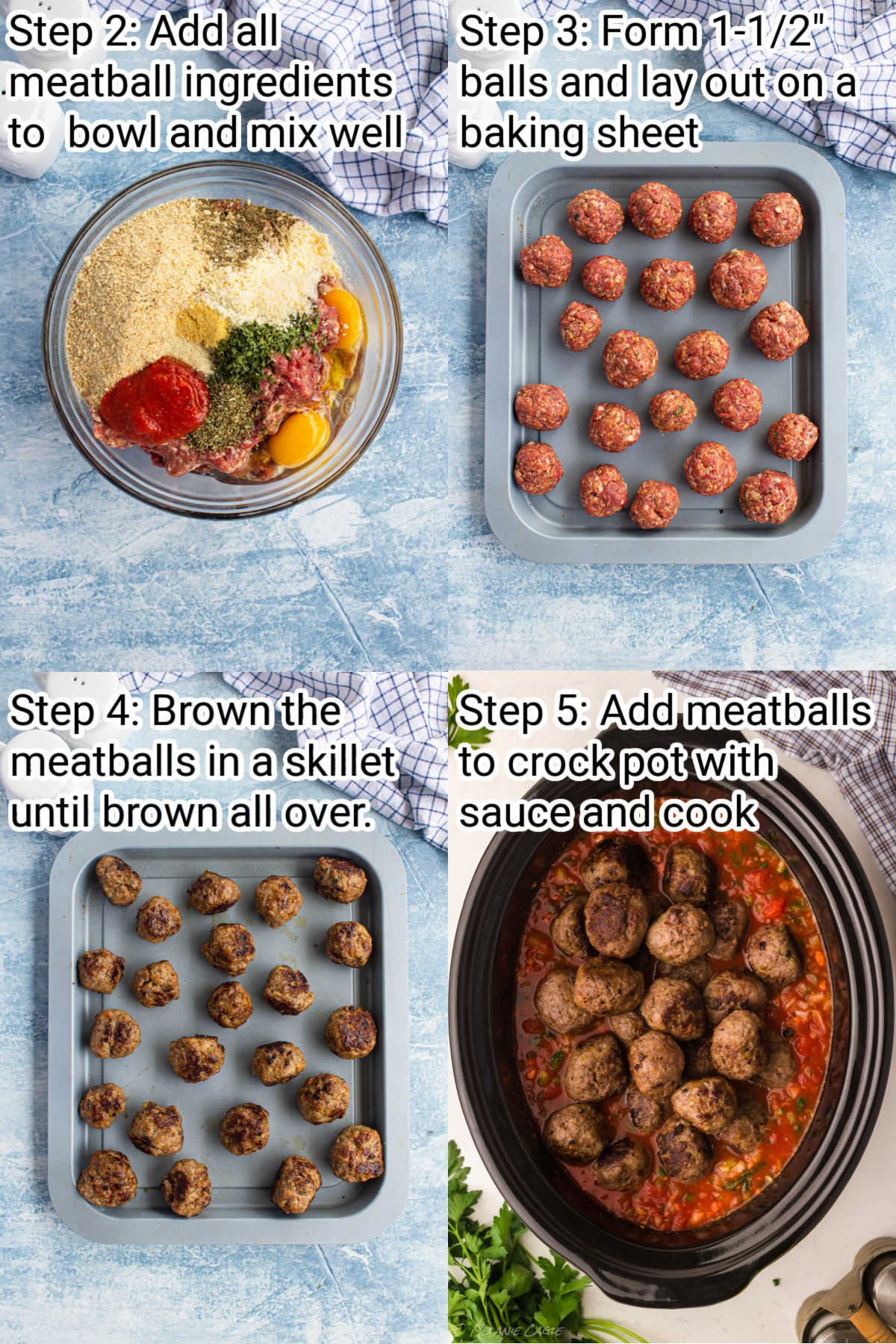 Hint: Once the meatballs are formed, if you have time you can refrigerate for an hour. This will help them to hold their form better during the browning process. You could even refrigerate over night - this will make it much easier to get your spaghetti and meatballs ready in the morning, if yours is a busy one! It is not necessary though, this meatball recipe has them binding well and not falling apart!
🔄 Substitutions and Variations
Turkey - instead of ground beef, you could use this recipe for leftover turkey during Thanksgiving or Christmas and have a delicious Turkey Spaghetti dish! Add the leftover turkey one hour before the end of the cooking time.
Sugar - use sugar instead of the carrots to reduce the acidity.
Vegetarian - replace the sausage and ground meat with a more plant based ingredient.
Beef Broth - add some beef broth to change up the taste of the tomatoes (some people do this... I'm not a fan, but each their own)
Deluxe - add more different cheeses to the meatballs (not just parmesan) - e.g. romano, gruyere, mozzarella cheese
Noodles - these homemade meatballs and sauce can be put on pretty much any noodle. If you have a favorite you prefer, to spaghetti, go right ahead!
Spicy - Sometimes I add a can of rotel (tomatoes and chilies) in place of the plain tomatoes, it imbues a little heat and adds a little something extra to this awesome dish.
🔌 Equipment
I used a 7 quart slow cooker for this recipe. I have actually included an affiliate link in the recipe card below if you want more information on this.
🧊 Storage
Once allowed to cool completely this dish will need to be stored in the refrigerator in an airtight container for up to 4 days.
This spaghetti sauce tastes better the longer it sits. After it has been in the refrigerator a few days, freeze the leftovers (if you have any) in portions. That way you, if you're looking for a quick meal, pull out a quick portion to heat up!
Other Great Crock Pot Recipes
💡 Tips
Expert Tip: I add the carrots in this dish for two reasons. First, it's a great natural way to reduce the acidity of the tomatoes and add a little sweetness. Second, perfect for getting some more veggie goodness into my family. I have a couple of none-vegetable eating fussy eaters that wouldn't touch a carrot with a 9 foot pole. At least this is a way of adding it to their diet! Top mom-tip!
---
If you've tried this Crock Pot Spaghetti and Meatballs or any other great recipe on my site, let me know in the comment section below, how it turned out, we love hearing from our readers!
You can also follow me on PINTEREST, FACEBOOK and INSTAGRAM to see more amazing recipes!
Crock Pot Spaghetti and Meatballs
Total Time:
6 hours
30 minutes
This homemade recipe for Crock Pot Spaghetti and Meatballs is deliciously tasty and served with a garlic bread side is a hearty meal that will satisfy any appetite!
Ingredients
2lb Ground Beef
1lb Sweet Italian Sausage, casing removed
1 Cup Breadcrumbs
2 Large Eggs, 
2 Tablespoons Tomato Sauce (for meatballs)
½ Cup Parmesan Cheese
1 Tablespoon Italian Seasoning
1 Tablespoon Parsley, fresh
1 Tablespoon Worcestershire Sauce
2 (29oz) Cans Tomato Sauce
2 (14.5oz) Cans Chopped Tomatoes
1 Large Green Bell Pepper, finely chopped
1 Large Sweet Onion, finely chopped
1 Celery Stalk, finely chopped
2 Tablespoons Garlic, minced
2 Large Carrots, very finely chopped
3 Large Bay Leaves
1lb Dry Spaghetti
2 Tablespoons Olive Oil
1 Tablespoon Salt
½ Tablespoon Black Pepper
Instructions
Take Italian Sausage out of skin and mix with ground beef
In a bowl mix meat, breadcrumbs, eggs, Worcestershire Sauce, 1 tablespoon Italian Seasoning, ½ tablespoon Parsley, 2 tablespoon of Tomato Sauce and Parmesan Cheese. Mix well then form meatballs to your preferred size.
Add olive oil to a skillet and brown the meatballs.
While they are browning add the tomato sauce, chopped tomatoes, onions, bell pepper, celery, garlic, carrots, bay leaves and remaining seasoning to the crockpot and stir well.
Once the meatballs are browned add to the crockpot and push down into the sauce. Allow to cook on low for 6-8 hours.
Cook spaghetti as instructed on the packet, and serve sauce/meatballs on top. Add parmesan to taste.
Notes
If you can find the chopped tomatoes that have the oregano and basil seasoning this adds further great taste.
Use a food processor to chop the carrots very finely, they will melt into the sauce and add sweetness that will cut the acidity of the tomatoes eliminating the need to add sugar.
As we are a hunting family we use Venison in place of the beef and it works beautifully!
Use this meatballs recipe for making other dishes (like meatball subs, etc).
This is one of those recipes that will taste better the next day! Perfect leftovers.
Recommended Products
As an Amazon Associate and member of other affiliate programs, I earn from qualifying purchases.
Nutrition Information
Yield

12
Serving Size

1
Amount Per Serving
Calories

512
Total Fat

22g
Saturated Fat

8g
Trans Fat

1g
Unsaturated Fat

11g
Cholesterol

113mg
Sodium

1053mg
Carbohydrates

42g
Fiber

3g
Sugar

4g
Protein

36g