Snickers bars just so happen to be my absolute favorite candy bar, so it goes without saying that making chewy Snickers bar brownies that encompass all things snickers is a no-brainer for me. A delicious fudgy brownies base with a layer of caramel, a layer of nougat and peanuts throughout.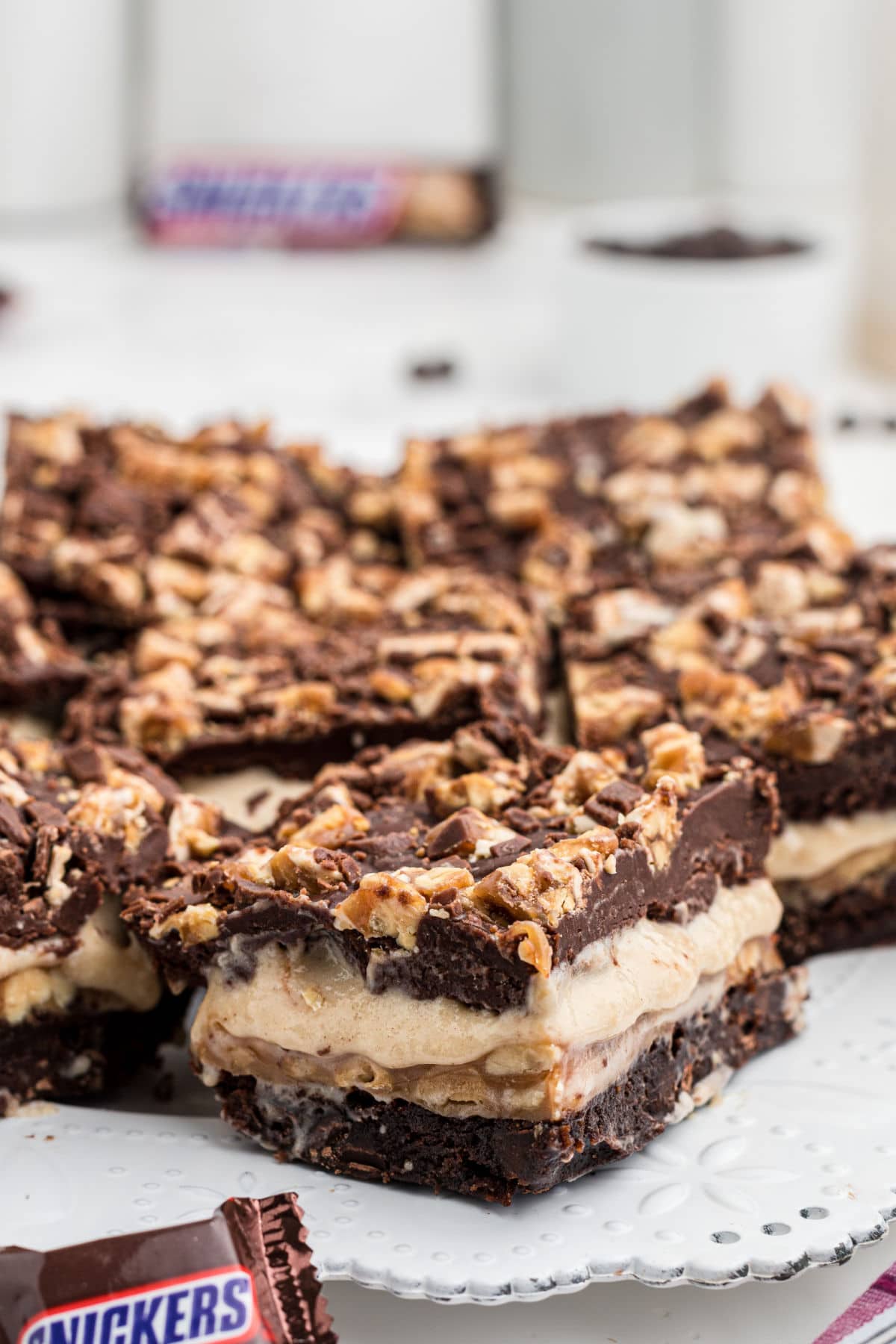 I've seen the new Snickers peanut brownie squares in the stores, but I haven't tried them yet. I keep reaching for the classic Snickers bar!
Jump to:
Making this recipe was inspired by my Banana Pudding Brownies. I can hear you from here.... 'Banana Pudding'! I pinky swear it's true and they're as good as they sound.
I made those due to my love of banana pudding.... so after that recipe was such a success because they really are decadent brownies - I went ahead and came up with a recipe based on satisfaction of Snickers candy bars! Why not?
❤️ Why You'll Love It
If you have a sweet tooth, this recipe is for you.
It's a labor of love, making the fudgy layers. But it is so worth it.
Snickers Brownies are heaven sent.
📘 Ingredients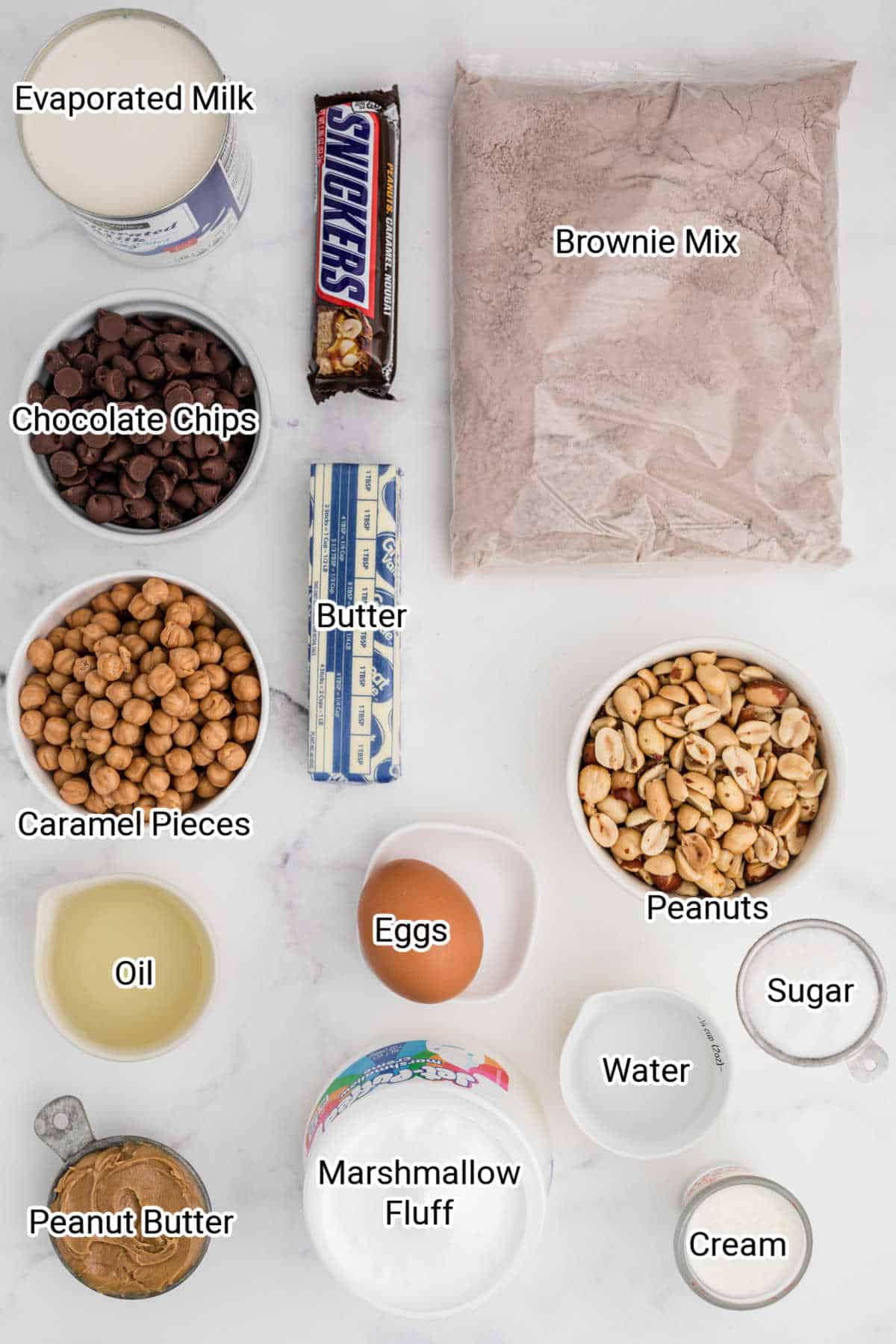 Brownie mix - I used the Supreme Triple Chunk so there would added chocolate chunks and chips.
Egg
Vegetable Oil
Water
Kraft Caramels
Evaporated Milk
Salted Peanuts
Unsalted Butter
Granulated Sugar
Marshmallow Creme
Creamy Peanut Butter
Milk chocolate Chips
Heavy Cream
Snickers Bars
See recipe card for quantities.
📘 Snickers Ingredients
Taking it to basics, what exactly are the ingredients in a Snickers bar? What makes it so good? What am I trying to emulate in this chewy brownies recipe?
Light Corn Syrup
Heavy Cream
Milk
Sugar
Peanuts
Egg Whites
Peanut Butter
Vanilla
Chocolate
There's a caramel peanut layer, a nougat layer and it's all wrapped in a delicious milk chocolate coating.
So here's how I managed to turn the above candy bar into a delicious homemade brownie:
🥣 Instructions
Step 1: First thing, make the chocolate brownies mix per the package instructions. Cook in a 9x13" dish that is lined with foil and spray with cooking spray. Add the brownie batter.
Step 2: Bake at 350°F for about 20 minutes. Remove from the oven and allow to cool completely.
Step 3: Add the caramel pieces and 2 tablespoon of Evaporated milk to a small mixing bowl. Microwave in 20 second intervals stirring in between until completely melted.
Step 4: Add the peanuts and stir to combine.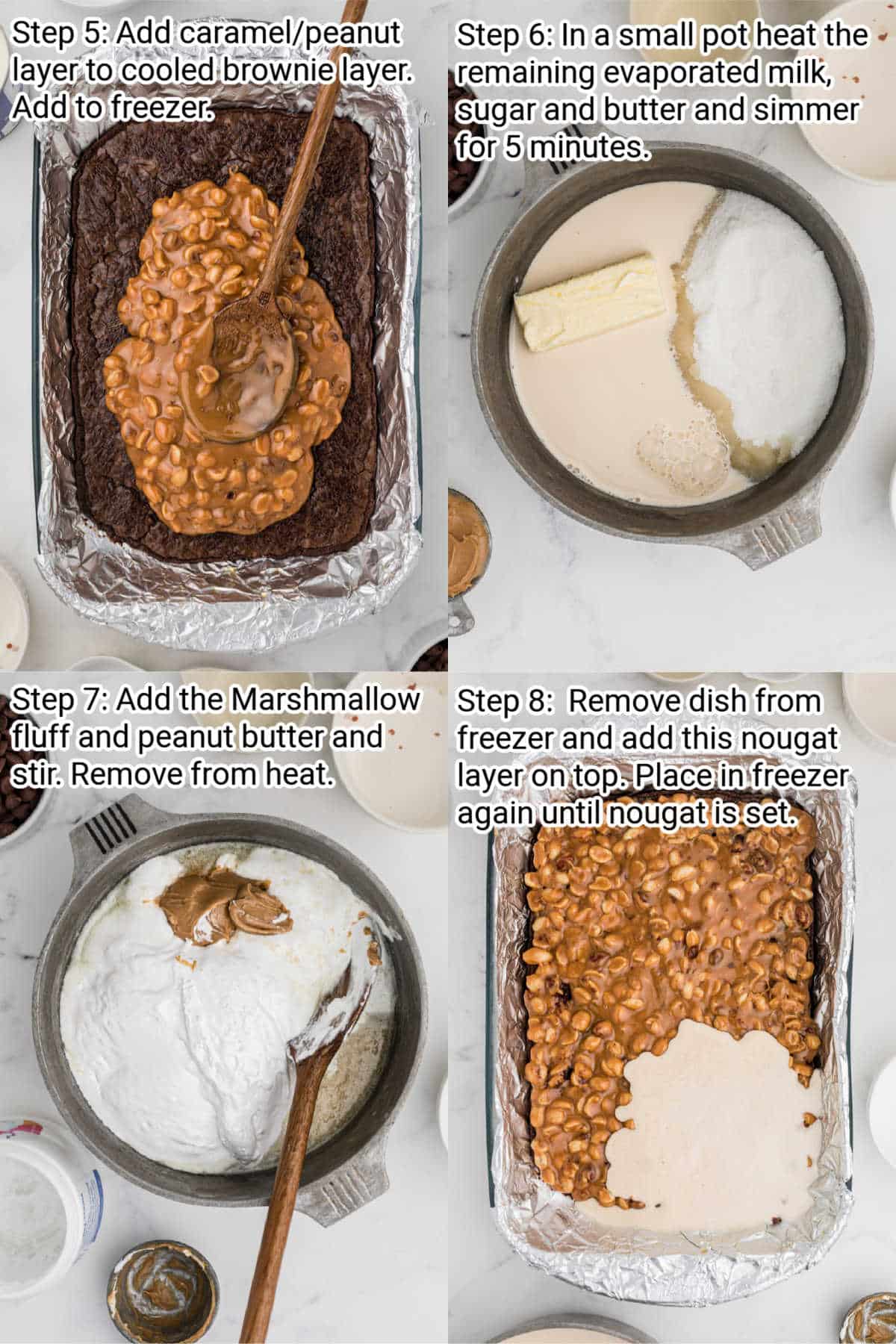 Step 5: Add the caramel layer on top of the brownie layer and spread evenly. Place the dish in the freezer while you continue with the next step.
Step 6: Heat the remaining evaporated milk, sugar and ⅓ Cup butter. Stir while bringing to a boil, but once the mixture starts to bubble around the edge turn down the heat so that it's a simmer and don't stir again. Simmer for about 5 minutes. After this, stir and check that the mixture is 'nougat ready' by dropping a drop of the mixture into a glass of water. If it solidifies somewhat and you can roll into a ball then it's ready.
Step 7: Add the marshmallow fluff and the peanut butter, stir to combine.
Step 8: Pour over the top of the caramel and peanut layer. Place back in the freezer.
Step 9: Add the chocolate chips, remaining butter and heavy cream to a medium mixing bowl. Microwave on medium for about 20 seconds in intervals, stirring in between, until the chocolate has all melted.
Step 10: Chop the Snickers bars into small chunks.
Step 11: Pour the melted chocolate first on top of the nougat layer. The scatter the chopped Snickers chunks.
Step 12: Place back in the freezer for another 10 minutes just to help the chocolate set. Then using a sharp knife cut into squares.
Hint: Store the Snickers Bar Brownies in the refrigerator then pull them out to room temperature 20 minutes before serving so you can get a pretty cut. Wipe the knife after each slice to keep the slices clean.
🔄 Substitutions and Variations
Homemade Brownies - if you prefer, go ahead and make the brownies yourself homemade. I prefer to do the box mix thing for this recipe, simply because there is already quite a few steps doing this takes a little of the work away. If you prefer the comfort of fresh-baked brownies though, go ahead.
Dark Chocolate or semi sweet chocolate- use dark chocolate chips (or semi sweet) for the top layer instead of milk chocolate, just to add a little more richness.
Nut Variety - Make a variety of nuts instead of just peanuts, however there are only peanuts in a snickers bar.
Vanilla Ice cream - Serve with a scoop of vanilla ice cream for extra deliciousness.
Extra Snickers - crumble some extra snickers.
See this recipe for Chocolate Turtles, Vanilla Brownies or my Hot Chocolate Brownie Bites - another favorite on my blog.
🔌 Equipment
9x13" Casserole Dish
Foil for lining the dish (or parchment paper)
Cooking spray
Mixing bowls
Small pot
Candy thermometer (optional)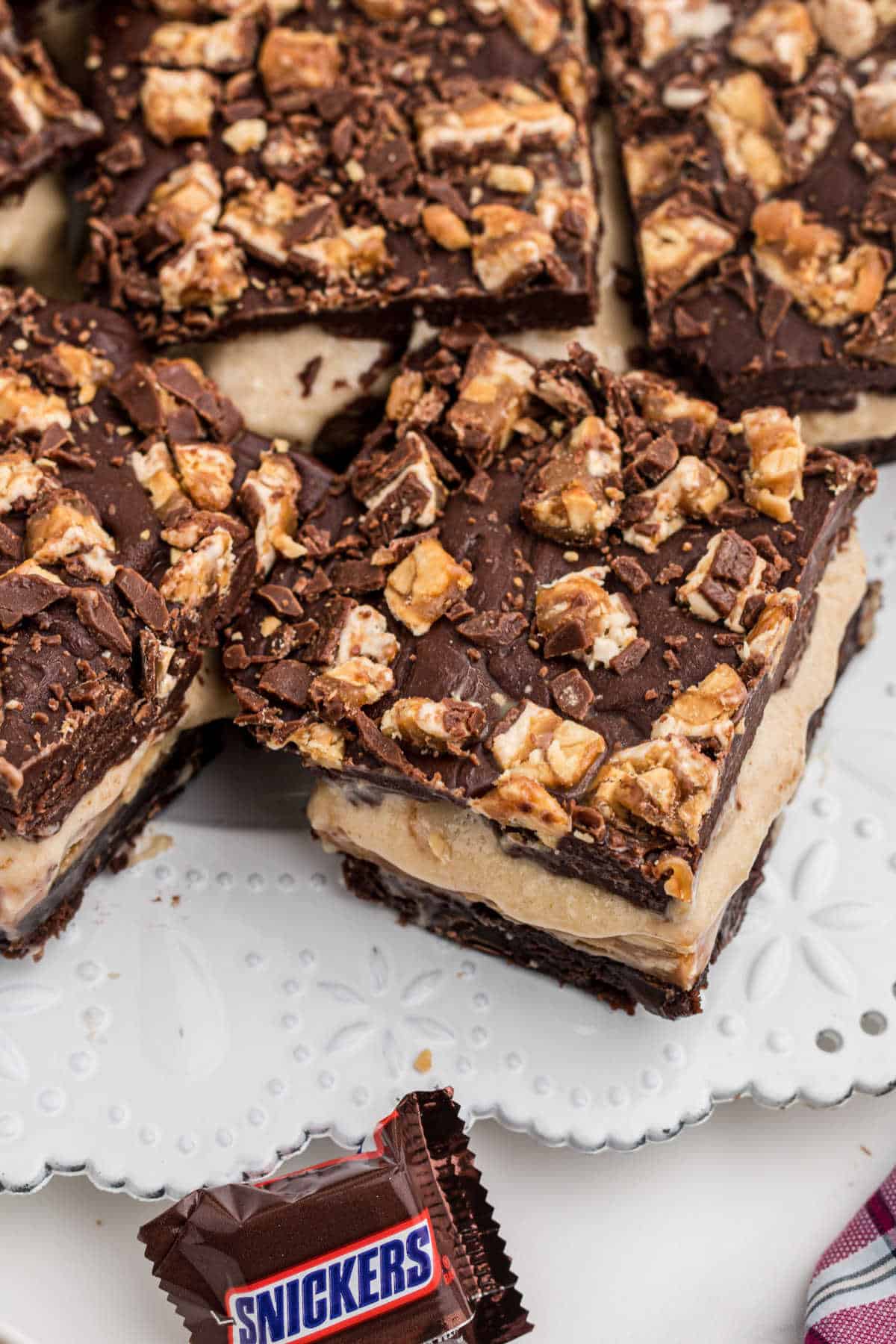 🧊 Storage
Once everything is complete and the chocolate has set, keep it that way in the refrigerator for up to 1 week, covered with cling wrap.
This recipe does freeze well.
💡 Top tip
Make sure to allow yourself plenty of time for the freezing sections. You don't want to rush this process.
---
If you've tried these Snickers Bar Brownies or any other great recipe on my site, let me know in the comment section below, how it turned out, we love hearing from our readers! You can also follow me on PINTEREST, FACEBOOK and INSTAGRAM to see more amazing recipes!
Snickers Bar Brownies
Total Time:
1 hour
55 minutes
A delicious fudgy brownies base with a layer of caramel, a layer of nougat and peanuts throughout. Tastes exactly like the Classic Snickers Bar.
Ingredients
1 Box Supreme Triple Chunk Brownie Mix
1 Egg
⅓ Cup Vegetable Oil
¼ Cup Water
1 (12oz) bag Kraft Caramels
⅔ Cup + 2 Tablespoons Evaporated Milk, divided
1-¼ Cup Granulated Sugar
1 Cup Salted Peanuts
⅓ Cup + ¼ Cup Unsalted Butter, divided
1 (7oz) Container Marshmallow Creme
¼ Cup Creamy Peanut Butter
1 (16oz) Package Milk Chocolate Chips
¼ Cup Heavy Cream
4 Classic Snickers Bars
Instructions
Prepare the brownie mix as per the package instructions
Bake the brownies in the oven at 350°F for about 20 minutes, then remove to cool all the way.
Add the caramels and 2 Tablespoons of the evaporated milk to a small bowl. Microwave on medium heat, stirring inbetween 20 second intervals until the caramels have completely melted. Stir in the peanuts.
Pour this mixture over the top of the cooked brownies, spread evenly, then put into the freezer while you move onto the next part.
Add the sugar, remaining evaporated milk and ⅓ cup butter to a small pot on the stove and apply medium-high heat until it starts to bubble around the outer edge. At that point check with iced water if it has come to a soft crack stage (drop a drop into a glass of iced water and see if it holds it's shape and you can roll a ball out of it).
Stir in the peanut butter and the marshmallow creme.
Pour this nougat mixture over the top of the caramel peanut layer and place back in the freezer.
In a medium mixing bowl add the chocolate chips, remaining butter and heavy cream and microwave on medium setting for 20 second intervals until totally melted. Keep stirring.
Chop the snickers bars into small chunks.
Pour the chocolate over the top of the nougat layer then sprinkle the chopped Snickers chunks on top of the chocolate.
Add back to the freezer for 10 minutes, just enough to set the chocolate layer.
Notes
See below my Banana Pudding Brownies that have been taking social media by storm. See the recipe here.
I also have a new Sizzling Brownie recipe here that you should check out!
Recommended Products
As an Amazon Associate and member of other affiliate programs, I earn from qualifying purchases.
Nutrition Information
Yield

9
Serving Size

1
Amount Per Serving
Calories

886
Total Fat

40g
Saturated Fat

14g
Trans Fat

0g
Unsaturated Fat

23g
Cholesterol

51mg
Sodium

208mg
Carbohydrates

126g
Fiber

3g
Sugar

115g
Protein

10g